Fantasy Football 2011: 4 Players Primed for Bounce-Back Seasons
August 22, 2011
2010 might have been a great year for Arian Foster, Jamaal Charles, Aaron Rodgers and anyone who wanted to see Brett Favre finally retire, but it was not wonderful for everyone. 
Is it too early to start nominating players for Fantasy Football's Comeback Player of the Year?  Not for yours truly.  I have already rubbed my crystal football, and out popped four names who should rebound from 2010 seasons that ranged between subpar and disastrous. 
                                   
Injuries, horrible teammates, bad luck and unforeseen circumstances played parts in these players' off-years, but they are primed to bounce back and put up solid and possibly spectacular fantasy numbers.  Here are the four players I expect to turn things around in 2011:

Brent Celek, Philadelphia Eagles
After breaking out in 2009 with 76 receptions for 971 yards and eight touchdowns, Celek came crashing down like the stock market in 2010 with just 42 catches, 511 yards and four scores.
Blame it on Michael Vick, who had blinders on when it came to finding Celek downfield.  Maybe Celek called him Ron Mexico one too many times. Opposing defenses focused on Celek a little more, too, since he was no longer a secret.
All indications are that Vick and head coach Andy Reid are going to do everything in their powers to get the ball into Celek's hands more often. More targets should equal more yards for Celek if it comes to pass. With all the weaponry the Eagles have, you have to think Celek should face more single coverage and find more open space in secondaries when his number is called.     
Prediction: I believe Celek's numbers will return to close to what they were two seasons ago, but they will come up slightly short. With Steve Smith and Ronnie Brown now in the fold, on top of DeSean Jackon, Jeremy Maclin, Jason Avant and LeSean McCoy, Philly would have to hold onto the ball 45 minutes per game for everyone to get enough touches.   
Look for Celek to finish with 61 receptions, 805 yards and seven touchdowns on the season, making him a top-10 fantasy tight end once again. 

Shonn Greene, New York Jets
The Jets are supposed to be a run-first offense, yet Greene was never the main man of the rushing attack last season, let alone the offense. LaDainian Tomlinson had 34 more carries, 36 more receptions and was the goal line back. Greene was really the second banana, and his 766 rushing yards and two touchdowns did not do fantasy owners any favors.
  
But the aging L.T. No. 2 (Lawrence Taylor is L.T. No. 1 in my book) wore down during the second half of the season, a sign that Father Time is tackling him closer to retirement. This should mean Greene is the one getting the extra touches since he is younger, more explosive and the future top tailback.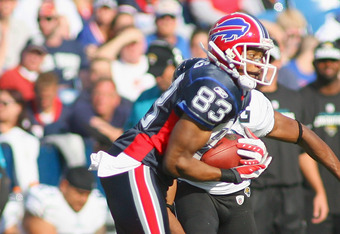 Greene has rushed for 502 yards in six career playoff games and averaged 4.5 yards per carry in his first two seasons, so he has the goods. And he happens to run behind one of the best offensive lines in the business, so even if he just stumbles forward after a hand-off, he should get four yards. 
Tomlinson is not Greene's biggest threat, Mark Sanchez is. The Jets did not bring in offensive guru and former Peyton Manning mentor Tom Moore to turn Greene into Terrell Davis. They brought him in to help turn Sanchez into a franchise quarterback. 
You could see the Jets shift to more of a passing team once Santonio Holmes jumped on the field, and do you think Plaxico Burress and Derrick Mason were signed because of their blocking skills? After watching the Green Bay Packers and New Orleans Saints win the last two Super Bowls with high-octane, pass-heavy offenses, the Jets are probably planning on having Sanchez throw more and hand off less. But when they do run, Greene should get receive 60 percent of the carries.
Prediction: If Greene does not rush for 1,000 yards, it will be more disappointing than Burger King firing "The King." And he should be handed the ball down by the goal line, too, considering he is built low to the ground and can be a bowling ball on legs when he gets going.
Greene will not be Adrian Peterson-like with Tomlinson and Sanchez digging into his fantasy value, but rushing for 1,150 yards and six touchdowns does not seem far-fetched.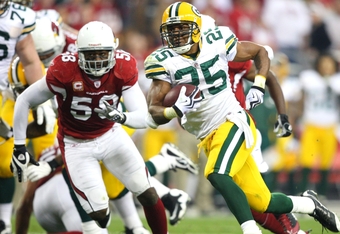 Has any receiver received less help over the last seven seasons than Evans? From having UFL quarterbacks tossing to him to having little help from other members of his receiving corps to having to play in frigid, blustery, pass-hating conditions on many occasions, Evans' time in Buffalo was far from kind.  
But no more having J.P. Losman types throwing him the football and having no-name No. 2 receivers getting little respect from secondaries, causing Evans to get double-teamed regularly.  Evans will have strong-armed Joe Flacco passing to him and Anquan Boldin on the other side of the field creating room for him. 
But is this team change too late? Evans has not been the burner he once was the past two seasons, putting up the two lowest yardage outputs of his career.  I think going to a playoff-caliber team with a fine young quarterback will give him a super adrenaline rush, though. 
Prediction: Did Evans lose his wheels or could he just not overcome below-average quarterbacks anymore?  That question should be answered early on.  He cannot rely on the quarterback excuse with Flacco winging the ball, and if he does not bust out with a few 30-yard plays out of the gate, that will be a sign his breakaway speed has been drained.
Evans only has two 1,000-yard campaigns to his credit and has never had a double-digit touchdown season. He has been most valuable in distance leagues that award bonus points for long plays and touchdowns. Evans had 80-plus-yard catches for three years running between 2006-2008. 
I project Evans to catch 53 passes for 840 yards and six touchdowns. These numbers will not light fantasy leagues on fire like an arsonist, but considering what he has put up his last two seasons, this will be a huge improvement for Evans. 

Ryan Grant, Green Bay Packers
Remember this guy?  He used to be one of the few tailbacks who barely let his backups touch the ball (sorry, Brandon Jackson), and fantasy owners loved him because he was durable, underrated and reliable.  Grant rushed for 3,412 yards and scored 24 times over his first three NFL seasons.  Not many running backs were as productive and consistent during that time period.
And yet all that production and reliability was ruined thanks to one tackle in the first game of the 2010 season. A season-ending ankle injury reduced Grant's fantasy worth to zero and opened the door for rookie James Starks to become a playoff hero.
But Grant is back, his ankle is 100 percent and reports claim he has looked great during training camp. If that is the case, you should assume he will regain his starting spot and get the bulk of the rushing attempts in Aaron Rodgers' offense.  
Let's be honest about Starks' performance last season.  For all the hype he received after he barreled through an undersized Eagles team for 123 yards in the wild card round, he really was a non-factor in Green Bay's other three postseason contests. He had 58 carries for 192 yards and one touchdown. The jury may think Casey Anthony is not guilty, but they are still out on Starks. 
Running is a distant second option in Green Bay's offense.  No matter how cold it is, Rodgers must throw 30-40 times.  The Packers enjoy passing as much as Lisa Rinna enjoys getting collagen injections in her lips.  So Grant will have to settle for 15-18 carries per game, which will serve him just fine compared to 2010.      
 
Prediction: Grant has several question marks surrounding him.  Is he healthy and back to normal?  Will Starks steal his carries?  Will Green Bay calling a couple more running plays since he has returned?   
Grant appears to be OK, but we will not know until he starts playing in games that count.  Starks will begin as a backup who gets five to 10 carries per game most likely, but Grant will be the feature back.  And the Packers should balance out their offensive attack more with Grant as the lead guy.  They want to help Rodgers stay upright and injury-free, after all.    
I think Starks will be given too much of the load to expect Grant to have another 1,200-yard outburst. 1,075 yards and seven touchdowns is more believable.