St. Louis Rams: What to Watch for Against the Tennessee Titans
August 20, 2011
With the St Louis Rams fresh off a 33-10 beatdown of the Indianapolis Colts in Week 1 of the preseason, they'll look to continue their solid play against the Tennessee Titans in Week 2.  For the second straight week, the Rams' opponent will be missing their premiere player, with the Titans missing star running back Chris Johnson due to a contract holdout (the Colts were missing Peyton Manning). 
While the Titans will be without their biggest impact player, they still present a very intriguing matchup and challenge for the St. Louis Rams.  Here is what to watch for:
A Familiar Foe
The Tennessee Titans starting quarterback is Matt Hasselbeck, a guy the St. Louis Rams are all too familiar with.  The last time Hasselbeck started a football game against the Rams, however, the Rams emerged victorious, 20-3.   Regardless, it will be interesting to see if Hasselbeck can still work some magic against his old rival.
First String Getting Loads of Playing Time
Steve Spagnuolo said he wants to play the first string players for the entirety of the first half, giving us a chance to get a good look at the players we'll be seeing on a regular basis.  Steven Jackson will be receiving playing time, Donnie Avery and Mike Sims-Walker will return from injury and we'll get to see even more Lance Kendricks. 
The first half won't give a strong understanding of how well the offense can perform in Josh McDaniels' spread, but it will show how much progress they have made.  Should they struggle, don't panic.
Can the Linebackers Have an Encore Performance?

One of the most pleasant surprises from the Week 1 win was the performance of the linebackers.  Second-year linebacker Josh Hull held his own in the middle, and outside linebackers such as Brady Poppinga, Zac Diles, Bryan Kehl and Na'il Diggs all played above expectations. 
The most peculiar thing about the performance was the fact that they were without star linebacker James Laurinaitis.  As previously stated, they won't receive the ultimate challenge due to the lack of Chris Johnson, but another solid performance would be very encouraging to Rams fans.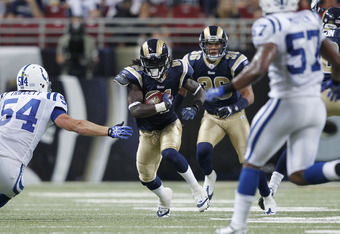 Will the Safeties Perform Well Again?
Heading into the preseason, one of the Rams' biggest concerns was the safety position.  They had lost O.J. Atogwe to free agency and were looking at starting Craig Dahl and James Butler, two players that likely wouldn't start for most other teams.  The team went out and signed Quintin Mikell away from the Philadelphia Eagles to give them an immediate and immense upgrade at the position.
Last week, the unit performed decently against the Colts, picking up three interceptions and giving plenty of reason for hope at the position in the near and distant future.  Can they follow up with a repeat performance?
Will A Receiver Stand Out?
Of all the members of the Rams group of receivers, only Danario Alexander and Mardy Gilyard performed above average last week.  Will anyone in this unit step up this week and make a few plays? 
Brandon Gibson has been an absolute monster in training camp, but he has yet to show huge improvement in the field.  Donnie Avery is a receiver everyone has been waiting on for a breakout season, and he will receive his first playing time of the preseason on Saturday. 
Danny Amendola continues to be Sam Bradford's favorite target, but he needs to avoid taking so many big hits.
Five Picks to Click:
-TE Lance Kendricks: The rookie looked phenomenal last week.  With a whole half-worth of playing time this week, he could have another big performance.
-WR Brandon Gibson: With Donnie Avery and Mike Sims-Walker back, Gibson won't have to face coverage from the opponent's best corner, likely setting him up for a big day.  He has been showing plenty of improvement in training camp, and it's only a matter of time before he brings it all together.
-RB Jerious Norwood: The running back looked fully healed from a knee injury, and he should receive plenty of playing time in the second half of this one.  Expect the speedster to pick up his first touchdown as a Ram tomorrow night.
-DE Robert Quinn: The Rams first selection from this year's draft looked great against the Colts, displaying the speed and strength he showed in his brief career at North Carolina.  He should receive more playing time this week, and he should cause plenty of havoc in the backfield.
-LB Brady Poppinga: The OLB showed the strength and nastiness he brings to the field immediately, and don't expect that to change tomorrow.  Poppinga laid a couple big hits last week, so don't be surprised if he makes one or two big plays against the Titans.