New York Giants 2011 Predictions: Outcomes for All 16 Regular-Season Games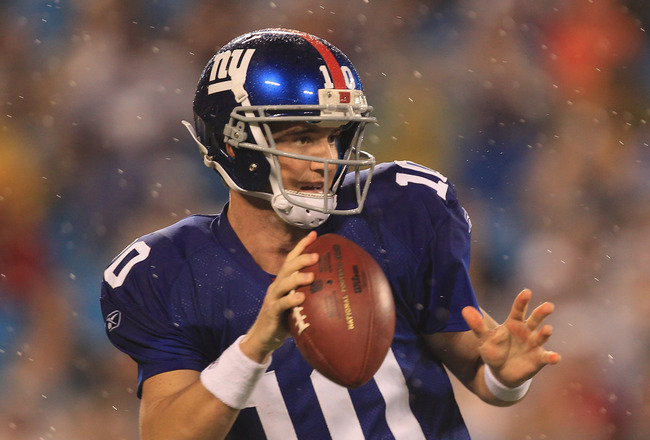 Streeter Lecka/Getty Images
The New York Giants did not look very good on offense and special teams in their first preseason game, but I wouldn't place any merit in that game given the shuffling of the offensive line, missing Travis Beckum and new receivers having to step up in the absence of Steve Smith.
By the way, I love Smith's comment today: "I used to hate the Eagles, now I don't like the Giants." He tried to say his words were taken out of context, but I can see where he's going with this.
However, it just speaks to how all he cared about was money, and no matter how much he despised that team, he was willing to join them because they made a better offer.
That topic is for another day. This article is a prediction of the Giants 2011 schedule, with outcomes and scores for all 16 games.
Week 1: @ Washington Redskins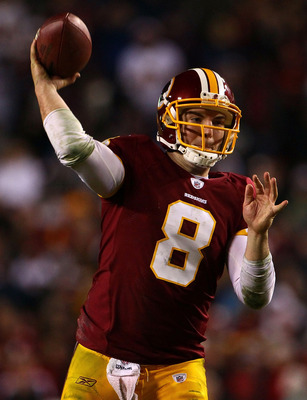 Win McNamee/Getty Images
What a great way to start off the season: on the road against a team you haven't lost to since 2007, and haven't lost on the road to since 2005.
The Washington Redskins made some decent signings this offseason, but as long as Rex Grossman or John Beck is their QB, there is no reason to believe their offense will be any good.
If they can keep it a low-scoring affair they might have a chance, but I don't see that happening.
Giants 27, Redskins 10
Week 2: St. Louis Rams, Monday Night Football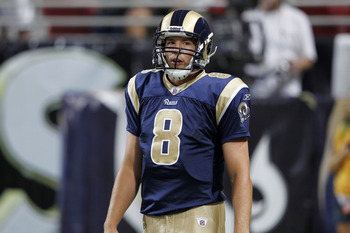 Joe Robbins/Getty Images
This game is a trap game. With the Giants in fits with the Philadelphia Eagles over the many problems they had with them this summer—which include a Twitter war between LeSean McCoy and Osi Umenyiora, and them signing Steve Smith—they could get caught looking ahead to Week 3.
The Rams are a much-improved team last year after going 7-9 in Sam Bradford's rookie season. They got him some weapons and a legitimate No. 1 wide receiver in Mike Sims-Walker, as well as getting Donny Avery back from injury.
They also made some solid additions to the defense; they signed Quintin Mikell from the Eagles, Al Harris from the Packers, Ben Leber from the Vikings and Justin Bannon from the Broncos.
Oh, and they also drafted elite college pass-rusher Robert Quinn from UNC in the first round. Steve Spagnuolo will have that defense taking names, and Josh McDaniels will work his magic with the offense.
The Rams are a scary team and could run away with that division in my opinion, I expect them to go 11-5 and surprise everyone with a road victory over the Giants.
Giants 24, Rams 28
Week 3: @ Philadelphia Eagles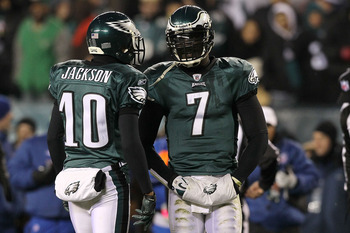 Jim McIsaac/Getty Images
There isn't much to be said here. I believe the Eagles are going to be a very good team and even better at home, so I don't see much chance for the Giants in this one.
The only shot they have is if Perry Fewell can slow down Michael Vick again and this becomes a low-scoring affair. There is no reason to believe he can't do that, but in a close game I like the Eagles at home.
Giants 17, Eagles 20
Week 4: @ Arizona Cardinals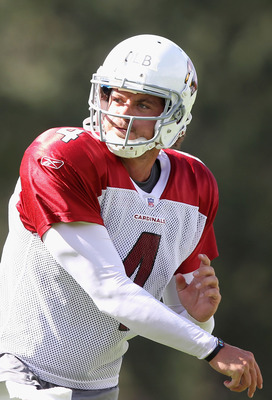 Christian Petersen/Getty Images
This three-game stretch could be harder than people think, but in the nice warm weather in Arizona I believe the Giants will have their way with the Cardinals defense.
Kevin Kolb is a nice addition, but he's not Joe Montana (sorry Cardinals fans).
Fewell will get after Kolb and have him rattled early. This game will be over quick; I find the Cardinals highly overrated.
Giants 34, Cardinals 20
Week 5: Seattle Seahawks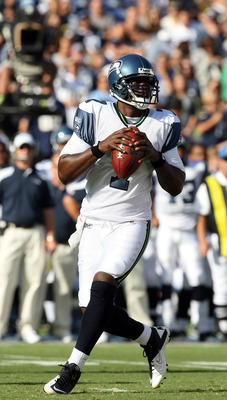 Donald Miralle/Getty Images
Sue me if I don't believe a team led by Tarvaris Jackson will have any chance whatsoever against the Giants on the road.
He started the game against the Giants last year with the Vikings and was thrown around by the Giants pass rush—he left the game in the third quarter due to an injury.
They allowed only three points in that game.
So now Jackson is leaving the Vikings and joining a team without Adrian Peterson and their great offensive line.
The last two times the Giants played the Seahawks the scores were 44-6 and 41-7. Enough said.
Giants 40, Seahawks 13
Week 6: Buffalo Bills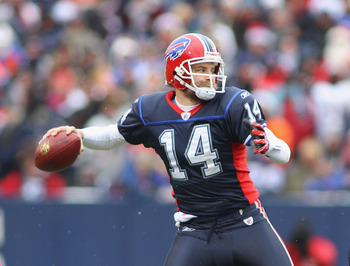 Rick Stewart/Getty Images
The Giants' neighbors to the north likely won't present much of a problem, especially since the game is at the New Meadowlands Stadium.
The Bills had the third overall pick for a reason.
They were awful against the run in 2010, which is why they drafted Marcell Darius from Alabama. If he has the type of impact the Bills are hoping for, they will be much improved against the run.
However, their defense will still not be that good, and their offense was below average in 2010.
Giants 33, Bills 17
Week 8: Miami Dolphins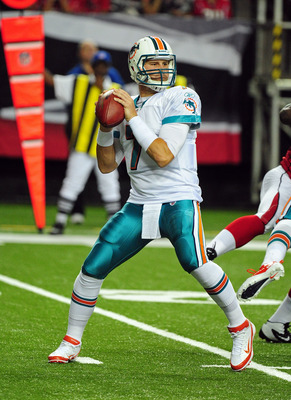 Scott Cunningham/Getty Images
Chad Henne threw eight passes in his preseason opener this past weekend, and two of them were intercepted.
That about sums up everything you need to know about the Miami Dolphins. They are putting their eggs in the Andrew Luck basket.
Giants 28, Dolphins 6
Week 9: @ New England Patriots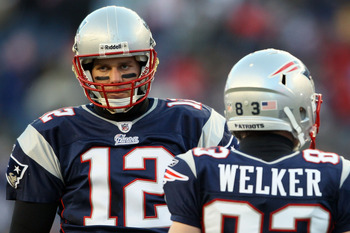 Elsa/Getty Images
In their first meeting since the Giants shocked the world against the 18-0 Patriots in the Super Bowl, both teams will be looking to prove something.
The Patriots are out to prove the Giants' Super Bowl win was a fluke, and the Giants are out to prove their 5-2 start to the 2011 season is not a fluke.
That right there lends me to believe the Patriots will be highly motivated to win this game, despite much player turnover since that 2008 February contest; the Patriots will have revenge on their minds.
Not only that, but the game is in Foxboro, and the Patriots have made a lot of roster improvements this offseason.
Giants 16, Patriots 23
Week 10: @ San Francisco 49ers
Sean Gardner/Getty Images
After the division rivalries, many Giants fans would call the San Francisco 49ers one of their rivals because of the many playoff matchups the two teams have shared.
49er fans are expecting Jim Harbaugh to come in and right the ship straight away, but I still don't trust Alex Smith.
He could be pulled by this game and they could potentially be playing a rookie. I like those odds with the Giants pass rush confusing a rookie QB.
Even if Smith is still in, the Giants defense will have their way with him.
Giants 23, 49ers 9
Week 11: Philadelphia Eagles
Streeter Lecka/Getty Images
How many times can the Eagles beat the Giants in a row? I firmly believe the streak will end this year, but with the talent they've put together in Philly it's hard to predict a win in either matchup.
The Giants offense will have found their groove by this point, and with a 6-3 start they will have confidence moving forward.
The Eagles have a great defense, but they didn't do much to help stop the run by losing Quintin Mikell and Steward Bradley.
They got Nnamdi Asomugha and Dominique Rodgers-Cromartie so it will be near impossible to pass against them, but if the Giants use their great running attack early and often, they could keep that explosive offense of the Eagles off the field.
This will be the formula for beating the Eagles; I just hope the Giants can use it.
Giants 27, Eagles 24
Week 12: @ New Orleans Saints, Monday Night Football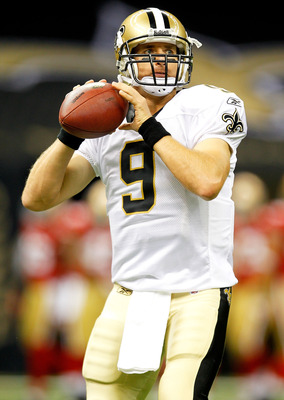 Sean Gardner/Getty Images
The last time the Giants traveled to New Orleans in the 2009 season, they got smashed 48-27. That was the same year the Saints ended up winning the Super Bowl, and the Giants missed the playoffs for the first time in four years.
I don't expect the same beat down, mainly because Bill Sheridan is no longer the defensive coach and Can't Cover Brown is no longer on the team.
However, it's nearly impossible to go into New Orleans and get a win, and I don't expect that to change in 2011.
Giants 30, Saints 35
Week 13: Green Bay Packers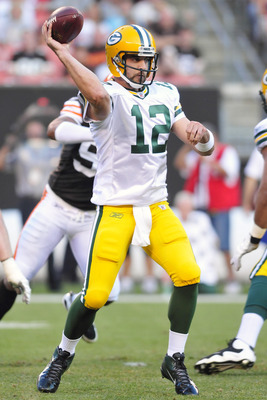 Jason Miller/Getty Images
Aaron Rodgers carved up the Giants defense in a 41-17 victory in Week 16 last year, and at that point the Packers were not even at full strength.
They had 16 guys hit the injured reserve last year and, despite losing Cullen Jenkins and Nick Barnett to free agency, still feel like the NFC favorites to make the Super Bowl.
Rodgers is only going to get better and he's getting Jermichael Finley and Ryan Grant back. This time the game is at home for the Giants, but I don't feel the result in the win-loss column will be any different.
Giants 20, Packers 30
Week 14: @ Dallas Cowboys, Sunday Night Football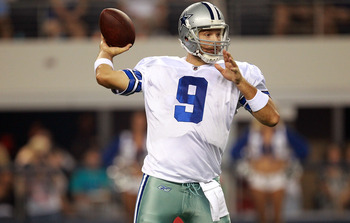 Ronald Martinez/Getty Images
The Giants have played at Jerry World (the new Cowboys Stadium) twice now, and both times they came out on top.
With the Cowboys improving just by getting Tony Romo back and the Giants possibly taking a step back offensively, one would think the Giants don't have a chance in this game.
While I don't believe the Giants come out on top, I do believe the game will be close.
Giants 24, Cowboys 27
Week 15: Washington Redskins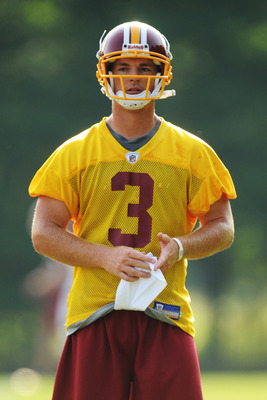 Mitchell Layton/Getty Images
I don't think I have to go into too much here. The Redskins are going to be in the running for Andrew Luck next year.
Giants 28, Redskins 13
Week 16: @ New York Jets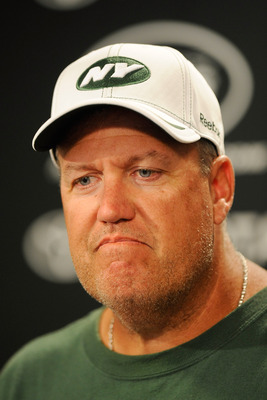 Patrick McDermott/Getty Images
Rex Ryan said the Jets are the kings of New York and will be for the next 10 years. Week 16 can't come soon enough.
We can expect more great sound bites from the Jets headman when that week rolls around, and we can also expect a very hard-fought game.
Both teams will be fighting for their playoff lives in this game—the Jets likely fighting for a better seed than an actual berth.
It will be an offensive struggle (I hate defensive struggle, that makes no sense) and low-scoring affair likely accompanied by severely cold weather and strong winds, but I expect the Giants to show the Jets who the real New York team is.
Giants 17, Jets 13
Week 17: Dallas Cowboys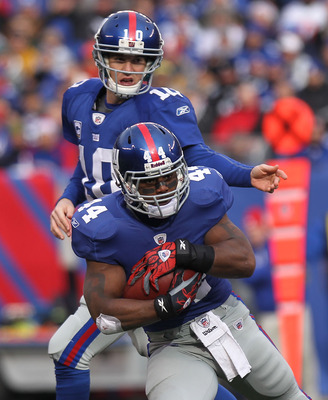 Nick Laham/Getty Images
If my tally is correct, the predictions so far put the Giants at 9-6 with a home game against their hated rivals. The playoffs and Tom Coughlin's job will be at stake here.
If the Giants lose and miss the playoffs for a third straight year, you can expect John Mara's loyalty to his longtime coach will go out the window.
The Giants will step up to the plate and bring their A-game, dominating this game from start to finish as the players show how much they care for their head coach. It will get ugly early and the Cowboys will make it respectable late.
Giants 34, Cowboys 21
The Giants finish the year with another 10-6 record and hopefully that will be enough this year to make a wild-card spot.
Keep Reading

New York Giants: Like this team?