10 Ways Washington Redskins Football Will Be Different in 2011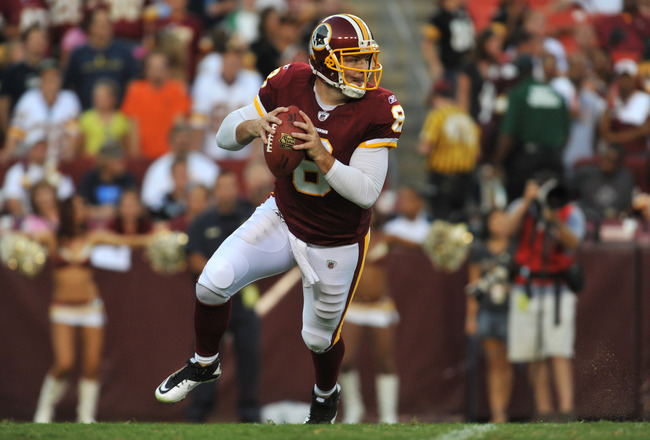 Larry French/Getty Images
After having watched the first preseason game last Friday, it's clear Washington Redskins football will be different than it was a year ago.
Several key players of the past have moved on, some key personnel changes were made and nice depth was added at a few positions. Add to that a new coach and a rule change, and there's plenty of new things to watch for this season.
Without further ado, here are the ten biggest ways Redskins football will be different in 2011.
The Albert Haynesworth Sideshow Is over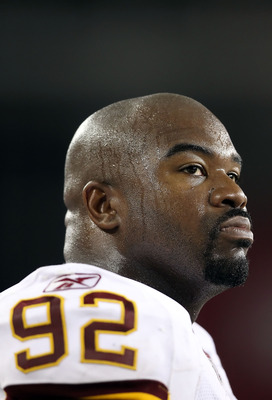 Christian Petersen/Getty Images
With a bad investment, eventually you have to cut your losses. That's exactly what the Washington Redskins decided to do with the team-killing Albert Haynesworth.
Haynesworth, who only played in eight games for the Redskins last season, is now the latest "Extreme Makeover" project for New England Patriots coach Bill Belichick.
Though Haynesworth is undoubtedly one of the most talented players at his position, the Redskins will do better this year with Barry Cofield and Anthony Bryant, two guys who won't get winded after three plays, fake injuries or question their coaches.
Haynesworth's abilities never outweighed the distractions he caused in Washington, especially considering how infrequently he was fit to play.
No More Donovan McNabb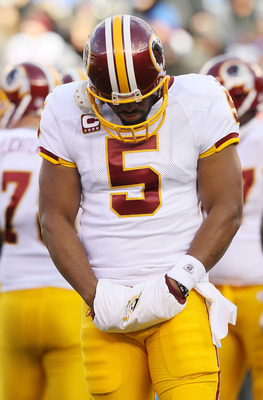 Jim McIsaac/Getty Images
As we all know, Donovan McNabb has taken his talents to South Beach, I mean the Minnesota Vikings. The question remains whether this was a good move or not for the Redskins.
McNabb's numbers were certainly underwhelming in 2010. His 58.3 completion percentage was only good enough to rank 25th in the NFL, and he outdid his 14 touchdowns with 15 interceptions.
He played even worse in big games. In NFC East competition, and games against the Indianapolis Colts, Green Bay Packers and Chicago Bears, McNabb had zero games with a passer rating above 80 and 11 interceptions for his 7 touchdowns.
The Redskins would do well to decide on a quarterback quickly and try and avoid more controversy in 2011. The coaches have spoken very highly of both John Beck and Rex Grossman, who played very well in the first preseason game against the Pittsburgh Steelers.
It remains to be seen whether they actually like both quarterbacks, or they are just hedging their bets in case one or the other fails. Either way, no NFL team succeeds with two quarterbacks, so someone needs to be anointed soon.
Moving on from Clinton Portis
Jim McIsaac/Getty Images
Clinton Portis was finally released by the Redskins on February 28.
After a tough adjustment his first season with Washington when he was moving to a different style (power running) than he was used to with his previous team, the Denver Broncos, Portis had three very productive seasons with the Redskins.
Unfortunately, his last two seasons were greatly hindered by injuries. A concussion kept him out of eight games in 2009, and nagging groin issues only allowed him to play in five games in 2010.
Though Portis was an excellent asset for the Redskins a few years ago, he is clearly on his last legs in his NFL career. It seems nowadays the shelf life for most NFL running backs is about 10 years, and Portis is showing serious signs of wear and tear.
The Redskins will be better off in 2011 with a fresh crop of younger guys. The newly acquired Tim Hightower showed flashes of brilliance for the Arizona Cardinals, rushing for 10 touchdowns for the Super Bowl-bound 2008 team and starting 13 games in 2010.
With rookies Roy Helu, Jr. and Evan Royster, the Redskins now have a deep, albeit inexperienced selection at tailback.
Santana Moss Won't Be Alone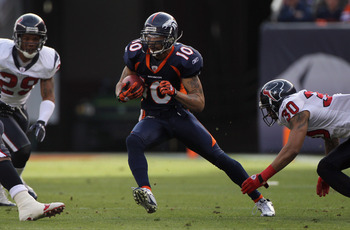 Doug Pensinger/Getty Images
One of the weakest spots over the past five years for the Washington Redskins has been the wide receiver position.
Santana Moss has had over 1,000 receiving yards three times in his six seasons in Washington. The Redskins have not had a single other 1,000 yard receiver in that time period.
The Redskins finally made some free-agent moves this offseason, signing Donte' Stallworth and former Denver Broncos and New England Patriots' receiver Jabar Gaffney.
While they may not be the marquee signings some fans desire, these guys can help. Gaffney's most productive seasons have come in his previous two with the Denver Broncos, and Stallworth caught 23 touchdown passes in his four years with the New Orleans Saints.
Stallworth, Gaffney and rookie Leonard Hankerson will provide nice depth behind Moss and Anthony Armstrong, who had a nice 2010 debut with 871 yards and 3 touchdowns, and should be even more productive in 2011.
Jim Haslett's 3-4 Will Be Better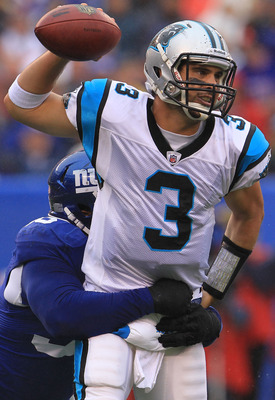 Chris McGrath/Getty Images
Everyone knew that the 3-4 defense installed last season by new defensive coordinator Jim Haslett was a work in progress. This season the Redskins players should be better acclimated to playing in the new system.
More importantly, the Redskins made some important personnel changes that will greatly facilitate the transition. The defensive line was bolstered by the Barry Cofield and Stephen Bowen pickups and the drafting of Jarvis Jenkins.
The already strong linebacker corps of Rocky McIntosh, Brian Orakpo and London Fletcher will be aided by first-round pick Ryan Kerrigan.
Haslett, the former New Orleans Saints' head coach, will field a much stronger defense in 2011 than he did a year ago.
A Better Record at Fex Ex Field (Maybe)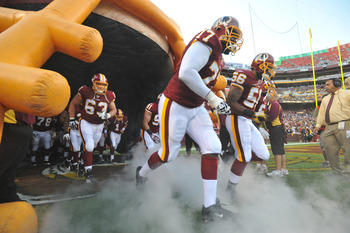 Larry French/Getty Images
The Washington Redskins have really tortured their fans the past two seasons, going 3-5 at home in 2009 and 2-6 at home in 2010.
For all those fans who travel long distances and pay good money to see their Redskins live, leaving with a win makes a big difference.
Unfortunately, the away slate is easier in 2011, with trips to the Seattle Seahawks, Carolina Panthers and Buffalo Bills.
Still, with home matchups with the San Francisco 49ers, Arizona Cardinals and Minnesota Vikings, the Redskins could go be over .500 at Fed Ex if they win a few division games.
And who knows, with the way they played against the Dallas Cowboys in the 2010 opener and a few weeks later against the Green Bay Packers, they may be able to surprise the New York Jets or New England Patriots this year.
No More Dropped Interceptions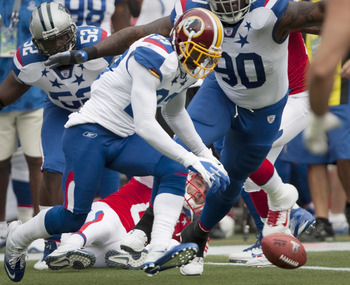 Kent Nishimura/Getty Images
Carlos Rogers may be a good cover corner, but he has the worst hands of any cornerback in NFL history.
This offseason saw the Redskins add safety Oshiomogho Atogwe, who had 22 interceptions in six seasons with the St. Louis Rams, and cornerback Josh Wilson, who had nine interceptions in three years starting for the Seattle Seahawks and Baltimore Ravens.
Add those two to the ball-hawking cornerback DeAngelo Hall, and you have a defensive backfield that can make a lot of big plays.
Chris Cooley and Fred Davis Will Return to the Endzone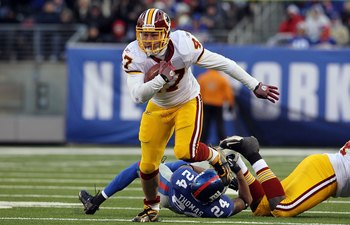 Jim McIsaac/Getty Images
Washington Redskins tight ends should have a lot of opportunity to celebrate in 2011.
Under new tight ends coach Sean McVay, who impressed Mike Shanahan enough to get the job in spite of his youth and inexperience, fan-favorite Chris Cooley could see a resurgent spike in touchdowns.
He had productive years in 2008 and 2010, recording a career-high 849 receiving yards in both seasons, but has only caught six touchdowns over the past three seasons. This is a severe drop from the 27 touchdowns he caught in his first four seasons in Washington.
If Cooley's knee injury keeps him out for the start of 2011, Fred Davis will be ready to step in. Davis caught six touchdowns in 2009, but only had three a season ago.
With a fresh approach from a new coach, and the additions of deep threats Jabar Gaffney and Donte' Stallworth to open up the middle of the field, the seasoned tight ends should be frequent targets of whichever quarterback wins the job.
More Touchbacks (Sorry Brandon Banks)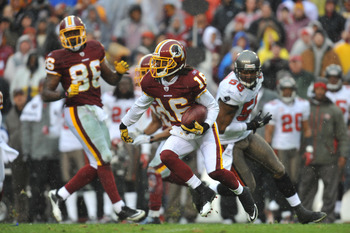 Larry French/Getty Images
Not every change for the Redskins in 2011 will be positive. This rule will certainly be a negative for kick returner Brandon Banks, who was 10th in the NFL in kickoff return yardage last season, and set a franchise-record for return yards in a game against the Detroit Lions.
Banks has not let the rule change bother him so far, returning a kickoff 58 yards in the first preseason game against the Pittsburgh Steelers. He'll need to take advantage of the few kicks he gets to return in 2011, as most of them will be sailing over his head (and the goalposts).
On a more positive note, the new rule should be a nice plus for the Redskins kickoff team, with the strong-legged Graham Gano recording five touchbacks in the first preseason game.
Did I Mention No More Albert Haynesworth?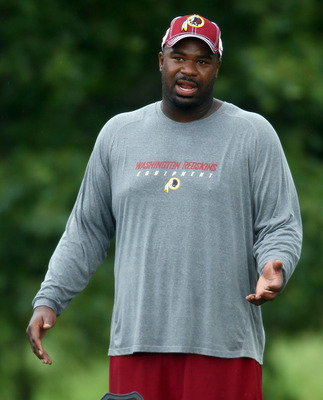 Win McNamee/Getty Images
It's so nice it's worth mentioning twice. Albert Haynesworth is Bill Belichick's headache now. Honestly, anyone who can't pass the conditioning test should be banned from the league.
Haynesworth and C.C. Sabathia are an insult to the sporting world. You're a professional athlete, get on a treadmill once a week for goodness' sake.
Keep Reading

Washington Redskins: Like this team?