Hue Jackson Will Lead the Oakland Raiders Back to Prominence
August 13, 2011
Ezra Shaw/Getty Images
Hue Jackson has been a successful teacher in the NFL for the last decade. He has turned good players into Pro Bowlers and league leaders. He has turned historically stagnant offenses into juggernauts. Now the coach who has been overqualified for the last two years gets a shot to lead the most infamous team in professional sports, the Oakland Raiders.
Jackson began his professional coaching career with the Washington Redskins in 2001. He was the running backs coach with the Redskins and worked with Stephen Davis. Under Jackson's tutelage, Davis finished third in the league in rushing and made the Pro Bowl. He then moved to the Cincinnati Bengals and helped develop a young receiver named T.J. Houshmandzadeh. A 2001 seventh-round selection, Houshmandzadeh was a long-shot to make the team and had even less of a chance of starting. The former Oregon State Beaver had a total of 62 catches for 720 yards and one touchdown in the three years prior to Jackson's arrival.
In Jackson's first year as receivers coach with the Bengals, TJ caught 73 balls for 978 yards and four touchdowns. The Bengals as a wide receiver unit were feared throughout the league and Houshmandzadeh continued to flourish. Jackson then took over the offensive coordinator position in Atlanta, but instead of working with one of the biggest stars in football, he was handed Joey Harrington.
A dogfighting trial ensured Michael Vick would be in prison stripes instead of a Falcons uniform. This left the new OC with vagabond quarterback Joey Harrington and Chris Redmond. Yet, as most great coaches do, Jackson found something for the Falcon offense to hang their hat on. In this case, that something turned out to be someone and that someone turned out Roddy White.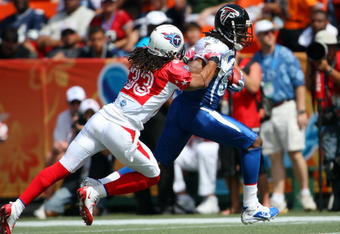 Paul Spinelli/Getty Images
White spent the first two years of his career toiling in first-round obscurity. Once Jackson came to the ATL, the talent White displayed in college miraculously appeared. Much like Stephen Davis and TJ Houshmandzadeh, Jackson brought the best out of White. The Falcon wideout had a career year with 83 catches and 1,202 yards.
Former NFL great and notorious leader of men Vince Lombardi once said, "The measure of who we are is what we do with what we have." At every stop Jackson has gotten the most out of the talent he has been given. He has not tried to change them to fit a specific system like Washington Redskins head coach Mike Shanahan. Nor has he confused building a football team with training a Navy Seal like Kansas City head coach Todd Haley. He has simply identified what a player does well and instilled the confidence in them to use those abilities.
We are all guilty of expecting people to do things the way we would do them if we were them. The great head coaches—Wooden, Parcells, Bowman, Auerbach, Gibbs, Walsh—all mastered the technique of coaching and not critiquing, and this enabled them to get the most out of their players.
Jackson has left each player at each stop better than he was when Jackson arrived. His abilities as a teacher were put to the test in 2008 when he was the quarterbacks coach for the Baltimore Ravens and was handed a raw rookie named Joe Flacco. All Jackson did was coach Flacco to one of the best rookie quarterback years in NFL history. Three years later, Joe Flacco is the Ravens all-time leader in passing yards and have some believing Baltimore is poised for a Super Bowl run, but we will save that subject for another day. Back to the topic at hand and how Jackson once again made wine out of grapes.
This brings us to the Oakland Raiders and how their 2010 offensive explosion will prove to be a microcosm of what the Hue Jackson Raiders will look like. For the first time in what must have felt like 74 years to Silver and Black fans, the Raider offense resembled a high powered offense. Top pick Darren McFadden looked like the monster he was drafted to be and finished the year with 1,157 yards rushing and a ridiculous 5.2 yards per carry.
The Raiders finished the 2010 season tied for second in the league with 19 rushing touchdowns and were second with 2,494 rushing yards. They were also second in yards per carry (4.9) and yards per game (155.9). Lastly, the Silver and Black were tied for fifth in points per game (25.4) and sixth in total points scored (413). Again, the teacher gained the trust of his players and he received maximum effort from his pupils.
Just a year earlier, McFadden amassed 357 yards, which was worse than his rookie year output, and as a team the Raiders did not finish better then 21st in any team rushing categories. Scoring per game and total points scored also saw a significant increase. They were 31st with 12.3 points per game and only had 197 total points scored.
Considering the passing offense is, shall we say, a work in progress, what he was able to accomplish as the team's offensive coordinator is all the more impressive. Next on the coach's to-do list is to instill game-changing, or at least game-altering, confidence in his vanquished quarterback.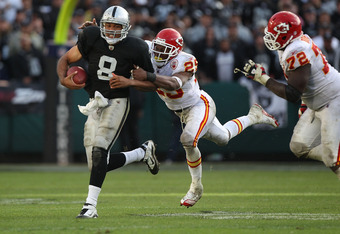 Jed Jacobsohn/Getty Images
Jason Campbell has been a bit of a quandary to figure out thus far in his career. He has the physical tools to be a Super Bowl-winning quarterback. He can make all the throws, which led to him being selected in the first round by quarterback guru Joe Gibbs in 2005. Consistency has been Campbell's problem—consistency in coaches, coordinators and systems. He now has been in the same system with a coach who truly believes in his abilities for the first time in his career.
Campbell is not the only player who is in dire need of a confidence boost. Questionable first-round selection wide receiver Darrius Heyward-Bey must focus on catching passes and not criticism. Heyward-Bey has been much maligned throughout his brief career and rightfully so. If he would even show flashes of decency, Campbell and the Raider offense would be that much better. Instead, the seventh overall selection in the 2009 draft has lacked the motivation necessary to excel at his craft.    
Jackson has his biggest task in front of him, but has proven he is capable of returning the Raiders to the championship style of play they so frequently use to display. They have been in need of a leader of men who can inspire a collection of individuals to play as a team. His career journey has taken him to places similar in talent and in dysfunction. The success he has shown in dealing with players will now be tested as he attempts to turn around an entire franchise, but the pattern he has established leads one to believe the task at hand is not too large.
The difference is this time he has been entrusted with not only manning the ship but redirecting its course.