Fantasy Football 2011: Michael Vick and 7 Biggest Risk-Reward Players in 2011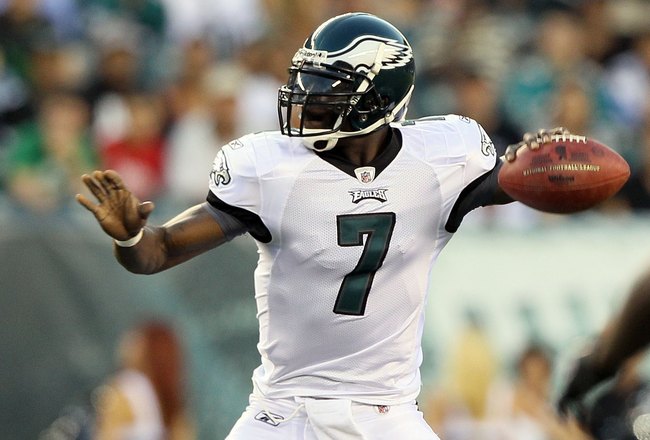 Jim McIsaac/Getty Images
In fantasy football, taking risk on players like Michael Vick, is required to win.
Now, you want to mix your team with both high-risk, high-reward players and safer bets to give you a balanced team with tons of potential.
This year, more than ever, there seems to be a large portion of high-risk, high-reward players that could make or break your fantasy season.
Let's take a look at some of the biggest risks in fantasy football for 2011.
7. Darren McFadden, RB, Oakland Raiders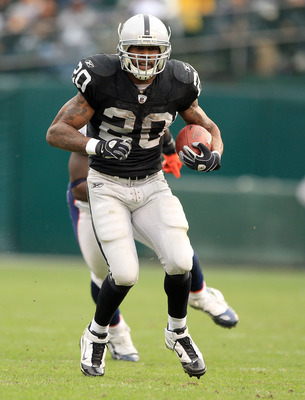 Ezra Shaw/Getty Images
Darren McFadden of the Oakland Raiders has been a constant injury risk in the NFL, but 2011 will be the year that he puts two good seasons together in a row.
Last year, despite missing three games, he blew up to become the sixth best fantasy running back in ESPN standard scoring leagues.
McFadden is a dual threat running back that can run from a number of formations as well as catch the ball out of the backfield.
His combination of size and athleticism is somewhat similar to that of Adrian Peterson, and this year he will play a lot like him.
Head coach Hue Jackson is not worried about McFadden's injury that will cause him to miss at least the first two preseason games.
So, why should I be worried?
Draft McFadden, grab Michael Bush as his handcuff, and you will be rewarded for the risk you take.
6. Matthew Stafford, QB, Detroit Lions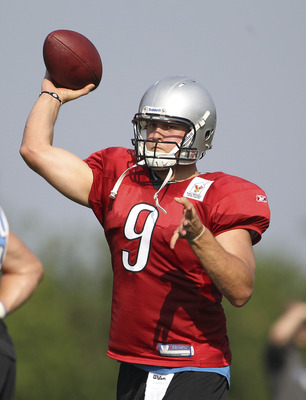 Leon Halip/Getty Images
Matthew Stafford may be the riskiest quarterback in fantasy football, but both fantasy owners and the Detroit Lions are expecting big things in 2011.
Stafford has only played in 13 games in his first two NFL seasons.
He has been pretty good while on the field, but his problem is staying on it.
Last year, in the two games he played in after recovering from a Week 1 injury, he posted back-to-back 20-plus point performances in ESPN standard scoring leagues and unveiled his fantasy potential.
Then, he got hurt again and missed the rest of the season.
This year, he will be a high-risk selection, but he will also likely be picked as your backup.
So, the potential of a top 10 quarterback is enough reward to take the risk on him in 2011.
5. Kenny Britt, WR, Tennessee Titans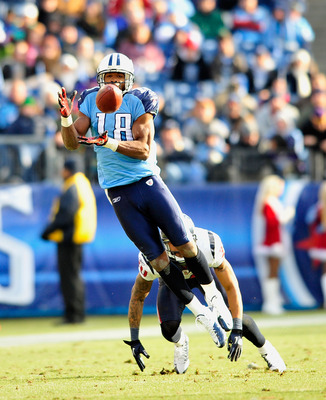 Grant Halverson/Getty Images
Kenny Britt has had an eventful offseason, but everything seems to be getting back to normal for him and the Tennessee Titans.
Britt was an anomaly last season.
He played in only 12 games, racking up better numbers than his 16-game rookie season, yet accumulated about one-third of his receiving yards in one game.
Yes, in Week 7 he caught seven passes for 225 yards and three TD.
Britt was stellar last year, and should only improve with the arrival of wily veteran Matt Hasselbeck.
Fantasy owners just don't know what to expect from Britt, including whether he will be suspended by the league or not for multiple arrests in the offseason, but his great potential is worth a fourth round pick in 2011.
4. Frank Gore, RB, San Francisco 49ers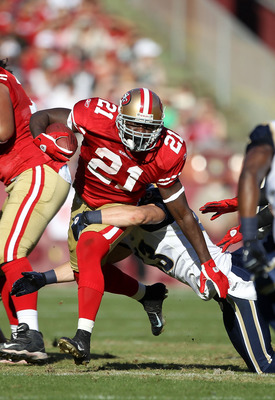 Ezra Shaw/Getty Images
Frank Gore has been great when he's on the field for the San Francisco 49ers, but this may be the year he misses a huge chunk of time and breaks the hearts of fantasy owners.
Gore broke out in 2006 with 1,695 rushing yards and eight TD.
Since then, his carries have dropped progressively year by year.
From 312 in 2006 to 260 in 2007, to 240 in 2008, to 229 in 2009, to 203 last year.
Fantasy experts love trends. I hate them.
Still, this is one that scares me.
Gore is an "old" 28 years of age, and although he has been productive when on the field in the past, 2011 will be the perfect storm when he loses his production level and continues to get hurt.
Avoid the risky running back because his reward level isn't as high as most think.
3. Dez Bryant, WR, Dallas Cowboys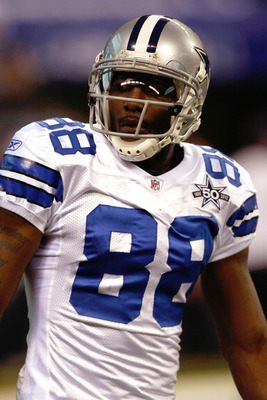 Scott Boehm/Getty Images
Dez Bryant has all the talent in the world, and with the expected boon in production for the Dallas Cowboys, most fantasy players are willing to take the risk on the young wide receiver in 2011.
The problem is, Bryant is rated too high.
Most fantasy players are taking him as a high-end No. 2 wide receiver over players like Tampa Bay's Mike Williams and the Saints' Marques Colston.
The safety in these players should outweigh the potential in Bryant when drafting your team.
Still, do not neglect the talent level of Bryant.
He will have flashes of greatness in 2011.
Yet, he won't be great enough to lead your fantasy team.
Grab a safe first wide receiver and feel good about Bryant as your No. 2.
2. Peyton Hillis, RB, Cleveland Browns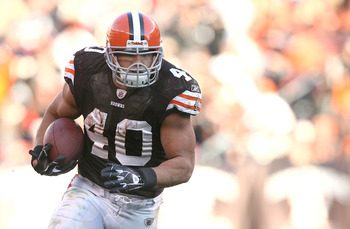 Matt Sullivan/Getty Images
Nobody, even the Cleveland Browns, knows what to expect from Peyton Hills in 2011.
The Madden 12 cover man turned into a fan favorite in Cleveland after taking the reins from Jerome Harrison.
However, just as quickly as he burst on the scene, he fell off the map, killing fantasy owners' championship hopes as he struggled in the final weeks of the season.
This year, Hillis will probably be a decent fantasy option.
He is the lead dog in an offense that has some good offensive linemen, and he will get every opportunity to prove last year was not a fluke.
But opportunity does not always turn into production.
Hillis is a decent option as a number two running back with all the timeshares going on in the NFL today.
Still, do not be surprised if your selection of him blows up in your face.
After all, he is a fullback playing running back.
1. Michael Vick, QB, Philadelphia Eagles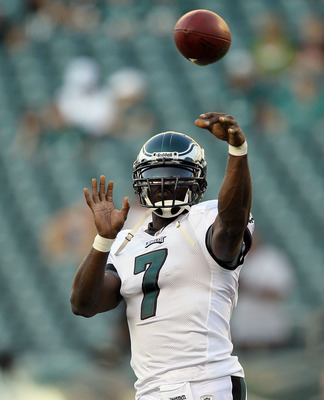 Jim McIsaac/Getty Images
Michael Vick was an absolute fantasy phenom who carried the Philadelphia Eagles and fantasy football teams to success in 2010.
This year, Vick will look to repeat that performance, entering the season as the clear star of the Philadelphia offense.
He is being projected by most as either the first or second quarterback in the fantasy football.
Based on last year, ranking him first only seems fair.
But, that will not come without risk.
Vick has played only one 16-game season in his eight-year career.
He is an injury risk due to his style of play.
He is also a risk in the sense that 2010 may have been a fluke. The numbers he posted in Atlanta do not even compare to what he did with Philadelphia last season.
In Atlanta, however he was throwing to Brian Finneran and handing off to Warrick Dunn. DeSean Jackson and LeSean McCoy are quite the upgrades for Vick's arsenal.
Expect big things from Vick in 2011, but with the risk that comes with his game, select a viable backup if you are lucky enough to land number seven.
Keep Reading