MLB Round-Up: Why the New York Yankees Need to Go All out to Win the AL East
August 12, 2011
Andy Marlin/Getty Images
A week ago today, the New York Yankees rode into Boston on the back of a seven-game winning streak.
They'd just completed a comprehensive four-game sweep of the Chicago White Sox, and were raring to face their heated rivals—the Boston Red Sox.
Everything was clicking for the Bronx Bombers. Curtis Granderson, Mark Teixeira, and Derek Jeter were swinging a hot bat, and had contributed to the Yankees hammering the White Sox by a combined score of 34-11.
Phil Hughes and Ivan Nova had both notched impressive wins in the series. Good pitching, coupled with great hitting: the Yankees seemed set to steal the three-game series against the Sox. With both teams deadlocked atop the AL East standings going into Friday's opening game, the opportunity was there for the Yankees to create some distance between themselves and their hated rival.
A 3-2 win in the Friday game gave the Yankees sole possession of first place. They were now enjoying an eight-game win streak. Boston appeared to have run into a freight train.
But after a 10-4 loss in Saturday's game, the wheels fell off. To add insult to injury, the Yankees would lose Sunday's prime-time rubber match on a 10th-inning Josh Reddick walk-off hit.
The two losses raised worrisome questions. CC Sabathia was rocked for seven runs by the Sox in Saturday's game, bringing his season totals against Boston to an inglorious 0-4, 7.20 ERA. Worse yet, the Yankees failed to capitalize against a favorable match up against John Lackey, who has made Sox fans miss even Daisuke Matsuzaka (!) with his inconsistent (to put it nicely) performances.
Sabathia is 16-2 with a 2.11 ERA against all other MLB teams. Should the Yankees meet Boston in the ALCS this fall, his inability to pitch well against the Red Sox will be a major cause for concern.
The Yankees turned to Freddy Garcia on Sunday night, who took the mound against hard-throwing Josh Beckett. Garcia turned in a solid performance good, and the Yankees led 2-1 in the ninth inning.
Game over, right? Mariano Rivera was coming in to seal the victory, as he's done so many times before in key games. With their automatic finisher coming in, the New York Yankees would ride away from Boston with one-game lead in the AL East.
But the Sox showed why games are played on the field, instead of on paper.
Rivera allowed the red-hot Jacoby Ellsbury to drive in Marco Scutaro. After losing in the 10th, the Yankees left Boston a game behind their rival in second place, and their faith in their previously-unstoppable closer somewhat shaken.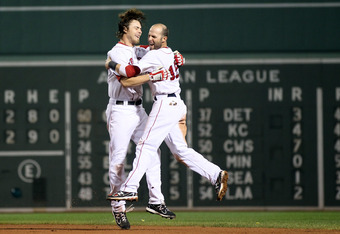 Elsa/Getty Images
However, New York had a chance on Tuesday to bounce back against the Los Angeles Angels of Anaheim.
Too bad Mariano Rivera helped give that one up too, as Bobby Abreu hit a two-run home run against his former club to win the game.
Thursday, the Yankees won a close one against those same Angels, taking the series 2-1 after Wednesday's 9-3 victory. Rivera gave up a three-run homer to Russell Branyan—his third shaky appearance in a row—as the Yankees held on to win 6-5.
Despite what happened, there are a few bright spots to take away from these past two series.
The Yankees showed they could beat teams like the Angels, who are a playoff-caliber side. Despite their 3-3 split through this most recent two-series stretch, New York remains a manageable game behind Boston in the standings.
But winning the AL East doesn't matter too much, right?
Wrong.
The Yankees need to win their division if they want a legitimate shot at winning the World Series. A division title would mean two things: home-field advantage in the playoffs, and an easier first-round opponent.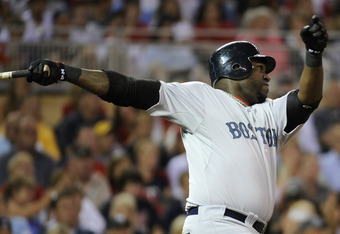 Hannah Foslien/Getty Images
Take a look at the standings. If the playoffs started today, the New York Yankees would win the Wild Card and earn the fourth seed in the AL—meaning a match up against the Texas Rangers, who are currently atop the AL West. As the first seed, the Red Sox would play against the current AL Central leaders, the Detroit Tigers.
The Rangers would give the Yankees fits in the playoffs. Just look at last year's ALCS.
Though Cliff Lee has left Texas for Philadelphia, Texas' rotation—which boasts C.J. Wilson, Alexi Ogando, and Matt Harrison—remains a strong point. That three-man rotation could be very tough in a 5-game, first-round series.
Sure, the Detroit Tigers have the near-unhittable Justin Verlander as their No. 1 starter. But their rotation tails off sharply after him. Guys like Rick Porcello simply aren't good enough to be counted upon in a crucial playoff series.
New York have a unique home-field advantage in Yankee Stadium, where they have gone an impressive 39-23. However, if they were forced to play games in Detroit's pitcher-friendly Comerica Park, the task would become much more complicated.
Yankee Stadium is perfectly-tailored for New York's dead-pull hitters: Curtis Granderson, Mark Teixeira, Nick Swisher, and Robinson Cano all ahve very good numbers at home.
This type of home-field advantage would be a difference-maker in a potential ALCS match up against the Red Sox.
Although Fenway Park's right-field "fence" is the shortest distance in the majors, some of the Yankees' left-handed "pull hitters" find it difficult to go yard in that direction.
Take Curtis Granderson, for example. There is a reason why he could not hit a home run at Fenway Park last weekend.
He wasn't necessarily mired in a power slump. If you watched the games, you would have noticed that "Grandy" made good contact on several occasions.
The only problem is that they went foul. Had he been hitting at Yankee Stadium, perhaps those swings would've translated into hits. Never discount the power of home-field advantage on a hitter's confidence.
Hitters like David Ortiz and Adrian Gonzalez have made an art out of hitting pitches to clear the right-field fence and spraying opposite-field shots against the considerable backdrop of the Green Monster.
Kevin Youkilis, Dustin Pedroia, and Jacoby Ellsbury have also shown the ability to use the Monster to their advantage, as unpredictable caroms sometimes lead to extra-base hits.
The Sox possess to great an advantage in the comfortable Fenway confines. A postseason series would simply be an echo of last weekend's meld down.
For the Yankees to get past their rival, they have to have home-field advantage of their own.
The Red Sox also have a terrific home record, just like the Yankees. Though the Yankees have struggled famously against the Sox this season, going 2-10.
Not to mention that grabbing a game—on the road—against the 1-2 punch of Lester and Beckett is a tall order for any team.
From that perspective, it would seem that the team with home-field advantage has a greater chance of winning come playoff time.
Winning the AL East does hold high importance after all.