New England Patriots: 5 Things We Learned from the Preseason Opener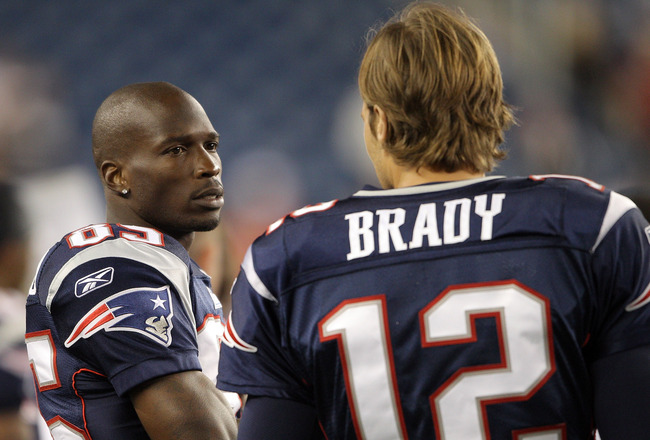 Elsa/Getty Images
After just a few short weeks of preparation, the New England Patriots opened their preseason schedule last night against the Jacksonville Jaguars with a 47-12 victory.
Despite the absence of big names such as Tom Brady and Chad Ochocinco, the Patriots offense was able to put on a clinic.
Although preseason results are not all that important, here are five things we learned from the victory over the Jaguars last night.
The Patriots Have Depth at QB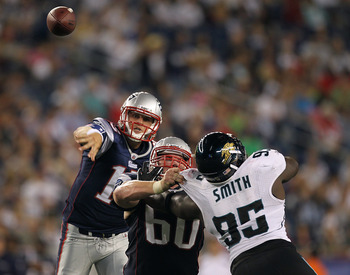 Jim Rogash/Getty Images
God forbid Tom Brady ever gets dealt a season ending injury again, the backup quarterbacks showed us that we need not worry.
With Brady on the bench, second stringer, Brian Hoyer, was under center like he had started his entire career.
Hoyer looked sharp and completed 15 of 21 passes for 171 yards and a touchdown. He looked like he could jump in and start on many teams in the NFL.
Exit Hoyer, enter Ryan Mallet.
Mallet looked like the pro-ready quarterback everyone believed he could be coming out of college. He showed of his laser of an arm, completing 12 of 19 passes for 164 yards and a touchdown.
Don't be surprised if you see the Patriots use one of these guys as trade bait in the future as teams usually only carry two quarterbacks.
Stevan Ridley Could Be the Feature Back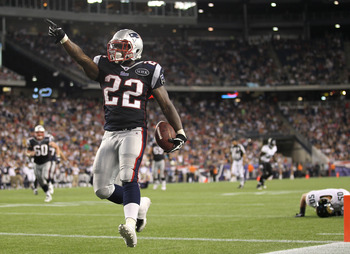 Jim Rogash/Getty Images
In the 2011 NFL draft, the Patriots drafted two running backs in the second round, Shane Vareen and Stevan Ridley.
While Vareen didn't play, Ridley showed why the Patriots used a high pick on him.
Not only did Ridley run all over the field, he showed that he is a tough son of a gun by not going down after getting hit the first time.
He finished the night with 64 yards on 16 carries and two touchdowns. He also added seven receptions for 47 yards and a score.
The emergence of Ridley could very well mean the end of Sammy Morris in a Patriot's jersey.
Taylor Price Could Be Ready to Break Out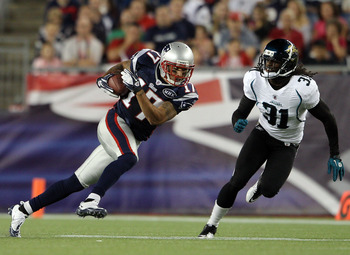 Elsa/Getty Images
After being inactive for all but one regular season game in his rookie season, Taylor Price showed what he could do on the field last night.
Price hauled in five catches for 105 yards and a score in his coming out party.
He also returned two punts for a total of 14 yards, showing the versatility he can bring to this New England Patriot team.
With Wes Welker and Chad Ochocinco slated to be possession receivers, Price could emerge as a deep threat in the Patriots high powered offense, something they've been missing since the departure of Randy Moss last season.
Big Time Acquisitions Are Not Ready Yet
Jim Rogash/Getty Images
The past couple weeks have been exciting ones for the Patriots, with many new faces joining the team.
Albert Haynesworth, Andre Carter, Chad Ochocinco and Shaun Ellis all acquired by Bill Belichick and the Patriots.
Not one of them played last night.
This is to be expected because all four guys have to learn an entirely new system and that takes time.
But there really is no preparation like a game, so hopefully these four gentleman can learn the system quickly and get on the field for next Thursday's exhibition against the Tampa Bay Buccaneers.
The Defense Has Improved and Used a Base 4-3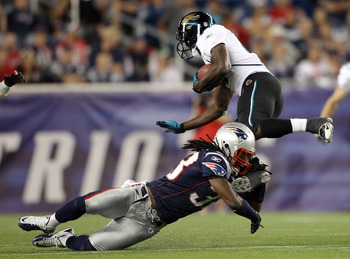 Elsa/Getty Images
It is just a preseason game but from what we saw last night, the defense has improved quite a bit.
Sure, facing a rookie quarterback in his first NFL game action helps, but the defense did not allow a single touchdown, holding the Jaguars offense to four field goals. They also held the Jaguars to just 3-of-13 on third-down conversions.
The front seven was able to put pressure on the quarterback as well with a total of four sacks.
Linebackers Tracy White and Dane Fletcher led the team in tackles with six each and wide receiver Buddy Farnham had the teams lone interception.
The Patriots also got away from their usual base 3-4 defense and used a 4-3 for most of the game. This could turn out to be a good thing, as Albert Haynesworth refused to play in a 3-4 scheme in Washington.
One of the biggest weaknesses of the 2010 Patriots, last night gave hope that the defense could be much better when the regular season rolls around in a month.
Keep Reading

New England Patriots: Like this team?