NFL Quarterbacks Feel PASH in the Pocket: Grading Protection and Pressure
August 9, 2011
Ronald Martinez/Getty Images
According to ESPN, 2011 is the Year of the Quarterback.
That's not news to NFL owners, coaches or players, of course. As the rules and tactics of modern football tilt the playing field toward the passing game, they find themselves adjusting to an imperative put forward by Oakland's Al Davis:
"The quarterback must go down."
To date, the best measure put forward for offensive and defensive success in this arena has been sack rate. As explained (here in some detail) by Football Outsiders, sack rate "gives sacks (plus intentional grounding penalties) per pass attempt adjusted for down, distance and opponent."
It's a good start, but in today's game, a hit on the passer is significant whether he goes down with ball in hand or not. As recently as 2008, quarterbacks were the NFL's highest-paid players by a fair margin.
Not surprisingly, the linemen who protect and pursue them were the next pay grade down.
With so much money committed to the passer and his pocket, any event that puts him in danger is notable for both the offense and the defense. Hurries are less cut-and-dried than the sound of pads and helmets colliding, and some pass plays (e.g. screens) invite pressure into the pocket to create space elsewhere in the defense.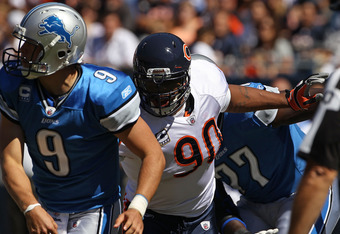 Jonathan Daniel/Getty Images
But on any given passing play, the quarterback is the first concern for every player involved in pass protection and pressure until he releases the ball—and in terms of money and momentum,  it's whether he gets hit or not that matters.
Enter "pass attempts per sack or hit," or PASH, for short.
For offenses, PASH reflects the effectiveness of their pass protection schemes. Blockers' skill and coordination and quarterbacks' pocket presence have always been subjective halves of a whole, but PASH cuts to the end result of keeping the passer upright.
For defenses, PASH reflects their ability to significantly beat those schemes. Whether by an individual player's talent or by design, PASH tallies each physical success of putting the opposing quarterback on the ground.
As with any statistic, PASH must be colored by observation and contextualized. Adjusting a team's raw score according to the quality of their opponent—for the same reasons as defense-adjusted value over average, Football Outsiders' signature metric—paints a better picture.
But it's only firsthand that one of the Philadelphia Eagles' 110 quarterback hits allowed in 2010, for instance, can be chalked up to Michael Vick's hot feet or King Dunlap's slow footwork.
There's an argument to be made, only half-jokingly, that PASH should also be adjusted to the salary of the quarterback in question.
Were the run-first Carolina Panthers really as concerned with protecting Jimmy Clausen as the Indianapolis Colts were with Peyton Manning, the centerpiece of their franchise?
And did defenses chase each with equal aplomb? Maybe not.
At root, it's an issue of whether PASH is as ultimately results-oriented a football metric as advanced statistics like DVOA. Even in the modern game, not all passers are treated like golden geese, and the Pittsburgh Steelers came within a touchdown of winning Super Bowl XLV despite a woeful 3.96 PASH on offense.
Still, in the Year of the Quarterback, it's a significant addition to the conversation.