Osi Umenyiora Trade Rumors: 5 Reasons for the New York Giants to Trade Osi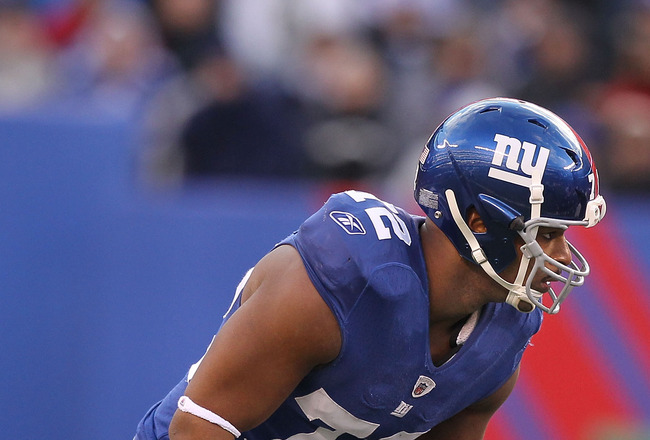 Al Bello/Getty Images
The Osi Umenyiora drama is weighing heavily on the minds of all New York Giants fans and staff. The stud defensive end continues to be stubborn about his contract. The New York Giants organization needs to seriously consider the big picture in this ugly situation. Umenyiora's new demand is that he be given a new one-year deal laden with incentives, so that he may become a free agent next season. Until hearing that, I was in the camp that Umenyiora should be retained. Now it is clear he will be leaving one way or another.
The most curious thing in the entire saga is his insistence that he was cheated. Umenyiora's sworn affidavit says that after the 2007/8 Super Bowl win, Jerry Reese "promised" him a raise if he was still playing at a high level in two years. If memory serves, Umenyiora proceeded to miss the 2008 season with an injury, and then played so horrifically in 2009 that he was benched. He then returned to form in 2010 with 11.5 sacks.
Just out of curiosity, did Reese say "have one more good year" or "maintain a high level of play"? Food for thought.
Of course it would be much more beneficial to the New York Giants if they could keep Osi for the long term, but at this point that just does not seem possible or likely.
Here are five reasons why the New York Giants should part ways with their star pass rusher, hard as it may be.
5. Osi Plays Terribly When He Is Unhappy with the Team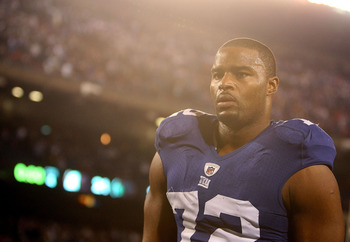 Nick Laham/Getty Images
The last time Osi Umenyiora had a real beef with the New York Giants was in 2009, when Bill Sheridan proceeded to destroy the identity of the defense as the team's "defensive coordinator". Umenyiora did not get along with Sheridan or head coach Tom Coughlin that year, and the drama seeped into his play on the field. He managed to put up seven sacks in 11 games before being benched after the Week 12 loss to the Denver Broncos on Thanksgiving.
With this contract situation hanging over his head, Umenyiora will go through a similar process again in 2011. If the Giants fail to give him a new deal he may not even play at all, and if he signs a one-year deal that is even a single iota below what he wants, the result will be similar.
Already sitting on the sidelines with a knee injury, this is looking like a down year for Osi either way.
4. He Is a Distraction for the Team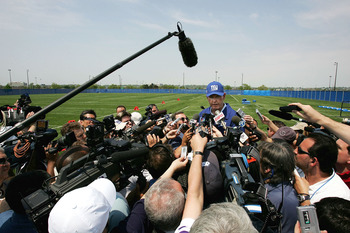 Ezra Shaw/Getty Images
Do not listen to what Justin Tuck or Tom Coughlin say to the media. This situation is a distraction for the team, not to mention setting a terrible example for the younger players on the roster.
Does anyone really think that Jason Pierre-Paul is NOT wondering whether Umenyiora will return or not? It is only his second year, and he already has a shot to be a starting defensive end for one of the strongest pass-rushing units in the NFL. It certainly is something that is on his mind.
Is it supposed to not be a distraction for Perry Fewell, who doesn't know if he should be scheming with Osi Umenyiora in mind or not?
Tom Coughlin only has a few short weeks to prepare his team for the 2011 season, and he spends at least part of every day answering questions about Osi Umenyiora's contract instead of working.
If Osi keeps this up much longer, we'll have to change his name to Osi ShockeyBarber.
3. He Will Be Leaving Anyway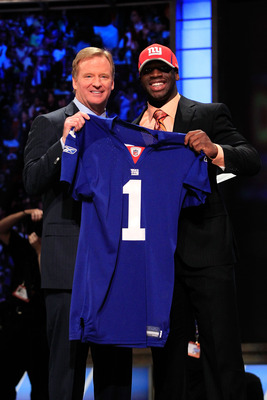 Chris Trotman/Getty Images
Osi Umenyiora will not be a New York Giant for more than another season if he has anything to say about it. The restructured deal he wants from the Giants has him becoming a free agent following the 2011 season. Does that sound like a player who wants to stay with a team? No. If all he wanted was a payday, he would stay with the New York Giants. He wants a payday from somebody else.
One of his biggest gripes is the fact that Carolina Panthers defensive end Charles Johnson got a massive contract from them after having just one good season, and he is hoping to be rewarded similarly in next year's free agent market.
Since Umenyiora is going to depart anyway, the prudent thing to do would be to get some value from him. If the New York Giants get draft picks from a team like the Seattle Seahawks or Chicago Bears, they'll be able to address more needs next season.
Rather than have his potential 10 sacks in 2011, the Giants would be better off having two first or second round rookies in 2012.
This all goes without saying that his $3 million would be welcome coming off the books.
2. Jason Pierre-Paul Is Ready to Step Up
The drafting of Jason Pierre-Paul in the 2010 draft signaled for many the possible end of the Osi Umenyiora era, especially given the turmoil of the 2009 season. The athletic freak out of South Florida acquitted himself very well as a rookie, racking up 4.5 sacks during limited downs.
He has all of the raw talent anyone needs to be successful in the NFL, and after a year of learning from Justin Tuck, Umenyiora, and Perry Fewell, Jason Pierre-Paul is prepared for the finer aspects.
Barring injury, you can fully expect Jason Pierre-Paul to step up tremendously in place of the disgruntled Osi Umenyiora.
It definitely helps that he is getting all of the first team reps in training camp, working against right tackle Kareem McKenzie.
Jason Pierre-Paul will help Giants fans forget about Osi.
1. The Giants Can Adress Current Needs in a Trade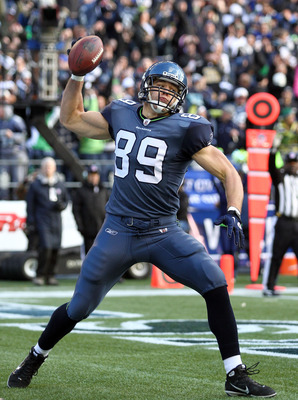 Otto Greule Jr/Getty Images
Though the Osi Umenyiora situation is sticky, the important thing to remember is that defensive end is not a shallow position for the New York Giants, while other positions are very pressing at the moment.
With the loss of Kevin Boss to the Oakland Raiders and the bizarre retirement of free agent tight end Ben Patrick, the Giants are left with undersized H-back Travis Beckum, and FB/TE hybrid Bear Pascoe to play tight end. This is not an acceptable state of affairs for the New York Giants offense.
The Seattle Seahawks have already expressed interest in acquiring Osi Umenyiora, but have balked at the asking price of a first round pick. The Seahawks have also signed former Oakland Raider tight end Zach Miller (hence the Kevin Boss departure), leaving veteran John Carlson an expendable asset for them.
John Carlson is a big guy at 6'5'', 251 lbs, giving Eli Manning a large body to throw to, and last year posted 31 catches for 318 yards. Not impressive numbers by any stretch, but he would get many more chances in an offense where Hakeem Nicks and Mario Manningham are drawing coverage. Carlson is also a solid run blocker, which would nicely fill the biggest void left by Kevin Boss.
Most importantly, Carlson can be acquired for the veteran's minimum of $900,000, which against Osi's $3 million would free up the space to quickly re-sign wide receiver Steve Smith.
The New York Giants will be hard pressed to find a first round pick in exchange for Osi, but it is certainly plausible that they will be able to pry a second rounder and John Carlson away from the Seattle Seahawks in a trade. It is something Jerry Reese should think about.
If played right, the Giants will rid themselves of a distraction, replace Kevin Boss, and land themselves an extra second rounder in 2012.
Keep Reading

New York Giants: Like this team?