San Fran 49ers: With Braylon Edwards Signed, Who Will Be the New No.1 Reciever?
August 6, 2011
On August 4, the San Francisco 49ers made one of the best moves in the frenzy that has been this NFL offseason.
The 49ers inked the New York Jets' former Pro Bowl receiver Braylon Edwards to a one-year, $3.5 million contract.
Later, it actually turned out the contract was only for one-year and $1 million with the other $2.5 million included as incentives.
Not only did San Fran pick up a Pro Bowl wide receiver (in his prime no less), they also gave incumbent QB Alex Smith a nice, new, shiny toy to play with.
Edwards was coming off a season where he caught 53 balls for 903 yards and seven touchdowns with Mark Sanchez throwing him the pigskin.
Those number would place him only behind tight end Vernon Davis in the Niners' passing attack.
Edwards also made the Pro Bowl in 2007 whilst in Cleveland with a combination of Derek Anderson and Ken Dorsey throwing to him.
It seems clear that Edwards can put up big numbers without a franchise quarterback throwing the ball at him.
However, the question today is: Who will be San Francisco's No. 1 receiver when they take to the field in little over a month?
Edwards' only real competition will be Michael Crabtree who was the 49ers' first draft choice (10th overall) in the 2009 NFL Draft.
Crabtree didn't start his NFL career off too well when he held out of training camp to try and gain a better contract.
From there he's always had to play catch up but there are promising signs for the third-year WR.
Last year, in his second season, Crabtree caught a career-high 55 balls for 741 yards and six touchdowns.
Considering he's basically had less than two years in the NFL, those numbers are very promising, plus he put up those numbers with starter Alex Smith so there is some familiarity and chemistry between them.
So who should be the team's No. 1 wide receiver?
Personally, I'm going for Edwards.
Crabtree was specifically drafted to become San Fran's No. 1 receiver for the next 10 years or so and, ignoring the holdouts, he has looked like he will become that player.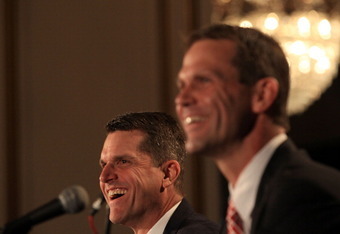 Ezra Shaw/Getty Images
He's fast, strong, runs routes well, makes all the catches he should and has played very well for a second year player with a huge draft bust throwing at him.
However the right decision is Edwards. 
Last year, he caught fewer balls for nearly 170 yards more than Crabtree and already has nearly six years of experience being a team's go-to receiver.
Also, Crabtree is currently nursing an injury to his left foot and won't be available for the next four to six weeks.
Having Edwards as the No. 1 means Crabtree can take time to recover from his injury and won't have to be thrown into the fire on every play on his return. 
Not only that, the 49ers absolutely stole him in free agency and making him the starter would show their confidence in him.
That confidence could be repaid if he tears it up this season and he re-signs in the Bay Area. An Edwards and Crabtree one-two punch for the next three or four years would definitely give San Francisco a shot at winning the NFC West nearly ever year. 
Make no mistake, Crabtree will definitely slot in as the No. 2 option on the team's depth chart and should still see a good deal of action.
With Edwards lining up opposite him, he'll be facing inferior corners and teams won't be able to key in on him in their game plans leading him to be even more productive for San Fran.
Crabtree will be the Niners' go-to receiver one day, but with an in-his-prime Pro Bowl talent in Braylon Edwards on the team for only a year, that position should go to him.
Expect another good progressive season from Crabtree, but it'll be Edwards who will top the depth chart for San Francisco this year.
Lewis Hughes is an aspiring journalist. Follow him on Twitter: http://twitter.com/#!/lah_8