Chicago Bears Free Agency: 7 Available Players Who Could Make Chicago Better
August 6, 2011
Otto Greule Jr/Getty Images
Going into the second weekend of free agency, there are almost no quality free agents available for the Bears to even consider. Many of the players remaining in the free agent pool who could have been starters for the 2011 Chicago Bears—Donte Whitner, Braylon Edwards, Rocky McIntosh and Malcom Floyd—or even players who could have given the team better depth and competed for starting spots—Carlos Rogers, Legedu Naanee and Dashon Goldson—have been signed to contracts that the Bears could have easily afforded.
However, Chicago management did nothing. What a surprise.
Though the 2011 free agent class is nearly completely picked over, there are still a handful of players available who could improve the Bears' chances of competing with Green Bay in the NFC North and challenge them for the Super Bowl.
Chicago still needs to add more depth at the linebacker position and on the offensive line. The wide receiving corps could also benefit from the presence from another big receiver or a savvy veteran. Although there are very few options left on the offensive line (which, incidentally, is the Bears' biggest need), there are still valuable players remaining at the wide receiver position and even true playmakers left available at linebacker.
Of the players still without NFL teams, Angelo and Chicago management need to talk about bringing in the following players who should come at bargain prices.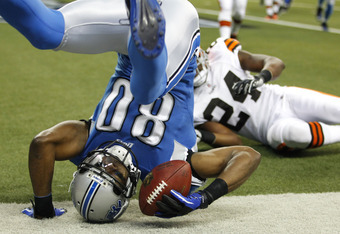 Gregory Shamus/Getty Images
Bryant Johnson - WR
Johnson was recently released by Chicago division rival the Detroit Lions. He entered the NFL as a first-round pick with the Arizona Cardinals in 2003 and has never lived up to the expectations of the 17th overall pick.
Although he has never shown the same kind of skills and explosiveness in the NFL as he did at Penn State, Johnson does have one attribute that you cant teach: He is big. At 6'3", he could add more size to a Chicago receiving corps that still needs to add at least one player with size. He will never be a game changer, but he still has adequate skills, is a large redzone target and would come at a discount price.
Johnson has shown flashes of the player that teams hoped he was during the 2003 draft, though he is terribly inconsistent. He is someone Chicago needs to bring in to help at the wide receiver position.
Jerricho Cotchery - WR
Cotchery is another veteran receiver who was recently released by his team, the New York Jets. He has spent his entire career with the Jets after being drafted by the team in 2004. Cotchery has outperformed expectations since being taken in the fourth round and has been a mainstay in the New York offense for the past half decade until injuries derailed his 2010 season.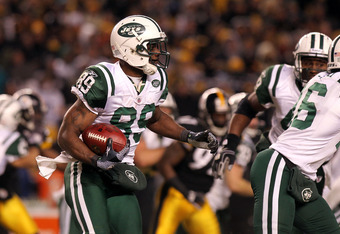 Nick Laham/Getty Images
The Jets resigned Santonio Holmes to a big deal this offseason and also added low-risk high-reward player Plaxico Burress to the mix. After bringing in former Baltimore Raven Derrick Mason for a work out, Cotchery saw the writing on the wall and asked for his release.
Now that New York has given him his walking papers, Cotchery should be available at a cheap price. At 6'1", he isn't a huge target, but he is larger than most of the Chicago receivers. Add that to the amount of experience he brings at the position and Cotchery stands out as a player the Bears should look to add to the roster.
TJ Houshmandzadeh - WR
Houshmandzadeh is a receiver who is clearly on the downside of his career. That being said, he would still be a valuable addition to the Chicago Bears. He possesses the size at 6'2" and the experience after ten years in the league to be someone who could have an impact on the Chicago offense.
After signing a lucrative free agent contract with Seattle in 2009, Housh never lived up to expectations and was cut at the beginning of the 2010 season. After his release, he hooked up with Baltimore to add another receiving option for Flacco, but never seemed to break the rotation or create the rapport with Flacco that the Ravens hoped. Needless to say, Baltimore did not resign him this offseason.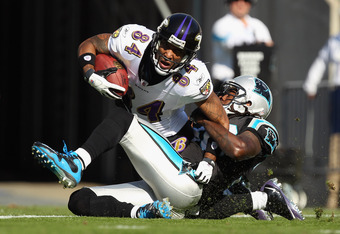 Streeter Lecka/Getty Images
Housh would be a valuable player in the Bears offense for two reasons. First, at 6'2" he again possesses the size that is still desperately needed in Chicago. Second, he has made a reputation as an outstanding possession receiver throughout his career. His ability to find the open space and bail out the quarterback is something that has been missing from the Bear offense since Moose left a couple years ago.
Not only would he act as a safety valve and great backup plan on the field for Cutler, Housh would be a great example and teach the young Chicago receivers a thing or two about getting open and coming back to the ball to help out the quarterback.
After two seasons of subpar showings by Bear receivers at adjusting to broken plays and coming back to Cutler in order to make something out of nothing, his reliable hands, savvy veteran instinct and fearlessness over the middle is something the offense is without and an addition that will help keep Cutler on his feet when the defenses shut down an offensive play.
Housh is a must-sign for the Bears and someone who should come at a great value. Management needs to get it done.
Terrell Owens - WR
Owens is one of the bad boys of the NFL and a prototypical NFL loudmouth primadonna. That being said, he is an undeniable talent and one of the greatest receivers ever to play the game.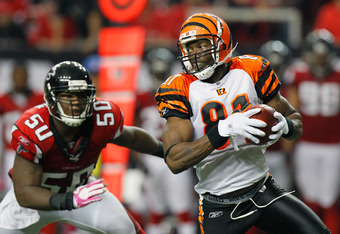 Kevin C. Cox/Getty Images
In 2010, Owens signed a one-year contract with the Bengals. Many people wondered how he would co-exist with Ochocinco and whether he would succeed in an offense with a true leader at quarterback.  Owens proved all his naysayers wrong and showed that he can still perform at a very high level, catching 72 balls for 983 yards and nine touchdowns (outperforming Ochocinco, for that matter).
However, he's such a headache that the Bengals don't even want him for a second season even at the extremely low price his services came at considering his production. Owens has a rep of getting into it with the quarterbacks he plays with...see McNabb, Garcia and Romo. So, would he be the best fit with Cutler who has a rep of being a bit of a crybaby himself? I don't know, but the one thing that isn't in question is that Owens has stayed relatively quiet and has been a team player for Buffalo and Cincinnati over the past two years, even though both teams weren't playoff contenders.
Owens certainly fits the low-cost high-reward category if he comes at a price similar to last year and if he duplicates the kind of production he had with Palmer with Cutler. Owens is a savvy veteran and knows how to make big catches and make himself available in the end zone. He is a big target at 6'3" and definitely knows how to make a big play.
Owens had surgery to repair a torn anterior cruciate ligament in his left knee in April and many think his career may be over. A lot of questions remain, but if the price is right, I think Chicago management would be smart to at least consider the possibility of bringing in Owens for a physical. Though I am not a huge fan of Owens, he certainly could bring a lot to the Bears' passing game and possibly be a difference maker.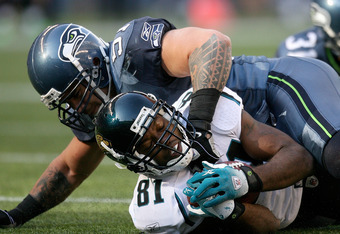 Otto Greule Jr/Getty Images
Lofa Tatupu - LB
Tatupu is the player on this list with the most upside and someone that would be an extremely valuable addition to Chicago. He would be an immediate difference maker and a can't-miss signing. This three-time Pro Bowl middle linebacker was released from the Seahawks last week and is the best free agent available on the market at any position.
If signed, Tatupu would become the third head of a very scary three-headed monster that would be the Chicago linebacking corps. Even though Tatupu has been playing middle linebacker for the Seahawks, there is little doubt he would be more valuable starter as the Sam linebacker than Nick Roach. Not only would he step in and be another impact player on the Chicago defense, but his arrival would also do two other important things for the Bears.
First, it would move recently re-signed Nick Roach back to a reserve player. This would be critical because Roach is a tremendous reserve and would be available to step in due to any injury of Lance Briggs, Brian Urlacher or Tatupu during the course of the hard-hitting NFC North schedule. Secondly, it would provide the Bears with a little Urlacher insurance if the all-world incumbent middle linebacker gets hurt.
Tatupu may come at a high price tag, but after the relatively weak 2011 free agent linebacking class has already been picked over, his late arrival is a blessing. The Bears could walk away with an impact signing of a player who wouldn't have lasted through the first weekend had he started there in the first place. Tatupu is a dynamic player and would be a more-than-welcome addition to the Bears.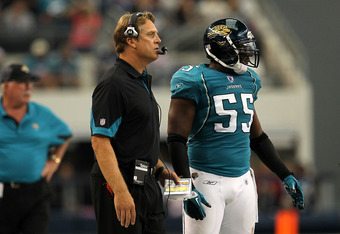 Stephen Dunn/Getty Images
This is the last true impact player left in free agency and someone who has expressed some interest in Chicago. The Bears are still around twenty million under the salary cap and Angelo needs to spend some of it to sign Tatupu and give Bears fans something to cheer about.
Kirk Morrison - LB
Morrison is a very good NFL linebacker. It is surprising that he is still available and hasn't been snatched up by a team already. He is finishing up a solid, but less than spectacular season with Jacksonville after being traded from the Raiders the year before. Although he had the worst season of his career, Morrison is entering only his seventh NFL season and has a lot of good football left ahead of him.
If Chicago is unable to land Tatupu then Morrison is a very good backup plan. Out of the remaining players in free agency, Morrison is probably the second or third best overall player remaining at any position. Lucky for the Bears, he and Tatupu are both still available and could be day one starters at the Sam linebacker position. Like a Tatupu signing, bringing in this linebacker would move Roach to the reserve spot and add much-needed depth to a Bear linebacking corps that is the heart of the Chicago defense.
Morrison has only tallied less than 115 tackles once in his career and that was last season. If he signed with the Bears he would be another above-average player at the linebacker position. Chicago is going to need all the playmakers on defense possible to slow down NFC North rival Green Bay Packers as well as other offenses throughout the NFC.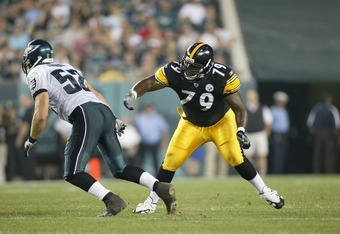 Len Redkoles/Getty Images
Morrison would be a very solid addition to the Bears and could be an immediate impact player. Many are wondering why he is still available in free agency, but his track record suggests he is worth the risk. Every day that he goes unsigned, his price tag goes down and his value goes up. Chicago management needs to bring this beast in and at least give him a tryout. I see his signing as a slight downgrade on a Tatupu signing, but still the second most valuable player the Bears could bring in at this time.
Trai Essex - OL
Essex is an offensive lineman that is a valuable backup and someone who can play both guard and tackle. He has played his entire career with the Pittsburgh Steelers and has started 25 out of the 59 games he suited up for with the Steelmen. A local product out of Northwestern, Essex has played a valuable role for the Steelers during their two Super Bowl championships and as Super Bowl runner-up last year. He has stepped up when a starter has gone down and played admirably.
He is not someone the Bears would bring in to be a day one starter, but is someone who is most definitely needed. He would add depth to a Chicago offensive line that is unspectacular to say the least. Essex would start the season on the bench, but would be available to fill in at tackle or guard should any injuries occur to incumbent starters or should any of them struggle throughout the year. Together with Frank Omiyale, Essex would help fortify the Chicago offensive line reserves. Both players would represent decent options as starters should their services be needed.
Essex is a solid player and someone the Bears need to sign immediately. Although he isn't a "sexy" signing, he is a player the Bears could really use and someone that Angelo needs to ink to a two-year deal immediately.
Chicago needs to sign one of the receivers listed above, either Tatupu or Morrison and Essex to finish of the 2011 free agency on a strong note. All three positions could use help and the above-mentioned players are the guys remaining who could be the answer.