NFL Schedule 2011: Predicting the 10 Biggest Revenge Games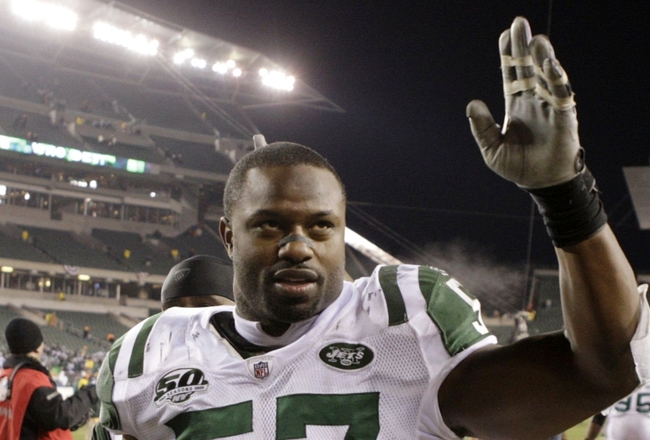 Andy Lyons/Getty Images
Every year in the NFL, there are a few games that mean far more to the contestants than just a simple win or loss on the record. Games where one of the teams is playing for far more; pride, revenge or flat-out hatred.
A NFL season is filled with thrilling wins and heartbreaking losses, and often teams want nothing more than to run back on the field and redeem themselves. The 2010 season brought many such games; matchups that left some organizations with really bad tastes in their mouths, and in 2011, rematches of these games will be the marquee battles every week.
Here are 10 2011 NFL games where one team is sure to be out for some serious payback.
Minnesota Vikings at Washington Redskins: Week 16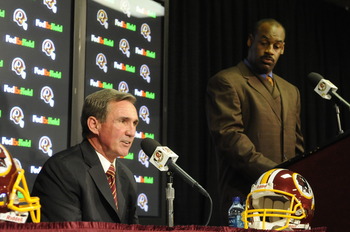 Mitchell Layton/Getty Images
Donovan McNabb definitely has a chip on his shoulder towards the Washington Redskins. Already his hated rival for almost his entire career, he played one season with them in which he was benched by head coach Mike Shanahan, forming a public rift that ended his tenure as quickly as it began.
McNabb now plays for the Minnesota Vikings, and having been shipped off once again, he can't be happy. He'll want to exact his revenge on the Redskins in Week 16 when he has the chance. If he is still playing of course.
This matchup won't be too exciting considering that both of these teams will almost assuredly be out of playoff contention by Week 16.
Winner: Washington Redskins
Seattle Seahawks at Chicago Bears: Week 15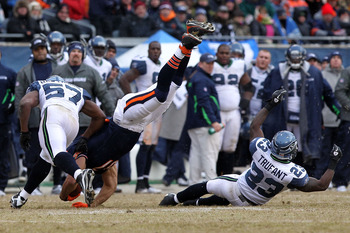 Doug Pensinger/Getty Images
The Seattle Seahawks were riding a puffy cloud of joyful optimism after toppling the 12-4 New Orleans Saints in the Wild Card Round of the 2010/2011 playoffs.
They were thinking they actually had a chance to push their Cinderella season to the NFC championship game and beyond. Instead, the Seahawks were brought crashing back down to reality in a rather ignominious fashion by the Chicago Bears.
That probably left Pete Carroll and company with a bitter taste in their mouths. They'll be looking for some payback late in the 2011 season.
Unfortunately for them...redemption most likely isn't awaiting them in the Windy City.
Winner: Chicago Bears
Tampa Bay Buccaneers at Atlanta Falcons: Week 3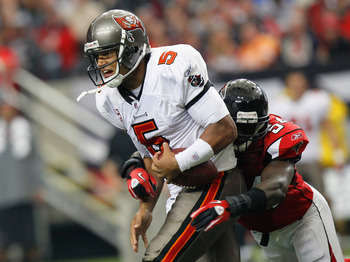 Kevin C. Cox/Getty Images
The Tampa Bay Buccaneers went an impressive 10-6 last year, but thanks to some miserly mishaps during key games, they missed the playoffs.
One of the worst bits of bad luck to befall them came in the form of a miraculous kick return touchdown in their second matchup with the Atlanta Falcons. In their first matchup, the formidable LeGarrette Blount was tripped up on the goal line to end the game, when a touchdown would have won it.
If not for those two plays, the Buccaneers might have very well triumphed in one of those games, and the Green Bay Packers would have never even made the playoffs, let alone won the Super Bowl.
That knowledge has to be weighing heavily on their heads as they march into battle against the Atlanta Falcons once again in Week 3.
With the entire NFC South 0-1, it's anybody's division right now, adding even more fuel to this divisional matchup.
Winner: Tampa Bay Buccaneers
Arizona Cardinals at Philadelphia Eagles: Week 10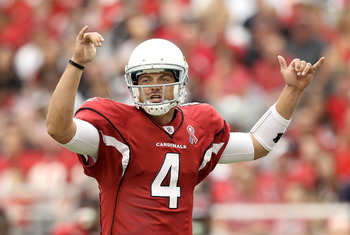 Christian Petersen/Getty Images
At this time a year ago, Kevin Kolb had just lost his starting position as the quarterback of the Philadelphia Eagles to Michael Vick.
Kolb was definitely not pleased by that particular turn of events, and though he got to start again when Vick was injured, his relationship with the organization was soured forever, and he demanded a trade.
Though the Eagles cooperated with him, he cannot be pleased that they allowed Michael Vick to take away his first full season as the starter.
He'll be eager to show them that they will regret tossing him aside.
Winner: Philadelphia Eagles
Green Bay Packers at Atlanta Falcons: Week 5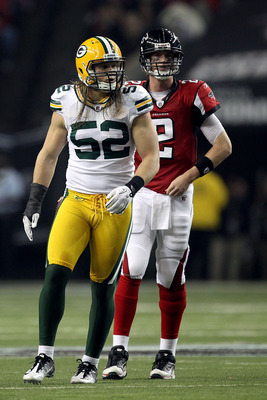 Streeter Lecka/Getty Images
In the 2010/2011 playoffs, the sixth seeded Green Bay Packers bulldozed the top-seeded Atlanta Falcons en route to their Super Bowl victory.
The embarrassing defeat exposed the ease of the Falcons' schedule, as well as the myriad weaknesses of their roster. They took the Super Bowl aspirations of the Atlanta organization and obliterated them with Aaron Rodgers and his platoon of weapons.
They won't take that sitting down. Look for a thriller to take place in Atlanta Week 3.
Winner: Green Bay Packers
New York Jets vs New York Giants: Week 16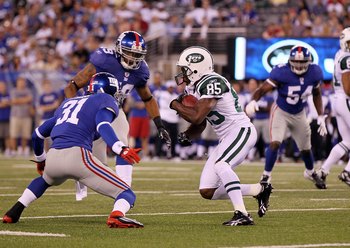 Jim McIsaac/Getty Images
The first regular season meeting between the football teams of New York City since the NYG Super Bowl, the hiring of Rex Ryan and the drafting of Mark Sanchez promises to be a chippy, bloody show.
These two teams have verbally battled for supremacy in the Big Apple for two seasons now. Rex Ryan has declared that the Jets own the city now, so this game will be played on a very personal level, as the Giants try to throw off the shadow Rex has cast over them.
It doesn't help that Plaxico Burress defected to the New York Jets
Look for a game filled with pushing, shoving, cursing and yellow flags everywhere.
Winner: Conditional
(NYJ if Tom Coughlin is still the coach of NYG)
(NYG if there is a new coach in place)
Green Bay Packers at Chicago Bears: Week 3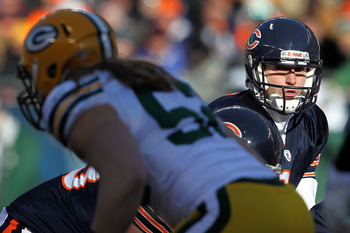 Jamie Squire/Getty Images
The first 2011 divisional matchup between the Chicago Bears and Green Bay Packers is also a rematch of the 2010 NFC Championship Game. The Bears were soundly defeated, just like every other opponent the Packers faced during their Super Bowl run.
The hatred that the Chicago Bears feel for the Green Bay Packers as rivals will only be compounded by the memory of their NFC Championship loss.
Jay Cutler will be out to prove he is tougher than his critics say.
Winner: Green Bay Packers
Seattle Seahawks at St. Louis Rams: Week 11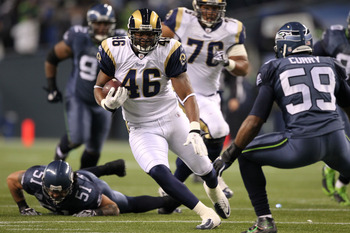 Otto Greule Jr/Getty Images
The rematch of the game that made NFL history by allowing a team with a losing record to make the playoffs for the first time promises to be interesting.
The St. Louis Rams must have a chip on their shoulder from that game; Bradford would have been leading them from the top pick to the playoffs, and THEY at least, would have been 8-8 making the postseason. This is all without mentioning that they got beat by CHARLIE WHITEHURST.
These two teams could be battling for the NFC West when they meet in Week 11. If the Rams aren't too banged up by then, victory could be theirs.
Winner: St. Louis Rams
New York Jets at New England Patriots: Week 5
The last game between the New England Patriots and New York Jets was one for the ages. Two rivals who hate each other as much as humanly possible, met in a storm of trash talk, hard hits, penalties and intensity.
The Jets played the better game, and deservedly came out on top, getting a huge chip off of their shoulders. However, the NFL's top-seeded Patriots couldn't have been happy to lose so horrendously to their hated division rival playing as the Wild Card. IN New England no less.
They'll be coming after the Jets with a vengeance in Week 5, and this game will certainly be the week's premiere showdown.
Winner: New England Patriots
New York Giants at Philadelphia Eagles: Week 3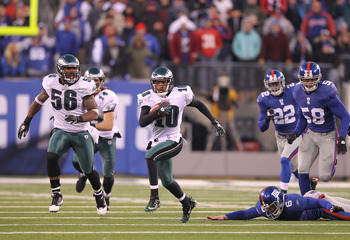 Al Bello/Getty Images
The New York Giants and Philadelphia Eagles hate each other just as much as the Ravens and Steelers or the Jets and Patriots.
This rivalry has been filled with historic victories and bitter losses, none more so than the second "Miracle at the Meadowlands" last December.
As nobody should need to be reminded, the New York Giants blew a three-touchdown lead in the fourth quarter, allowing Michael Vick to steamroll them and tie up the game.
Matt Dodge's error punting to DeSean Jackson led to a mess of a special teams play, resulting in a walk-off punt return touchdown that wrenched the NFC East title away from the New York Giants in the blink of an eye. The epic collapse extended the Eagles' win streak over New York to seven straight games, dating back to the 2008 regular season.
The game sent the Giants into a tailspin, eventually being knocked out of the playoff hunt by the eventual champion Green Bay Packers.
There is much more riding on this game for the New York Giants than a simple regular season road win or loss. The pride of the entire organization will rest on this game, and possibly Tom Coughlin's job (though that is probably a lost cause).
Winner: New York Giants
Keep Reading