New York Yankees: The 7 Players Most Vital to a Playoff Run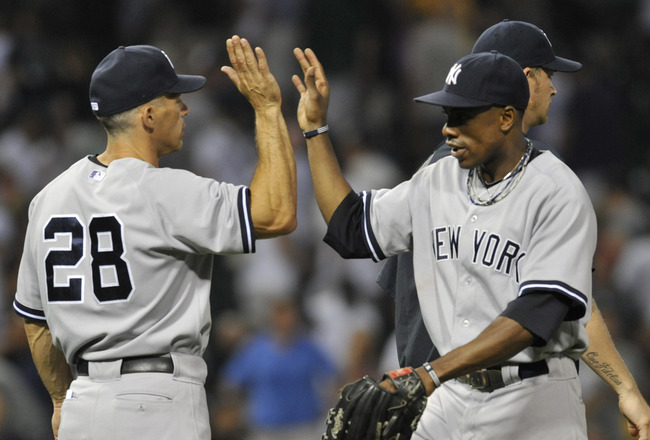 David Banks/Getty Images
The New York Yankees have clearly established themselves as one of the top teams in baseball this season, currently sitting a game behind the Boston Red Sox in the American League East. While their hopes to win the division are still intact, the organization seems poised to easily take the wild card slot.
At this point, it isn't a matter of whether or not the Yankees will make the playoffs, but if another World Series victory is possible.
Let's take a look at what personnel will be most essential for New York to make a playoff run.
7. David Robertson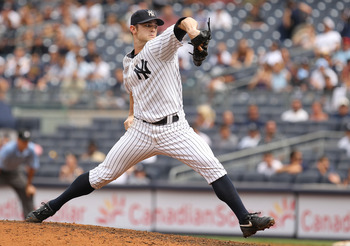 Al Bello/Getty Images
Certainly the surprise of the year, David Robertson has become a constant source of reliable pitching for the Yankees, essentially shortening the game with fellow bullpen stalwart, Mariano Rivera.
Improving in every way over his previous three seasons with the organization, Robertson has 68 strikeouts and allowed just 29 hits in 42.1 innings pitched with a 1.49 ERA.
In his first eight appearances in the postseason, Robertson was just as reliable as he is this season, giving up five hits and no runs in 6.1 innings, but was subsequently blown up in his ninth appearance, allowing five runs in a third of an inning.
With any hope, Robertson's dominance will carry over into October.
6. Robinson Cano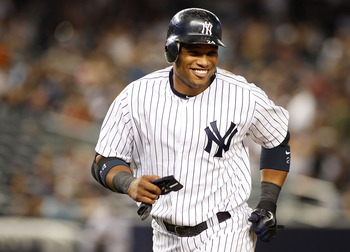 Mike Stobe/Getty Images
Somewhat underrated defensively—he earned just his first Gold Glove last season—Robinson Cano has played a great second base for the New York Yankees and has one of the best arms of any infielder in baseball.
Still, what Cano is known for is his excellent bat, hovering just shy of a .300 average this season with a .346 OBP and .509 SLG. His power has also increased dramatically the last couple of years and he currently has 17 home runs.
In addition, Cano has accumulated 67 runs scored and 70 RBI.
Last postseason, Cano put together excellent numbers, going 12-35 with four home runs and six RBI in nine games.
5. Derek Jeter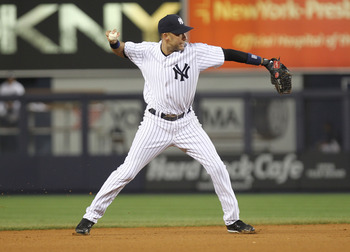 Nick Laham/Getty Images
Mr. November, Captain Clutch—Derek Jeter wasn't randomly assigned these nicknames. The Yankee Captain has been an integral part of every playoff run the organization has made in the last 17 seasons. Only once has New York missed the playoffs since Jeter has been with them.
In 147 playoff games—essentially an entire season—Jeter has a .309 average, .377 OBP, .472 SLG, with 20 home runs and 57 RBI.
While talks of Jeter's demise run rampant, his numbers since his return from the disabled list argue differently. Picking up his fourth career five-hit game on August 3rd, Jeter has raised his average from .260 to .280 in a month, hitting .333 with 17 RBI and 17 runs.
4. Mark Teixeira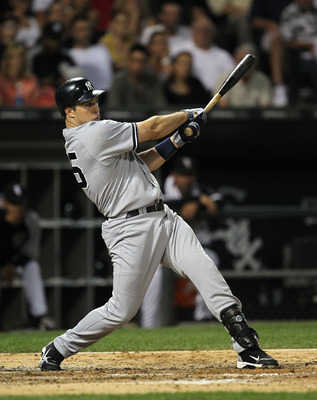 Jonathan Daniel/Getty Images
Despite a decline in average the last couple of seasons in New York, Mark Teixeira's offensive production for the Yankees has been astounding, in addition to being a Gold Glove winning first baseman.
Currently sitting on 31 home runs this season, Teixeira is on pace to best his previous career high of 43. And although his average is down, his OBP still sits at .352, along with a .527 SLG.
Teixeira leads the Yankees and is fourth in the league in RBI with 82.
3. CC Sabathia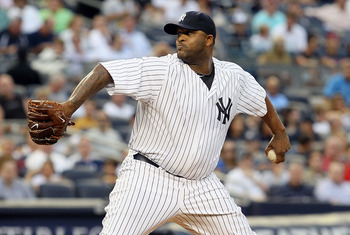 Jim McIsaac/Getty Images
After an absolutely ridiculous month in July that saw CC Sabathia go 4-1 with a 0.92 ERA, the New York Yankees ace was named the American League Pitcher of the Month.
Sabathia has been just about the only consistent part of the Yankees' rotation this season and nothing but reliable. He eats up innings (pitching 176.2 in 24 starts this season), wins games (he's 16-5) and shuts down opposing batters (2.55 ERA and .233 BAA). Sabathia also has 162 strikeouts and a 1.12 WHIP.
CC is absolutely essential to a playoff run, often starting on short rest. He'll be expected to pick up a win every time he gets the ball in the postseason.
2. Curtis Granderson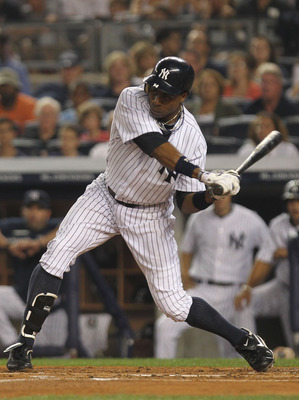 Nick Laham/Getty Images
With the kind of season that Curtis Granderson has put together, he's established himself as an integral part of the New York Yankees.
Although his first year in pinstripes was somewhat lackluster, he is putting together what is easily the best season of his career. With 28 home runs thus far in addition to 20 stolen bases, Granderson has shown an impressive combination of speed and power.
He also has 79 RBI—a career high—with a .272 average, .363 OBP and .597 SLG. Perhaps most impressive, however, is the fact that he has 96 runs scored, by far the most in baseball. Jacoby Ellsbury is a distant second with 81.
1. Mariano Rivera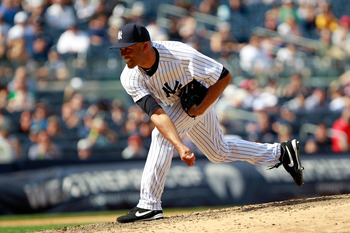 Chris Trotman/Getty Images
In his 17th season in pinstripes, Mariano Rivera is continuing to show his dominance. Despite being 41 years of age, Rivera is still lowering his career ERA and somehow exhibiting even more control over his pitches.
Rivera has been absolutely essential to the Yankees in the postseason, posting an unfathomable 0.71 ERA and an 8-1 record in his 139.2 innings pitched.
In addition to being second all time in regular season saves with 597, Mariano is first in postseason saves with 42. He also received the 1999 World Series MVP.
Without the best closer in baseball history, the Yankees will not win a World Series this season.
Keep Reading

New York Yankees: Like this team?