Baltimore Ravens: Young Players Will Make or Break the Ravens' Season
August 2, 2011
Nick Laham/Getty Images
The Baltimore Ravens have been a team that doesn't mind taking risks throughout their relatively short history. Not many people would call them reckless, but the Ravens' ownership and front office, particularly General Manager Ozzie Newsome, have enough trust in their own talent evaluation abilities that they don't mind making moves and relying on players that many other teams would deem risky.
In the upcoming season, the Ravens are preparing to take some of the biggest risks in franchise history. That's fitting because they have been Super Bowl contenders for the last three seasons and the entire team seems poised for a Super Bowl run.
Furthermore, two of their best team leaders, Ray Lewis and Ed Reed, are getting to the point in their careers where retirement is an option every offseason.
For that reason, many people say that the Ravens' Super Bowl "window" is closing. There's no doubt that Lewis and Reed make the team better, but their retirements will not single-handedly end the Ravens' success.
The Ravens have many young, up-and-coming players on the roster. They have young superstars in Haloti Ngata, Terrell Suggs and Joe Flacco. Furthermore, they have solid, young players at nearly every position on the team. Having young players for the future isn't the problem.
In fact, the Ravens are relying on their young talent more than any time in franchise history, and that's ultimately the biggest risk they'll be taking in the upcoming season.
Al Bello/Getty Images
Obviously, there's still the possibility of signing veterans to the roster, but the team appears to be comfortable with starting young talent at every level of the offense and defense.
On the offense, the Ravens will be relying of Joe Flacco and Ray Rice to carry the team. Flacco and Rice may be young but are both entering their fourth season, and starting them isn't a risk. The risk is with their backups. Both Flacco and Rice are currently being backed up by rookies and young, unproven talent. 
Flacco is currently being backed up by Tyrod Taylor and Hunter Cantwell. This situation is probably the scariest but also the least likely to persist into the regular season. The Ravens will probably sign a proven, veteran backup for Flacco. They cannot afford to go into the season with an unproven player at backup quarterback since any injury to Flacco would derail the season.
Rice is being backed up by Anthony Allen, a rookie, and Jalen Parmele, an unproven, young player. Relying on a young running back isn't all that risky as long as that young player has talent.

Many running backs will have success in their rookie season. Parmele has had little opportunity throughout his career, but the coaching staff seems to have confidence in him. The Ravens will probably see how Parmele and Allen look in camp before they decide whether or not they can rely on either as a backup.
Wilbert Montgomery, the Ravens' running backs coach, recently said that the Ravens could still re-sign Le'Ron McClain, who wants a bigger role as a running back.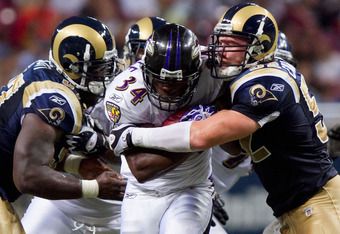 Dilip Vishwanat/Getty Images
"Le'Ron can still be a Baltimore Raven until someone like Ozzie [Newsome, general manager] or coach [John] Harbaugh say Le'Ron isn't in the picture any longer," Montgomery told The Baltimore Sun. "But as of right now, I still see him in the picture."
After the Ravens signed Vonta Leach, who's considered the league's best blocking fullback, most people assumed that McClain, the team's fullback from last season, would not be re-signed. But if the team does re-sign McClain, he would be an excellent complementary back for Rice and would add more physicality to the Ravens' running game. The only question is his price tag, which may be too high for a complementary running back.
After cutting Derrick Mason and neglecting to re-sign Donte Stallworth and T.J. Houshmandzadeh, the Ravens are relying on their young players at the wide receiver position more than any other position on the team. The Ravens drafted Torrey Smith and Tandon Doss, so their starting lineup right now is Anquan Boldin, Smith, Doss and David Reed, who is only a second-year player.
Boldin is a proven player, but having only one proven wide receiver is extremely risky. The Ravens are either very confident in their young receivers or planning to bring in another veteran receiver…or both.
Even if they are confident in their young receivers, it may be wise to bring back Derrick Mason, who wants to come back and has told The Baltimore Sun, "If they want me back, I'm back."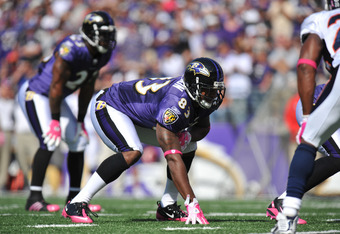 Larry French/Getty Images
After cutting Todd Heap, the Ravens gave their rookie tight ends from last season a big vote of confidence. Ed Dickson and Dennis Pitta are expected to compete to start at tight end in place of Heap, who recently signed with the Arizona Cardinals.
Dickson is considered the front-runner in the competition and showed promise as a receiver last season after catching a 58 yard pass versus Denver and a 34-yard touchdown versus New Orleans.
The problem with Dickson is that he hasn't proved that he can consistently get open versus NFL defenses or be a reliable blocker. Offensive coordinator Cam Cameron uses his tight end often in the passing game and as a blocker in the running game. If he cannot consistently rely on Dickson to get open in coverage or block, the Ravens offense could be seriously hampered.
The Ravens will also be relying on several young players to compete at right tackle. They drafted Jah Reid in the third round and feel like he could be their starter, but even if Reid turns out to be a reliable starter, the team is desperately thin at the tackle position.
Surprisingly, they seem to be happy with their tackles despite Michael Oher's struggles at left tackle last season and their lack of depth at the position. They may be comfortable starting Reid at right tackle since they also started Michael Oher there as a rookie, but it's hard to believe that the team could function for an entire season without a few quality backups.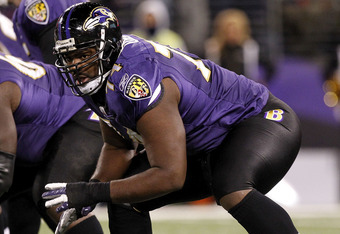 Geoff Burke/Getty Images
They don't have a proven player to backup Michael Oher and very little quality at right tackle beyond Reid. They really need to address this problem.
Jared Gaither may still be an option since he remains unsigned, but the fact that the Oakland Raiders declined to sign him after giving him a physical is a very bad sign. Gaither has tons of talent and is proven in the Ravens' system but does them no good on the sidelines.
He may be worth the risk if the Ravens can sign him to a cheap one-year deal, but either way, there's no denying that the Ravens need some more depth on the offensive line, particularly at tackle.
On the defensive side of the ball, the Ravens are taking far less risks since they have more veteran talent on the defense, but there are still some areas they will need to watch.
The Ravens plan on starting Terrence Cody, their second round draft choice from last year, at nose guard after cutting Kelly Gregg, their longtime starter. Most of the coaches have the utmost confidence in Cody after his strong performance late last season.
His impressive play prompted Ozzie Newsome to pick Cody as his prediction for the Ravens' breakout player.
"I'm going to take the Alabama guy," Newsome said during a conference call with season ticket holders. "I'm going to go with Cody [as my breakout player]. Cody is going to have a great year this year. He got a taste of it. So, if someone is going to step up, he also appreciates playing next to Haloti Ngata, I would say Terrence Cody."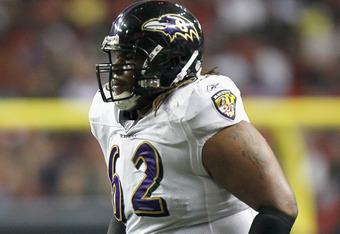 Kevin C. Cox/Getty Images
As Newsome said, Cody will be playing next to Ngata but also in front of Ray Lewis, so starting him isn't really a big risk. In fact, surrounding a young player with veterans is the perfect way to get him to perform at a high level and progress very quickly. Cody should have a breakout year in his new starting role.
The final position where the Ravens are relying heavily on young players is at cornerback. The Ravens overhauled the position this offseason by drafting Jimmy Smith, a potential lockdown corner, in the first round and allowing Josh Wilson, their top corner from last season, to leave in free agency to the Washington Redskins.
The Ravens still have Domonique Foxworth and newly re-signed Chris Carr, but they still plan of relying heavily on Smith and Lardarius Webb, a third year corner. The starting lineup is unclear right now, but the team seems to want to start Smith and Foxworth with Carr playing the nickel back.
However, Foxworth is coming off a season-ending knee injury and subsequent surgery from last season an has recently said that he knee isn't feeling good.
"[My knee] just doesn't feel great," Foxworth told The Baltimore Sun. "It's frustrating. I don't know. I'm not very happy about it, but I'll just keep working, I guess. It hurts, and I don't feel as quick or as fast as I once was. Everyone says it's part of the process, but I can't go out there and let down the team. So I'm just pushing and trying to get it where it needs to be as soon as possible."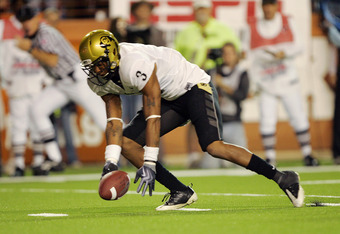 Brian Bahr/Getty Images
If Foxworth cannot start or struggles, the Ravens could be forced to put more pressure on their young players. Carr is comfortable as a starter and Webb should be more than capable of playing the nickel back, but the Ravens don't really want to put pressure on Jimmy Smith right away.
Smith is an elite athlete and the Ravens have confidence in him, but putting pressure immediately on rookies with very little recourse is risky. Trusting in Smith is probably less risky than most rookies because of his high talent level, but the Ravens would be more comfortable if the could ease him in if they needed to. If Foxworth cannot start right away, the Ravens may not have any choice but to start Smith week one versus the Steelers.
The Ravens have a lot of young talent on their roster. Like all teams in the league, they are doing their best to ease their rookies into the lineup and make decisions that plan for the future while winning games today.
Historically, they have done that better than most teams but have never really been forced to rely on young players like they will in the upcoming season. Ultimately, the young players are risky but with the right coaching and support, could reap a huge reward and help the team attain a Super Bowl victory.