2011 NFL Offseason: An Updated Preview of the AFC East Division Race
July 29, 2011
Scott Cunningham/Getty Images
During the lockout, I wrote an article previewing the AFC East, one of the most competitive divisions in professional football.
And now, some big roster moves have changed the outlook for the season, and I expect 2011 to tell a different story in the AFC East than last year.
Have you noticed that when discussing the entire division, both the football writer and fan starts with the New England Patriots by default? New England has had such a dominant hold on the East for more than a decade. Nothing suggests anything will change this season.
The Patriots have made the biggest moves of the offseason thus far, trading for WR Chad Ochocinco and DT Albert Haynesworth. They didn't give up squat to land the big names either: two fifth-round draft picks and one sixth-round selection. Dang.
Both players have big egos, big contracts and big question marks. Will Haynesworth quit on the team like he did in Washington? Can Ochocinco let go of some of the spotlight and play team-first football?
Corey Dillon and Randy Moss were players with similar personalities and egos when brought to New England, but both found success with the team. Belichick is a genius player-and-game manager, Tom Brady is arguably the best quarterback in the league, and this team will be even better than last year; a scary thought considering their 14-2 record.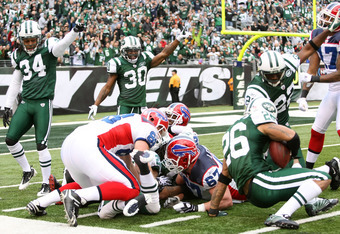 Michael Heiman/Getty Images
The New York Jets entered the offseason with the possibility of losing several key players as unrestricted free agents: Santonio Holmes, Antonio Cromartie, Braylon Edwards, Brad Smith, among others.
They managed to sign Holmes to a huge deal, but surprisingly lost out on the Nnamdi Asomugha sweepstakes to the Philadelphia Eagles. Smith signed with Buffalo, and it doesn't appear likely that New York will be able to bring back Cromartie or Edwards due to the $50 million contract they gave Holmes. 
All of New York's opponents dodged a huge bullet when the Eagles stole Asomugha, for whom the Jets were considered the favorites. Asomugha and Darrelle Revis are the best shutdown corners in football. Both players on the same team? Scary.
And of course, as ESPN just reported Sunday morning, Plaxico Burress is signing with the Jets. If Plax picks up where he left off two years ago, this offense is even better than last season.
The Jets finished 11-5 last season and reached the AFC Championship for the second consecutive year. They're still an excellent team and an established contender. Mark Sanchez will continue to improve, the defense is still a top five unit, and the Jets have are definitely favorites to returning to the playoffs.
The Miami Dolphins made a big splash early on the trade market, trading for HB Reggie Bush and attempting to negotiate a trade for Broncos QB Kyle Orton. The Orton trade talks have reached a roadblock, and I don't expect Miami to meet Denver's asking price (if Denver is forced to release him, which is likely, Miami will probably sign him). Instead, Miami signed former Panthers QB Matt Moore to compete with Chad Henne.
This Dolphins team is better than last year's 7-9 record. The offense is improved by the offseason additions of Moore and Bush and the draft selections of G Mike Pouncey, HB Daniel Thomas and WR Clyde Gates. The running game is revamped, the offensive line is improved, and Brian Daboll brings a new spread offense as coordinator.
The young defense has excellent potential and could reach elite status within the next season or two. They're deep, well-coached and disciplined.
If Orton is signed, I expect this team to compete with the Jets for a wild card spot. Without Orton, the team will still be good but will only get as far as Henne can take them. He has to improve significantly for Miami to be in playoff contention.
The Buffalo Bills haven't made a ton of roster changes, but they did sign former Dolphin quarterback Tyler Thigpen and got a new wide receiver and kick returner in Smith, the former Jet. The Bills also lost LB Paul Posluszny to the Jacksonville Jaguars.
The Bills have, with some exceptions, been the worst team in the division for more than a decade. I don't expect this to change in 2011. Thigpen isn't starter quality, the receiving corps was already solid without Smith, and there are still too many questions on each side of the ball.
My prediction:
New England 13-14 wins.
New York: 10-12 wins.
Miami: 9-11 wins.
Buffalo: 10-11 losses.