NFL Free Agents: Power Ranking Hidden Gems on Free-Agent Market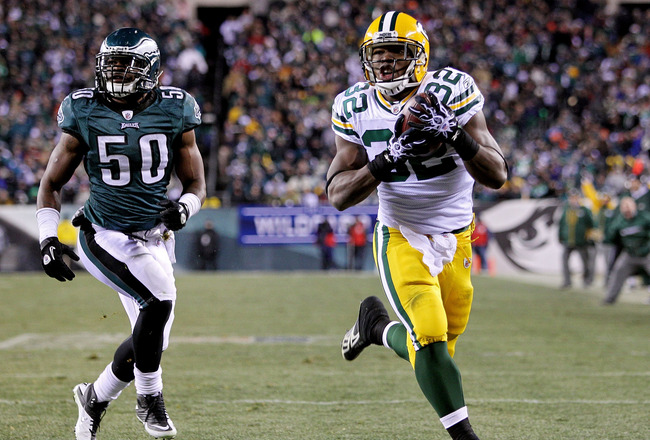 Michael Heiman/Getty Images
There are a handful of superstars in this year's crop of NFL free agents.
Right or wrong, it seems that everyone is in love with Nnamdi Asomugha. The jury is still out on whether or not he's the second coming of Mel Blount or Darrell Green.
From the wide receivers position, with Santonio Holmes now off the market, Braylon Edwards and Sidney Rice are now the next in line for the all the attention.
And when it comes to defensive ends, Ray Edwards, Cullen Jenkins and Jason Babin are regarded as the cream of the crop.
But there are a ton of free agents out there on the market, and high-prices don't always translate to high production.
So the teams working on a tight budget, the ones who can't afford Edwards or DeAngelo Williams, will be looking for players who aren't Pro Bowlers or big names...well, not yet any how.
Here are 10 players looking to make that type of leap, starting in 2011.
No. 10: Mike Tolbert, RB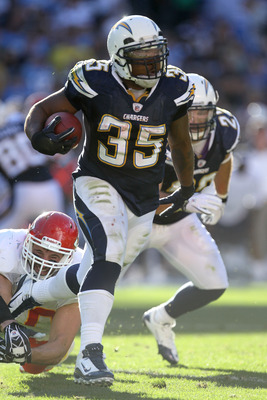 Stephen Dunn/Getty Images
2010 Stats: 182 carries, 735 yards, 11 TD
Experience: Three years
Best Fit: Indianapolis Colts
Despite splitting carries with rookie Ryan Matthews last season, Tolbert had a handful of outstanding games in 2010.
Seven times last year he carried the ball 15 or more times and in back-to-back weeks against Oakland and Indianapolis toted the ball 25-plus times for over 100 yards.
Obviously, it's tough to predict whether or not Tolbert can carry the load 300 times and be a feature back. He has a fullback's size and speed.
But it was only three years ago that another squat back, Michael Turner, left San Diego and became a star feature back in another system.
No. 9: Stylez G. White, DE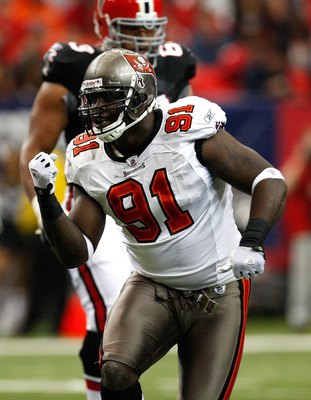 Kevin C. Cox/Getty Images
2010 Stats: 28 solo tackles, 4.5 sacks, two forced fumbles
Experience: Four years
Best Fit: Minnesota Vikings
The Bucs pass rush was the worst in the NFC last year, but they've seemingly addressed that deficiency with their first two draft choices: Adrian Clayborn and Da'Quan Bowers.
Giving White a long-term contract might not be in their plans, especially since he has not had prodigious sack numbers like Jason Babin or Charles Johnson.
But White's work ethic and persistence (seventh-rounder, four years on the practice squad, two years in the AFL) speak for themselves, and since joining an NFL roster in 2007, he has only missed one game.
I could see the Vikings viewing him a much cheaper yet suitable replacement for Ray Edwards.
No. 8: James Jones, WR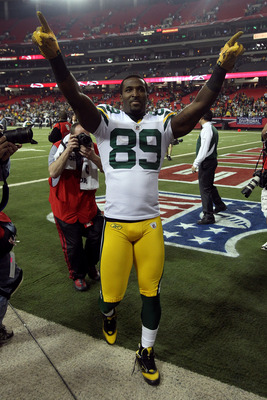 Streeter Lecka/Getty Images
2010 Stats: 50 catches, 679 yards, five TD
Experience: Four years
Best Fit: Chicago Bears
Aaron Rodgers may have told a Milwaukee radio station that Jones "should be priority No. 1 and I mean that with all my heart. He really should be priority No. 1. We don't win the Super Bowl without him and we need him."
But I don't think the Packers brass sees it quite like that.
Greg Jennings is the Packers No. 1 option and if they are looking to find a replacement for 36-year-old Donald Driver, they may have found one in Randall Cobb, their second round speedster out of Kentucky.
And with Jordy Nelson locked up for this year and supposedly 100 percent healthy, it might be hard to justify giving Jones a big, long-term contract. Remember, they're getting Jermichael Finley back as well.
If the Bears fail to land one of the star receivers like Braylon Edwards or Sidney Rice, they would love to steal a player like Jones away from their hated rival.
No. 7: Malcom Floyd, WR
Justin Edmonds/Getty Images
2010 Stats: 37 catches, 717 yards, six TDs
Experience: Six years
Best Fit: Washington Redskins
San Diego has a ton of questions regarding the makeup of their receiving corps so it should be pretty surprising that, according to the San Diego Union Tribune, it's "virtually certain" the Chargers won't re-sign Floyd, who had a few monster games in 2010.
Still, he's going to find a home quickly.
Floyd is 6'5" and 225 pounds, so he's got the perfect size. He's only 29 years old, so there are many great years ahead of him.
No. 6: Davin Joseph, G
Kevin C. Cox/Getty Images
Experience: Five years
Best Fit: Pittsburgh Steelers
Lost in all the hype about how great Josh Freeman played last year for Tampa Bay was how quickly the Bucs running game came together.
They finished eighth in the NFL with 125 yards per game thanks in part to a very solid offensive line across the board.
And until he got hurt in Week 13, Joseph was a huge part of that.
A team like the Steelers (who might pursue a free agent to replace Ramon Foster) would love what he can bring to the ground attack.
No. 5: Willie Colon, OT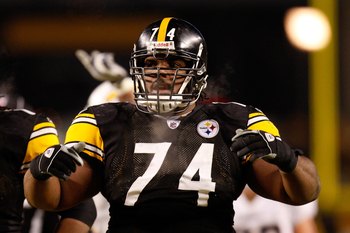 Gregory Shamus/Getty Images
Experience: Five years
Best Fit: Oakland Raiders
The Steelers would probably like to re-sign Colon, who was their starting tackle until he tore his Achilles before training camp last summer, causing him to miss the entire season.
But in case they think that injury is too risky give him millions and a long-term deal, there are several clubs who would like to have a blind-side tackle that has started and won a Super Bowl.
No. 4: Michael Bush, RB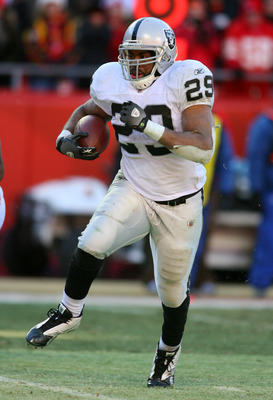 Tim Umphrey/Getty Images
2010 Stats: 158 carries, 655 yards, eight TDs
Experience: Three years
Best Fit: San Francisco 49ers
Being a restricted free agent will greatly hurt the chances of Bush leaving the Raiders, but Bush is a very intriguing runner.
Sure, Darren McFadden was the star of the Oakland backfield, becoming the NFL's leading rusher in the middle of the season. But Bush was a key part of that second-ranked ground attack.
He actually scored more rushing touchdowns than McFadden and did an admirable job filling in when he went down with a hamstring injury in the middle of the season.
Any club who needs an insurance policy for their incumbent, like the 49ers with Frank Gore or the Jaguars with Maurice Jones-Drew, might want to take a look at Bush.
No. 3: Brandon Jackson, RB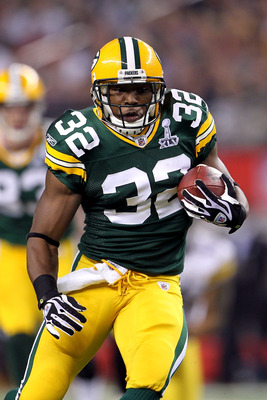 Jamie Squire/Getty Images
2010 Stats: 190 carries, 703 yards, three TDs
Experience: Four years
Best Fit: Cincinnati Bengals
In addition to getting Ryan Grant back, the Packers found a promising ball-carrier in James Starks, and just for good measure, they selected Hawaii's Alexander Green in the third round of the draft. So they are pretty set at that position for now.
But Jackson is a versatile back who, besides leading the Packs in yards on the ground, added plenty as a pass catcher out of the backfield, catching 43 passes including that game-clinching touchdown against the Eagles in the Wild-Card round.
The Bengals could lose Cedric Benson whose demands will be high and is coming off another run in with the law. Adding a started from last year's Super Bowl champions would provide a major boost to that Cincinnati locker room.
No. 2: Chris Spencer, C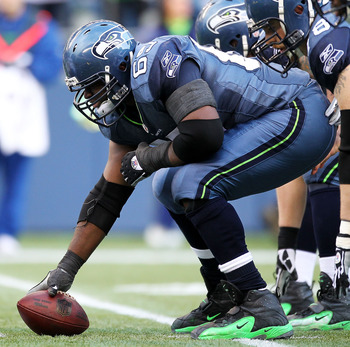 Otto Greule Jr/Getty Images
Experience: Six years
Best Fit: Chicago Bears
If the Bears don't re-sign Olin Kruetz or he opts to retire after more than a decade in the league, Spencer is a fine replacement.
He was a main cog in the Seahawks running game which improved a great deal in the second half of the season. Case in point, the win over New Orleans.
And in that NFC North, where the Packers defense was the best in the NFC, the Vikings boast an outstanding line, and the Lions now have two powerhouse young tackles, a strong center is crucial.
No. 1: Stephen Tulloch, LB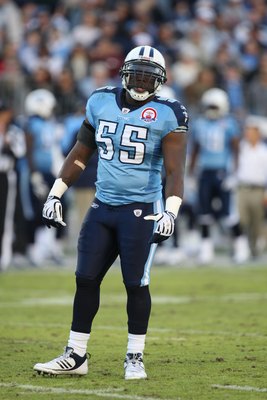 Streeter Lecka/Getty Images
2010 Stats: 160 tackles (111 solo), one INT, one sack
Experience: Five years
Best Fit: Detroit Lions
Maybe it's a stretch to consider Tulloch a "hidden" gem. After all, he was second in the NFL in tackles last year, and according to many reports, the Lions are really pursuing him hard.
But you don't hear him being drooled over the way Nnamdi Asomugha, Santonio Holmes, Braylon Edwards, Ray Edwards and a few others have been lately.
He's extremely active, and with more and more teams running 3-4 defenses, it's hard to find a true Mike linebacker who can play the run and the pass with equal effectiveness.
Last year—in a division with two great runners as well as Peyton Manning—Tulloch fit that spot as well as anyone in the league.
Keep Reading