NFL Holdouts 2011: Chris Johnson, DeSean Jackson and Frank Gore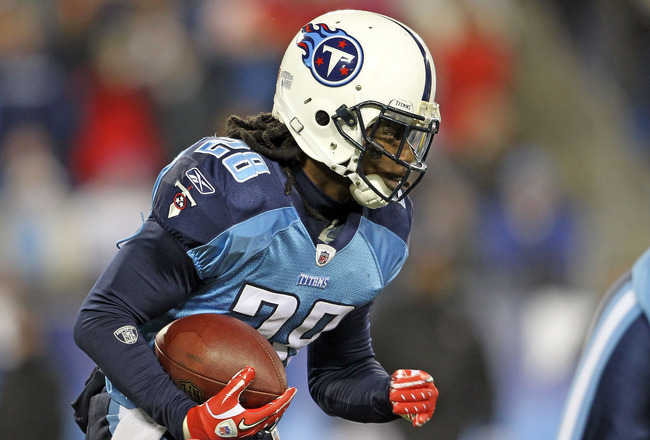 Andy Lyons/Getty Images
NFL Free Agency has been absolutely insane so far. Totally crazy.
There have been deals almost every single second of the day, with writers and insiders tweeting their every thought. Some of those insiders have targeted three superstars who are going to hold out: Chris Johnson of the Tennessee Titans, DeSean Jackson of the Philadelphia Eagles and Frank Gore of the San Francisco 49ers.
Players like Santonio Holmes and DeAngelo Williams are sitting back in a pile of cash right now, wondering, "what the hell just happened?" Holmes got signed to a monster $50 million deal by the New York Jets, while Williams was signed to an equally monstrous $43 million deal by the Carolina Panthers.
Johnson, Jackson and Gore, though, are sitting back and wondering the same thing, "what the hell just happened?" Except for them, there is no pile of cash.
These superstars, who absolutely deserve big pay days, are wondering why they are getting paid "pennies" while their counterparts are making the big bucks.
Let's take a look at each star, their current salary structure and how long their potential holdout will last.
3. DeSean Jackson, Phildaelphia Eagles, WR, 2011 Base Salary: $555k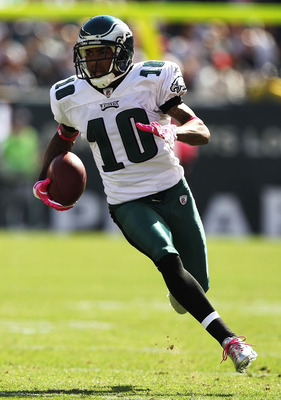 Al Bello/Getty Images
This is a scary sight for defenses. DeSean Jackson in the open field is as lethal as cyanide, and as exciting as a pool party in Vegas.
So the question needs to be asked, if he holds out, how do the Philadelphia Eagles not pay him?
They need him. Both for his big play ability on special teams and off the catch, as well as his innate ability to find the holes in the defense. Jackson's speed, mixed with Michael Vick's creative ability is one of the reasons the Eagles offense is as spectacular as it is.
Without him, the Eagles are stuck with Jason Avant (who by the way, is making $1 million more than DeSean). That can't happen.
It is seeming more and more likely that Jackson will hold out, and after the flurry of activity and deals today, he might be even more ticked off about his salary. He is a free agent at the end of this year, though, so hopefully he will "tough it out" and play for the $555k.
DeSean will most certainly get rewarded come free agency 2012.
Predicted end of holdout:
Before season starts. Jackson is only 24, he will make his money if he continues to produce. Now isn't the time to whine.
2. Frank Gore, San Francisco 49ers, RB, 2011 Base Salary: $2.9 Million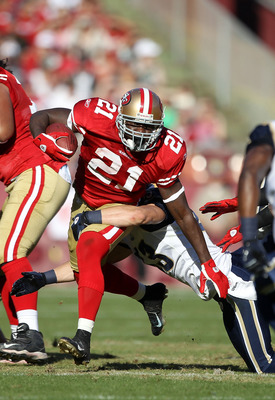 Ezra Shaw/Getty Images
Frank Gore is a much better running back than you might think.
The San Francisco 49ers best offensive player has a career yards-per-rush of 4.7, which is astounding for a running back who has torn his ACL in both knees. Gore doesn't only run well, he is a solid pass-catcher out of the backfield whose career yards-after-catch is a sterling 8.3.
Nonetheless, Gore is threatening to hold out barring a new contract proposal.
I understand his reasoning. He has laid it all out on the line for the Niners, coming back from some major injuries to play very inspired football. Now, he has one year left on his contract, and no security looming.
If he injures his knee at the end of the season? Bye bye contract.
Bad year? Bye bye contract.
Much like the Asante Samuel situation in New England before the 2008 season, I actually am going to side with the player here. Gore has shown a relentless determination in coming back from injuries while maintaining his dominance on the gridiron. He deserves a contract from the Niners, and I don't think they'll give it to him.
Predicted end of holdout:
If he gets a new contract, it will be then. Otherwise, he will hold out until he is traded, or until it doesn't make sense financially (after a certain week, if you remain a holdout, you lose a year of free agency). In the end, I believe he will be traded. Shocker, I know!

1. Chris Johnson, Tennessee Titans, RB, 2011 Base Salary: $800k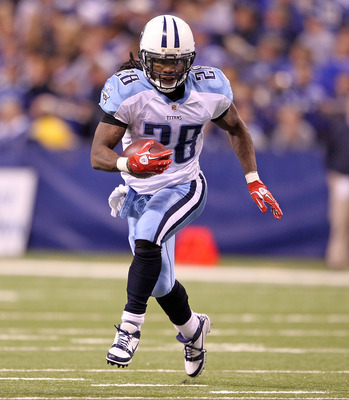 Andy Lyons/Getty Images
Chris Johnson is amazing, plain and simple. Anyone who watches him can see the ease, fluidity and speed that CJ brings to the field every single Sunday.
Unfortunately for him, the Tennessee Titans have had a quarterback crisis since before he even arrived. With the signing of former Seattle Seahawks quarterback Matt Hasselbeck, Johnson will regain the calming sense of control that the veteran will bring to the huddle.
Johnson last felt this in his insane 2009 season when Kerry Collins was behind center.
Collins and Hasselbeck are very similar, and with Matt's arrival should come Chris' revival. 2000 yards might be asking too much, but I would pencil the lightning bolt in for about 1600 yards and 14 touchdowns. That being said, Johnson is woefully underpaid, and he wants to hold out.
Like Frank Gore, Johnson totally deserves any money that comes his way—he has proven himself an elite performer. But more similar to DeSean Jackson is the fact that this is just his first contract. He is 25-years-old, and still in his prime.
The time will come for a big contract next summer.
For now, he'll just have to settle for ripping off 80-yard touchdown runs, and constantly making defenders look foolish in their pursuit of possibly the most slippery back in the game.
Predicted end of holdout:
Before week one, just like DeSean. He needs to play in order to produce and get his big contract, so that's what he's going to do. Johnson doesn't have the kind of money Frank Gore has stored away. This is probably his last chance at a big payday, and I imagine he will jump at the opportunity.
Let me know what you think in the comments section below! Will Frank Gore hold out? Is CJ really going to waste his talent on the bench? Let's hear it!
Keep Reading