NFL Free Agents 2011: An Update on Miami's Quarterback Targets
July 27, 2011
Jeff Gross/Getty Images
The Miami Dolphins are expected to bring in an experienced, proven quarterback this offseason to compete with Chad Henne for the starting job.
Speculation has been circling for months about who is more likely to come to Miami and who is the better fit.
The lockout ended Monday, and a flurry of offseason trades and signings are just beginning.
Here is an updated look at Miami's potential new quarterback.
Carson Palmer
Carson Palmer will not play for Cincinnati anymore.
The Bengals won't trade him. According to Cincinnati owner Mike Brown, "he is retired...I'm not expecting him to be back."
Cincinnati won't trade Palmer because the 31-year-old QB still has four years left on his contract, and Brown said "we're not going to reward him" for breaking that commitment.
The Bengals have told every team interested in Palmer that they will not trade.
I think it's safe to say Palmer is out as a Dolphins quarterback option.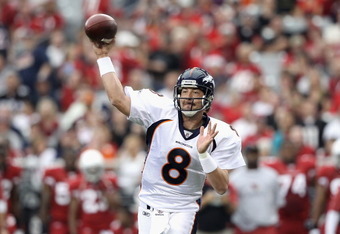 Christian Petersen/Getty Images
ESPN is reporting a preliminary agreement has just been reached between the Redskins and Vikings to trade Donovan McNabb to Minnesota.
Miami had reportedly been interested in the former Eagle signal-caller.
The trade to send Kolb to Arizona is all but a done deal.
Matt Hasselbeck and Tarvaris Jackson
Yesterday, the Seattle Seahawks announced they wouldn't bring back Matt Hasselbeck.
This morning, ESPN reported that the Tennessee Titans have signed Hasselbeck to a multi-year contract.
Former Vikings quarterback Tarvaris Jackson, another potential target for the Dolphins, will replace Hasselbeck in Seattle.
Four options are gone for Miami, but there are still plenty of quarterbacks available.
Vince Young
According to titaninsider.com, Tennessee will waive Vince Young tomorrow, now that they have the Hasselbeck deal set.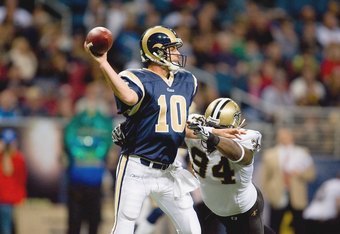 Dilip Vishwanat/Getty Images
He would bring athleticism and the ability to win to South Beach, but his consistency and relationship with coaches is questionable.
Kyle Orton
The Denver Broncos are shopping Kyle Orton, who would be a good fit in Miami and would be reunited with Brandon Marshall. He's a underrated quarterback who has put up big stats with weak supporting casts.
However, Denver is probably requiring a second- or third-round draft pick in return, which Miami may not be willing to give up.
Marc Bulger
Marc Bulger is not expected to return to the Ravens.
He is a low-risk, high-reward player who would at the very least give Henne some competition and guidance.
Others
Other potential signings that wouldn't hurt the budget include Bruce Gradkowski, David Carr, Trent Edwards, Jim Sorgi and many others.
Yesterday, Miami signed undrafted free agent Pat Devlin, considered the best undrafted quarterback available.
It was a smart move for the Dolphins, adding needed depth to the position.
With Devlin and Tom Brandstater on the roster to back up Henne, I expect the Dolphins to acquire one of the high-profile names listed above rather than a less expensive, less experienced player who would probably just back up Chad Henne.
Vince Young would probably make the most sense for Miami, due to the fact he should come cheaper than Orton and could still legitimately start for the Dolphins. However, it does appear that the Dolphins are in serious trade negotiations with Denver to bring Orton to Miami.