Eli Manning: Top 7 Moments of New York Giants Franchise QBs Career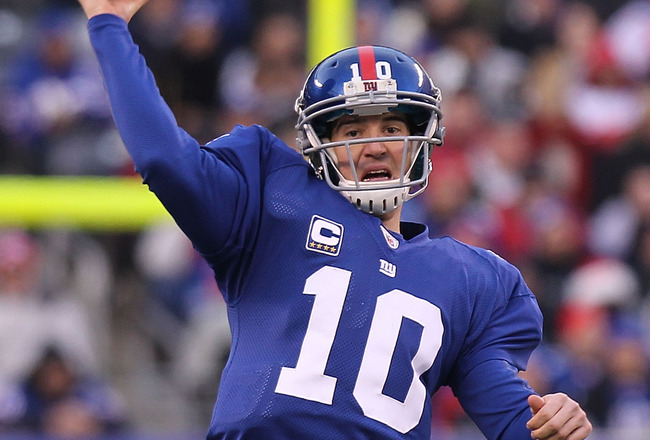 Nick Laham/Getty Images
The New York Giants should consider themselves blessed to have had the same quarterback under center since he took over the starting job in 2004.
Many critics will say Eli Manning doesn't deserve to be considered a top 10 quarterback in this league, but they are seriously underrating him.
Over the past three seasons, he's tossed 79 touchdowns versus 49 interceptions, threw for 11,261 yards, and completed more than 60 percent of his passes.
I'm not sure how that doesn't qualify him as a top 10 quarterback in the league. Throw in a Super Bowl MVP after having led two fourth-quarter touchdown drives in that game, and it's hard to make the argument against him being top 10.
Ever since that amazing playoff run, Eli turned the corner and the Giants have had one of the most potent offenses in the league during that time. Unfortunately, terrible defensive play in 2009 and turnovers in 2010 forced the Giants to miss the playoffs.
But I'm not here to talk about the negative. This slideshow is a tribute to our quarterback, who by all indications, will be the signal-caller for the next several years.
Here are Eli Manning's top five moments of his career.
5. First Win of His Career: Giants 28-Cowboys 24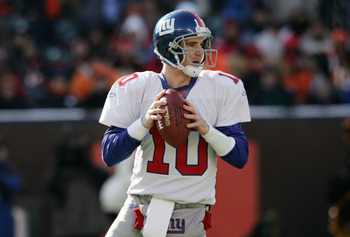 Andy Lyons/Getty Images
Though he started his career with six straight losses, the future franchise quarterback got his first win against the Dallas Cowboys, one fitting for Giants fans who call the Cowboys the team they hate the most.
Eli did not light up the box score, but did throw three touchdowns to go along with 144 yards and a 101.5 QB rating.
He's generally had success against the Cowboys, going 8-6 in his career including one playoff game that will show up later in this slideshow.
2006 Week 2: 17-Point Comeback Win vs Philadelphia Eagles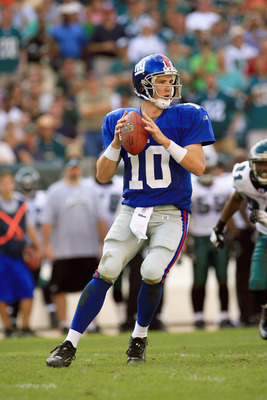 Jamie Squire/Getty Images
In Week 2 of the 2006 season, the Giants found themselves down 17 points entering the fourth quarter. Despite under going relentless pressure from the Eagles, who sacked him eight times, Eli Manning led the Giants back and sent the game to overtime.
Albeit with a little luck—a fumble forced by Brian Dawkins that was recovered by Tim Carter in the end zone and a fumble by Brian Westbrook on their own 33-yard line—Eli Manning led two touchdown drives and set the Giants up for the tying field goal with a six play, 63 yard drive in 51 seconds.
After the teams exchanged punts, Eli led the Giants on a 13-play, 85-yard touchdown drive to seal the victory.
It was our first taste of the clutch gene that Eli would show throughout his entire career.
2007 Week 3: 14-Point Comeback Win vs. Washington Redskins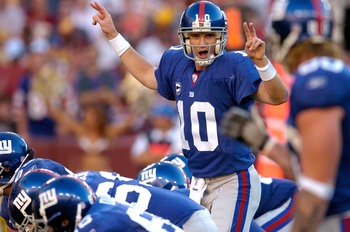 Greg Fiume/Getty Images
The Giants got off to a terrible start in 2007 under new defensive coordinator Steve Spagnuolo. Giving up 80 points in his first two games and 17 in the first half of the next had fans screaming for his head already.
However, the Giants defense stepped their games up enough to allow Eli enough time to score three touchdowns in the second half, coming back from a 17-3 halftime deficit.
The first two scores of the second half were each double-digit play, 60-plus yard drives.
While it wasn't the best statistical game of his career, it tested his leadership of the offensive huddle after losing Tiki Barber, who had been the offensive leader for several seasons.
That win sparked a run of 10 straight road victories, including an 11th in Super Bowl XLII (technically it was a road game).
2009 Week 5 and 15: Perfect and Near Perfect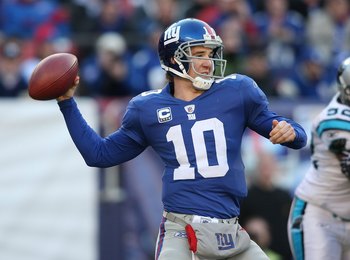 Nick Laham/Getty Images
I couldn't put Manning's Week 5 performance as a stand-alone moment because frankly, he didn't play the entire game for fear of aggravating his Lis Franc injury.
However, in the time he was in, he put up a perfect quarterback rating going 8-of-10 with 173 yards and two touchdowns.
The Giants jumped out to a 28-0 lead midway through the second quarter and didn't look back.
In Week 14, Manning nearly equaled that number against the Washington Redskins. On that day, he was 19-of-26 for 268 yards and three touchdowns for a QB rating of 144.4.
These are easily the best regular-season performances of Manning's career.
2007 Playoffs: 21-17 Win over Rival Dallas Cowboys
When saying no one gave the Giants a chance in hell to win the divisional playoff game against the Dallas Cowboys in 2007, I may actually be underestimating the public opinion.
I mean really, no one outside of New York gave the Giants a shot. True to form of that season, the Giants yet again played shocker and came out on top, thanks in part to a terrific performance by Eli Manning.
Manning went 12-of-18 for 163 yards and two touchdowns with a QB rating of 131.2, the third highest of his career and easily his best playoff performance as a hole.
The Giants would use the confidence gained from knocking off the No. 1 seeded Cowboys to beat the Packers the following week in "Ice Bowl II," then shocked the world in a game represented by the next two slides.
"The Catch: Part II"
Before the play to Plaxico Burress that would eventually win the Giants the Super Bowl could happen, Eli Manning and David Tyree had to pull off one of the most incredible plays in Super Bowl history.
The video speaks for itself.
Game Winning TD Pass to Plaxico Burress in Super Bowl XLII
Capping off an 80-plus yard touchdown drive that included a fourth-down conversion, a historic play and a 3rd-and-11 conversion by Steve Smith, Eli hit Plaxico Burress on this sluggo (slant and go) route to put the Giants on top for good with 35 seconds to play.
The play brought home the Lombardi trophy for the third time in New York Giants history, and will forever be remembered as the play that ended the pursuit of perfection of the previously undefeated Patriots.
The Giants technically faced the second largest point spread in Super Bowl history, but many call this the biggest upset of all time.
Keep Reading

New York Giants: Like this team?