13 NFL Preseason Games Most Worth Watching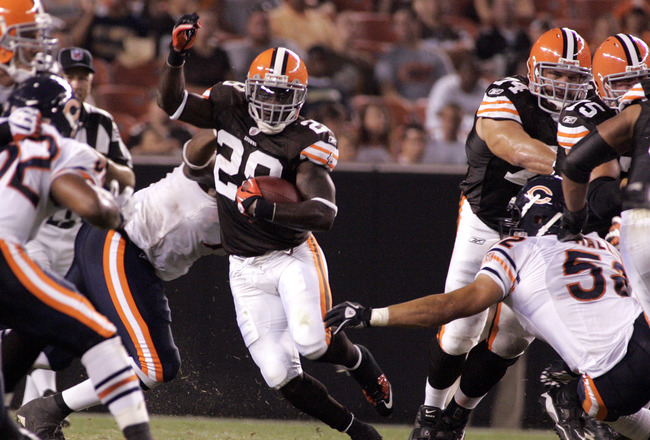 Justin K. Aller/Getty Images
I don't usually put a lot of stock in preseason games, especially since an overarching goal is to keep the team healthy.
But this year is a little different, if you haven't noticed.
In the course of two weeks, most teams are going to undergo a rapid transformation as they add and lose free agents and somehow try to put together a cohesive unit for the first preseason games starting August 11 through August 15.
Since the lockout has caused the cancellation of the Hall of Fame game between the Chicago Bears and St. Louis Rams, there will only be a total of 64 preseason games.
In this article, I will outline the games that will be most worth watching.
But before getting to that, understand the following: Most of these games will be brutal to watch, especially ones that are played in the first and fourth week.
Remember, there have been no OTA's (Organized Team Activities) or mini-camps. The NFL will open for business sometime this week, and teams will have approximately two weeks to get ready. Draft picks have not been signed and free agents have not been acquired.
So, in Week 1, expect somewhat of a facsimile of your team's roster from last season, of course missing players that have departed. Some of a team's new additions probably won't be ready to contribute until week two or later.
As for Week 4 of the preseason, most of you already know that NFL teams really don't like to play their starters much or even at all in that final game to avoid risking an injury. This lockout may change that somewhat, but your marquee players will probably still only make a cameo appearance.
So, what games will be worth watching???
Let's see.
Thursday, August 11, Baltimore Ravens at Philadelphia Eagles
Chris Trotman/Getty Images
The dynamic Michael Vick-led Philadelphia offense against the rugged and nasty Ray Lewis-led Baltimore defense.
Sign me up.
Granted, it won't last for very long before both teams substitute for their starters, but while it lasts, it sure will be fun.
If you are looking for a reason to watch a little longer, know that both teams are very good typically at adding young talent.
Baltimore Executive Vice President/General manager Ozzie Newsome is simply one of the best in the business, having presided over drafts that brought in current stars such as Lewis, Ed Reed, Haloti Ngata, Terrrell Suggs, Ray Rice, Todd Heap and Joe Flacco, never mind the abundance of talent that has either retired or moved on to another team.
Meanwhile, Philadelphia's Andy Reid and company always seem to hit on some special players, such as DeSean Jackson (second round in 2008), and seem to prefer the quantity approach to adding youth to the roster. The Eagles drafted 11 players in 2011 and 13 in 2010.
Friday, August 12, Tampa Bay Buccaneers at Kansas City Chiefs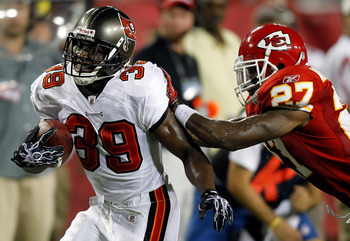 J. Meric/Getty Images
Not only is this game nationally televised on Fox, it features two teams that have to be listed as up-and-comers and ones that far exceeded most expectations in 2010.
The Buccaneers finished 10-6, yet missed the playoffs in part because they play in the brutally tough NFC South. Tampa Bay has a developing star in quarterback Josh Freeman. Even when Freeman checks out of the game early, keep an eye on backup Josh Johnson. He's blocked from being the starter in Tampa, but he'll probably get a chance to be the primary quarterback for someone sooner or later.
I'll be curious to see if enigmatic but super talented wide receiver Mike Williams can build on his rookie success of 65 catches for 964 yards and 11 touchdowns.
As for the Chiefs, I actually believe they will be hard pressed to repeat as AFC West champs, as the San Diego Chargers figure to rebound, but you can't deny their 2010 turnaround when they went 10-6 in the regular season and reversed a three-year trend when the team went 10-38.
The Chiefs have started to put real offensive talent around Matt Cassell. This game will be crucial in determining whether the defense is catching up.
Saturday, August 13, New York Giants at Carolina Panthers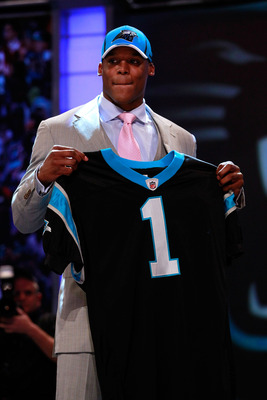 Chris Trotman/Getty Images
Any NFL fan is bound to be curious about how the first overall pick in the NFL draft is going to do in his first game action. Thanks to a new rookie wage scale, it's very unlikely that most draft picks will hold out. Carolina is on the road in Week 2, and from a box-office perspective, having Newton's first action be at home makes more sense.
Newton probably won't start the game because Carolina will try to put him in a situation to succeed, which means he will see time in the third or fourth quarter against Giants reserves instead of first stringers who could provide a pass rush problem.
Monday, August 15, New York Giants at Houston Texans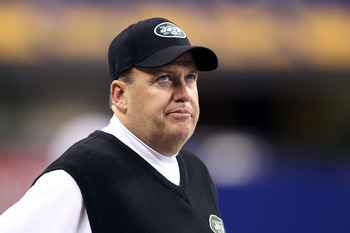 Andy Lyons/Getty Images
This is the first Monday Night Football game, and it features Rex Ryan, head coach of the New York Jets.
I could leave it at that, and most football fans wouldn't require further explanation. However, I'll elaborate.
If you find Ryan entertaining, then you will definitely want to tune in because he will probably say or do something that will amuse you.
If you don't find Ryan entertaining, then you will probably still want to tune in, because the Jets have a ton of free agents and not a lot of room to sign them.
A lot of moving parts on a football team like the Jets usually leads to a train-wreck type first game. So, once again, Ryan will probably amuse you.
Thursday, August 18, Philadelphia Eagles at Pittsburgh Steelers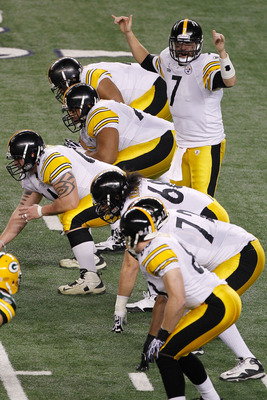 Joe Robbins/Getty Images
Well, at least Philadelphia fans won't have to complain about their football team being battled tested in the first two weeks of the preseason.
Whoever scheduled Baltimore and Pittsburgh back-to-back probably needs to have his or her head examined, but it's great viewing entertainment for the rest of us.
A little cross-state rivalry is also good for the game and fans. Expect a physical type of a game, but also two passing attacks with dangerous weapons such as Vick, Jackson and Jeremy Maclin for Philly and Ben Roethlisberger, Mike Wallace, Hines Ward and Emmanuel Sanders for Pittsburgh.
Friday, August 19, Arizona Cardinals at Green Bay Packers
Matt Ludtke/Getty Images
Watching this game is a bit of a no-brainer.
If you support the Packers, the defending Super Bowl Champions are returning home. Even if you don't root for Green Bay, you can admire the ridiculous depth of their roster.
You will see back-ups on the Packers that could easily start on other teams and a bunch of quality players who ended last season on injured reserve, including running back Ryan Grant, tightend Jermichael Finley, defensive end Mike Neal, outside linebacker Brad Jones and safety Morgan Burnett.
From the Arizona perspective, this game will likely be just as interesting. It seems everyone has current Eagles back-up quarterback Kevin Kolb already traded to Arizona to become the team's new starter.
While I hardly understand the Cardinals apparent desire for Kolb based on seven career starts and more interceptions thrown (14) than touchdowns (11), I must admit it will be interesting to see how he fits in an Arizona offense that already has wide receivers Larry Fitzgerald, Early Doucet and possibly Steve Breaston (free agent).
Saturday, August 20, San Diego at Dallas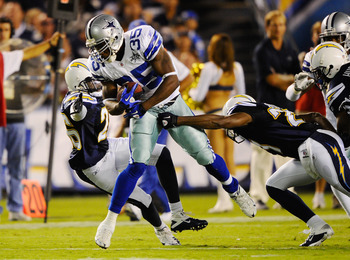 Kevork Djansezian/Getty Images
Let's be blunt.
Dallas (6-10) and San Diego (9-7) both underachieved in 2010.
Big time.
But, there are plenty of reasons to watch this game regardless if you are a fan of either team.
Dallas quarterback Tony Romo broke his left clavicle in a game against the New York Giants earlier last season. During his absence, reserve Jon Kitna did just fine and could probably start in the league. The Cowboys don't have a quarterback controversy yet, but if Romo is rusty, one could come soon.
It remains to be seen, but the 2011 Dallas roster could look drastically different than the 2010 version. The Cowboys are significant over the salary cap and could be dropping wide receiver Roy Williams, running back Marion Barber and cornerback Terrance Newman among others in the first few days when the NFL re-opens for business.
San Diego has plenty of intrigue on its roster as well. Philip Rivers throws for miles of yards and plenty of touchdowns, but he hasn't led his team to expected glory yet. This is not discredit what Rivers has accomplished, but no one wants the "best quarterback not to win a Super Bowl ring" label.
The Chargers also could look much different as running back Darren Sproles, linebacker Kevin Burnett, safety Eric Weddle and wide receiver Malcolm Floyd are free agents. The difference is that the Chargers are projected to be under the cap and can afford to replace much of their talent.
Monday, August 22, Chicago Bears at New York Giants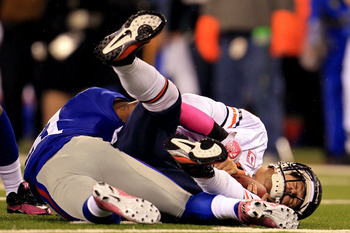 Chris McGrath/Getty Images
October 3, 2010 featured a Sunday night game between the Chicago Bears and New York Giants.
I remember the game as the "Jay Cutler Nightmare, Part One".
Part two, of course, was the 2010 NFC Championship game that Cutler left after suffering a knee injury that some felt wasn't serious enough to have him stay on the bench.
This wasn't the first time Cutler's toughness was questioned; the abuse he took from the G-Men on that October night might have been.
In fairness to Cutler, his offensive line decided not to show up, as Cutler was sacked a mind-boggling nine times in the first half, which not surprisingly is an NFL record.
Cutler apparently suffered a concussion and didn't return after the half. The exact moment he was concussed wasn't obvious. At the same time, one wondered if Cutler just didn't want to take any more shots.
Well, guess what? If Cutler plays in the rematch, it's must see television.
Thursday, August 25, Carolina at Cincinnati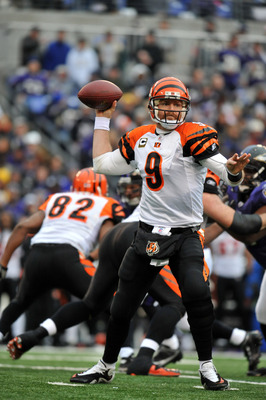 Larry French/Getty Images
Normally, Carolina against Cincinnati isn't a marquee game, but I think it's worth your time for a couple of reasons. Obviously, it's another chance to catch Cam Newton in action, and I think by this point, you'll get a good indication of how he's making out.
Translation: This game could be his first against a first-team defense, which means he'll likely get knocked around.
The third week of the preseason is also primarily the game in which starters see the most action.
Who is going to be the starting quarterback for Cincinnati?
Because, it sure looks like Carson Palmer is going to stay retired. I have a hard time believing that rookie Andy Dalton is going to be the guy right off the bat, but on the flip-side, I haven't heard a lot of other options linked to the Bengals.
Saturday, August 27, Atlanta at Pittsburgh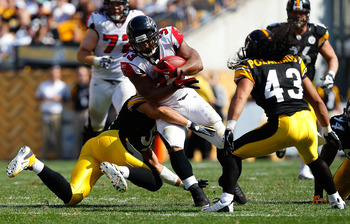 Jared Wickerham/Getty Images
You're going to be programming your DVR for this day, because I've got two games for you. Or, you can watch the replay of one of them on the NFL Network.
This first is one of the few preseason games, certainly in Week 3, where you could have a Super Bowl preview. Atlanta sold the farm, actually a bunch of draft choices, for the right to draft wide receiver Julio Jones in this year's draft.
The Falcons wouldn't have done this if they didn't believe that they were that close to raising the Lombardi Trophy.
Pittsburgh has built a perennial contender and actually could be a stronger team than in 2010 when they represented the AFC in the Super Bowl.
Why?
Well for starters, Roethlisberger isn't facing a suspension, the team figures to be healthier, almost be default, on the offensive line and the aforementioned wide receivers Wallace and Sanders are just beginning to enter their prime.
Saturday, August 27, New England at Detroit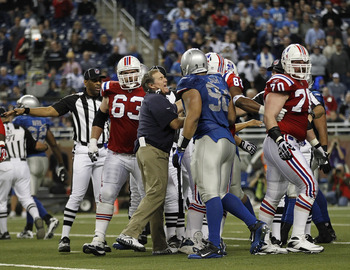 Leon Halip/Getty Images
This nationally televised game on CBS is another intriguing rematch from a memorable 2010 game.
On Thanksgiving, November 25, the Lions actually had a 17-10 lead at halftime before the Patriots took the deficit personally and scored 35 points in the second half on their way to a 45-24 rout.
Things got a little chippy, to say the least, at Ford Field.
Don't think that loss won't cross the minds of Detroit's players who suffered through that Turkey Day,even if this affair is a preseason tilt.
If you need another reason to watch, there is the almost annual question now of whether Detroit's "franchise quarterback" Matthew Stafford will be healthy.
Thursday, September 1, Houston at Minnesota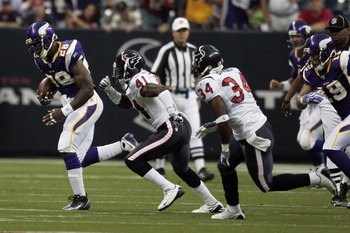 Bob Levey/Getty Images
Again, there are two games that figure to start at or around the same time, so you'll need to record one or watch the NFL Network replay.
This particular game wouldn't necessarily be of interest outside the two cities where the teams play, especially on the last week of the preseason slate.
But, look at it this way. Both teams have positions that are unlikely to be settled until this very game if at all.
In Minnesota, much like I mentioned with Cincinnati, there is no obvious answer at quarterback. The Vikings seem likely to add a veteran once free agency starts, but I think the odds of Joe Webb, Christian Ponder or the new acquisition starting are about equal, obviously depending on who that new acquisition will be.
I've been really harsh on Houston's secondary in previous articles. Until the worst-ranked pass defense in the NFL shows me that it has improved, I really don't see a reason to let up.
The Texans will try to add a big name to the secondary or even a couple of smaller ones, but an NFL secondary usually has somewhere between eight and 10 players on the roster.
The eight to 10 defensive backs on the Texans roster come September 1 might look significantly different than the ones that are facing Peyton Manning and the Indianapolis Colts just 10 days later.
Thursday, Spetember 1, Indianapolis Colts at Cincinatti Bengals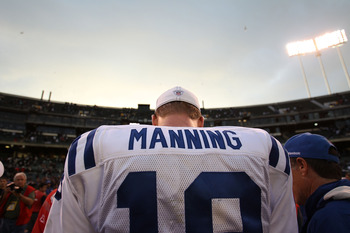 Jed Jacobsohn/Getty Images
Speaking of No. 18, in case you missed it, here is a recap of Peyton Manning's recovery from neck surgery. The bottom line is that it would be silly to start Manning until he is fully recovered from what could be a potentially serious problem.
I also can't see Manning going the entire preseason without getting any reps and starting Week 1 of the regular season against Indianapolis.
This is a player who likes to practice as much as anyone and is fully prepared for games. It might only be for a few series, and it might be in front of a nationally televised audience during the third week of the preseason against Green Bay on August 26 instead, but you need to tune in to see if Manning is ready.
Keep Reading