Revisiting the 2009 NFL Draft and What We Have Learned
July 21, 2011
Leon Halip/Getty Images
So, while we're waiting for the NFL CBA to become finalized, let's take a look at the three quarterbacks who were drafted in 2009 and try to assess how they've fared.
At the end of  the Jets 2009 campaign, I was talking this over with a friend of mine – my position was that in spite of the rookie year ups and downs, Mark Sanchez performed a lot better than people thought he would.  Remember, Matt Stafford was the first QB picked in that draft.  Mark Sanchez went no. 5 overall and Josh Freeman went to the Bucs at no. 17. 
But the real national storyline was Stafford vs Sanchez – who would have the better career?  My friend made a good point:  you don't really know what you've got in a QB right out of college until you're about three years in on his pro career.  Hit reset if the QB had a front office or coaching change. 
In the case of Stafford and Sanchez their coaching staff and front office has basically been the same and both started their rookie season.  So, it comes down to their play on the field.  Or lack thereof. 
Matt Stafford has missed big chunks of his rookie and sophomore seasons due to injury.  Specifically due to shoulder and knee injuries.   A history of shoulder problems in particular is not good for a QB.  Ask Chad Pennington.  I think he's up to four rotator cuff surgeries.  I just can't see how you can ever regain the velocity after that.  (By the way, I love Chad Pennington.  Class guy all the way.  I'm glad that he is going to get some TV experience this season as he rehabs.    Will he ever start again in the NFL?  We don't know.  But even if that and the TV gig don't work out, I think he would be a fantastic coach.)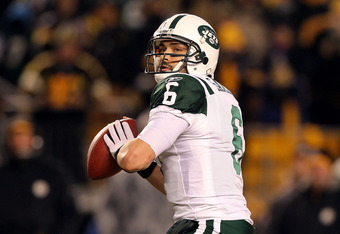 Al Bello/Getty Images
At any rate, back to picks one and five.  This is the year where I will decide whether Stafford is injury prone or just unlucky.  The best example of this in recent memory is David Carr.   Recall if you will that David Carr was drafted in 2002 to the Houston Texans.  He'd had a very solid career at Fresno State and his prospects looked bright in the NFL.   But Houston didn't have a great offensive line and Carr got sacked.   A lot.  He set a record that year for most sacks taken.  
Eventually, you have to ask yourself, how much of that was on the offensive line and how much did Carr bear responsibility for?  Was he holding the ball too long or unable to scramble out of harm's way?  It didn't help matters much that he next landed at Carolina and got injured again from, you guessed it, taking a sack.  That's a whole different offensive line.    
Carr's another quality guy.  He's currently holding a clip board in San Francisco.  He probably won't be a starter in the league again unless it's, ironically, due to someone else's injury.  He just couldn't stay upright.
So, now that we're about to enter year three,  I think Stafford is in a defining season.  Nobody ever questioned his talent and athleticism coming out of Georgia.  And the Lions organization has accomplished the remarkable feat of going from cover your eyes awful, to actually being somewhat respectable.  They've got some competitive fight nowadays.  It would be great if Stafford can get through the whole 16 game season.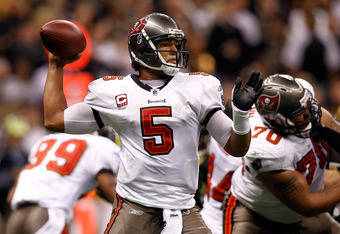 Chris Graythen/Getty Images
It's not that Sanchez hasn't been injured.  He's just a little more elusive, durable or lucky.  It's probably a combination of all three.  Here's how Sanchez had to learn the hard way to take care of his body.
Back in his rookie season in 2009, Sanchez got injured late in the year when he failed to slide.
Here is what I wrote at the time to one of my friends who wanted to know what could be done to get the knucklehead (Sanchez) to quit being such a risky idiot after he messed up his only good knee in the Buffalo game.
 

"My take on the whole thing?  I just found out that since training camp they have been on Sanchez to slide feet first.  It's just not his instinct because (by his own admission) he's never done it.  Slid head first in baseball, same football.  Love the moxie, but when you are worth $50 mil to the franchise, you need to develop some new instincts.  Thus, Joe Girardi drops by in his spare time from being the World Series winning manager and brings his slide mat and teaches Sanchito how to do it.  Two days later, El Matador dives head first and jacks up his knee.  Rex Ryan was hopping mad at the press conference after that game.  It looks like Sanchez will not be starting next week against the Bucs.  I truly don't believe the injury is that bad.  That being said, he is not 100%.  And Rex is right that if this were the Super Bowl, he would be playing.  So what do I think is really happening?  I think Rex is legit that he wants Sanchez to have the extra week's rest.  It can only help.  But…(even though the Jets deny it) I think a very clear message is being sent to Mark……slide feet first from now on, or find yourself on the bench.  It's way too dangerous to go any other way.  We'll live if we don't get the first down.  Things will not go so well if you have to have reconstructive knee surgery.  So, in having him stay home (!) –(he's not even going to travel to Tampa Bay – Rex said rehab and get the extra days' treatment) sent a very clear message to Sanchez and the team from Rex.

1)       I'm the boss around here...  It's my way or the bench, Sanchez.

2)       To the rest of the team and coaching staff:  see item #1 above."


Remember, that was back in late 2009. But Rex got his message across and Mark, stubborn as he is, learned a valuable lesson: Try not to take unnecessary risks.  The Jets ended up going on a deep playoff run after that.
Overall, Sanchez has acquitted himself well since he was drafted.  He's proven to be coachable and a hard worker. (Are there things to improve?  Yes.  That'll be the subject of another post.)  We'll see how Sanchez fares in the 2011 campaign.
For Stafford this year, it's all about playing a full 16 game season.  I think the Lions could really surprise a lot of people if he can do that.  This is the year where he needs to justify his #1 draft pick status.
Meanwhile, Josh Freeman has the lowest profile of the three.  He only played a couple of games his rookie season.  But he had a great 2010.  He was lucky in that the Bucs were somewhat under the radar in a division where they were looking up at the Saints and the Falcons.  I think that was good for them. 
They are a young team with a young Head Coach and lots of promise.  I don't think they're a playoff team yet, although you never know.  They could sneak up on everybody.  I think a lot will depend on how free agency shakes out for the teams on their schedule.
So far none of these three has flamed out.  That's pretty good for three first round QB picks.  Freeman will benefit from another year starting and working with Raheem Morris.  Sanchito will be on year 3 of Super Bowl or bust.  So, you know, no pressure, Mark.  Right? 
And hopefully Matt Stafford can remain healthy.  It would be great to see him wing it down the field and to have the Lions truly be interesting and competitive – really for the first time since the Barry Sanders era.  The Detroit fans have been terrifically supportive of this franchise even in the darkest days.  It would be nice if Stafford can remain on the field and if they could add the excitement of a winning season to reward that loyalty. 
Otherwise, they are going to be looking up at Aaron Rodgers and the Packers for a long time.
For now, we'll just have to wait and see how the 2011 season unfolds.