Philadelphia Eagles: 5 Reasons to Get Excited for the 2011 Season
Al Bello/Getty Images
The 2010 season for the Philadelphia Eagles was supposed to be a rebuilding year. New quarterback, very young offense and very inexperienced defense. Six to eight wins was the projected win total for the Eagles. In came Michael Vick, and everything changed.
The Eagles failed to win a playoff game for the second straight season. They did however, nearly beat the eventual Super Bowl champs despite having absolutely no protection on the right side of the line, a glaring weak spot at right cornerback and no defense inside the 20.
With several new assistant coaches, an outstanding rookie at right guard and a new defensive coordinator the Eagles should be able to improve on what was a good, but not great 2010 campaign.
Andy Reid looks ready to finally lead the Eagles to a Super Bowl triumph. A very young and very talented core should put them in position to contend at a high level for the next three or four years at least.
2011 will be the year the Eagles take the next step as serious championship contenders.
Juan Castillo Is Not Sean McDermott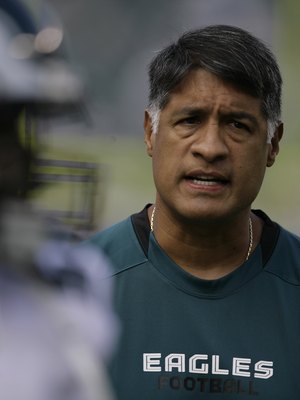 Chris Gardner/Getty Images
The Eagles defense took some major steps in the wrong direction after the tragic passing of Jim Johnson and the promotion of Sean McDermott. As defensive coordinator of the Eagles, McDermott's defense struggled to continue the success they have had under Johnson.
McDermott's defense struggled heavily in the red zone Johnson's defense never finished in the bottom half in the league in defensive red zone scoring percentage. In the two years where McDermott was the Eagles defensive coordinator the Eagles finished in the bottom six both years.
Juan Castillo will fix the red zone woes by simplifying the defense. Less complexities means it will be easier for the defense to be on the same page. This was especially true for the linebacking core in 2010 of Ernie Sims, Stewart Bradley and Moise Fokou. The three never seemed to be on the same page and a more simple defense would help that. With the Eagles having a possible linebacking core of second year linebackers Keenan Clayton and Jamar Chaney and Moise Fokou in his third season, a more simple approach to the defense may be the answer.
It is still a bit unclear what exactly Castillo's defense will look like, but there is a lot of speculation that the Eagles will use more of a zone blitz scheme. With a very young but very athletic linebacking core and secondary, a zone blitz scheme should greatly improve the defense.
As the Eagles former offensive line coach, Juan Castillo was always asked to go over the defensive game plan with former defensive coordinator Jim Johnson. Sometimes your best offense is a good defense, but in this case your best defensive game plan comes from the mind of a great offensive line coach.
No one will understand how to get pressure on the opposing quarterback more than someone who spent the last 13 years constructing game plans on protecting the quarterback.
Jim Washburn's Defensive Line Will Wreak Havoc in the Backfield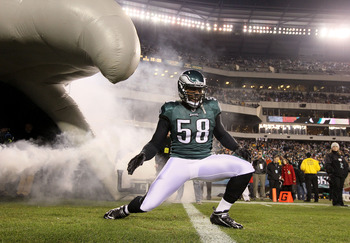 Jim McIsaac/Getty Images
The Eagles pass rush got off to a great start in 2010, but struggle in the final two months of the season to get pressure on the quarterback. Trent Cole finished the season with 10 sacks but the rest of the defense managed just 29. This season we should see a major boast thanks to coaching legend Jim Washburn taking over the defensive line coaching duties.
Jim Washburn has one major philosophy, disrupt the backfield. The Eagles defensive line will look a lot different than it did in 2010. We will see defensive ends lining up wider and defensive tackles job will not be to cover gaps but more to get into the backfield and disrupt the player whether it be a run or pass. That is the Jim Washburn mentality. He spells sacks not with an "s" but with a "$".
Washburn's scheme turned former first round picks Jevon Kearse and Albert Haynesworth into elite players but his scheme has also turned above average players like Kyle Vanden Bosch and Jason Babin into stars as well.
A lighter and more athletic Mike Patterson and Broderick Bunkley should thrive in Washburn's system. Trent Cole is an obvious benefactor as he will only get better learning from Washburn.
Most experts believe that the Eagles will go after a big name in free agency at the defensive end position. Charles Johnson makes the most sense. He is only in his mid 20s and playing for a great coach like Washburn and a playoff team like the Eagles would make sense for him at this point in his career.
Bottom line, the Eagles pass rush will greatly improve in 2011 thanks to Washburn.
Howard Mudd Will Improve the Offensive Line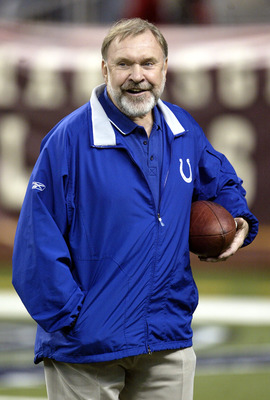 Tom Pidgeon/Getty Images
Howard Mudd has been coaching in the NFL since 1974 but is most famous for his work as offensive line coach for the Indianapolis Colts from 1998-2009. His offensive lines allowed Peyton Manning plenty of protection to put up the numbers that he did but also allowed Edgerrin James and Joseph Addai to post good stats as well. Mudd was the offensive line coach for both Colts Superbowls.
Mudd's philosophy has some major differences than Juan Castillo's offensive line. Unlike Andy Reid and Castillo, Mudd does not believe bigger is better. The days of drafting guys that should be performing on The Biggest Loser rather than protecting our franchise quarterbacks are over for now. Mudd's system calls for more athletic guys who play the game with a lot of tenacity rather than a guy who is just large. Current Eagles lineman like Nick Cole and Max Jean-Gilles will not fit the system and probably won't be resigned.
The other major difference will be a bit more aggressive line. Most offensive lines take a couple steps back to create space, look for Mudd's offensive too create less space but initiate more contact. The offensive line won't try to hold off the defensive line but the goal will be more to over power it with athleticism and consistent effort.
A more athletic line will benefit on screen plays, where LeSean McCoy thrived in 2010. The Eagles gave up 49 sacks in 2010, that number should go down in 2011 with an improved protection scheme and the addition of rookie guard Danny Watkins.
We've seen what happens when Vick has time to throw(think MNF vs Redskins) and we've seen what happens when he doesn't in the final month of the 2010 season. Vick should have more time to make more plays in 2011.
Dimitri Patterson Will Not Be the Eagles Starting RCB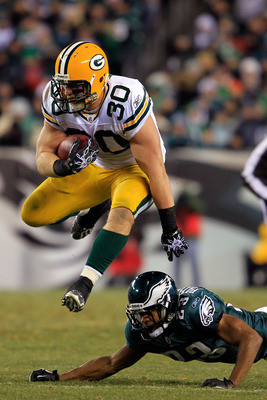 Chris Trotman/Getty Images
You almost feel bad for the guy. The Eagles didn't spend a first round draft pick on Dimitri Patterson. They didn't trade for him, and they certainly didn't sign him to a ridiculous contract either.
Patterson wasn't drafted at all and spent time with three different teams before the Eagles signed him in 2009. He had to fight his way onto the team in 2010 and could have easily been cut if Marlin Jackson not had yet another season ending injury.
Patterson was thrusted into the starting lineup after Ellis Hobbs proved he was not healthy after Kenny Britt lit him up in week 7. Patterson did an outstanding job covering Reggie Wayne against the Colts in Week 9 and picked off Donovan McNabb for a touchdown in Week 10. Patterson could not follow those successes as he struggled to hold his own to any receiver giving up deep ball after deep ball.
Patterson is an unrestricted free agent and most likely won't be brought back to Philly after a miserable 2010 season. The Eagles have been rumored to sign or trade for several different cornerbacks. All offer something different but all have one common them, they are an upgrade over Dimitri Patterson.
Whoever the Eagles sign to replace Patterson, the pass coverage will be greatly improved.
Michal Vick Will Go into the 2011 Season as the Starting Quarterback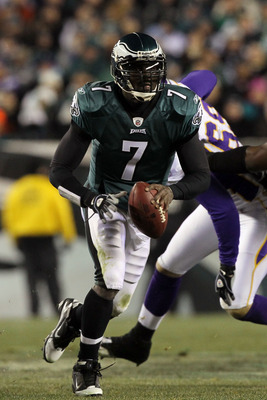 Jim McIsaac/Getty Images
Michael Vick had an incredible 2010 season. He was the runner up for the MVP and single handedly brought the Eagles back from a three touchdown deficit in Giants Stadium. Vick accomplished all that despite going into the season as just the backup and thus hadn't got much time with the starters in practice and training camp.
Michael Vick should be even better in 2011 with a year as the Eagles starting quarterback under his belt. He will have a better connection with Jeremy Maclin and DeSean Jackson.
Another year in Andy Reid's offense and a better pocket presence should bring us an even great Michael Vick in 2011. The sky is the limit for the most dangerous man in football.
Keep Reading

Philadelphia Eagles: Like this team?