San Francisco 49ers: 5 Keys to Offensive Success in 2011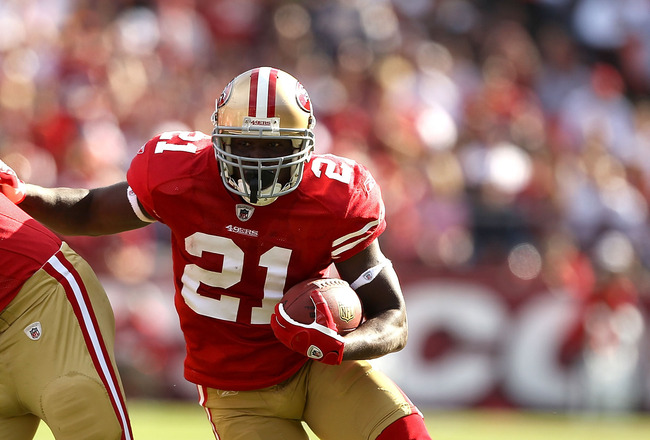 Frank Gore will have an interesting transition in the 49ers new offense in 2011.
Ezra Shaw/Getty Images
With reports that the lockout is nearing an end, front office personnel around the league will be busy assessing the free agent and undrafted rookie market, and they will do it in line with what they think are the strengths and weaknesses already in place.
For the San Francisco 49ers, the offensive side of the organization has much to do with its current reputation that the team doesn't perform to its talent level. Of course, the vortex of that sentiment is quarterback Alex Smith, but there are other issues 49ers coaches know need improvement.
Smith has had a hand in the team's offensive struggles, no doubt. But the team's offensive struggles do not start and end with No. 10. Surely new coach Jim Harbaugh has his own list of priorities that have to be addressed in order to make the 49ers' offense more effective.
With that in mind, here are five keys to the 49ers' offensive success in 2011.
Sign David Baas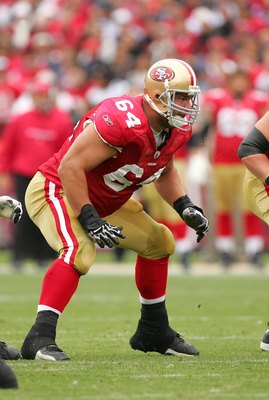 Ezra Shaw/Getty Images
With Eric Heitmann's career seemingly on hold now that he is scheduled to miss his second consecutive season due to injury, the 49ers' offensive line undergoes more change. Baas, now in his seventh year, is a free agent who now becomes vitally important. He can play center or either guard slot, he knows his teammates and he's experienced.
Mike Iupati and Anthony Davis are each going into their second year, so they figure to improve. Adam Snyder has looked good and should challenge right guard Chilo Rachal for the starting job. Joe Staley is strong at left tackle.
So the biggest hole right now is center, and Baas has proven he can do the job. It's up to the 49ers to give him a deal that makes him happy.
Successful Transition to the West Coast Offense
Greg Trott/Getty Images
The complaints about Alex Smith are many—his hands are too small, he makes the wrong reads, arm strength issues. The last eight years have found the entire organization undergoing an identity crisis though.
It started when owner John York fired Steve Mariucci, and GM Terry Donohue was hardly paying attention. In came Dennis Erickson, then Mike Nolan, then Mike Singletary. There's no doubt there's been a disconnect between the top of the entire franchise and what happens on the field.
One thing about the 49ers in their glory days of 1981-1994: Fans knew owner Eddie DeBartolo Jr. was committed to winning, and he would do anything to make the team compete at the highest levels.
It is safe to say that 49ers fans do not have that same feeling about the Yorks. And perhaps it's not the Yorks' fault, in that they rescued the franchise when DeBartolo Jr. got into deep legal trouble.
So what does all this have to do with Alex Smith's talents as a quarterback? Nothing and everything.
Fans do not know what goes on during a season. They don't know the tensions that no doubt exist on every team from owner to equipment manager—there's great pressure on everyone.
In the case of the 49ers, Smith has been the focus of what has been an obviously dysfunctional organization from the top down, and one that has apparently tried to right itself with the hiring of Harbaugh and the promotion of Trent Baalke to general manager.
It may take another year or two to work out all the problems that have grown within the team, but the good news is that there's talent. Harbaugh is going to install the West Coast Offense, and the short-range passes that come on short drops are a better fit for Smith's talents.
It would make 49er fans immeasurably happy if the offense could develop some consistency in moving the ball. It's not Smith's fault the entire organization has been mired in turmoil, but it is his play that becomes the focus of the anger fans have for the team's struggles. A good offensive scheme that matches Smith's talents would remove the stigma many fans have about him.
Playmakers Making Plays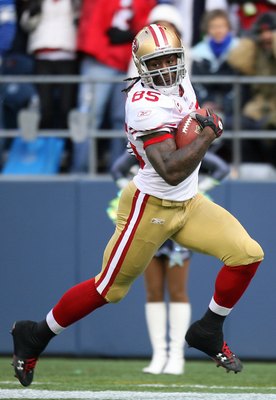 Otto Greule Jr/Getty Images
Keeping Baas would go a long ways to settle the offensive line, and that would do much to restore the confidence of Alex Smith.
And with a relaxed Smith operating behind a stable OL, perhaps the team could get the ball into the hands of players like Vernon Davis, Frank Gore and Michael Crabtree for optimum results.
In other words, a good offense can work and work against a defense, but the one time there's a breakdown either against the run or the pass, playmakers take advantage. The three players above have that capability; they just need more chances to turn a good play into a touchdown or a key first down.
It will be interesting to see in preseason games if there is a concerted effort to get the ball into the hands of the Big Three—that is Harbaugh's call. But it seems logical that the more chances these players get, the greater the chances for the scoreboard to light up.
Tight Ends and U-Backs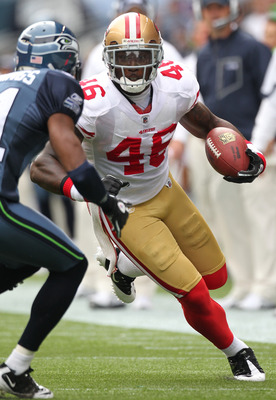 Otto Greule Jr/Getty Images
Vernon Davis and Delanie Walker are a very good tandem at tight end. Both can catch, run and block.
It looks like rookie Bruce Miller out of the University of Central Florida will also play something of a similar role, either as a fullback or U-back.
We saw the same thing last year with Harbaugh's team at Stanford. He loves to use multiple tight ends that can create coverage problems in the secondary or give the team an advantage in blocking for running plays.
For me, this will be the most compelling element of Harbaugh's offense. It's one that is the most basic principle in sports: big beats small.
Whether it's someone like Davis during a pass play getting a one-on-one chance against a smaller cornerback or Walker getting to block a smaller safety to free Frank Gore, multiple tight ends can create big advantages—and this position has been a strength for the 49ers.
Frank Gore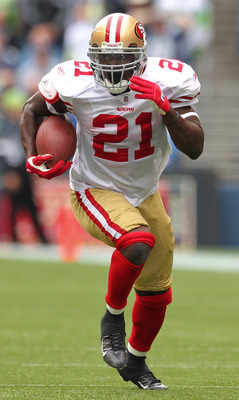 Otto Greule Jr/Getty Images
Arguably, Frank Gore has been one of the most complete backs in the NFL the last five years. He runs, he catches and he blocks. His numbers are first-rate—nearly five yards per rush, nearly nine per catch.
Gore is also unlike many other backs in the league in that he doesn't get frustrated. His stats at times can look dismal, then, boom! He breaks free for 30 or 40 yards.
Former coach Mike Singletary made Gore the focus of the offense. It was part of his smash-mouth approach to the game, and it didn't work out too well. For starters, teams brought nine players near the line of scrimmage, leaving Gore with little chance for consistency.
In Harbaugh's offense, you probably won't see Gore in the I-formation like we saw last year—and how that affects his play remains to be seen. In last year's I sets, Gore had a blocker in front, and he was in a two-point stance, letting him see the defense prior to the snap.
In the West Coast offense, he'll probably be in split or off-set formations with no one in front. That can affect his timing and instincts.
The best 49ers teams of the 1980's and 1990's featured a back who was dangerous catching passes out of the backfield. In 1984, it was Wendell Tyler with fullback Roger Craig. In 1988, it was Craig at halfback and Tom Rathman at fullback. In 1994, it was Rickie Watters at halfback and William Floyd at fullback.
I have a feeling Harbaugh's schemes won't call for a lot of plays that require a fullback. I see him using two tight ends and three WRs or even three tight ends and one WR, all with Gore as a lone back.
Such schemes can spread the defense out and give Gore more room whether it's running or catching.
Keep Reading

San Francisco 49ers: Like this team?