St. Louis Rams: Most Valuable Player at Each Position for 2011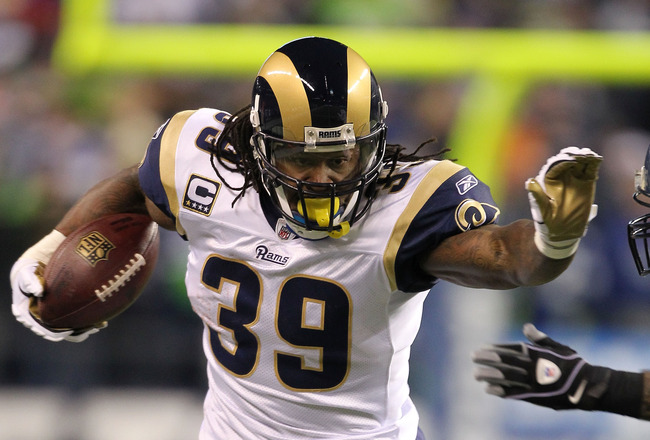 Otto Greule Jr/Getty Images
With the 2011 draft, there are a lot of new faces and there are likely more to come with free agency.
The new players could stir the pot as far as the depth charts, but the newbies and future free agents are not the only ones who can change the team's dynamic.
It takes work and time to develop players—some players were backups or role players in 2010, but they could be solid starters in 2011, maybe even the best of their given position.
Also, players like safety O.J. Atogwe have found new teams.
So let's predict who the best Rams players on 2011, position-by-position.
Interior Offensive Line: Jason Brown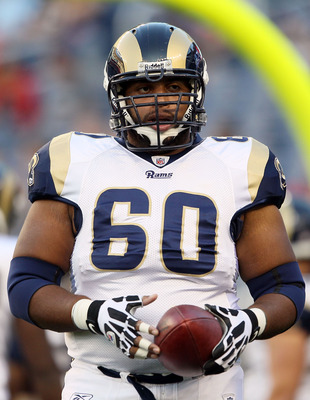 Elsa/Getty Images
Not much has changed here.
The Rams brought center Jason Brown on board prior the 2009 season, paying him a five-year, $37.5 million contract.
Brown was a major asset and a bright spot throughout an otherwise dismal 2009 campaign.
He played at arguably a Pro Bowl level and was named to USA Today's All-Joe team, which honors players from each position who played at a high level but were ignored by Pro Bowl voters.
Brown's play was not as dominant in 2010, but he still did an acceptable job plugging up the middle.
It didn't necessarily help that the guy on his left was overpaid guard Jacob Bell, while the guy to his right was journeyman backup Adam Goldberg.
So considering the alternatives, this is an easy choice.
Offensive Tackle: Rodger Saffold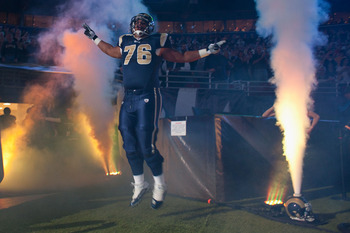 Dilip Vishwanat/Getty Images
Having two young tackles who are rising stars is a good problem to have.
It's any man's game in 2011, but it's still pretty clear that the best offensive tackle will once again be Rodger Saffold, as opposed to right tackle Jason Smith.
Saffold was the best tackle of the 2010 draft class by a landslide, and possibly the best rookie offensive lineman as well (with center Maurkice Pouncey of the Pittsburgh Steelers being the other possibility).
Smith was a No. 2 overall pick from the 2009 draft, so although fans are excited about Saffold and his instant success, it's still possible that Smith could surpass him someday if given time to develop.
But even though there's a chance Smith has a bigger upside a few years down the road, Saffold is still going to be the best tackle in 2011.
Tight End: Lance Kendricks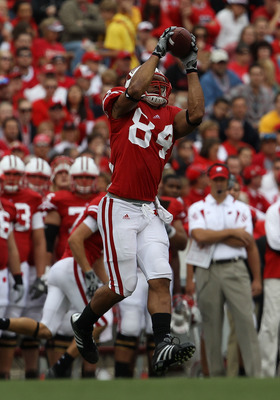 Jonathan Daniel/Getty Images
Even though Lance Kendricks will be a rookie in 2011, his physical gifts are too great to ignore.
Mike Hoomanawanui, who the Rams drafted with a fifth-round pick in 2010, showed some upside last season as a red-zone target, as well as a screen-pass threat, but he missed eight total games with multiple high-ankle sprains.
27-year-old veteran Daniel Fells led all Rams tight ends in receiving last season with 391 yards, but at his age, it's likely that he's already hit his maximum potential.
On the other hand, Kendricks will provide great versatility for the offense.
At only 243 pounds, he won't be a traditional tight end, but his combination of size and speed will make him a threat split out as a receiver, out of the backfield, and out of the traditional tight end spot as well.
He will be Sam Bradford's favorite target on red-zone passes as well as screen passes. Also, his speed could make him a suitable deep ball threat, which is exactly what the Rams need.
So even though Kendricks has not proven himself at the pro level, his upside makes him the most attractive tight end entering 2011.
Wide Receiver: Danny Amendola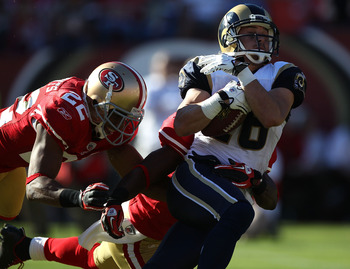 Jed Jacobsohn/Getty Images
There are too many factors working in Danny Amendola's favor in 2011, which makes it hard to select any other receiver.
At 6'5 and 220 pounds, Danario Alexander has the size and weight of a prototypical NFL superstar, but he is still developing and has a devastating history of knee injuries.
Mark Clayton came on strong for the Rams in 2010, with 306 yards in just over four games, but he has been a streaky player historically— he has a history of hot streaks, but has been known to cool off. Also, he is coming off of a nasty knee injury.
Speedster Donnie Avery was expected to have a breakout year in 2010, but went down in the preseason with a knee injury similar to Clayton's. If Avery comes back strong then he'll be an asset, but nothing from his career suggests he will be the top receiver.
The only choice is Amendola, who led the Rams in receiving (689 yards), and led the NFL in all-purpose yards (2,364).
If the rumors are true, and the Rams are interested in free agent running back Darren Sproles (San Diego Chargers), then that means Amendola will be relieved of his return duties, which will allow him to focus on being solely a slot receiver.
With rookie receivers Austin Pettis (Boise State) and Greg Salas (Hawaii) entering the picture, as well and the other three receivers mentioned above, it will steal attention away from Amendola, which will allow him to break free and lead the team in receiving once again.
Although, hopefully this year it will be more than 689 yards.
Running Back: Steven Jackson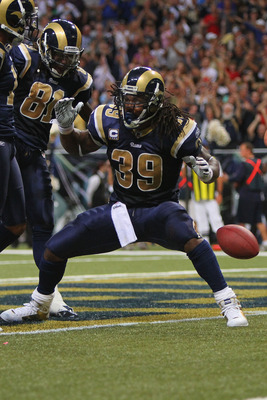 Dilip Vishwanat/Getty Images
Steven Jackson will obviously be the best running back for the Rams in 2011, especially since there's no competition (not that he'd be No. 2 even if there was).
Fans and the media alike point out that he's lost a step or two, but he's still playing at a very high level.
But to be fair, the Rams need to find him some better interior run blocking before everyone proclaims that he's lost his pop.
Maybe he had all of his juice in 2010, maybe he didn't—but he still ran for his sixth consecutive 1,000-yard season (1,241) and made the Pro Bowl.
Jackson will remain a vital weapon on offense in 2011, but the Rams need to find him a backup capable of taking five to 10 carries a game, because nothing will help the offense more than having Jackson fresh for four quarters every game.
Quarterback: A.J. Feeley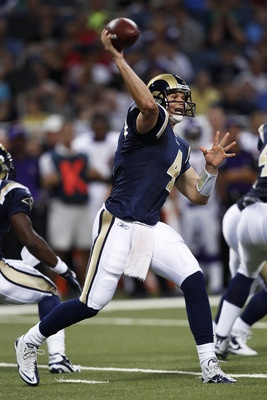 Joe Robbins/Getty Images
Oh, wait... I guess they drafted what's-his-name last year too, would he be a better option?
Don't kill me if you believe in jinxes.
Is there any reason to go on with this slide?
Sam Bradford was the Offensive Rookie of the Year in 2010 and he was one of only three rookie quarterbacks in NFL history to throw for over 3,000 yards in a season (the other two being Peyton Manning and Matt Ryan).
He also holds the record for completions by a rookie with 354, which was a record previously held by Peyton Manning (326).
Players have been known to have a "sophomore slump" during their second NFL season, but Bradford is not a flash-in-the-pan type player—he works too hard and is too dedicated for the second-year slump, so expect a great leap forward for Bradford in 2011.
Defensive End: Chris Long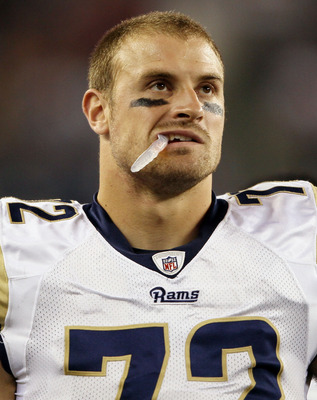 Elsa/Getty Images
Honestly, it would be great for the Rams if Chris Long was not the best defensive end 2011.
Long will be a keystone player on defense no matter what next year, but if he's not the best end, then that means the Rams No.14 overall pick in 2011, defensive end Robert Quinn, will be.
Rams fans are hungry to see the monster potential of the Long and Quinn duo, but realistically, Long will lead the way while Quinn goes throw the common rookie growing pains.
Long's nonstop motor and scrappy style of play, combined with a constantly improving defense, will likely result in his first double-digit sack season.
Defensive Tackle: Barry Cofield
Jim McIsaac/Getty Images
Commentator Randy Carriker of ESPN 101.1 in St. Louis predicted on his July 6 radio show that the Rams would sign soon-to-be free agent Barry Cofield away from the New York Giants.
The connection makes sense, given that Cofield played under coach Steve Spagnuolo in New York when they won the Super Bowl in 2007, so he obviously fits the defensive scheme.
This is certainly a long shot at this point, especially since there is not tangible evidence that Cofield will be a Ram next season.
However, if the signing goes down, then he will likely be the best defensive tackle for the Rams next year, even over 34-year-old veteran Fred Robbins, who had an admirable six sacks for the Rams in 2010.
Cofield, like Robbins, lacks the qualities of an elite tackle, but they both are capable of getting the job done at an above average level.
The only real difference is that Cofield is only 27 years old, so he'll not only be more valuable than Robbins next season, but he'll also be a weapon for the next four or five seasons.
If the signing does go through, then the combination of Cofield, Robbins, Robert Quinn and Chris Long as the starting four linemen will do great things for the team in 2011.
Linebacker: James Laurinaitis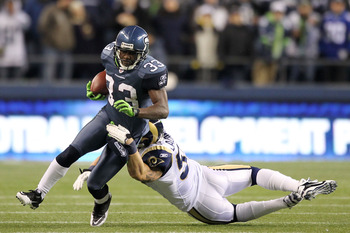 Otto Greule Jr/Getty Images
The Rams will be thin at outside linebacker talent in 2011, so the team needs to depend on James Laurinaitis to take the next step, which could help the guys on the outside look better than they really are.
You could make an argument for either Laurinaitis or Chris Long as the team's best defensive player—there's no right or wrong answer—but the good news is that they'll both continue to improve drastically each season until they reach their full potential, which neither have done quite yet.
Look for Laurinaitis to take that next step towards becoming a Pro Bowl middle linebacker. And in the meantime, there's not another linebacker on team that even comes close to dethroning him as the best on the team.
Cornerback: Bradley Fletcher
Dilip Vishwanat/Getty Images
Veteran Ron Bartell has been the best corner for the Rams the past few seasons.
However, at the age of 29, we already know what he's capable of—he's great as strictly a cover corner, but he lacks any elite characteristics (tackling, ball hawking) that separates him from the pack.
Bradley Fletcher, on the other hand, has not hit his ceiling.
He started three out of his seven games as a rookie, and he was solid in coverage and run support, but his season ended early with a knee injury.
Fletcher was able to successfully rehab his injury and return as a 15-game starter for the Rams in 2010.
Since 2010 was practically a second rookie season, his game certainly had it's faults, but his 75 tackles and four interceptions was enough to show us that he could be the team's best corner as early as next season.
If his development continues, then the Rams are certainly set at corner for the next few years with both Fletcher and Bartell.
Safety: James Butler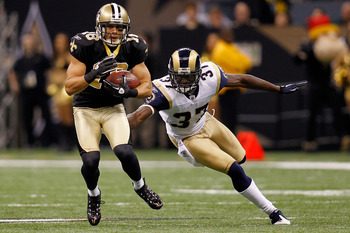 Chris Graythen/Getty Images
The Rams 2010 defensive team captain O.J. Atogwe found himself a new home with the Washington Redskins following last season, which makes safety a totally unpredictable position for the Rams next season.
Luckily, coach Steve Spagnuolo's defensive schemes do not call for top-notch safeties.
But even so, it's hard to be excited about the teams current options.
The two best safeties on the team, as well as the two likely starters, are James Butler and Craig Dahl.
Dahl plays with more intensity than Butler, but that intensity sometimes results on him "whiffing" tackles. Also, his pass coverage leaves a lot to be desired.
Between the two, Butler is the more well-rounded player, and the 28-year-old veteran has more experience, including a season as the starter for the Super Bowl champion New York Giants in 2007.
Butler is also better at creating turnovers— he has eight interceptions in the last three seasons, which is definitely not great, but still better than Dahl, who had the first two interceptions of his three-year career last season.
The ideal scenario would be for the Rams to sign a free-agent safety capable of replacing one of the two, but until then, Butler is the lesser of two evils.
Keep Reading

St. Louis Rams: Like this team?