Mike Munchak Wants a QB Who Can Win Now: Matt Hasselbeck, Anyone?
July 13, 2011
Al Messerschmidt/Getty Images
OK Titans fans, I want to hear what you have to say about this.
John Glennon on Twitter recently reiterated the words of Head Coach Mike Munchak which went a little like this:
"We're not looking for a guy that's not capable of starting and winning games for us," said Munchak. "We need someone that can come in here and win, and then have a nice competition between him and Jake Locker and Rusty (Smith)."
Basically, coach is looking for a veteran who can not only take over the reins for a bit, but also act as a mentor and a strong long-term building block for their crop of future QBs.
Make sense, right? But who should it be?
With a bevy of free agent QBs  likely to be available after the CBA talks, the Titans are basically like a kid in a candy store.
But out of the numerous choices, there's really only three I can think of that the Titans will even consider: Matt Hasselbeck, Marc Bulger and Donovan McNabb.
I'll start with McNabb, who just doesn't seem to fit the bill with me.
The Titans have some intriguing weapons a new quarterback could exploit in Nate Washington, Justin Gage and Kenny Britt (hopefully).
Not to mention their sleeper candidate Jared Cook.
At this point in his career, I can't see McNabb being as effective at the helm as he once was.
Then there's Marc Bulger who says he still has the fire to play.
Bulger is a guy who could possibly fit right into this offense and make an immediate impact, possibly elevating these younger receivers to greater heights, while properly guiding this team to greater success.
Bulger could even come in at a cheap price, but he is widely viewed more as a health liability rather than an inexpensive veteran add.
Which leads us to Matt Hasselbeck.
With Hasselbeck you get a proven leader capable of also becoming that coveted mentor in the coming years should he stick around.
But will Hasselbeck even be available?
Sure he's available now, and with Kerry Collins gone, and a possible restructure of the rookie wage scale, the Titans could wind up kicking a few extra bucks out to sweeten the deal if an offer is made.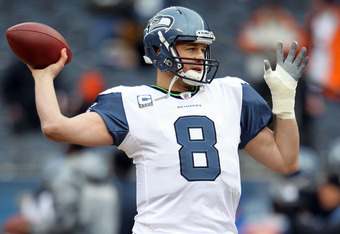 Andy Lyons/Getty Images
Hasselbeck wants to stay in Seattle, but even said himself "only if the money is right".
Interesting, huh?
I think in the end, the Titans will most certainly throw something on the table and hope the Seahawks don't counter with a deal out of their reach.
If that happens, there's always Bulger.
But if you guys made the decisions, who would you go after, and who would you want? Perhaps there is someone not mentioned here you would like out throw out there?
Let me know your thoughts, Tennessee!
And if anyone's interested, I have some great Early Fantasy Football Rankings posted you might want to check out.