The Pittsburgh Steelers Must Punish James Harrison to Maintain Team Integrity
July 13, 2011
Gregory Shamus/Getty Images
The Steelers' new-found fame for player misconduct began with something as pedestrian as a motorcycle ride and has escalated into alleged sexual assault allegations and chainsaw magazine interviews by James Harrison.
Rewinding the clocks to September of 2003, the Commonwealth of Pennsylvania repealed its former traffic laws regarding motorcyclists, no longer requiring most riders to wear a helmet.  Within his rights by law, Steelers quarterback Ben Roethlisberger nearly paid the ultimate price for a legal and foolish decision.  Riding without appropriate protection, the quarterback came under scrutiny for not protecting himself and sending a bad message to other cyclists. 
Yet, by legalistic merit, Ben had no wrong-doing.  Fans recognized his mistake, but the trifle immaturity of a young quarterback did not raise any red flags beyond concern for his health and hopes for better decision-making.  Roethlisberger put his helmet back on in September of 2005.
It was his football helmet!  According to many allegations, included in a scathing article about the franchise quarterback in an issue of Sports Illustrated, the signal-caller continues to ride with his head unprotected.
In time, more players became noticed for all of the wrong reasons and the circumstances became more criminal in nature.
Santonio Holmes began to rack up charges for drug possession and disorderly conduct on a seemingly semi-weekly basis and, as fans took notice of his illegal actions, they likewise noticed the slap on the wrist he was receiving.  At first, it came without much public interrogation.  Truthfully, most fans surely figured that if "a fine, stand-up family like the Rooneys don't want to punish the young man, he must have something good in him, and it must not be that bad!"
Steelers fans have always proudly heralded the Rooneys for a nearly no-nonsense approach to the game.  Players had to be men of solid fiber, good caliber, hard-working athletes with the desire to give back and stay out of trouble.
The United States ambassador to Ireland, Dan Rooney has received a number of great honors, and to witness fans approach he and his family with adoring respect is to observe folks in the presence of perceived saintliness. 
The NFL has relied on Dan as a voice of reason and illustration of integrity; his influence is further reaching than his example, as the league adopted the "Rooney Rule" at his urging, assuring African American prospects the opportunity to interview for coaching vacancies. 
Even his own players, albeit off the field or adorned in their bold Sunday black and gold, speak to the Rooney name, Art and all of his lineage, as fatherly, notably mentioning with regularity the integrity displayed by the family in a business that often lacks such ethics.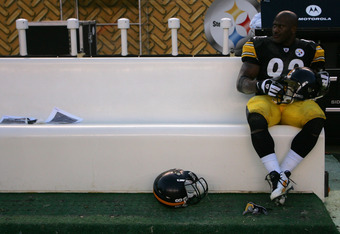 Jared Wickerham/Getty Images
As time passes and Steelers players seem less in tune with honoring the pride and tradition of the Rooney family and Pittsburgh football, one has to ask: Is the respect for the Rooneys diminishing among their players?  Is Art Jr. commanding the same respect as Dan or the senior "Chief?"
If they are still revered amongst the athletes, will the public continue to remember them as men of integrity if the franchise continues to see its players mired in controversy?
Whether the result of a new "bad boy" era in the NFL, a coincidental union of some heedless wrongdoers, or a cluster of badly timed negative events, the Steelers simply have stood for more class than most, if not all, other NFL teams and this tradition of excellence on-field and off-field requires immediate actions. 
Simply, the type of behavior football fans in the 'Burgh have seen recently "ain't acceptable!"
Last summer, while receiver Santonio Holmes, fresh off a Super Bowl MVP in the previous 18 months, was in more hot water than a fresh lobster, it was the public seeing red.  Their franchise quarterback had been accused of sexual assault for the second time, and the evidence of public intoxication and lewd behavior was strewn about the internet. 
Fans spoke their mind regarding expectations for their Pittsburgh Steelers.
Fifty percent said to let him stay, while 50 percent made their voice heard loudly:  "Let him go!"
They released Holmes, ushering in a month of public outcry about the hypocrisy of their decision.
Certainly, Steelers ownership had to feel tremendous pressure.  In reality, trading Ben would have been the equivalent of Lombardi-dumping.  Another championship, at least, is something the franchise will surely attain at some point under Ben's quarterbacking (I won't use the words leadership or guidance, yet).
Releasing one over the other was certainly a mix of right and wrong, and the public was decidedly mixed in their own purview.  Yet, most notably, the word on the streets was of trading one great player for misconduct while keeping the quarterback on the roster.
A great franchise must combine the need to send a message with the business of winning, so the move was a no-brainer.  It didn't matter to fans at the time, the predominant perspective being of those who sensed a strong double standard in what seemed to be becoming the lie, cheat and "Steal City."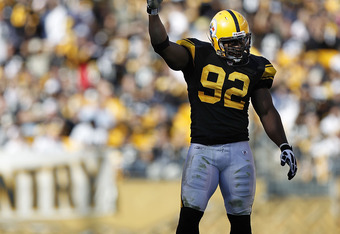 Gregory Shamus/Getty Images
In the public eye, the Steelers fielded a criminal element.
Since the distractions of the 2010 offseason, the team won an AFC Championship, thus proving that talent and determination can overcome a circus of bad press and bad behavior. 
Nevertheless, whether the franchise can overcome another summer of ridicule and magnified examination by all who are morally righteous, the ability to win Super Bowls is no longer the point—at least not in the first days following the lockout.
As important as any success on the field, is the relationship of a community and its football team, and the blue-collar city of Pittsburgh is bonded by fans who (generally speaking, of course) demand a winning attitude.  That winning attitude is as much about the fundamentals of life as the game itself...
..and when the moral compass of multiple players begins to go sour, it's time for somebody to "go south." 
Recent events beg the question:  could it be the Pro-Bowl linebacker?
The 2011 offseason began with a lockout, followed by a cop-out.  Rashard Mendenhall began a frenzied summer with comments regarding the death of Osama Bin Laden, comments that offended a number of Americans, many who lost loved ones during the attacks of 9/11.  Opposed to explaining his rationale, the running back (probably wisely) wrote off his display of first amendments rights with a crafty confession of wrong-doing.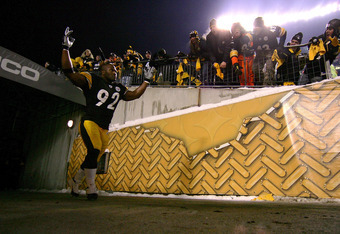 Al Bello/Getty Images
Charged with ammunition from a few simple, but large, words, the media caused Mendenhall to second-guess his decision on how to use social media.
Since these "tweets," other little birds, such as the newspapers and television, have been telling Pittsburgh residents about some other mischief and foolishness amongst the roster.
Hines Ward, while details are pending, was pulled over for an alleged D.U.I.
Meanwhile, nothing about the ridiculous antics of linebacker James Harrison is pending.
James Harrison spoke in harsh words about his opinion of current NFL commissioner Roger Goodell, notably calling him a "crook" and a "puppet."  While this sentiment may be echoed by many NFL fans, the comments were made with no consideration to the team, the upcoming season, the audience and the forum.
Upset with the target that is placed on his style of play, the linebacker used his concerns as a platform for aggressive hostility opposed to rational thinking.  Anger is the only explanation for foolish comments, such as a quote that referred to the player's refusal, to paraphrase, to urinate on Goodell if he were on fire.
While Harrison may have a point regarding his "informed" disdain of Goodell, the comments are a lesson in semantics.  An old saying goes, "taste your words before you speak them."
Well, James' words tasted like, um...something you could use to put out a fire!!
Can Harrison unload his bladder on the fire he has set with his own mouth?
Would he be so willing to tell the commish his sentiments if not behind the cover of a magazine?  Didn't appear so after their big New York meeting this past fall!
Would fans be so forgiving if it weren't the "animal of a linebacker" making the quote, or even a mil-mannered individual who didn't have the reputation for verbal jousts?
During his commentary, he blatantly violated a well-known code of ethics players ascribe to that simply states such personal matters be resolved in the locker room.  He called out his quarterback for a Super Bowl interception, even though that same man marched the team downfield after Harrison's defense nearly blew a late lead in Super Bowl XLIII.  Mendenhall and other NFL players from various teams also  found themselves at the receiving end of Harrison's verbal jabs.
Apparently, a single tackle and a sack in the big game put you in an elite category, James?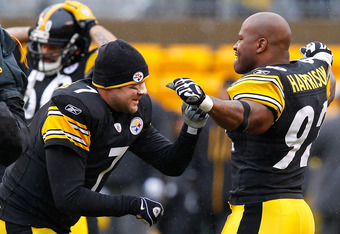 Jared Wickerham/Getty Images
It's impossible, given an honest assessment of the situation, to overlook the player's clear lack of tact, professionalism and basic good will.
This is decidedly not the Steelers way; a way of acting like a man who is lost on too many of today's entitled athletes.
It seems too many entitled children wear black and gold. 
Quote: "...I may have to consider retirement."
Age analysis and translation:  Age five, "I'm taking my ball and going home."
Many will rebut that these are free speech matters, and nobody would disagree that Harrison has the right to say what he said.  But, having the right and being in the right are very different.
This is NOT a free speech issue.
It's a matter of gamesmanship.  Of professionalism.  Sportsmanship.
Simply, it's a matter of not putting yourself ahead of your teammates...
....of being accountable and not pointing fingers publicly. 
...OF BEING A GROWN-UP.
With an increase in unacceptable incidents, the cause seems to be a lack of insufferable consequences that has rendered players unaware of their own culpability.
Or, more simply, players need to be punished when they act so stupidly, despite whether their actions rest within the confines of the law.  Without consequences, athletes believe they are invincible, and it shows!
The only way to command respect and pay note to their blame-worthiness is to take action, and the Rooney family needs to punish James Harrison, plain and simple.  It's time to set an honest example and state:
"We are not the Raiders.  We are not the Bengals.
We are the Pittsburgh Steelers!"
Beyond setting an example, the team has always demonstrated a penchant for grooming great linebackers, a few sublime athletes already entrenched on arguably the finest defensive front in all of football.  The position of linebacker can be replaced in Pittsburgh.  
To keep the squad atop of its peers, many would argue not trading or releasing Harrison, but is that not the equivalent of trading ethics for a game?  Furthermore, the linebacker's late start cuts down the number of quality years ahead of him.  Nevertheless, this argument may be the result of emotions getting the better of me.
Factoring out emotion, the Steelers must react with severity.  There is a circus going on around them and, too often, the franchise has become the clown lately. 
They need to reclaim control; no thing and nobody is bigger than the team.
For those who don't think they can, one name for you: Howard Cosell.
Franchises in the NFL have to balance good business sense (wins and losses) with a strong moral fiber.  Sadly, as difficult as it may be in a season of such high expectations, anything short of a four-game suspension to Harrison will be viewed by most fans as gutless.  Even that may not be enough.
Many will ask, "Who cares what others think?"
Who cares?  In short, the Steelers care.
Any real Steelers fan understands that the Rooneys deserve to be in the highest regard, fielding a team that embodies their classiness and concern.
The question is, will they prove it by acting accordingly?