Pittsburgh Steelers: Perfect Landing Spots for James Harrison, IF They Trade Him
Al Bello/Getty Images
With the recent interview in Mens Journal, James Harrison has found a way to put himself on the outs with the Pittsburgh Steelers. After insulting Roger Goodell, Teddy Bruschi, Rodney Harrison, and Brian Cushing, Harrison turned his venom on the Steelers.
Insulting Rashard Mendenhall (as Harrison did) may have been able to be overlooked. When you turn against your franchise QB, it tends to cause problems in the locker room.
I made my case for trading Harrison in this article.
The Steelers are probably not going to stand for this, and there is a good chance that James Harrison may be starting the 2011 NFL season in a uniform other than the Steelers Black and Gold.
As the Steelers always do, they have already drafted the eventual replacement for Harrison in Jason Worlids. This may force the Steelers into thrusting him into action before they really wanted to, but the compensation for Harrison would be well worth the risk.
The following list are the teams that I believe would not only be interested in trading for Harrison, but what the Steelers could get in compensation for him.
Arizona Cardinals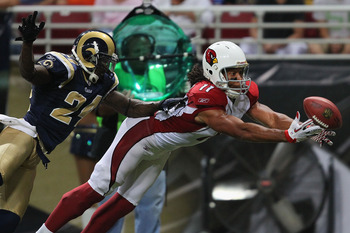 Dilip Vishwanat/Getty Images
The team that makes the most sense to me, would be the Arizona Cardinals.
The Cardinals have hired former Steelers secondary coach, Ray Horton to be their defensive coordinator. He already knows Harrison, Harrison already knows the system Horton will be running.
Harrison would be able to step in, help teach the defense to the new players, and assist in making the Cardinals defense respectable.
What could the Steelers get in the trade?
Before you say I am crazy, realize that FItzgerald is scheduled to become a free agent after the 2011 NFL season, and based on his last contract, the Cardinals are not going to be able to use either the Franchise or Transition tag to keep him from leaving Arizona.
With the QB issues that Cardinals have, there is no chance that Fitzgerald is going to be with the Cardinals after this season. Why not get a former DPOY?
Dominique Rodgers-Cromartie:
One of the biggest areas of concern for the Steelers is their secondary, and DRC would allow the Steelers not to suffer if Ike Taylor can not be resigned. The Cardinals also just drafted Patrick Peterson at the beginning of the first round of the 2011 NFL Draft, so DRC could be viewed as expendable.
New York Jets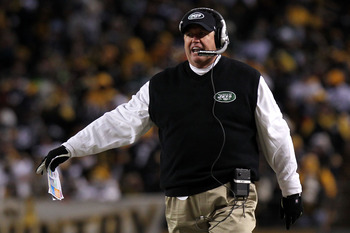 Nick Laham/Getty Images
Rex Ryan is has one of the biggest mouths of any coach in professional sports. He talks trash, gets in peoples faces, and tries to bring the most out of his players.
What better fit can you find for James Harrison?
Harrison would be able to be an immediate impact player for the Jets, and may be the piece they believe they need to get to the Super Bowl.
Darrelle Revis:
No, the Jets don't want to lose Revis. There is no question to that. Like Fitzgerald, Revis may become a free agent after 2012, and the Jets won't be able to do anything but watch him leave.
The Jets are also probably lose two or three of their starting receivers to free agency, so with this trade, the Steelers would have to include either Emmanuel Sanders or Antonio Brown. Either way, this would be a win for the Steelers.
D'Brickashaw Ferguson:
The Steelers NEED a TRUE franchise Tackle to protect the blind side of Ben Roethlisberger. Ferguson fits the mold.
Washington Redskins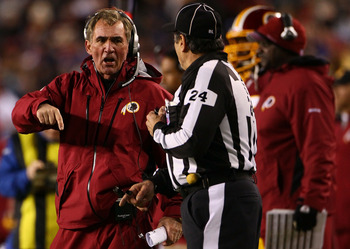 Win McNamee/Getty Images
Mike Shanahan and the Redskins honeymoon is officially over. There is no question that unless the Redskins to better in 2011 than they did in 2010, that Shanny could be looking for a job in March (IF not sooner!).
Not only that, Harrison has a rating higher than 90 in EA Sports Madden game, so there is no question the Redskins would be interested in making the trade. AND, Harrison would be an amazing teacher for Ryan Kerrigan
Sure, they would be willing to trade at least a few picks to the Steelers, or Donovan McNabb (NO interest) or Albert Haynesworth (LESS than NO interest).
I believe that the Redskins would not be able to give up a single player that has value of Harrison, so there would have to be a combination of the following players for the Steelers to make the trade. And, the Skins would probably have to throw a second round pick in as well.
Rocky McIntosh (ILB) - James Farrior is getting old, and will soon need to be replaced. Is Stevenson Sylvester is ready to move into the starting line up, and Jason Worilds isn't, McIntosh could start at one ILB position, and Lawrence Timmons could move outside.
LaRon Landry (SS) - Troy Polamalu has been injured quite a few times over the last few years, and Landry would make an amazing back up, or replacement for when Polamalu is injured, and could possibly take over for Ryan Clark as well. Or, even give the two rest during the regular season, and be able to help in Nickel and Dime situations.
Chris Horton (FS) - Ryan Clark is getting older, and does not have a lot of time left in the NFL. The Steelers have no capable starter quality back up to take the place of Clark if he gets hurt, or to replace him when he retires.
I would add players like Carlos Rogers to this list, but they may be leaving via free agency.
Conclusion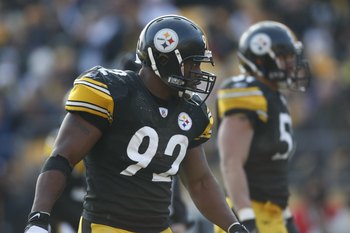 Gregory Shamus/Getty Images
As much as it may pain me to say, I am not sure that there is a lot that James Harrison can to to make this ship right. From the words of Art Rooney, you can tell that he is not happy about this interview, and something is going to be done.
If the Steelers are going to trade Harrison, don't think it is going to be like the Santonio Holmes trade.
Harrison is not facing suspension, and there are going to be a LOT of teams that are interested in Harrison,regardless of his age.
With Worlids already on the roster, and Harrison getting older, I think it is time to make the trade, for the good of the "family"
Keep Reading

Pittsburgh Steelers: Like this team?