Washington Redskins: Should Mike Shanahan Take a Chance on Kris Jenkins?
July 13, 2011
Andrew Burton/Getty Images
Jason La Canfora of NFL.com reports today that the Washington Redskins will be active participants in free agency. La Canfora indicates that the priority areas are the offensive and defensive lines and wide receiver.
The report suggests that the Redskins could have some interest in injury prone defensive tackle Kris Jenkins. The older brother of fellow reported Redskins target Cullen, Kris Jenkins was released by the New York Jets earlier this year after injuries had kept him sidelined for nearly two full seasons. Jenkins would certainly be a gamble for Mike Shanahan, but one well worth consideration.
When healthy, Jenkins is a dominant nose tackle. At 6'4" and 360 pounds, Jenkins has the size the Redskins defensive staff covets for the middle of their 3-4 scheme. Jenkins also possesses useful athleticism to go along with his massive frame.
Jets head coach Rex Ryan has taken advantage of Jenkins' surprising speed to drop him into coverage on occasion. This could be especially helpful in the zone blitz packages favored by Washington defensive coordinator Jim Haslett.
Jenkins' quick first step and makes him a threat to penetrate into the backfield on every snap.  This quickness combined with his tremendous strength means that Jenkins can regularly collapse the pocket. Adding Jenkins to nose tackle would finally give the Redskins a genuine playmaker at the most pivotal position on their defense.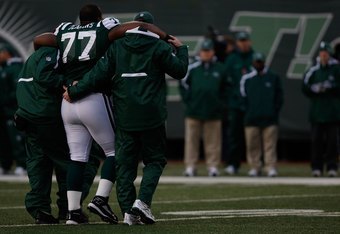 Jared Wickerham/Getty Images
But the questionable durability of the former Carolina Panther is difficult to ignore. Jenkins has made only seven starts during the past two seasons. The Jets' decision to part ways with a player as talented as Jenkins could indicate a feeling that four time Pro Bowler is never going to fully recover from his recent injuries and recapture his best form.
Given the fact that he will turn 32 before the season is scheduled to begin, Jenkins' age could also count against him. As he gets older it will only become harder to effectively return from fitness setbacks.
While he may present plenty of risk, Jenkins offers plenty of short-term value to the Redskins. If he was brought in on a one or even two-year deal, he could become a key part of the defensive line rotation.
If Redskins coaches don't deem him healthy enough to star, Jenkins would be a solid, experienced backup and a valuable situational contributor. He has the skill-set to to be useful for short yardage defense as well as the nickel package.
As a player who mastered the difficult transition from a 4-3 to a 3-4, Jenkins' experience would be vital. He could be a great mentor to young nose tackles Anthony Bryant and Chris Neild.
Jenkins' health concerns and age make him a huge risk for Mike Shanahan. But with the right kind of deal, Jenkins would be a worthwhile addition to the Redskins defense.