New York Yankees: Why Not To Be Excited About Derek Jeter's 3,000th Hit
July 9, 2011
Michael Heiman/Getty Images
New York Yankees shortstop Derek Jeter became the 28th player to make it to 3,000 hits this afternoon. 
And I'm here to tell you why this isn't a good thing.
3,000 Doesn't Necessarily Mean Anything
While it is true almost all players with 3,000 hits are in the Hall of Fame, most MLB Hall of Famers don't have 3,000 hits. 
In fact, there are many people whose primary vocation was getting on base, and they are in the Hall of Fame without 3,000 hits. Wee Willie Keeler, for example, had only 2,932 hits against only 33 homers and 3,562 total bags, yet is still in the Hall of Fame. 
More recently, the name Ozzie Smith—who is more than 500 hits short of 3,000 and was elected on the first ballot—comes to mind. Smith may have been helped by his large number of Gold Gloves, but then again, Jeter has five Gold Gloves of his own. 
Getting to 3,000 probably will not make a difference one way or the other as to Jeter's Hall of Fame chances.
This Chase Has Been Way Over-Hyped
Thanks to ESPN's continual Yanks-Sox watch, this trivial event has received coverage comparable with the papal conclave.  Each hit would instantly make more news than the 2011 Women's World Cup, which is clearly a more notable event.
In other news, Francisco Franco is still dead
Jeter's on the Decline

Derek Jeter's WAR is flat this season, was 1.3 last year and has only been more than three once in the last four seasons.  He hasn't had a positive defensive WAR since 2005, and he is not even one of the 300 best fantasy commodities. 
Jeter's batting .257 with only two homers this season. Last year, his BA was .270, his OPS a mere .710 and he had only 10 homers in one of the more hitter-friendly parks in the league. 
It's clear Jeter is in the downhill years of his career and deserves to neither be voted in as an All-Star, nor even be starting on half the teams in this league, nor be the huge hype engine he continues to be.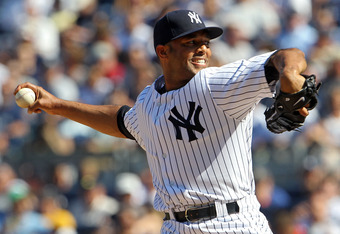 Michael Heiman/Getty Images
I Wanted the Anomaly To Stay
Prior to this afternoon, there were two great anomalies in sports, each involving teams that had won the most crowns in their respective sport. 
One of these involved the Boston Celtics.  The Celtics have never produced an NBA scoring champion, despite having more than a dozen Hall of Famers and winning 17 titles. 
The other involved the Yankees.  No player had gotten his 3,000th hit in the pinstripes, until now. The death of this anomaly may signify the end of team ball and offensive/defensive balance in the face of over-hyped superstars.    
What About the Other Chase?
In my mind, there is another Yankee record-chaser going after a more important milestone.
That is Mariano Rivera, who is closing in on both 600 saves and Trevor Hoffman's record of 601. 
Even if his appearances are limited, Rivera will have broken the record by this time next year, barring a collapse. If he gets a higher number of appearances after the break, he could come close to breaking it by the end of this season. 
I know saves haven't been tracked for all of MLB history, and there are more good hitters than good closers. But I believe being No. 1 in a stat is more important than being in the top 30 of a slightly more prestigious stat—especially since Rivera is older and better, but Jeter, eh, not so much.