Osi Umenyiora Trade Rumors: Why Nobody Wins in a John Carlson Trade with Seattle
August 4, 2011
Jim McIsaac/Getty Images
Osi Umenyiora's departure from the New York Giants appears to be a case of "when" rather than "if" the disgruntled defender departs.
However the recent rumors suggesting that Umenyiora could be traded for Seattle's John Carlson don't make sense for either side.
The Seattle Seahawks may be in desperate need of a new pass rusher for their defense, but Carlson holds a lot of value to the offense. This statement is still true despite the addition of the very talented Zach Miller from the Oakland Raiders.
Carlson may now be demoted to the role of second-string tight end, but Pete Carroll's offense would do very well to run predominantly two tight end sets next season.
Whether Tarvaris Jackson or Charlie Whitehurst is calling the shots in Seattle, the Seahawks will be guided by an inexperienced quarterback this year. Either quarterback will have enough weapons around him to succeed in the right situation, however.
Tight ends tend to be the best friends of young quarterbacks in this league. Just look at Kellen Winslow in Tampa Bay or Dustin Keller in New York. The biggest reason for this is that tight ends don't run complex routes very often.
Even though neither Jackson nor Whitehurst are relatively young anymore, they are both inexperienced, which makes the tight end position just as valuable to them.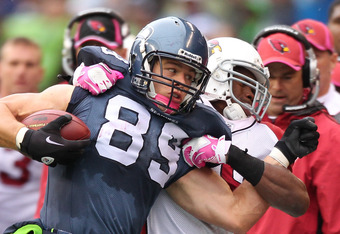 Otto Greule Jr/Getty Images
Tight ends are great options for easy completions. The high percentage throws that they afford to their quarterbacks allows the offense to get into a rhythm without putting pressure on the inexperienced passer to perform.
Having two talented tight ends to catch passes for the Seahawks quarterback would definitely make his life much easier. It would also fit right into the Seahawks' offense.
Two tight end sets are perfect to run play-action from. With two tight ends in the game the offense is balanced. It is a formation that allows the team to efficiently run or pass without giving away their hand. This was a staple of the New England Patriots' offensive success last season.
Play-action comes into this because the Seahawks figure to have a strong running game with the additions on the offensive line. However, the bigger reason is because of the deep threat of Sidney Rice.
Rice was added to the team in free agency and is a disaster to defend deep. His ability to stretch the field will be vital for the Seahawks, because Golden Tate and the team's other receivers are yet to establish themselves.
For this reason Carlson could be a vital cog to the offense.
That's not to say that adding Umenyiora wouldn't aid the defense, but he is 29 years of age and wouldn't serve the team as much long term as Carlson would. Carlson may be 27, but his aiding the development of the team's next quarterback would make him more valuable long term.
That said, Carlson has little value to the New York Giants.
The Giants were hoping to land a first-round pick for Umenyiora, but that doesn't seem realistic. They could definitely retrieve a second-round selection for his talents, however. Even a late second-round pick—which is what I would expect it to be—is more valuable to the Giants than Carlson would be.
Carlson is not as good a player as Kevin Boss, who could be leaving the team.
The Giants offense isn't hugely reliant on adding another tight end. With a strong receiving corp and the return of Ahmad Bradshaw, the team has good skill position players. The offensive line looks to be less certain with Shaun O'Hara and Rich Seubert being released.
Trading for a tight end wouldn't be prudent, as the team could re-sign Boss or pick up a free agent such as Bo Scaife without giving up Umenyiora's trade value.
Getting rid of Umenyiora without adding to the team's salary would also be a better decision, so the team could potentially bring back Steve Smith—health permitting—who was a big player for the offense two years ago.
In addition to that, there are a few veteran offensive linemen that the Giants could consider with the additional funding still available.
Osi Umenyiora is almost definitely leaving the Giants, but to the Seattle Seahawks, for John Carlson?
I doubt it.
Serial tweeting about NFL, NBA, NHL, NCAA, Soccer and Rugby     @Cianaf
I also write for Irish Central and Fantasy Football Life.