NFL: Top 'Diamond in the Rough' Breakouts for 2011
July 5, 2011
Marc Serota/Getty Images
Every year, sports journalists write about the potential break-out candidates for the upcoming season, and every year the names in those articles end up being out-shined by players who most of us were not previously familiar with.
Last year's "diamonds" were Arian Foster and Peyton Hillis. Neither player was mentioned as vital to his respective team's success during the preseason, but by midseason both were in lead roles. 
This year, if history repeats itself—and it will—we will all be talking about at least one relatively unknown player in November. Most of the players who end up on lists like these earn their shots after injuries or poor play by other players, and in a year without a normal offseason, and potentially without a full training camp, the chances of both will dramatically increase.
Potential Diamonds:
Davone Bess has endured three tumultuous seasons in Miami, and each year he has gotten a little better. In his fourth year out of Hawaii, Bess has a chance to be great. Brandon Marshall will draw most of the defensive attention, which will allow Bess to get open for more targets.
As a slot receiver, Bess doesn't go down field much, but his ability after the catch is what makes him effective, with 330 of his 820 yards coming after he caught the ball. The Dolphins also helped Bess out by not drafting a quarterback. Chad Henne doesn't stretch the field with his arm, with 260 of his 301 completions 20 yards or less, so Bess will be a prime target for Henne.
Joe McKnight was stuck in the shadow of Reggie Bush at USC and was called out multiple times by head coach Rex Ryan during his rookie training camp with the New York Jets for being lazy. McKnight spent most of his first season in the NFL playing on special teams, but Ryan gave McKnight a chance in the last regular season game against the Buffalo Bills. McKnight delivered with 158 yards on 32 attempts for an average of 4.9 yards per carry.
McNight was then placed back on the shelf for the playoffs, but 2011 promises to be a better year for McNight. Shonn Greene has yet to live up to his potential and LaDainian Tomlinson is not getting any younger. If given the chance, McNight could explode onto the stage in 2011.
Jordan Shipley was Colt McCoy's favorite target when they both played for the University of Texas, but in the NFL, Shipley was stuck behind Chad Ochocinco and Terrell Owens. Now that Cincinnati has moved away from the two aging veterans, Shipley will get a chance to see additional targets.
Cincinnati did draft A.J. Green in the first round, but he will garner enough attention to allow Shipley to get open more often. Shipley finished his rookie campaign with 600 yards and 52 catches, and the only thing that will stop him from improving on these numbers will be the quarterback situation. If Cincinnati holds onto Carson Palmer or picks up a veteran quarterback to mentor Andy Dalton for a season, Shipley should build on his first season in the pros.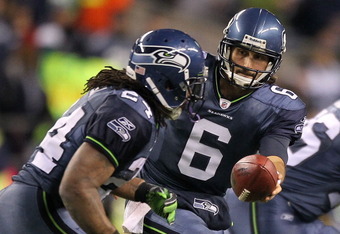 Otto Greule Jr/Getty Images
Charlie Whitehurst hasn't panned out as everyone had hoped five-year career in the NFL; he hadn't even started a game until last year. He wasn't impressive in his first start last season, but Whitehurst showed improvement in Week 17 against the St. Louis Rams. He completed 22 of 36 passes for 192 yards and a touchdown.
This is nothing to write home about, but Whitehurst showed improvement over his 3 weeks of limited action. Matt Hasselbeck is at the end of his career, and has had problems staying healthy during the last few seasons. The Seahawks also elected not to take a quarterback in the draft, so this also helps Whitehurst's case. The Seahawks did draft two offensive linemen, which will help reinforce an already promising young offensive line. He would also be surrounded a young corp of wide receivers and a young stable of running backs. If he can build on his first two starts in the NFL, Whitehurst could secure his spot as the Seahawk's starter in 2011.
Lendale White had a few productive years as a member of the Tennessee Titans, but after Chris Johnson stole the show, White's time in Nashville had run it's course. Now buried on the depth chart in Denver, White has a chance to reinvent himself under first-year head coach John Fox.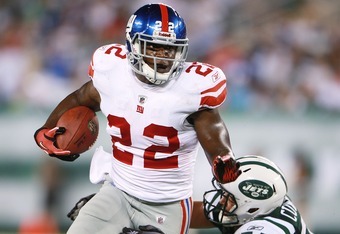 Andrew Burton/Getty Images
Fox's offenses are designed around the run, and he has favored multiple backs in past seasons. Of all the backs on Denver's Roster, White has the best chance to secure the backup role to Knowshon Moreno. White is the only running back on the Broncos who has rushed for 1,000 yards in a season, he is relatively sturdy (his only major injury came last season), and he is more of a power back, which would be a nice compliment to Moreno's style of running. Fox will change the Broncos' offense back to a run-first team, and White could be the prime beneficiary.
Honorable Mention:
Andre Brown (running back, Washington Redskins): Missed his rookie season with a ruptured achilles tendon. Spent most of last season bouncing around the league. Has a chance to establish himself in Mike Shanahan's zone running attack. The drafting of Roy Helu hurts Brown's chances.
Linval Joseph (defensive tackle, New York Giants): Strong raw talent coming out of East Carolina. Stuck behind Rocky Bernard and Chris Canty. Head coach Tom Coughlin thinks highly of Joseph, but the addition of Marvin Austin in the second round of this year's draft (which is where the Giants selected Joseph last year) will cut into his reps in the rotation.
Brady Quinn (quarterback, Denver Broncos): Has had a hard time in the league so far in his young career, but is in a decent situation in Denver. If Orton is traded and Tebow doesn't pan out, then Quinn will most likely get a shot at the job. The problem is that he still remains third on the quarterback depth chart in a league that rarely fields a third QB on game day.
Tony Pike (quarterback, Carolina Panthers): Similar situation that Brady Quinn is in. Pike is buried on the depth chart behind at least two other players. If either Cam Newton or Jimmy Clausen (or both) get off to a slow start, first-year coach Ron Rivera could look to other options at QB. Pike was a winner in college, and could develop into a starter in the NFL.