Houston Texans: 5 Bold Predictions for the 2011 Season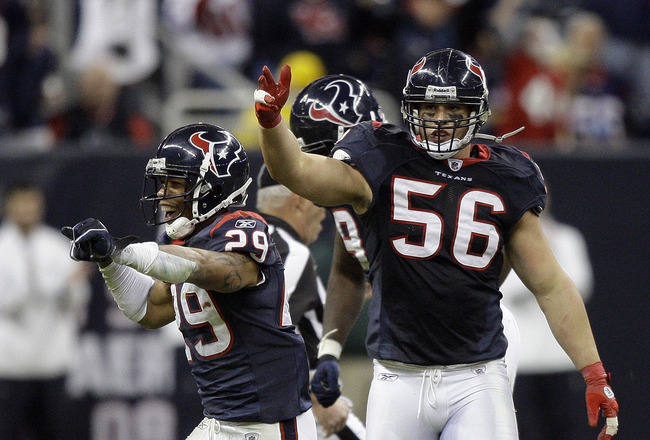 Bob Levey/Getty Images
The Houston Texans finished with a disappointing 6-10 record last season and failed to make the playoffs once again.
This year they hope to finally get over that hump with one of the leagues best offenses and hopefully an improved defense. Texans fans have been waiting the last couple years for a playoff berth just to be disappointed. Will this finally be the year?
With the lockout still in effect, nobody knows what the 2011 NFL season has in store. That doesn't stop us from making predictions.
Here are five bold predictions for your 2011 Houston Texans season.
Andre Johnson Will Have 1,500 Yards and Double-Digit Touchdowns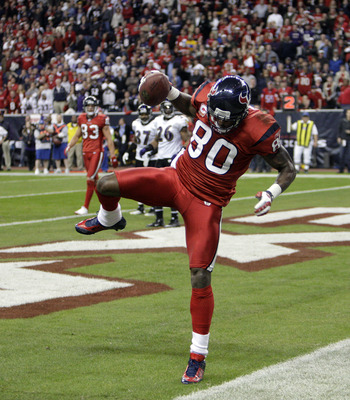 Bob Levey/Getty Images
Why is it bold?
Here is a fact I bet you didn't know. In Andre Johnson's eight seasons, he has yet to have a year with double-digit touchdowns, and 1,500 yards is also 300 more than he had last season.
Why it will happen
Andre Johnson is probably the top receiver in the game today and put up 1,216 yards and nine touchdowns, all while missing three games.
Johnson plays in a great system that has a balanced attack, and features a extremely underrated quarterback. He is also on a team whose defense gives up tons of yards and points, so the Texans are going to be forced to pass the ball, when trailing.
Andre Johnson is an absolute physical beast, and he is due for a double-digit touchdown season. It's been too long.
Matt Schaub Will Throw 32-Plus Touchdowns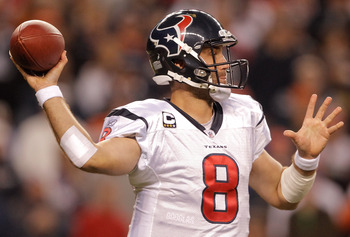 Justin Edmonds/Getty Images
Why is it bold?
The Texans may not be forced to run the ball so much with Arian Fosters' success at running back. Schaub also hasn't even thrown 30 touchdowns in any of his seven seasons.
Why it will happen
Regardless of Fosters success, the Texans are going to throw the ball and throw a lot. Even with Foster last season, Schaub threw the ball over 30 times in 13 games, and three of those games, it was over 50 pass attempts.
He is a very talented and underrated quarterback that has all the weapons to have a Pro Bowl season. With Andre Johnson, Jacoby Jones, Kevin Walter and Owen Daniels at 100 percent, Schaub can top 30 touchdowns and throw for 4,000-plus yards for the third season in a row.
What else does the guy have to do to get some respect?
Mario Williams Will Have Double-Digit Sacks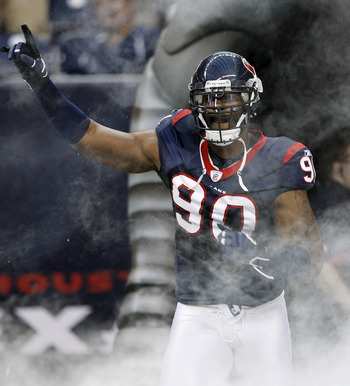 Bob Levey/Getty Images
Why is it bold?
Williams is switching from defensive end to outside linebacker. Williams has played defensive line in college and the pros, so the transition may take a while.
Why it will happen
Williams will struggle to drop back in coverage, as he has only dropped back 44 times in 2,690 snaps during his career. But Wade Phillips is going to use him a lot like they use DeMarcus Ware in Dallas.
Ware had 15 sacks last season, so it's looking good.
Williams' main job is going to be rush the quarterback, and considering he has 48 sacks in five seasons, he is already good at what he's being asked to do. Expect a huge season from Mario Williams.
Texans Will Lose to the Dolphins for the First Time Ever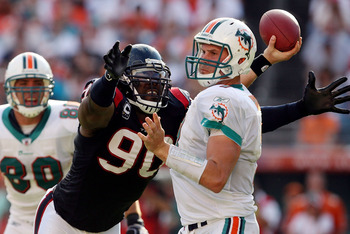 Doug Benc/Getty Images
Why Is It Bold?
The Miami Dolphins are 0-5 against the Houston Texans. They are the only active team the Miami Dolphins have not defeated at least once.
The Texans have a better team than the Dolphins do on paper and always seem to have Miami's number late in games. The Dolphins have lost all five games by a combined 14 points, including a two-point win and two one-point victories.
Why It Will Happen
The Texans pass defense was ranked last out of 32 teams last year. They gave up over 250 passing yards a game. Even Chad Henne with midgets blocking for him could capitalize on that secondary.
Also, just how many times can Miami actually lose close games to this team? The widest margin of victory in the five games has been seven points. A play here, a play there and Miami wins a couple of those games.
Unfortunately, it will be this season.
Texans Will Make the Playoffs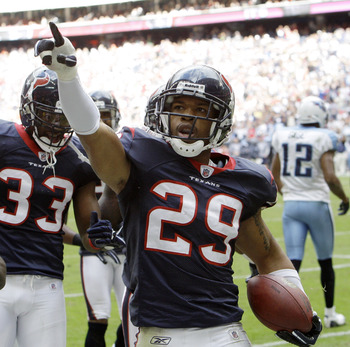 Bob Levey/Getty Images
Why is it bold?
Almost every season, the Texans are predicted to take that next step and make the playoffs. Every season something goes wrong, and it doesn't happen.
Why it will happen
When the Texans are clicking on all cylinders they have one of the top offenses in the league. It's really hard to out-score this team; there are a lot of weapons.
Defense is where there are huge question marks. You can't make the playoffs when your secondary is the worst in the league. The hire of defensive coordinator Wade Phillips is an upgrade and should improve it to where they are at least decent.
Really, their only competition this season in the AFC South is the Indianapolis Colts, so a possible division crown isn't out of reach. Regardless, you have to like this team at the very least earning a wild-card berth and making the playoffs for the first time in franchise history.
Keep Reading

Houston Texans: Like this team?