NFL Rankings: 13 Unavoidable Controversies for 2011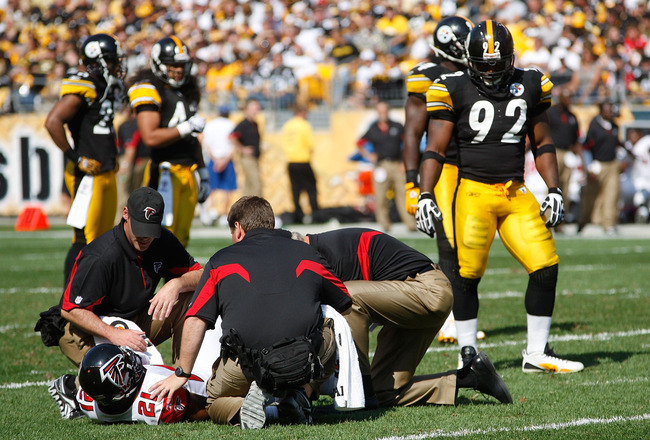 Jared Wickerham/Getty Images
In a time of general uncertainty with the NFL, it might seem ludicrous to say that anything about the league is a "sure bet", a lock, or inevitable.

But, there is one thing that you can count on the NFL for every season.

Controversies.

Conflict breeds them and the media will be sure to publicize them.

Some controversies will be brand new as teams and situations change.

However, the vast majority have historical precedent or symptoms that make predicting these troubles pretty easy.

This list is about the controversies that you likely will see in 2011.
Forbidden Contact During Lockout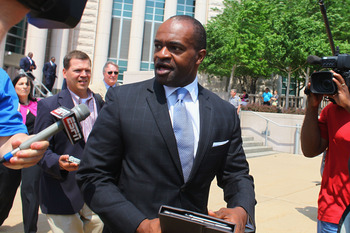 Dilip Vishwanat/Getty Images
You can take this one to the proverbial bank.
Once the lockout ends, there will be month of charges that there was inappropriate contact between teams, players, and anyone else involved during the work-stoppage.
Just today, there was a report by Adam Caplan of yardbarker.com of an unnamed AFC team sending out playbooks to its players. In case you didn't know any contact between players and a team is prohibited by the lockout.
Already during this offseason teams were fined for having inappropriate contact with players in the "dead period" after the season.
Wait till the accusations fly of teams doing "wink-wink" deals with players and other teams during the lockout. For example, you can make a pretty good guess that if Eagles back-up quarterback Kevin Kolb is dealt shortly after the lockout ends that the deal was already done a long time ago minus the paper contract and signatures.
The Officials Will Botch a Call That Arguably Costs a Team a Game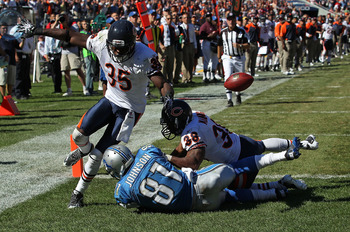 Jonathan Daniel/Getty Images
In 2010, you can argue that at least two games were botched by poor officials calls.

On September 12th, the Lions' Calvin Johnson appeared to come down with a game-winning touchdown catch against the Chicago Bears. The referee closest to the play calls it a touchdown, but is quickly overruled because Johnson dropped the ball at the end of the play. After a lengthy replay, the non-catch is upheld.

On October 24th, the Miami Dolphins held a slim lead late against Pittsburgh, but the Steelers were driving. Quarterback Ben Roethlisberger fumbles before crossing the goal line.
The play is initially called a touchdown then reversed, but because the officials didn't originally and clearly rule that Miami came up with the fumble, which they did, possession reverts to Pittsburgh. The Steelers kick a chip shot field goal and win the game.
Rex Ryan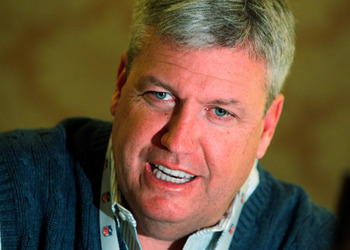 Sean Gardner/Getty Images
Rex Ryan will say something, do something, or be involved in something brash and controversial.

Forget for a moment his annual Super Bowl predictions. The league doesn't even hold its breath over those.

But there was Ryan raising his middle finger to a bunch of Miami fans at an MMA event. Then there was the "foot fetish" revelations. Don't forget about the Sal Alosi tripping incident. Also, there was the Jets' handling of reporter Ines Sainz, or the profane language Ryan used on HBO's Hard Knocks and the resulting war of words with respected coach Tony Dungy. The list goes on and on.
Ryan can't help himself.
James Harrison Will Receive a Substantial Fine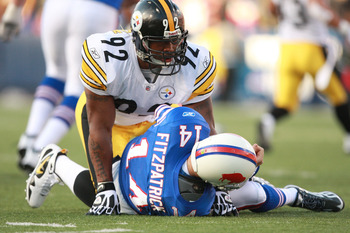 Karl Walter/Getty Images
The Steelers linebacker is fined by the league so regularly that it brings to mind Lindsay Lohan's ultra-frequent brushes with the law.

Harrison was fined $120,000 in 2010. He burrowed his helmet into Buffalo Bills quarterback Ryan Fitzpatrick. That cost $25,000. The helmet dent on Drew Brees' back cost him $20 large, but that was nothing compared to the $75,000 he lost for using his helmet to knock out Cleveland Browns wide receiver Mohammed Massaquoi.

Of course, there wouldn't be much of a controversy if Harrison would change his playing style.

Yeah, right.

Or, if he would just pay the fines. Instead, he feels he has been singled out and has even threatened to retire.

I am sure he'll be on his best behavior in 2011.
Yeah, right.
Brandon Marshall Will Treat a Ball Unfairly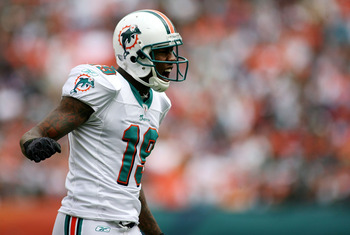 Marc Serota/Getty Images
OK, there is a lot that could happen with the Dolphins' Brandon Marshall that we don't know.

We don't know what the resolution will be with his home life. We can only hope and pray that it turns out for the best.

We don't know whether or not he will remain completely healthy as he has battled a variety of different ailments.

What we do know is that if he is on the field, he will be productive. He will also complain about not receiving the ball enough like any "diva receiver".

What sets Marshall apart is the controversy he creates with the unique way he treats the poor pigskin. When he was with the Denver Broncos, he punted the ball instead of giving it to the ball boys. That was the beginning of the end for B-Marsh in Mile High. Then, in training camp last season, after dropping a pass Marshall punted the ball over the fence in frustration before standing by himself during the rest of practice.

But Marshall's different behavior wasn't limited to practices. Against the Titans, he responded to a first down catch by throwing the ball out of bounds and drawing a delay of game penalty.

Then, against Chicago, he received a taunting penalty after he flipped the ball to ex-Broncos teammate Jay Cutler. Both penalties obviously cost the Dolphins and had fans wondering why Marshall couldn't control his emotions.

Footballs everywhere are demanding justice be done.
Where to Draw the Line on Vick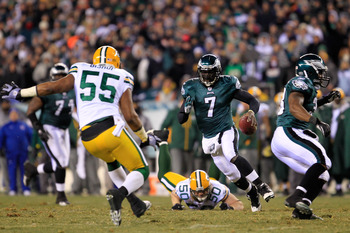 Chris Trotman/Getty Images
There is little doubt that the NFL also serves as the QPA, or Quarterback Protection Agency. It works pretty well too because the league can't afford to lose its most valuable and visible players. Most quarterbacks in the league also seem to have trouble getting out of their own way.

Enter Vick, who still runs like a tailback even though he plays quarterback. Add in a porous Eagles offensive line and the league office is shuddering every time Vick takes off.

The bet here is that Vick takes a significant hit that has the Philly brass questioning the QPA's effectiveness.
An AFC or NFC West Team Will Finish with a Poor Record and Make the Playoffs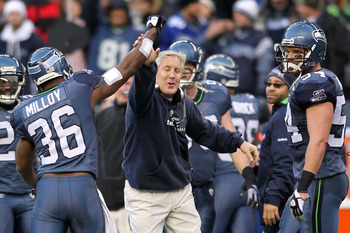 Jonathan Ferrey/Getty Images
An AFC or NFC West team will finish with a poor record and make the playoffs.

Last year, the 7-9 Seattle Seahawks made the playoffs and actually won their first round match-up against the New Orleans Saints.

Several people were infuriated that a sub-.500 team could make the playoffs.

The reality is that it could happen again in 2011. Both the NFC and AFC West just aren't very good overall. Could you have a team rise above and post 10 to 11 wins?

Yes.

But, it's far more likely that the division winner has 8-9 wins. But, putting up seven wins again is not out of the question.
Jay Cutler's Toughness Will Be Questioned Again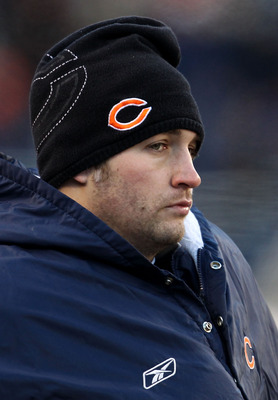 Jonathan Daniel/Getty Images
When Cutler could not continue in last season's NFC title game due to a knee injury of questionable severity, he opened himself up to incredible scrutiny in 2011.

The thing about Cutler is that questions about his toughness aren't exactly new. Last season, in an October 3rd game against the New York Giants, Cutler had been sacked nine times in the first half. He did not return after halftime with a reported concussion.
There was speculation whether Cutler had just had enough and didn't want to take any more punishment. Certainly his demeanor late in the first half suggested he didn't want to be in the game anymore.

Questions about toughness will come up every time Cutler doesn't perform up to very high expectations.
Dez Bryant Will Make as Many Headlines off the Field as He Will on It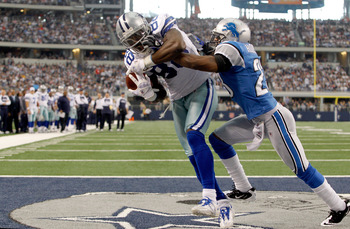 Tom Pennington/Getty Images
How bad must it be when Deion Sanders takes the moral high ground and refuses to mentor you anymore?

No one is denying Bryant's talent, but the decision making skills of the Cowboy's wide receiver are highly suspect.

Consider what has happened just in this offseason.

First Bryant received a criminal trespass warning after being kicked out of a Dallas mall. Then, Bryant was sued for non-payment of approximately $250,000 for custom made jewelry he ordered.

Then came rumors that Bryant was deep in debt and had failed to pay for several spending sprees.

Think that Dallas has some buyer's remorse from drafting Bryant in 2010?
Chris Johnson Is This Year's Darrelle Revis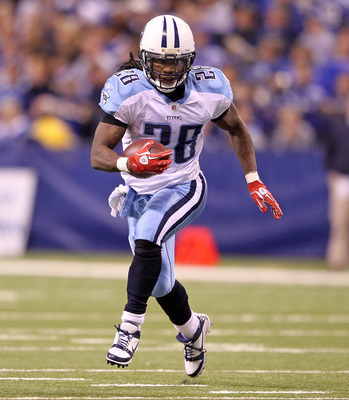 Andy Lyons/Getty Images
The New York Jets cornerback was unhappy with his contract in 2010 and held out for 35 days before receiving a reported $46 million contract. Click here.

Now the Tennessee Titans running back and arguably most dynamic runner in the game is slated to make $800,000 in 2011 and he is none too happy about it. Read more.
Some Team Will Be Criticized for Resting Its Players in Week 17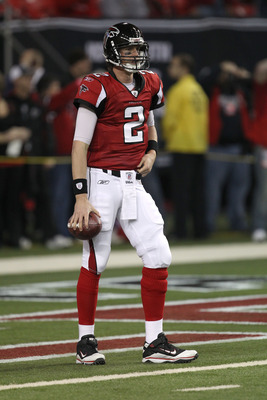 Streeter Lecka/Getty Images
I'll got out on a limb and make a prediction.
On Sunday, New Year's Day 2012, during week 17 of the regular season, the Atlanta Falcons will rest their starters against the Tampa Bay Buccaneers. The Falcons will have the division and a first round bye wrapped up. Tampa will be fighting for the last playoff spot.
In the game, there will be no Matt Ryan, no Michael Turner, no Roddy White, and no Tony Gonzalez, or at the very least these players will see limited duty.
The Buccaneers will take advantage and win to get into the playoffs. The team that fails to get in, perhaps either the New York Giants or Dallas Cowboys will probably take responsibility for not doing enough to make the playoffs. A good portion of the rest of the football world won't be so kind.
Agents and Some Players Will Be Furious Post-Lockout
Doug Benc/Getty Images
When the lockout does end, there will be an initial feeding frenzy on some free agents, but there will be several players without jobs.
In the past, a free agent running back or quarterback might not get signed in the first couple weeks of the signing period. But, they could wait through the offseason and the beginning of training camp for someone to get injured or for a spot to open up in some way.

Now, these players won't have that luxury as the initial signing period might not take place until mid to late July at the earliest.
The agents will have to deliver the bad news.
Say Hello to the UFL.
The Whispers About Peyton Manning Will Only Get Louder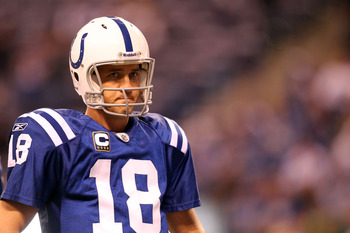 Andy Lyons/Getty Images
Consider the circumstances surrounding the future Hall of Famer.

His performance late last year wasn't bad, but it wasn't exceptional either. The argument that a younger Peyton Manning would have not settled for a field goal late in a playoff loss to the New York Jets is a fair one.

In May, the 35-year-old had his second neck surgery in the course of a few months, this time to repair a disc problem. No matter what anyone says, neck surgery is not routine and not a minor situation.

Once the lockout ends, Manning will likely receive a mammoth new contract from Colts ownership in place of his franchise tag. There will be added pressure to perform.

The Colts have added a couple of lineman early in the draft, but there are valid questions about the running game and whether primary wide receiver Reggie Wayne is slowing down as well.
I am not saying that Manning will have a terrible year, but it is inevitable, perhaps as early as 2011 when he begins to slow down and the whispers about coming up with a replacement plan get louder.
Keep Reading