NFL Free Agency Shuffle: Who Will the Titans Tab To Start at Quarterback?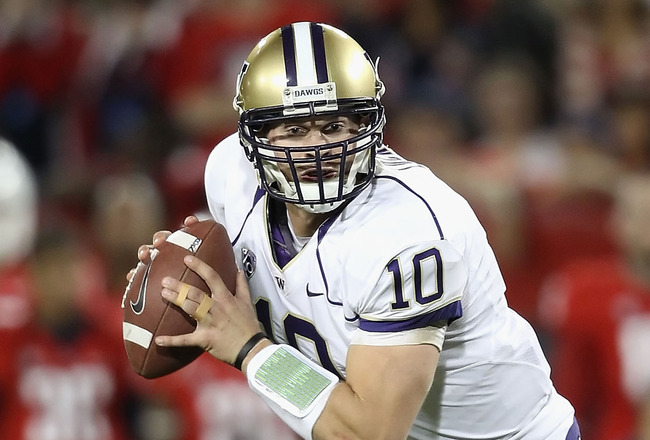 The Titans QB of the Future, but not the Present
Christian Petersen/Getty Images
It's clear that there is a consensus within the Tennessee Titans' organization that Jake Locker can be the cornerstone of the franchise moving forward. However, in spite of the team's evident commitment to Locker, and of all of his potential, an important question still remains; assuming that there is an NFL season in 2011, who will be the starting QB for the Titans?
Few would dispute the fact that Jake Locker possesses the attributes needed to succeed as an NFL QB. Yet if his senior season at Washington is any indication, Locker is far from a polished NFL-ready prospect, in spite of his rare intangible skills and athletic physical tools. In all likelihood, he will require a great deal of patience and development before he can flourish in the NFL.
One would think that these are not luxuries that the Titans can afford to bestow upon a rookie QB, much less one selected in the draft's first round. Yet, if the Titans are serious and thoughtful about setting Locker up for long-term success, they would be wise to avoid the temptation to play him immediately.
With good coaching, time, and clever offensive architecture, Locker should have a legitimate shot at being the Titans' QB of the future. But in the present, the franchise would be better served by investing in a stopgap veteran to run the team's offense while Locker is developed. If the league's labor issues are indeed resolved, and there is a free agency signing period, there are a number of options that the Titans should examine.
Alex Smith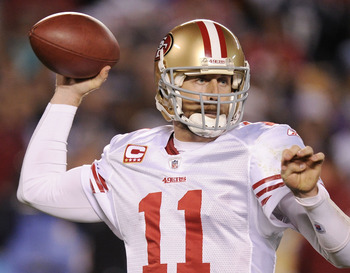 Harry How/Getty Images
A former first-overall draft pick, Alex Smith's career has been a disappointment up to this point. He has demonstrated flashes of ability, but has been far from consistent and has also shown a a tendency to be injury-prone. Smith's inconsistency could be attributed to the tumultuous changeover that he endured as the 49ers went through several different offensive coordinators in his first few seasons.
Smith's performance and production have improved somewhat in the last two seasons, but significant questions remain about his capacity to become a dependable starter in the NFL. New 49ers head coach Jim Harbaugh has indicated that he intends to keep Smith in San Francisco and allow him to compete for the starting QB job. Thus, it seems unlikely that Smith will leave San Francisco and be available for the Titans, even if they are interested in giving him an opportunity in Tennessee.
Donovan McNabb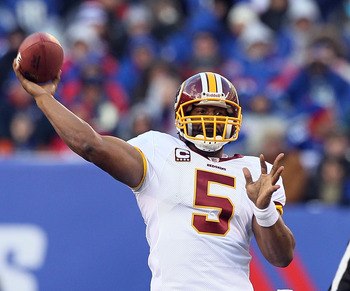 Jim McIsaac/Getty Images
A QB who once enjoyed great success, McNabb has now been cast aside by many in the league as an aging player whose career is in decline. Few would dispute that his abilities have peaked, and that he is not as skilled as he once was. Yet McNabb is a QB who has an abundance of experience and still possesses a powerful, accurate arm and a reasonable amount of mobility.
He has been written off by even more people after a subpar season with the Redskins in 2010, but his recent lack of success has a lot to do with Washington's porous offensive line, lack of a productive running game, and lack of talent at the skill positions.
Tennessee would be a good fit for McNabb because he would have the luxuries of a better O-line, one of the league's best running backs, and several skilled receiving targets. Additionally, McNabb's style of mobile QB play has some similarity to that which the Titans are expected to employ with Locker, hence McNabb would be a good exemplar for Locker.
However, McNabb will likely be searching for a team that is willing to let him come in as the starter, give him a lucrative contract, and allow him to contend for a title immediately. There has been much speculation that the best fit for McNabb is in Minnesota, and that if he doesn't end up there, that he will sign in Arizona or Miami. He certainly has no shortage of suitors in a league with a number of QB-needy teams.
Marc Bulger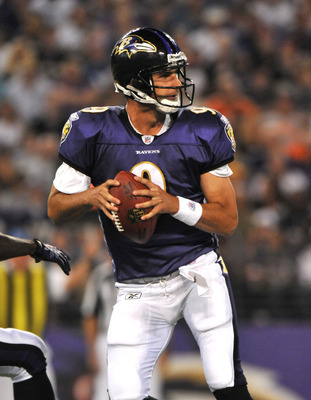 Larry French/Getty Images
Once an elite QB, Marc Bulger's career suffered a steep decline after injuries and poor offensive line play rendered him ineffective in his last few seasons as a starter. Most recently a backup QB in Baltimore, Bulger still has respectable career numbers, and many believe that he has "gas left in the tank" and can still be an effective QB in the league.
More of a traditional pocket passer, Bulger's strong arm and wealth of experience may appeal to the Titans. He is expected to draw interest from several franchises including Arizona, Washington, and Cincinnati, but seems to be somewhat flexible in terms of expectations from his next NFL opportunity. He could be a good fit for the Titans, who will most likely be looking for a short-term solution at QB and a player who won't demand a big contract.
Matt Hasselbeck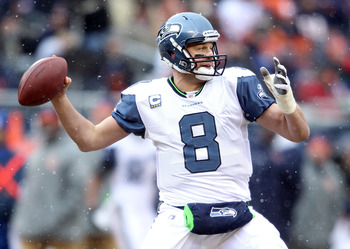 Andy Lyons/Getty Images
Perhaps, the most likely free agent QB to land in Nashville is Matt Hasselbeck. Hasselbeck established himself as an intelligent and dependable QB in his tenure in Seattle. More importantly, he demonstrated that he can win under pressure, stringing together a number of impressive postseason campaigns. However, over the years, Hasselbeck has sustained a few injury-plagued seasons in which his production and consistency declined.
Now a free agent, it is unclear whether he will remain in Seattle or elect to play out the last chapter of his career elsewhere. Hasselbeck seems to understand that his window of opportunity as a starting QB is drawing to a close, and that if he wants to remain in the league, he will be expected to mentor younger players with less experience.
Hasselbeck recently went on record saying that he likes Jake Locker and would not mind nurturing such a player in a recent interview for the Boston Globe. Hasselbeck has ties to individuals within the Titans organization, including general manager Mike Reinfeld. If he does leave Seattle, it seems that Tennessee would be a highly likely destination.
Kerry Collins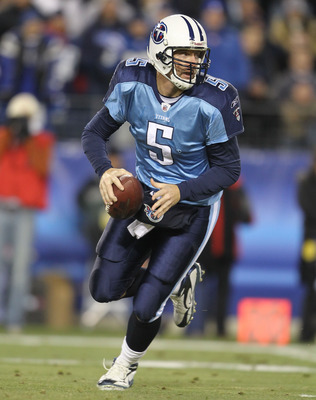 Andy Lyons/Getty Images
In an atypical offseason with an abbreviated free-agency period, it is possible that the most sensible choice for the Titans' starting QB in 2011 is Kerry Collins. Many Titans fans would prefer to see a different QB under center, but the lack of a labor agreement has hindered the ability of the Titans' new coaching staff to install an offensive system and work with players.
Collins knows the offense and personnel better than anyone the team could bring in from outside the organization. He also would not command a long-term contract or an astronomical salary.
Collins has a plethora of experience in his many years around the league, and given the fact that he won't be playing much longer, presumably would not mind mentoring a player such as Locker. Collins has been a largely serviceable QB for the Titans when called upon.
Although he has been inconsistent, he has had some success leading the team when he has stayed healthy. While the Titans allow Locker time to develop, Collins would be the most logical option considering the current state of the franchise and the league.
Keep Reading

Tennessee Titans: Like this team?