NFL: Creating the Perfect Head Coach for 2011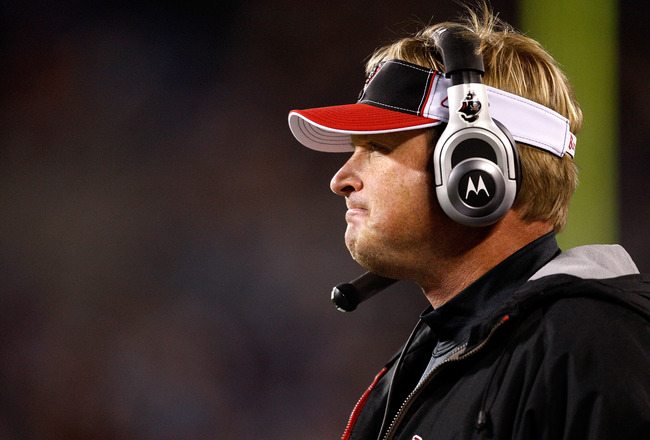 Streeter Lecka/Getty Images
A lot of things go into being a good NFL head coach.
The way he calls his run offense, pass offense, run defense, and pass defense all are important. The way he manages time and time-outs, manages his players, and manages himself in front of cameras and reporters is very important. A coach's intensity is extremely important as well.
Now,
Obviously there are no head coaches who have all of these traits. The fact of the matter is, they all have a selected few. That is what makes every coach different and what makes some better than others.
But what if?
What if there was a coach who possessed every quality necessary to be the perfect NFL head coach? What if we combined a bunch of different head coaches to make one perfect head coach? Let's take a look at what would make the perfect NFL head coach.
Run Offense: Tom Coughlin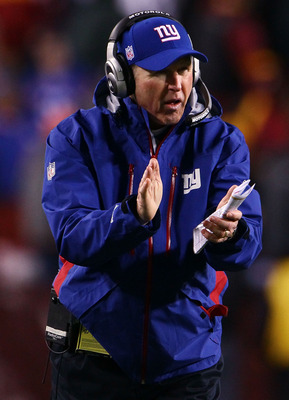 Win McNamee/Getty Images
Every season, the New York Giants have a dominant run attack. With the size of Brandon Jacobs and the speed of Ahmad Bradshaw, the Giants can run through or around defenses.
There are some coaches who can plug any player in and they can perform in their system. The Giants run offense is so strong that whenever they plug in a runningback who is not Brandon Jacobs or Ahmad Bradshaw, they still run well. Remember Derrick Ward? Ward had over 1,000 yards with the Giants in 2008. He went off to make more money and play for the Tampa Bay Buccaneers and....we never really heard from Derrick Ward again.
Coughlin has also fixed a rather large problem that some runningbacks have had on his team: fumbling.
Tiki Barber was a fumbling machine, and that was holding Tiki back from being one of the best runners in the NFL. Coughlin taught Tiki how to hold the ball differently, and Tiki stopped fumbling and went on to have his best seasons in his career. Brandon Jacobs also had quit the fumbling issue until Coughlin fixed it.
For his always dominant run attack and positive work with runningbacks, Tom Coughlin's run offense is included to build the Perfect NFL Head Coach.
Pass Offense: Josh McDaniels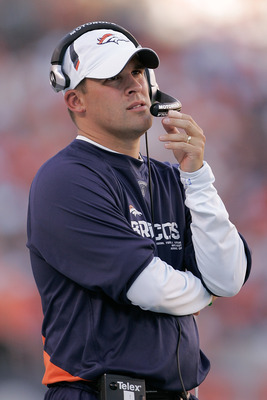 Justin Edmonds/Getty Images
While Josh McDaniels is not the greatest option to be a Head Coach for a team, there is no denying that the man knows how to call a pass attack.
In 2007 with the Patriots, McDaniels helped Tom Brady have the best season he has ever had. Brady threw for over 4,800 yards and had 50 Touchdowns.
In 2008, this guy who had not played since high school, Matt Cassel (maybe you've heard of him), took over for Tom Brady because of an injury and brought the Patriots to an 11-5 record and put up very good numbers for a guy who did not play for a while. He threw for over 3,600 yards and 21 touchdowns.
After McDaniels had helped a guy who had not played since high school put up very good numbers, he got a head coaching job with Denver. There, he helped Kyle Orton put up his two best seasons statistically. Let's face it, before teaming up with McDaniels, nobody cared to think about Kyle Orton. He was putting up below average numbers, and was not on very many fantasy football teams. After teaming up with McDaniels, Orton's numbers have drastically improved and he has definitely made a few fantasy football roster's.
Josh McDaniels' impressive work with Tom Brady and average Quarterbacks like Kyle Orton and Matt Cassel make his passing offense a good choice for the Perfect NFL Head Coach.
Run Defense: Rex Ryan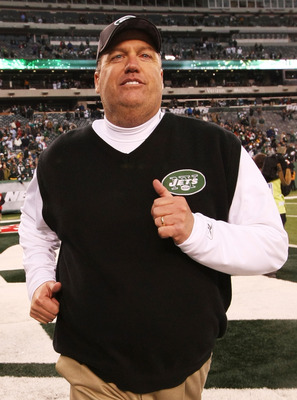 Al Bello/Getty Images
He's loud, large, obnoxious and annoying.
But,
Nobody runs on his defense, and they never have. From his days as being a defensive coordinator, to now as a head coach, nobody runs on Rex Ryan's defense.
Whether it be the schemes or the play calling, it is a rarity to see a team have their way with Rex's run defense. It just does not happen.
In 2000, Rex was the defensive line coach for the Baltimore Ravens. That defense set NFL records for fewest points allowed in a season and fewest rushing yards allowed in a season. He went on to be the defensive coordinator for the Ravens and they were impossible to run on for years to come.
Rex has carried his run defense with him to the New York Jets. The Jets have one of the best run defenses in the NFL and Rex Ryan is why. Rex's run defense is the perfect fit for the Perfect NFL Head Coach.
Pass Defense: Dick LeBeau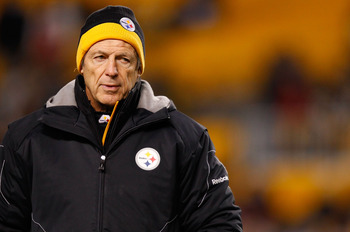 Jared Wickerham/Getty Images
While it has been a while since Dick LeBeau has been a head coach, he has been one and that makes him eligible.
He is the innovator of the zone blitz, and he is the best at it. As Pittsburgh's defensive coordinator, the Steelers' defense has been unstoppable for years.
The Steelers have been to three Superbowls over the last six years, and do you want to know the main reason why? Dick LeBeau. His zone blitzing schemes make the Steelers near impossible to beat. He will sack your quarterback from any direction and will force a lot of turnovers.
Dick LeBeau's zone blitzing schemes and unbeatable defenses make his pass defense a match for the the Perfect NFL Head Coach.
Time/Time-out Management: Bill Cowher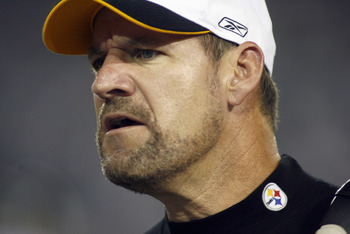 Marc Serota/Getty Images
From Andy Reid to Jim Caldwell, some coaches just do a very a poor job of managing time. From simply calling bad plays to calling a time-out at the wrong time, many things can go wrong in crunch time.
None of those things seemed to happen to Bill Cowher. Bill Cowher seemed to always know what he was doing in crunch time. Ben Roethlisberger is known for being a great crunch time quarterback; well guess who was his coach?!
Cowher had a very smart rule has a head coach; No players are allowed to call time-outs in the second half of the game. Time-outs were Cowher's decision. He was in total control of time management and did a very good job.
Bill Cowher's control of time-outs and time management are a perfect fit for the Perfect NFL Head Coach.
Player Management: Bill Belicheck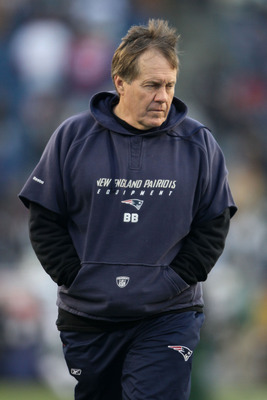 Elsa/Getty Images
We're all sick of hearing about humble pie in Belichick's press conferences that make you want to go to sleep, but let's face it, it's the smartest way to keep your players in line.
Keep your team humble, and have them say that in press conferences. It's so stupid that it's brilliant. Whether it be Matt Light, Tom Brady, Wesley Welker etc., they all give the same thing after a win. "Blah blah blah, humble pie, blah blah blah."
By doing this, Belichick is refraining his guys from saying anything stupid in press conferences that will get them in trouble.
Besides press conferences, Belichick seems to have a group of guys who do not get in trouble. It is hard to recall a time a New England Patriot punched a stripper or sent inappropriate pictures to people. While the Patriots may come off as arrogant sometimes, Belichick seems to have found a group of guys with good heads on their shoulders.
With Belichick serving his team a slices of humble pie, his player management is perfect for the Perfect NFL Head Coach.
Self-Management: John Harbaugh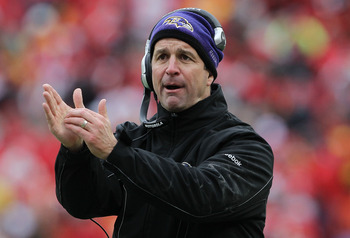 Doug Pensinger/Getty Images
Few coaches carry themselves as well as John Harbaugh does. He does not yell at reporters after a loss, but he is not boring either.
How a coach carries himself in front of cameras is very important. You do not want a coach who is punching podiums and screaming "THEY ARE WHO WE THOUGHT THEY WERE." Although head coach rants at podiums are fun to watch, you do not want your head coach to be the one doing it.
But,
At the same time, you do not want a coach who sits up there and gives the same old blah blah blah speech and puts you to sleep.
Harbaugh is neither, he gives a good interview and he never freaks out.
Harbaugh's cool, calm and collected attitude makes him the right fit for the Self-Management part of the Perfect NFL Head Coach.
Intensity: Jon Gruden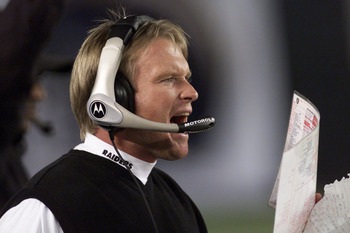 Stephen Dunn/Getty Images
Everybody wants a coach who is fired up. You do not want a coach like Belichick who just stands around looking like he cannot wait to go home. You want a coach who pumps you up! As long as he does not go too far of course.
You obviously do not want a guy who pulls his pants down in the locker room at half time and makes his players feel like he is going to beat them up. You want a guy who loves football and loves to show it.
Who shows that they love football more than Jon Gruden?
Jon Gruden can get anyone pumped up. If there is one guy who motivates like no other, it's the Grude Dude. Gruden loves football and he wants you to love football. We all remember Jon Gruden on the sidelines getting us all pumped up while we were on our couches. Imagine being on the field with him!
Jon Gruden's fire and intensity is perfect for the Perfect NFL Head Coach
So Here It Is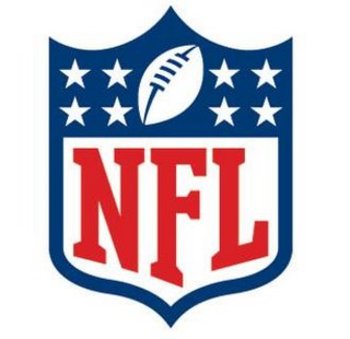 With all the great coaches in the NFL, it is hard to decide who is the best coach. But a combination of their best traits makes it easy to figure out what the Perfect NFL Head Coach would be. So there you have it. You now know what it takes to make the perfect NFL Head Coach:
Tom Coughlin's run offense
Josh McDaniel's pass offense
Rex Ryan's run defense
Dick LeBeau's pass defense
Bill Cowher's time management
Bill Belichick's player management
John Harbaugh's self management
Jon Gruden's intensity
Keep Reading

New England Patriots: Like this team?