Jim Harbaugh: Why the San Francisco 49ers Coach Will Have a Short Leash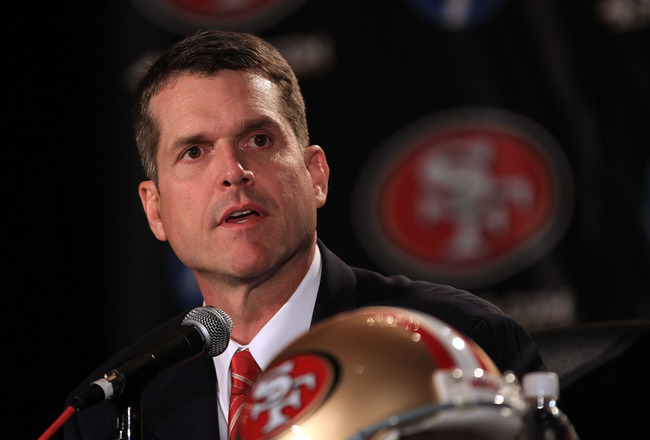 Ezra Shaw/Getty Images
There was no doubt that the brightest news of late for the San Francisco 49ers was the announcement early last January that Jim Harbaugh would be the new head coach. You could almost feel the sigh of relief ripple through the Bay Area, as if the fans said, "Finally, it looks like the organization is doing something right."

Heading into the 2011 season, however, it remains to be seen how long that warm welcome lasts.
Harbaugh has ascended into a position that seems rich in potential. Here's why:
The squad has talent; there is no long-term rebuilding needed.
The NFC West again appears woefully weak; not much improvement over last year's 6-10 record should propel the Niners into the playoffs.
There is an inherent devoted fanbase that will always make the 49ers a top local news story, and the attention brought to any success reaffirms fan affection.
But from the outside we have no idea what goes on in the corridors of power, and looking back, some of the signs were not all that great, starting with the dismissal of head coach Mike Singletary last December and preceded by the firing of former general manager Scot McCloughan about a month prior to the 2010 draft.
Just a couple of months ago, former 49er standout linebacker Gary Plummer was relieved of his job as color analyst on the radio broadcasts. At the time the team gave no official reason why Plummer was let go, though many thought Plummer's comments on a late-night radio show about his insights into, among other things, sex were responsible.
Plummer, however, claimed his firing stemmed from his criticizing the team's poor play over the last couple of seasons. The radio comments just gave the team an open door to let him go.
All of this sounds menial, but it does suggest that the powers in the organization, led by owner John York, are very aware of what is said about the team—and nothing gets something said more than a team that doesn't perform as expected on the field.
In that light, here are five reasons why Harbaugh might find himself on a short leash in 2011.
Free Agency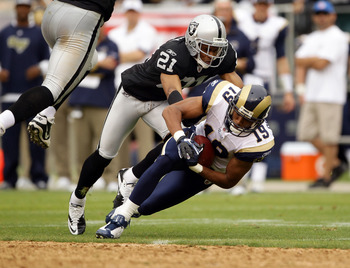 Nnamdi Asomugha of the Raiders.
Ezra Shaw/Getty Images
The NFL owners' lockout restricts offseason player movement, so no one can be traded and no team can sign a free agent. Once the lockout is lifted, which seems likely to occur within two or three weeks, there will be a mad dash to add needed players to rosters. How the 49ers tackle this will go a long way to determining Harbaugh's freedom.
For example, there's no doubt that the weakest part of the team is pass defense, cornerback in particular. One of the best, if not the best, cornerbacks is a free agent—Nnamdi Asomugha of the Raiders. Several teams will be bidding, no doubt. Many experts feel Asomugha could come away as the highest-paid CB in the game.
The 49ers haven't given any indication that they'll open the checkbook and pay top dollar for a 30-year-old cornerback, even one with All-Pro credits on the résumé.
Another possibility is to arrange a trade with Cincinnati for unhappy quarterback Carson Palmer, who would give the Niners more veteran presence and a patina of excitement. Just a couple years ago Palmer was viewed as one of the brightest QBs in the game.
Such moves would give the appearance of doing everything to help Harbaugh and the 49ers regain a slot among the elite teams. But the lesson has to be learned: Adding stars (and their large contracts) actually restricts a coach's leeway. The owner takes the risk, so it's up to the coach to make it work. There's actually more pressure due to higher expectations.
If the 49ers don't make any drastic moves prior to the start of the season in September, take that as a sign that Harbaugh has plenty of leeway to do it his way.
Stadium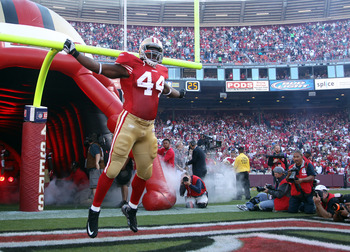 Ezra Shaw/Getty Images
About 30 miles south of Candlestick Park is a large parking lot and some open land in the city of Santa Clara. It appears to be the position of the 49ers that this land will be the site of a new stadium, one that now might end up costing as much as $1 billion to build.
Despite some guarantees from the city itself to aid in the construction, the 49ers would be responsible for a good portion ($200 million? $400 million) of that bill. That's a lot of debt to take on.
Granted, the long view is the stadium—with its new luxury boxes and larger capacity—would increase the value of the franchise.
At the same time, interest by fans in the 49ers isn't as wide and strong as it was 15 years ago, when former owner Eddie DeBartolo Jr. tried to get a stadium project going near Candlestick Park.
In other words, selling out a new stadium's luxury boxes, which no doubt will come at a dear price, won't be easy if the team continues to struggle and miss the playoffs. Winning sells tickets. Winning championships sells season tickets and luxury boxes. The same goes for personal seat licenses if they get introduced.
How does that affect Harbaugh? Some roster decisions and some game decisions may be geared for the short-term goal of getting a W at the expense of long-term success. Such are the pressures, and such are the limits.
Alex Smith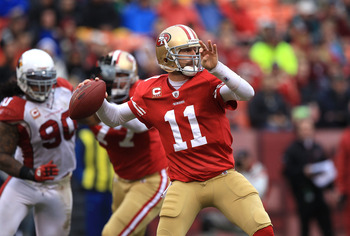 Jed Jacobsohn/Getty Images
The new coach has made a statement: Alex is my man.
If the lockout ends soon and there's some expansive time to pursue other options like Kevin Kolb or Matt Hasselbeck, it might really shorten Harbaugh's leash.
Harbaugh put his money on Smith, the former No. 1 overall pick who has not come close to living up to 49er fans' expectations. If Smith continues to struggle and the team follows suit, then a choke chain might be put on Harbaugh come December.
Organizational Paranoia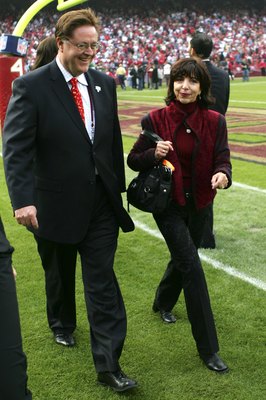 Jed Jacobsohn/Getty Images
This is a franchise that is owned by the sister of the former owner and her husband, a doctor. Ten years ago they were part owners and seemingly minor players; now they determine the franchise's direction in North America's most competitive and visible sports league.
That's like taking a truck company and making it compete in Formula 1 racing. No matter what kind of crew chief (equals a football GM), driver (coach) or the performance parts in the car (players), if you don't know the game and what is needed to achieve and maintain excellence, you're going to get your doors blown off.
It seems that those atop the 49er organization are very, very sensitive about how they are portrayed. But then, from the Wikipedia page of team president Jed York is his claim that though the team was off to a 0-5 start in 2010, the team would still win its division. The reaction was fiercely skeptical. It didn't help that the Niners finished 6-10 and in need of a new coach.
Other decisions—the firing of former coach Steve Mariucci in 2002, the impulsive promotion of Mike Singletary to head coach in 2008, the dismissal of GM Scot McCloughan prior to the 2010 draft and then the firing of Singletary last December—can lead one to conclude that the paranoia stems from self-inflicted wounds.
In that perspective, the leash for Harbaugh might be very short because any decision that backfires will ultimately bring questions of whether the franchise owners know what they are doing.
Expectations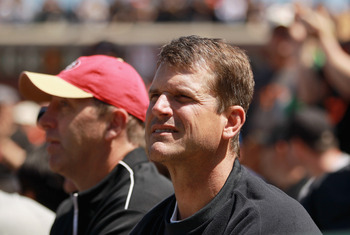 Ezra Shaw/Getty Images
From what I can tell, Harbaugh lives to compete. He likes nothing better than molding a team into a loyal, effective force to prove it is better. It can be very rewarding, and from his success first at the University of San Diego and then Stanford, there's no doubt his confidence is very high.
That said, the NFL is a different game. It was said best nearly 20 years ago when former Philadelphia Eagles coach Buddy Ryan instructed one of the Dallas Cowboys players to tell his new coach, Jimmy Johnson, that there are "no East Carolinas on the schedule in the NFL."
That Harbaugh had a famous run-in with former USC coach Pete Carroll in 2009 probably still bubbles in Carroll's own competitive spirit when he prepares Seattle for the 2011 season opener against the 49ers.
In short, personalities do matter, especially if the players sense that their head coach is endangering rather than increasing their chances to win.
Beyond that, however, are the demands of the NFL season—17 long weeks preceded by five weeks of camp, signing and coaching as many as 60 or 70 players to play active roles in a team's success and doing so when each team on the schedule is very near equal or even superior in talent. And they are trying just as hard as you to win.
In other words, it's easy for a young coach to misread early season signals such as a big win or a crucial injury as something more than it is—one event that will take its place among thousands of other events that will determine success and failure.
Overreacting won't help. The leash will be short.
Keep Reading

San Francisco 49ers: Like this team?