NFL Power Rank: The Bills & the 6 Worst Long-Term QB Situations in the NFL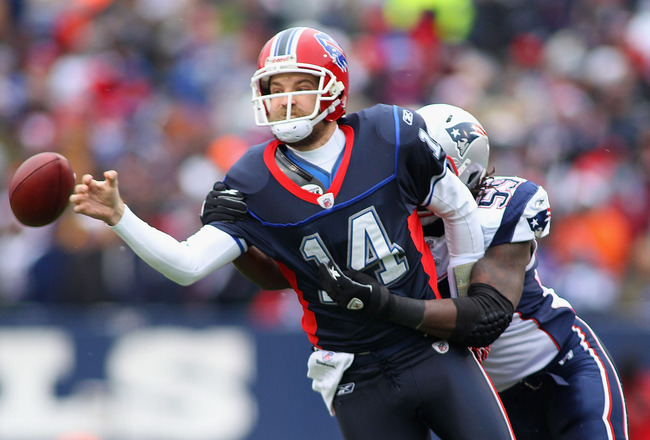 Rick Stewart/Getty Images
The quarterback position is one which NFL teams must consider in the short and long term if their team is to have success.
In a pass-first league, a team without a true plan under center can fall behind in a hurry if there is too long a transitional period at quarterback.
Taking the Cardinals as an example from last year, without much of a plan after Kurt Warner (looking at you, Matt Leinart), Arizona fell flat on their face last year.
Here are the six worst long-term quarterback situations in the NFL.
6. Oakland Raiders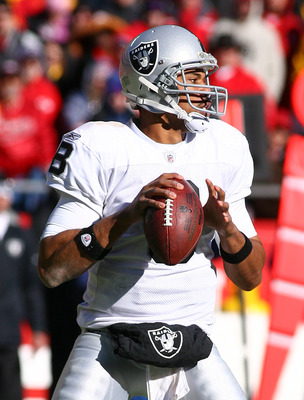 Tim Umphrey/Getty Images
The Raiders do have a legitimate, 30-year-old starting quarterback, so they aren't very high on this list, but without much long-term certainty, they garner the sixth spot.
I don't see Jason Campbell lasting five or so years down the road, and Bruce Gradkowski seems to only be good in a pinch.
The Raiders don't have that one "guy" who is set to take over the starting duties and need to have more of a long-term plan to escape this list.
Look for Oakland to try to find their franchise quarterback within the next two years—Jason Campbell isn't the guy.
5. Arizona Cardinals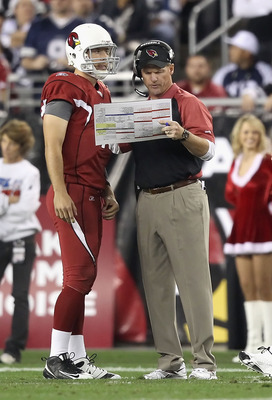 Christian Petersen/Getty Images
The Arizona Cardinals quarterback situation is so bad that even with John Skelton on the team, they have to make this list.
We give the Cardinals a bit of a break with a talented youngster in John Skelton set to take over, but the Cardinals are too horrific at quarterback right now to escape a spot here.
Derek Anderson and Max Hall, along with Skelton, took snaps for Arizona last year, showing how lost this team is when it comes to quarterbacks.
There is some hope in Arizona, but Skelton hasn't shown enough yet to make this team good for the long haul.
4. Miami Dolphins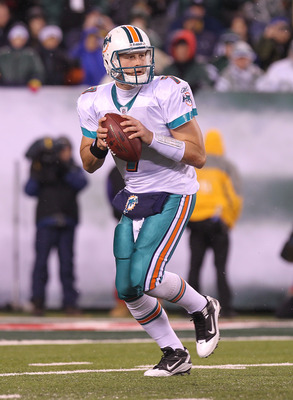 Nick Laham/Getty Images
The Dolphins, like the Raiders, have a "legitimate starter" who could technically play for a long time, but both teams make list because of the mediocre level at which these quarterbacks would play.
Chad Henne may be out in Miami sooner than Campbell will be out in Oakland and as such, Miami falls a bit lower on the list.
Henne seems to stagnate the Dolphin offense and when a fan thinks five years down the road with the Dolphins, Henne usually isn't in that discussion.
The Dolphins need to find a franchise quarterback because Henne obviously isn't it.
3. Washington Redskins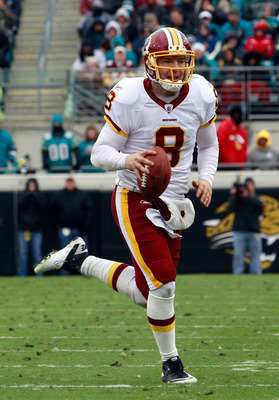 Sam Greenwood/Getty Images
When Rex Grossman and John Beck are the only two quarterbacks on the roster, there is a slight problem with the long-term (and short-term) prospectus of the quarterback position.
Rex Grossman is a below-average quarterback and John Beck hasn't exactly been tabbed a blue chip prospect.
Grossman played well in a pinch, but he is not a 16-game starter for a winning football team—especially not in the long-term.
Beck doesn't inspire much confidence either, and I doubt either of these guys are on the roster in five years.
2. Buffalo Bills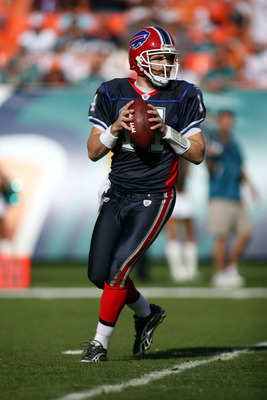 Marc Serota/Getty Images
The big elephant in the room is that the Bills have no long-term answer at quarterback.
If the team wants to get back to the days of Jim Kelly perennially leading their team to the Super Bowl, Buffalo needs a franchise signal-caller.
Ryan Fitzpatrick is a good short-term answer at quarterback, and don't be surprised if he leads the Bills to a respectable 7-9 or so season this year, but there is still no quarterback of the future on the roster.
Watch for the Bills to take a long look at a quarterback in next year's draft.
1. Indianapolis Colts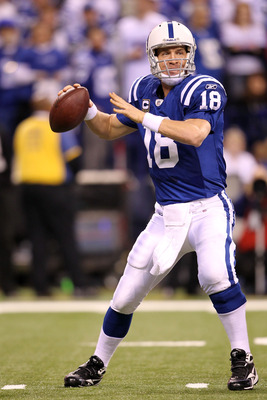 Andy Lyons/Getty Images
The Colts were rumored to be looking at Andy Dalton in the first round this last draft, however, the team went another direction with tackle Anthony Castonzo.
Despite having a good draft, the Colts still really don't have an answer after Peyton Manning, which is a looming dark cloud over the clear skies of having No. 18 under center.
New England has Ryan Mallett and even New Orleans has Chase Daniel, but Indianapolis is really just missing that "guy" behind Manning to take the reins.
The Colts are a top team with Manning under center, yet questions remain about how long Manning will be throwing the ball for Indianapolis.
Keep Reading

Buffalo Bills: Like this team?