2011 Top Ten Inside Linebackers: Willis Now Above Lewis & Urlacher
July 8, 2011
Dilip Vishwanat/Getty Images
1. Patrick Willis, 49ers
Hands down the best inside linebacker in the NFL right now. He is a tackling machine who is a game-changer, blitzing or in coverage across the middle. Although he is young, he doesn't have many weaknesses, and he has consistently produced for San Francisco since being drafted. One of the best defenders in the game and one of the best players in football.
One of the best inside linebackers of all time, Lewis is one of the smartest defenders in football. For his age, he has kept himself with relatively good speed and athleticism to keep playing the position at an elite level. He is an adept blitzer and a punishing tackler. He is still one of the staples of one of the best defenses in football.
3. Brian Urlacher, Bears
Urlacher has been the face of the Chicago defense for years and is a punishing tackler with outstanding speed for a linebacker. His return from injury helped the Bears not only make the playoffs but also make a deep run. He has versatility as a pass rusher or in pass coverage. He combines great athleticism with outstanding awareness and leadership.
4. Jon Beason, Panthers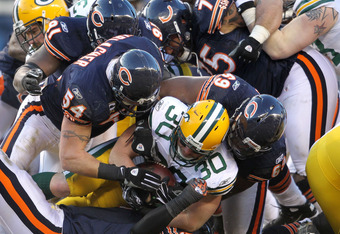 Andy Lyons/Getty Images
Beason is a young, skilled linebacker who showed some versatility for a struggling and injured team last year. As a middle linebacker, his production in recent years has given him a deserved reputation as elite at his position. He has great range versus the run with excellent athleticism overall. He had a bit of an off season but was shifted to OLB to help make up for Thomas Davis' absence.
5. Jerod Mayo, Patriots
A great athlete who plays in a great system, Mayo had a big season for a young and unproven defense this year. He had an incredible 175 tackles on a defense and was a smart leader for the Patriots' complex defensive scheme. A young player who will only get better for New England, he has proven himself capable of handling all aspects of the position.
6. David Harris, Jets
Unsung hero of the Jets defense who was the main reason the team could get past losing Kris Jenkins. He is an outstanding run-stopper and a dangerous interior blitzer. His pass coverage is also decent, as he did intercept Tom Brady in the postseason. He is not a flashy player and won't put up huge statistics, but he is an important, consistent player who is essential to an above-average run defense.
7. Karlos Dansby, Dolphins
Underrated contributor to the Dolphins. Their defense was playoff-caliber this season, and Dansby's arrival in Miami seemed to help a lot. He was productive along with providing needed veteran leadership to a young defense. He still has the athleticism to be an excellent run-stopper and is solid in pass support. His second season in the Miami system should help him improve even more.
8. Lawrence Timmons, Steelers
Timmons had a breakout year and shows the potential to climb up this list even higher in coming years. He has versatility to play as an edge rusher or an inside 'backer. He can blitz from the inside or outside. He is strong against the run and has the range to produce many tackles. He's extremely athletic with great strength for the spot. He is the future for one of the best defenses every year.
9. DeMeco Ryans, Texans
Although he was injured last year, Ryans has been a Pro Bowl-caliber linebacker ever since he was drafted a few years back for Houston. Not an incredible athlete, but a smart, young leader to a defense that looked to struggle in his absence a bit. He has been a productive, consistent 4-3 MLB, but there could be some concerns as to how he transitions to Wade Phillips' 3-4.
10. Jonathan Vilma, Saints
A unique hybrid inside linebacker who plays well in both the 4-3 and 3-4 in New Orleans. His speed makes him an excellent 4-3 linebacker, but he is bulked up enough to hold his own in the 3-4. His speed makes him a nice addition to the pass defense in coverage and blitzing. He is a smart player who leads a consistently overachieving defense that usually plays well in the clutch.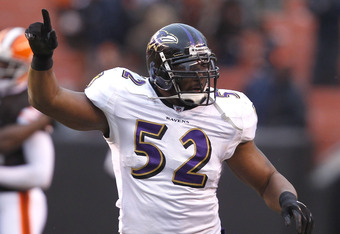 Matt Sullivan/Getty Images
Also Considered
London Fletcher, Redskins: Just misses the list—older but still has athleticism with experience.
James Laurinaitis, Rams: Rising star who seems ready to be in the top 10 in coming years.
Derrick Johnson, Chiefs: Athletic prospect who had breakout year for KC.
Stephen Tulloch, Titans: Fast young linebacker who can get a lot of tackles.
Barrett Ruud, Buccaneers: Has consistently put up great stats in the last few seasons.
E.J. Henderson, Vikings: Underrated linebacker on a team with a great run defense.
Bart Scott, Jets: Loudest linebacker in the league; losing speed but strong run defender; good blitzer.
Paul Posluszny, Bills: Good defender, but team needs to step up its run defense.
Nick Barnett, Packers: Solid 3-4 ILB who doesn't make many errors.
DeAndre Levy, Lions: Under the radar, but a strong asset to the Lions.