2011 Denver Broncos Draft Recap: From Worst to First in the Division?
May 5, 2011
Justin Edmonds/Getty Images
The Denver Broncos want to quickly get things turned back in the right direction.
Step one was bringing back their best player, Champ Bailey.
We can check that one off.
Step two was infusing a rather lackluster roster with a lot of new talent. That's also a check.
Step three is winning the division.
Outrageous, right?
Well not if you consider that there is no where to go but up, and that the Denver Broncos have already done a good job of making up some ground.
The Broncos were 1–5 against divisional opponents last season, but more specifically, they were downright awful in a lot of those games, especially the now infamous blowout against the Oakland Raiders. Thanks to a lot of poor roster moves during the one and a half seasons under Josh McDaniels, the team has to replenish its roster and play catch up.
Thankfully, Denver had a very solid draft.
But so too did the other AFC West teams.
The difference being that while Denver was busy trying to find starters and talented players that at the very least provide help on special teams, Oakland, San Diego and Kansas City each had less holes to fill, and were more concerned with adding to already talented rosters.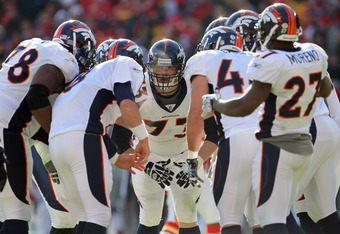 Jamie Squire/Getty Images
Kansas City had one of the best value picks in the draft by taking Ricky Stanzi in the fifth round. The team also drafted two players who could be immediate impact players: wide receiver Jon Baldwin and defensive end Justin Houston. Baldwin is a very big, athletic target that can help the Chiefs' offense become more explosive.
Meanwhile, Oakland added another dynamic running back by taking Taiwan Jones in the fourth round. A few of the teams in the AFC West had been linked to Jones, so it's no surprise that he landed in Oakland; a lot of fans in Denver were hoping that Elway and Fox might make him the complement back to Knowshon Moreno. Outside of Jones, the Raiders did a good job of filling needs, adding depth and preparing for the possible departure of Nnamdi Asomugha.
The Chargers added another new weapon to their already impressive offense by selecting Jordan Todman in the sixth round. Todman figures to be Sproles' replacement, a third down guy and a speedy kick returner. The Chargers got good value with their picks, and added depth, even if their overall draft was not as impressive as what the Chiefs and Raiders did. And that may be okay for the Chargers who are more concerned with going back to the top of the division, if only they can avoid the same kind of problems that hampered them last year. The most notable issues were contract disputes with Vincent Jackson, and the very poor special teams play that cost them a few games early on in 2010.
But last season wasn't a fluke by any means: The Chargers do have some overall problems that have haunted them in recent years, and they are by no means a lock for winning the division in 2011. In fact, many agree that this year can be Oakland's year to win the division. They have enough talent and momentum to get them over the hump. They also swept the division last season, which is no small feat. Of course they would have to get past Kansas City, who are already an early favorite to win the division and make a run in the playoffs.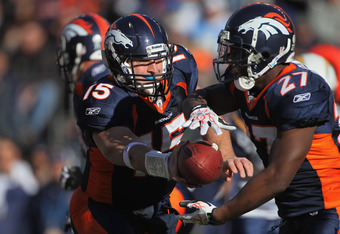 Doug Pensinger/Getty Images
This gets us back to the Broncos.
The team hopes that the influx of rookie talent, plus the eventual additions via free agency, can be enough to make the team a playoff contender.
First John Fox would have to be successful in replicating what he was able to achieve in Carolina, an identity that mostly consists of a top defensive unit complemented by an elite rushing game. There is speculation that he may be able to lure DeAngelo Williams away from Carolina, and that would be a great start to revamping Denver's rushing attack.
If the Broncos can't obtain Williams, then maybe Fox will have to consider an undrafted free agent. It's also possible that LenDale White will be brought back to compete for a roster spot. White looked rejuvenated before he was injured last season. Fox has already addressed many of the problems with the defense, including the linebacker and safety spots.
Ultimately though, any chance of Denver becoming a division leader rests with the two guys who posed for pictures together at the John Lynch Foundation luncheon on Tuesday: Tim Tebow and Von Miller. Tebow reportedly asked Miller if he wanted to work out with him, and Miller agreed to do so.
That's a great first step; Broncos fans can only hope that this is the best thing since the teaming up of John Elway and Steve Atwater. The Broncos seem to be doing their best to set Tebow up for success, and the same goes for Von Miller. If those two players are special in 2011, then the Broncos could easily get back to first place in the AFC West.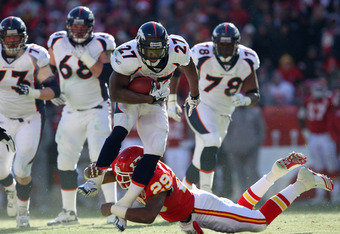 Jamie Squire/Getty Images
San Diego never plays up to its talent and expectations, Oakland has a new head coach, the Al Davis factor and may have lose its best player. Kansas City is dependent on the play of Matt Cassel and a very young, though athletic, defense.
Denver can also take comfort in the fact that teams can go from very bad to really good in a short period of time in the NFL. Last season the St. Louis Rams and Tampa Bay Buccaneers  surprised a lot of people, even though they each had talented, young quarterbacks leading the way.
Tebow can fit that profile, never mind what Mel Kiper Jr. thinks (After all, Kiper was the same guy who argued that JaMarcus Russell would be a top-five NFL quarterback after a few years, even comparing him to John Elway).
Tebow will have to be good—even special at times—and so will that defense led by Von Miller, but that's not much of a leap at all. It just takes a winning formula and so far John Elway, John Fox and Brian Xanders have done a great job of taking it step by step.
Outrageous? Too lofty? Maybe not.
And once the Week 1 matchup with the Oakland Raiders is finished up, we should have a much better idea of where the team stands.