2011 NFL Mock Draft: Predicting Picks 33-36 of 2011 NFL Draft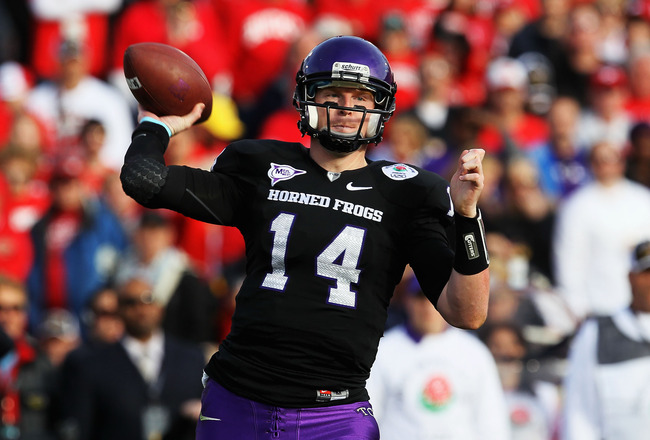 Stephen Dunn/Getty Images
The second round of the 2011 NFL Draft gets underway at 6 EST tonight on ESPN with a number of top prospects yet to come off the board.
Neither Da'Quan Bowers nor Ryan Mallett heard their names called, while ESPN's Jenn Brown reported live on Andy Dalton's draft day experience, which didn't include being selected in Round 1.
When the madness resumes tonight, all three players should be coming off the board relatively soon.
Here's a look at what you can expect tonight as the 2011 NFL Draft marches onward.
The New England Patriots are on the clock, looking for defense at No. 33:
2011 NFL Mock Draft: Brooks Reed Goes to New England Patriots at No. 33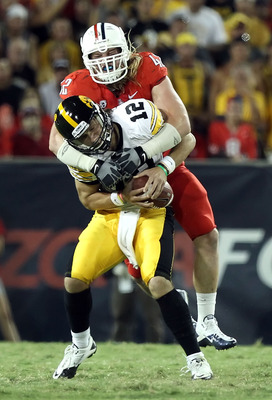 Christian Petersen/Getty Images
Bill Belichick loves versatility, which is exactly what the Arizona star will bring to the New England Patriots.
Why the Pick Makes Sense: New England has spent the previous two drafts focusing on injecting what was a geriatric defensive unit with youth.
Last year, the Pats saw rookie Devin McCourty shine following a bit of a rocky start.
Could Reed be among the best rookies of the 2011 NFL season?
Pro Projection: Reed doesn't have the speed or explosion of a Clay Matthews, but he has all the tools to be a successful pass-rushing hybrid player at the next level.
Look for Reed to see the field early and often for the Patriots in 2011.
Pick Grade: A
Based on team needs, Reed is a perfect fit. His motor should ensure the Patriots are able to maximize his talent and boast a better pass rush next season.
2011 NFL Mock Draft: Mikel LeShoure Goes to Buffalo Bills at No. 34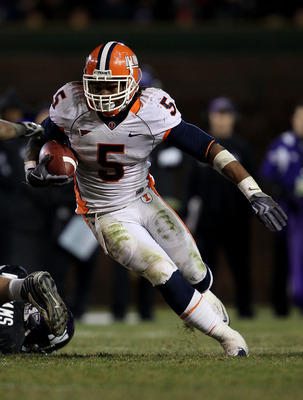 Jonathan Daniel/Getty Images
The Bills selected C.J. Spiller in last year's draft, but durability concerns could spark Buffalo to select rugged runner Mikel LeShoure in the 2011 NFL Draft.
Why the Pick Makes Sense: Spiller had an awful rookie year, plagued by injuries and the Bills' reliance of working the ball down the field with Steve Johnson and Lee Evans putting up big numbers.
After Marshawn Lynch was moved, Fred Jackson assumed the bulk of the work on the ground up the middle with Buffalo preferring to keep Spiller's touches to perimeter runs.
Jackson is a solid back, but the veteran simply doesn't have enough burst to be a featured back.
Pro Projection: LeShoure was in and out of the doghouse during his career at Illinois, in large part because of Ron Zook's coaching inadequacies.
When he did finally carve out a firm niche as the best player on the Illini offense, the results were obvious.
Drafting LeShoure would create a nice 1-2 combination in Buffalo, assuming Spiller stays healthy in 2011.
Pick Grade: A
Buffalo has other needs on defense, but Ryan Fitzpatrick needs more of a running game to enjoy continued success.

2011 NFL Mock Draft: Andy Dalton Drops to Cincinnati Bengals at No. 35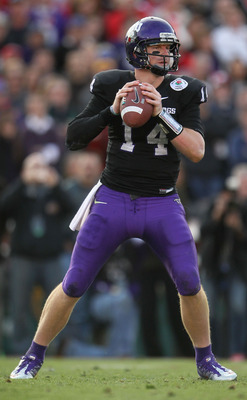 Jeff Gross/Getty Images
Carson Palmer wants out, and the Cincinnati Bengals would like nothing more than to get rid of his enormous contract.
Selecting Andy Dalton would be a big step towards turning over a new leaf in the Queen City.
Why the Pick Makes Sense: The Bengals need to rebuild—and fast—to avoid another lost season and more lost revenue due to sparse attendance.
Cincinnati likes the idea of grabbing a young quarterback. The only question is if the Bengals brass will pick actually the best QB prospect remaining on the board.
Pro Projection: Leaving the absurd notion that red haired quarterbacks can't have success out this discussion, there are still plenty of reasons to question Andy Dalton's NFL potential.
Dalton was a winner at TCU, but his best asset was his ability to use his legs. A trio of talented receivers helped inflate his passing numbers in the 2010 season, and facing weak secondaries in the Mountain West gave him an even bigger boost.
Ultimately, Dalton has an average arm and would be best suited to serving in a backup role.
Pick Grade: D-
Picking Dalton at No. 35 would be the epitome of settling for a so-called "safe" pick. It's not always a good idea to draft based on strong intangibles.
Just ask the Denver Broncos.
2011 NFL Mock Draft: Stephen Paea Comes off Board at No. 36 to Denver Broncos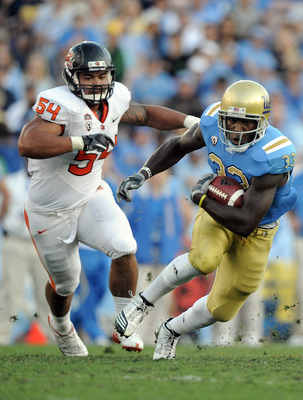 Harry How/Getty Images
The Denver Broncos look to beef up the middle with underrated Oregon State defensive tackle Stephen Paea.
Why the Pick Makes Sense: The Broncos could use some size up the middle, which is where Paea could make an immediate impact.
Denver struggled against the run throughout last season, being gashed inside and wearing down thanks to a rash of injuries.
Simply put, Denver needs to draft for defense before addressing needs at running back and wide receiver.
Pro Projection: After bursting onto the scene at Oregon State, Paea dominated opposing offensive lines throughout his career in Corvallis.
In addition to being outstanding against the run, the Tonga native has the makings of a decent pass-rusher at the next level.
Pick Grade: B
Depending on your value of "character concerns", it's possible Marvin Austin might be a better fit in this spot.
Paea might not have as much true upside as other prospects on the board, but he will be a solid contributor right away in the NFL.
For more NFL Draft, check out NFL Draft 2011 Results: Recap, Grades for All 32 First Round Picks
Keep Reading