Pittsburgh Steelers 2011 Schedule: Preview and Predictions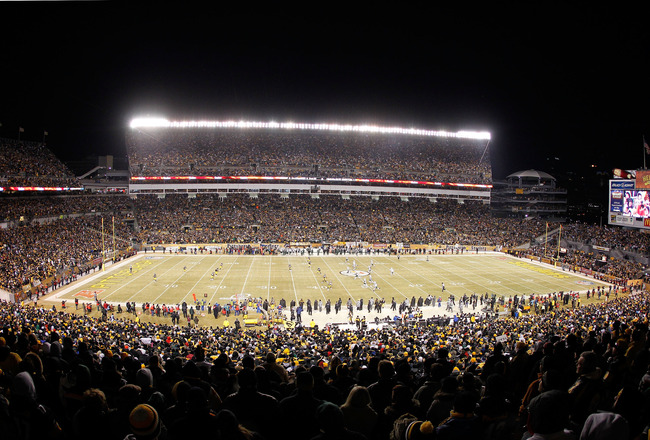 Gregory Shamus/Getty Images
At first glance this year's schedule, the first thing that pops up is five prime-time, nationally televised games.
Thought two is that some of the games is a typical network reach for a big game, while others are just putting a great rivalry game on.
Thought three was that this year's schedule brings a combination of excitement and mystery. The Steelers play their usual AFC North foes, but this year drew the AFC South and the NFC West in the divisional rotation. To round out the 16-game schedule, the Steelers play New England and Kansas City, the other first place AFC divisional teams from last year.
While it is still very early and there are still questions of whether or not there will even be a season, this draw looks to be very favorable towards the Black and Gold.
Over the next 17 slides, the Steelers opponents will be briefly analyzed as well as any recent performance against the team. Coupled with this, you will get the first predictions for the Black and Gold's season, which many feel could result in another title run.
Week 1: @Baltimore Sunday 1PM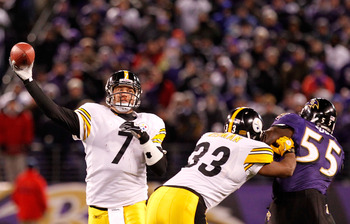 Geoff Burke/Getty Images
Last Meeting: AFC Divisional Playoffs 2010, Steelers 31, Ravens 24
What a way to open the season.
This game will be sure to be violent, bloody and as always, unnervingly close until the final whistle sounds. For a Steelers team that will most likely be grooming a new lineman and corner for the season, this is actually not a horrible game to begin the season with.
The Steelers shut down Joe Flacco in the last meeting with Dick LeBeau's zone blitz schemes and were able to still establish some semblance of a running game against the Baltimore defense. With all of the juices flowing with opening week and their last meeting, I can see this game being a hard-hitting affair with a decent amount of scoring, mostly resulting from good days by Ben Roethlisberger and Flacco.
However, Mike Tomlin has never lost on opening week. I don't see that streak ending quite yet.
Steelers 23, Baltimore 20
Week 2: Seattle Sunday 1PM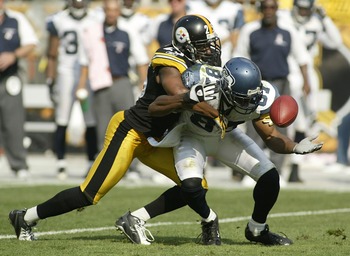 Rick Stewart/Getty Images
Last Meeting: Week 5, 2007 Steelers 21, Seattle 0
The Seattle Seahawks decided that the entire NFL playoff format should not be thrown out the window due to their entrance into the run for a Lombardi last season and promptly defeated the reigning Super Bowl champion New Orleans Saints.
Pete Carroll is working wonders in the rainy city, rebuilding this team from basement dweller to an earthquake-inducing threat. While this team is on the upswing, they do not match up well against the Steelers.
Their main offensive threat is their running game, they do not have a mobile quarterback or a quarterback who runs the quick spread, and their defense is still largely a work in progress, allowing 4.2 rushing yards a carry and 7.2 yards a pass.
The Seahawks will continue to improve, but they are prime for a Steelers beating as Heinz Field opens for 2011. Look for Mike Wallace and Rashard Mendenhall to have huge performances.
Steelers 24, Seahawks 10
Week 3: @Indianapolis Sunday 8:20PM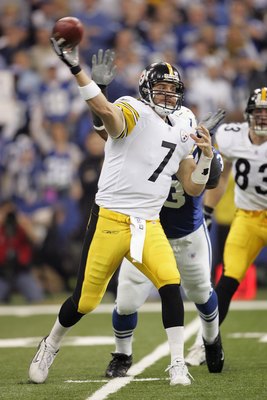 Andy Lyons/Getty Images
Last Meeting: Week 10 2008, Steelers 20, Colts 24
The Indianapolis Colts are an enigma to many people, myself included.
On the one hand, they have arguably the greatest quarterback ever in Peyton Manning who battled through last season as everyone dropped off the face of the earth with injuries. Their defense is never going to be one of the top 10 in the league, but it's always able to do just enough to win games.
Dwight Freeney is not the same player he used to be though, and this severely limits their pass-rushing abilities.
The one worry for the Steelers is that the film on the Colts from last year will look so different from what they will have after just two games due to all of the players returning from the IR.
Peyton now has an entire armada of downfield threats, but still no real running back, leaving a very dangerous, but one-sided Colts offense. This is the game where Bruce Arians and Big Ben finally get their wish: This becomes a prime time shootout, and the Steelers showcase their weaponry as well.
Steelers 38, Colts 31
Week 4: @Houston Sunday 1PM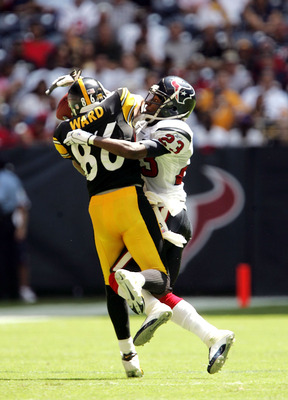 Stephen Dunn/Getty Images
Last Meeting: Week 1 2008, Steelers 38, Texans 17
Being able to watch this game in person, with the exception of Mario Williams throwing around Ben like a rag doll when he sacked him, this game was dominated by the Steelers.
The Texans have improved since then. While I am usually one of the minorities buying whatever the Texans' are selling, this year they seemed poised for a run.
The Texans are always so desperately close to overcoming whatever it is that prevents them from making the playoffs, and with the veteran Matt Schaub and Andre Johnson leading a balanced offense, this team looks like it will be able to score while a very underrated defense is able to shut down opposing teams when necessary.
This game may be one of the closest games all year for the Steelers, who will most likely have to play catchup at some point unless Troy Polamalu shuts down Johnson.
Steelers 24, Texans 23
Week 5: Tennessee Sunday 1PM
Last Meeting: Week 2 2010, Steelers 19, Titans 11
This game was proof of two things: why the Titans were never ready to win a Super Bowl and why Troy Polamalu should not be listed as human.
The Titans struggled last season when their defense was not dominant and the offense had to win games. This became increasingly difficult when Kerry Collins' age caught up to him and Vince Young spiraled out of control. As much as I agree that Chris Johnson is a phenomenal player, a one-dimensional offense even built around him will never survive in this league.
The Steelers defense was able to contain Johnson, and the end result was a defensive victory for the Steelers.
This leads me to my second point. Troy Polamalu showcased pure athleticism and animal instincts in this game with leaping tackles and interceptions. With this game early in the year at Heinz Field, the Steelers defense will poised for its first shutout of the season as the offense takes a week to recharge.
Steelers 13, Titans 0
Week 6: Jacksonville Sunday 1PM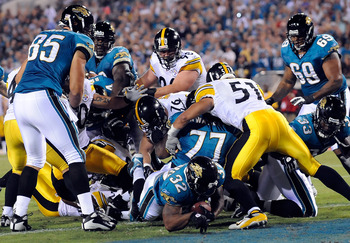 Sam Greenwood/Getty Images
Last Meeting: Week 5 2008, Steelers 26, Jaguars 21
There is always a thorn in a team's side. Many might say for the Steelers it would those pesky Bird Brains from Baltimore, but Jacksonville may be offended with this assertion.
Ever since the days of the AFC Central, the Jaguars have always played the Steelers tough, and it was David Gerrard and Jack Del Rio who handed Mike Tomlin his first playoff loss.
Even with an underachieving and disappointing team in 2008, it took the Steelers a full 60 minutes to put the Jaguars back in their cage.
Last season, Jacksonville was horrendous to say the least, failing to even sell out a game. Jacksonville has always seemed to be blessed by the NFL expansion higher powers, as well as find what the Steelers can't defend or solve.
After a great 5-0 start, I see this game being the first stumble for the Steelers in 2011 as Ben is back on his back, the defense gives up another late game scoring drive, and the play-calling is as baffling as ever.
Steelers 17, Jaguars 20
Week 7: @Arizona Sunday 4:05PM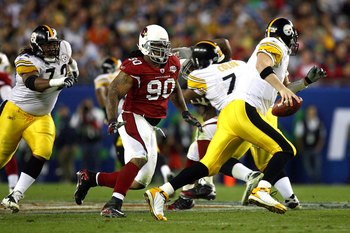 Al Bello/Getty Images
Last Meeting: Super Bowl XLVIII Steelers 27, Cardinals 24
As of this moment, Arizona will be referred to as Pittsburgh's western affiliate because that's the way this team is looking, minus the six championships. Ken Whisenhunt has surrounded himself with so many former Steelers coaches and players, it's a surprise he hasn't changed the team colors and brought the Terrible Towel.
The reason you know it is Arizona is simple: Their team can't fight through their identity crisis. While the Steelers may struggle with an offensive identity at times, Arizona has no offensive identity or defensive tenacity. This team has no long- or short-term quarterback solution, suspect running game and a very inconsistant defense.
After finishing their AFC South tour, the Steelers will look foreword to meeting back up with former players and coaches, and this game will be closer than expected due to how personal this game is for everyone. Remember, the Rooneys look like the smart ones for hiring Tomlin over Whiz, and I'm sure is unspoken chip is on Tomlin every time the two clubs meet.
The Steelers defense feasts on unproven quarterbacks or Derek Anderson, so expect James Harrison to avoid fines but still pummel whoever is Arizona's signal-caller.
Steelers 27, Arizona 10
Week 8: New England 4:05PM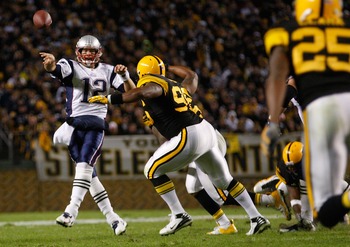 Jared Wickerham/Getty Images
Last Meeting: Week 10 2010, Steelers 26, Patriots 39
This team isn't a thorn in Steelers side because going into these games, New England knows it will win and afterward they just simply say, "We told you so."
Their spread offense frustrates LeBeau's Zone Blitz scheme more than any other team, their coach knows how to pressure Ben on defense and ultimately in the last game, those 26 points were garbage points during when the Patriots decided not disappoint the NFL's competition committee too much.
The Pats look like the same team from last year, and there was one proven method to defeat them as illustrated by the New York Jets in the playoffs: run the ball down their throats and have the front four play the best games of their careers.
While the Steelers will be able to perform the former, the latter is just not in the cards, giving the state and nature of the Steelers front four. LeBeau can't dig deep into his bag of tricks; he will have to conjure up something new for the Steelers to have a chance.
Steelers 20, Patriots 31
Week 9: Baltimore Sunday 8:20PM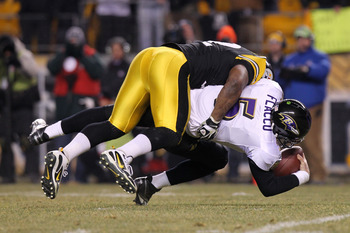 Nick Laham/Getty Images
Last Meeting: Week 1 2011, Steelers 23, Ravens 20
The Steelers and Ravens meet again at Hienz Field after both having successful first half of the years. This prime time game will be exactly what Al Michaels and NBC love: emotional and nail-biting.
More than likely, this game will be played for the AFC North lead, and if the Steelers would win, gives the Black and Gold a two-game advantage in the standings.
This will be the game where the Steelers bring back a Super Bowl team or somthing to that effect, and ultimately, the analysis otherwise is the same as opening week. The difference will be how have the two defenses done so far this year.
Both defenses are aging, and it would be right around this time that cracks would show in the armor. The Steelers will have the better offensive attack, and playing at home will be the one-two punch necessary to sweep the Ravens this season in a game where points will be at a premium, as Ray Lewis and Troy Polamalu organize what may look like a Roman Gladiator fight to prove all critics wrong.
Steelers 17, Ravens13
Week 10: @Cincinnati Sunday 1PM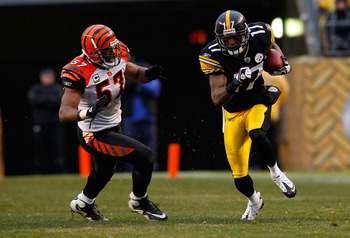 Jared Wickerham/Getty Images
Last Meeting: Week 14 2010, Steelers 23, Bengals 7
The Bengals are a mess. Their coach seems to have no idea how to keep players in line, their quarterback wants out of the city and his younger brother, the third-string quarterback, is the one organizing team offseason work outs.
When this team is good, it is because their secondary plays lights-out and is an interception machine. Their offense is balanced, and Carson Palmer is able to pick apart defenses. When they are off, which is occurring more and more, they really have no offensive rhythm, Palmer tries to do too much and their defense looks like Swiss cheese.
All of that aside, playing in Cincinnati is not easy, especially when the Bengals find out how to play well. The good news is that the Steelers have always done well here, even when the Bengals are playing well.
The Bengals won't be a threat in the AFC North this season, unless Dr. Drew is able to come in and mediate the entire team.
Steelers 27, Bengals 7
Week 11: Bye Week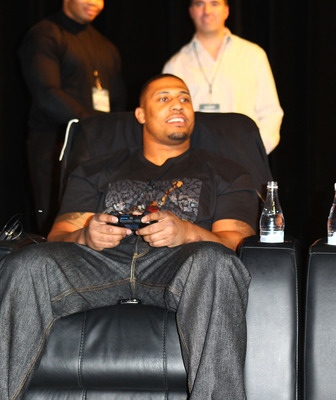 Joe Scarnici/Getty Images
The positioning of this bye week is perfect.
It is late enough in the year that the Steelers will have their identity and know exactly what they have to do to make the playoffs. It is also just early enough that the final six games, all featuring either divisional rivals or upstart teams, feels like a sprint to the first round of the playoffs rather than a marathon.
The Steelers will be able to rest up, lick whatever wounds they have and move into the last few games with a full head of steam as they get ready for another Sunday night showdown.
Week 12: @Kansas City Sunday 8:20PM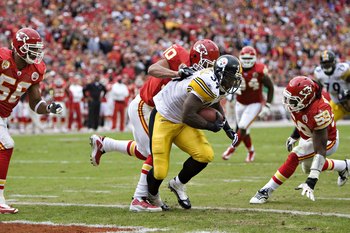 Wesley Hitt/Getty Images
Last Meeting: Week 11 2009, Steelers 24, Chiefs 27 (OT)
For the Steelers, this is a perfect game to play after a bye week.
A prime-time game ensures that the team will not be complacent, but the Kansas City Chiefs are not an "elite" NFL team yet. However, they are very good.
Jamal Charles may be faster than Chris Johnson and is dangerous as a receiver and a runner. Matt Cassel is a solid quarterback who can make plays when he has to. Their defense is not one of the best, but like the Colts, their bend-but-not-break style works when they are able to run the ball and control the clock.
Except the Steelers pride themselves on stopping the running game. Kansas City will bring everything they have, but a rested Steelers defense should be able to handle Charles.
Rashard Mendenhall will be ready for a big day, and that the Steelers offensive line should have gelled by this game, opening up huge lanes for Mendenhall to take advantage of.
Steelers 21, Kansas City 13
Week 13: Cincinnati Sunday 1PM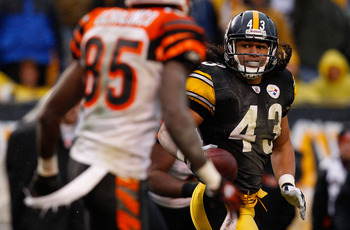 Jared Wickerham/Getty Images
Last Meeting: Week 10 2011, Steelers 24, Bengals 10
I do not see the Bengals having a revelation within the three weeks between their games with the Steelers.
Coming into Heinz Field will not be fun for the Bungles, as the last time Troy Polamalu haunted Carson Palmer even with a bad leg.
If, by some miracle, the Bengals are competitive at this point and time, this game will be close because Cincinnati has had more success against the Steelers at Heinz than at home.
Still, the Steelers have the better team at almost every position and will be pushing to make the playoffs and stay ahead of the Baltimore Ravens to win the AFC North. But the Bengals will not be competitive.
Steelers 24, Bengals 3
Week 14: Cleveland Thursday 8:20PM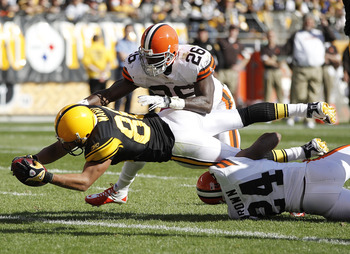 Gregory Shamus/Getty Images
Last Meeting: Week 17 2010, Steelers 41, Browns 9
It takes until Week 14 to bring the Browns into Pittsburgh, as the Steelers will play them twice in the final four games of the season.
Cleveland will be a dangerous team for the simple fact that they will be hovering around .500 all year, looking for that one game to help propel them into playoff contention. If this game was in Cleveland, Steelers fans should worry, but because it is in the confines of Heinz Field on a Thursday night, there should be little worries.
The key to defeating the Browns is to jump ahead early and stop Peyton Hillis. As shown in the games last year, Cleveland has a respectable defense that gains momentum as the game wears on. If, however, Ben hits Mike Wallace on a 60-yard play-action pass to open the game, the Browns tend to fade out.
Hillis is a battering ram and is rarely a single-man tackle. After defeating Jamal Charles and Chris Johnson, Hillis will be the total opposite to game plan for, but should yield the same result.
As long as a Northeastern blizzard stays away, the Steelers will be ready to air it out and stomp out whatever hopes the Browns have.
Steelers 38, Browns 20
Week 15: @San Francisco Monday 8:30PM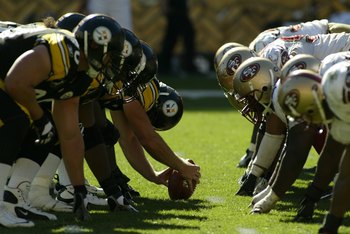 Rick Stewart/Getty Images
Last Meeting: Week 3 2007, Steelers 37, 49ers 16
This game may be the game of the year, if San Francisco has found a legitimate starting quarterback.
Frank Gore is an all-around threat, possessing both speed and power out of the backfield. Their defense is led by Patrick Willis, who many say is the next Ray Lewis. Steelers fans know how dangerous that can be.
The 49ers are an up-and-coming team in a bad division, so their record may be better than the team's actually is. As mentioned earlier, their downfall is the lack of a legitimate quarterback.
No one can seem to play consistently, leading to Mike Singletary playing roulette each week with his signal-caller. Under the other Harbaugh, this team will play with a toughness eerily similar to the Ravens, making the game close enough for any quarterback to keep the 49ers in the game.
The Steelers defense will be ready and the offense will do what it always does against these kinds of teams: find a way to score with the most unlikely players.
Steelers 16, 49ers 13
Week 16: St. Louis Sunday 1PM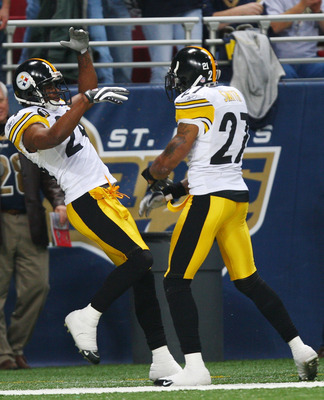 Elsa/Getty Images
Last Meeting: Week 16 2007, Steelers 41, Rams 24
St. Louis is a dome team, so a trip to Pittsburgh in December may not be so pleasant. Stephen Jackson may be the most bruising running back in the league, but he seems to finally be slowing down. The benefit is that he is now able to because of Sam Bradford.
Bradford looks like the real deal, showing tremendous upside last season. The Rams will be a decent team, but not a real threat to the Steelers who may need this win to clinch the division or home-field advantage throughout the playoffs.
They have a good offensive line, which will provide Bradford time to throw and give Jackson lanes to run through. They key will be using the zone blitz to confuse the young quarterback because the Rams defense is average at this point, but will most likely improve this season.
The Steelers almost always handle teams like this, and I cannot see the Black and Gold losing three home games.
Steelers 20, Rams 10
Week 17: @Cleveland 1PM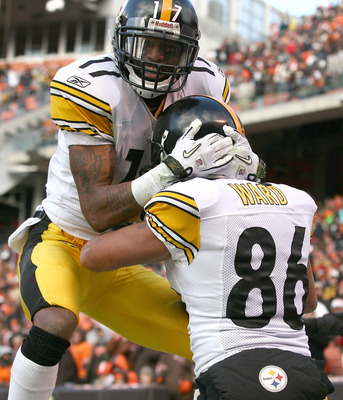 Matt Sullivan/Getty Images
Last Meeting: Week 14 2011 Steelers 38, Browns 20
At this point in time, the Steelers will have established themselves as one of the best teams in the league, while Cleveland will be playing for a wild card or a .500 finish. It would make sense to think that the Steelers would rest their starters for this game, as long as Baltimore was not tied with them for the divisional lead.
Finishing the season in Cleveland has worked out well for the Steelers in recent years, and this coupled with one other statistic is why the Steelers will win this game and finish the year at 14-2. When the Steelers have made it to the Super Bowl, they have always swept the Browns in the season series.
Here's to hoping that Indianapolis is warmer than Dallas was.
Steelers 20, Browns 17
Keep Reading

Pittsburgh Steelers: Like this team?