NFL Draft 2011: A Washington Redskins Roster Analysis by Position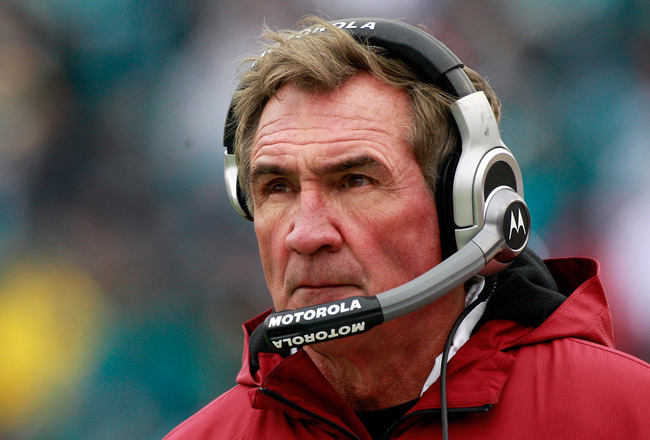 Sam Greenwood/Getty Images
With the lockout in full swing, there really hasn't been all that much to write about other than the usual speculation about what the Redskins will do with the 10th pick, how the lockout will affect the team, etc.
That said, I felt it was the right time to analyze the team's entire roster from top to bottom, from quarterback to kicker. I want to expose the weaknesses, highlight the strengths and come to some sort of conclusion about what the Redskins should really do in the upcoming draft.
1. Quarterback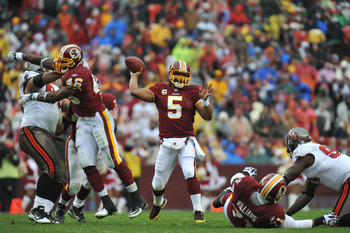 Larry French/Getty Images
Quarterbacks on the Redskins final 2010 roster:
Rex Grossman (FA)
John Beck
Unless you live under a rock or on a planet other than Earth, you probably have heard that Donovan McNabb will not be back next year. Whether he departs by trade or release remains to be seen.
Rex Grossman is a free agent. However, given that probably no one else in the NFL wants him, expect to see him on the Redskins' roster next fall.
John Beck, a fourth-year player out of BYU, will remain as the third-string quarterback next season. With McNabb gone, the Redskins will most likely acquire a quarterback in this year's draft, probably with either the 10th or 42nd pick.
Grossman has taken his fair share of lumps in the public sphere, and for good reason. He is a clipboard holder, and no more. John Beck likewise is a third-string quarterback.
With McNabb gone, the lack of an even serviceable starter should have fans expecting a subpar season in 2011.
Grade: C-
2. Running Back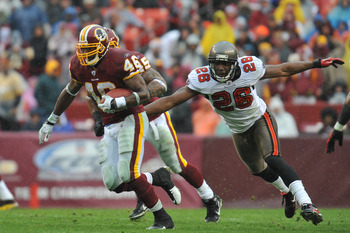 Larry French/Getty Images
Ryan Torain
Keiland Williams
James Davis
Andre Brown
I don't know about you, but there were definitely times last year when the combination of Ryan "The Train" Torain and Keiland Williams looked like a verifiable dynamic duo.
Torain is an above-average power back with the ability to bulldoze his way through opposing defenses. Williams showed the ability to catch passes out of the backfield and provide the Redskins with a serviceable third-down back.
That said, Torain's injury history is certainly troubling, and Williams is not an early-down back. With the departure of Clinton Portis, the Redskins need a third running back to add to the stable, preferably someone with the explosive breakaway speed that Torain and Williams lack.
Anyone remember Earth, Wind and Fire? I certainly do, thanks to their repeated trouncing of the Redskins, which left me tearing my hair at the team's inability to contain the Giants' running game.
A breakaway speed guy could make the Redskins a dangerous running team. The days of the feature back are numbered and running back committees have shown to be the future. So it might be best for the Redskins to jump on "The Train."
Grade: B (But with potential to rise if the Redskins can grab a speed back in the draft)
3. Fullback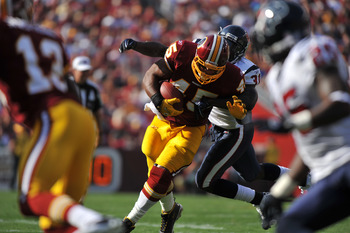 Larry French/Getty Images
Mike Sellers
Darrell Young
Logan Paulsen
Mike Sellers is almost on the wrong side of 35, which is ancient by NFL fullback standards. The position simply entails too much punishment to expect Sellers to continue to perform at the high standards that we have grown accustomed to. There was definitely a noticeable drop-off in his play as the 2010 season went on.
Darrell Young is a two-year player out of FCS school Villanova (Soon to be FBS?). Listed at 5'11" and 245 lbs, Young is a veritable bowling ball. Look for him to get more reps this upcoming season as Sellers' snaps dwindle due to wear and tear.
I know that Logan Paulsen is a tight end. Don't bother mentioning that in the comments. Shanahan has mentioned the possibly of rotating him through the backfield in certain situations. Paulsen showed promise last year as a solid blocking tight end, and we can only hope that those skills can be applied at fullback as well.
Final Grade: B-
4. Wide Receiver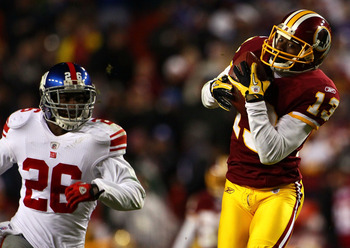 Win McNamee/Getty Images
Santana Moss (FA)
Anthony Armstrong
Roydell Williams
Brandon Banks
Terrance Austin
Malcolm Kelly
Santana Moss remains the Redskins' most explosive threat on offense. They need to find a way to bring him back for at least a couple more years.
Anthony Armstrong was a great find last year, and his big-play ability made for some great moments, especially early in 2010. I expect him to perform next season even better than he did last season.
Roydell Williams was definitely a dissapointment last season. Only putting up eight catches for 109 yards and no TDs as the team's third wideout is simply not cutting it. The Redskins desperately need someone who can step in and play the slot, and Williams ain't it.
Brandon Banks showed great ability last year as a kick and punt returner, however he is at best a situational receiver a la Josh Cribbs. He certainly should not be depended on as a consistent contributor at wideout.
Terrance Austin is intriguing. If he comes into his own, he very well may become the slot receiver threat that the 'Skins have been searching for. If he doesn't? Expect more years of him sitting on the bench before being released in favor of the next young bench warmer.
Malcolm Kelly. Oh, Malcolm Kelly. I'll never forget when we drafted him. First thing I did was watch his stellar freestyle from the Big XII championship. Sadly, that was the highlight of Kelly's career thus far. Kelly is only on the Redskins roster because they conveniently were able to place him on IR last year. If he comes into training camp out of shape, look for him to be cleaning out his locker sooner rather than later.
Grade: C+ (The lack of a true star and third receiver really hurt the team last year, the need for a consistent slot receiver cannot be overstated.)
5. Left Tackle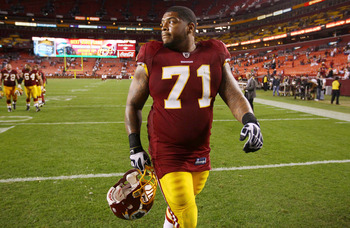 Win McNamee/Getty Images
Trent Williams
Stephon Heyer (FA)
Selvish Capers?
Trent Williams showed flashes of brilliance last year. In his first starts of the year, he had to match up with the likes of Demarcus Ware, Mario Williams, Chris Long and Clay Matthews. I don't know about you, but I think that's a pretty solid group of pass rushers.
Williams has the talent to be an all-pro at left tackle. I believe that given time and proper instruction, he will be.
Stephon Heyer is not a starting tackle at the NFL level. Not to mention that he is a free agent. I think it is likely that the Redskins bring him back next year to help provide depth along the line. Ech.
When the Redskins were able to snag Selvish Capers in the seventh round last year, I was ecstatic. Having seen him play in college, I felt he was an underrated player that, given time, could develop into a solid right tackle in the NFL. It's a bit soon to tell, as he spent last year on the practice squad, but I haven't lost the faith and neither should you.
Grade: B (Lack of depth is a concern, especially as Williams missed games last year due to injury.)
6. Left Guard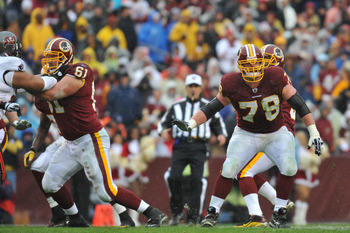 Larry French/Getty Images
Kory Lichtensteiger
Artis Hicks
Kory Lichtesteiger came to the Redskins last year from Denver with Mike Shanahan. At the time I wasn't exactly jumping for joy.
I didn't know much about the former fourth-round draft pick, other than that he had played for Bowling Green in college (worst college color combo ever). With that said, Lichtensteiger was a real surprise toward the end of the season. With Derrick Dockery gone, Lichtensteiger proved to be an at least average starter for the 'Skins, and the hope is that at some point soon he will move over to the center spot, for which he is better suited for anyway.
Artis Hicks came to the Redskins last year from Minnesota. The hope had been that he would provide depth along the offensive line as he had for the Vikings. He was pressed into service often before finally settling in as a utility lineman after Will Montgomery took the starting right guard role. Hicks isn't going to wow you, but having him on the sidelines ready to spot someone certainly makes me feel better.
Grade: B (Lichtensteiger is playing an unnatural position. The 'Skins need to find a natural guard and move him to center and finally get rid of Rabach.)
7. Center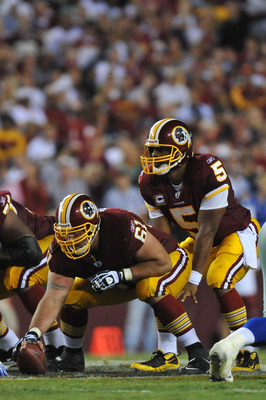 Larry French/Getty Images
Casey Rabach
Erik Cook
Jerry Glanville once coined the saying that "NFL stands for Not For Long."
Casey Rabach was able to buck that trend and stick around for the long haul. Perhaps too long.
Rabach hasn't been an elite center for at least two if not three seasons now, and his play only continues to deteriorate. It's time to move on and let him go. It's harsh, I know, but so is allowing a 33-year-old, undersized center to get pushed around by younger, stronger and bigger defensive lineman.
Erik Cook is solid for depth reasons, but is not a starting-caliber center.
Grade: D+
This situation could be rectified rather quickly. If the Redskins can find a solid left guard and move Lichtensteiger to his natural position, center would go from a critical weakness to at least a non-concern, if not a strength.
8. Right Guard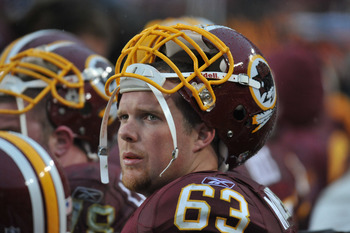 Larry French/Getty Images
Will Montgomery
Artis Hicks
Will Montgomery has bounced around the league a bit since being drafted by the Carolina Panthers in 2006. That said, he was able to perform well enough at both center and guard this year to earn a starting role as the team's right guard.
I believe the Redskins need to really find two starting-caliber guards so that Lichtensteiger can move to center, and also because I don't believe Montgomery is good enough an offensive lineman to be starting.
Already spoke about Artis Hicks.
Grade: C
9. Right Tackle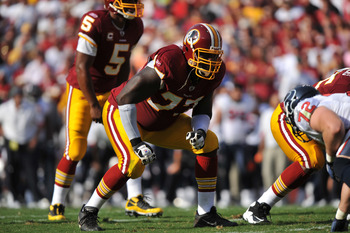 Larry French/Getty Images
Jammal Brown (FA)
Stephon Heyer (FA)
Redskins fans seem split almost down the middle concerning whether the team should retain the services of Jammal Brown next year.
Although I certainly agree that Brown didn't look like a star at the beginning of the season, I do believe that he improved as the season went on. He has made it known that he wishes to return to left tackle, something that would obviously not happen on the Redskins roster.
I think the Redskins will attempt to keep him around for another couple years in hopes that they can develop a solid starter on the right side. In the meantime, Brown does not inspire a lack of confidence.
Grade: B
10. Left End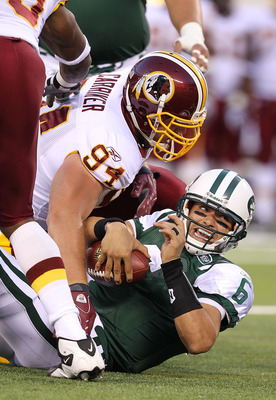 Al Bello/Getty Images
Adam Carriker
Jeremy Jarmon
Darrion Scott
Adam Carriker was regarded by most around the league as a bust, and perhaps he still is. I disagree.
Watching games last year, it seemed that Carriker began to understand the intricacies and demands of the 3-4 defense. He boasts perfect size for the position at 6'6" and 311 pounds, and I hope that he will continue to grow and anchor the left side of the 3-4 for years to come.
Jeremy Jarmon remains an unknown. Undersized at 286 lbs, he still provides some depth up front.
Grade: B
11. Nose Tackle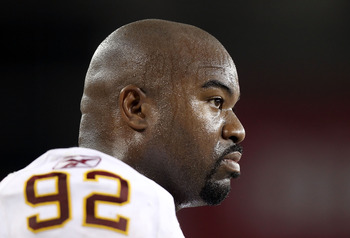 Christian Petersen/Getty Images
Anthony Bryant
Joe Joseph
There's a reason Albert Haynesworth isn't included here. Although anything is possible, don't expect to see him ever play another down as a Redskin.
Anthony Bryant is an absolutely massive man at 6'3" and 376 lbs. However, is he a starting nose tackle at the NFL level? No.
The Redskins need a nose tackle, and badly. This year's draft unfortunately is not heavy on talent at the nose tackle position, and with growing concerns about Phil Taylor's (Baylor) feet, the talent isn't getting any better.
I have been high on Kenrick Ellis all year and remain so. Feedback from his private workouts and interviews remains stellar and I believe he will surprise a lot of people in the NFL.
Grade: C-
12. Right End
Al Bello/Getty Images
Vonnie Holliday
Jeremy Jarmon
Darrion Scott
Vonnie Holliday has been around the NFL for longer than I can remember. At times last year it seemed like the Redskins' defensive line was made up of stars from the early 2000s (shout-out to Philip Daniels).
The Redskins were never able to gain any sort of stability at right end last year. If the team is going to become successful as a 3-4 defense, the right end needs to be upgraded.
Graded: C-
13. Left Outside Linebacker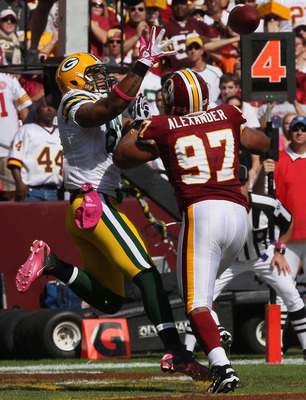 Win McNamee/Getty Images
Lorenzo Alexander
Andre Carter
It's always hard to transition from a 3-4 to a 4-3 or vice versa. When you have players like Lorenzo Alexander starting on the left side, you know you've got a problem.
It's nothing personal, but Alexander lacks the speed and athleticism necessary to fulfill the myriad roles required of a 3-4 outside linebacker. He can't rush the passer particularly well and is poor in coverage.
The Redskins need a young athlete opposite Brian Orakpo. If they find one, the Redskins will instantly become a much better defense.
Andre Carter struggled in the 3-4 in San Francisco. So it should come as no surprise that he wasn't any better the second time around. Unsurprisingly, the Redskins released him following the end of the 2010 season.
Grade: C
14. Left Inside Linebacker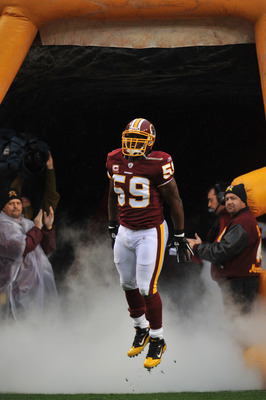 Larry French/Getty Images
London Fletcher
Perry Riley
London Fletcher has been timeless and peerless since arriving in Washington.
He may be on the wrong side of 30, but it certainly hasn't stopped him. He's been to two straight Pro Bowls and notched 136 tackles last year. That's pretty doggone good.
Riley may not be particularly good at blocking on kick returns, but word is that the coaching staff is really pleased with his progression as a linebacker.
I am all about youth, and nothing makes me more hopeful than when a young player works out for the 'Skins. Hopefully Riley can be the next.
Grade: A-
15. Right Inside Linebacker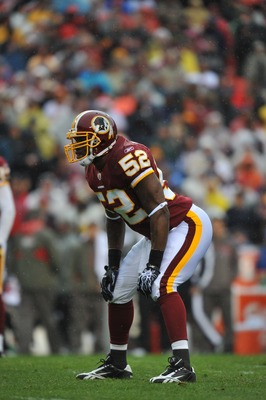 Larry French/Getty Images
Rocky McIntosh (FA)
H.B. Blades (RFA)
Rocky McIntosh has been a solid player for the Redskins since being drafted in the second round of the 2006 draft. That said, he has never been spectacular either.
Better suited for a 4-3 defense, McIntosh is certainly not a lock to return next year. If he does, I hope to see him and Perry Riley share reps.
H.B. Blades has a cool name (Smoot, you're still No. 1 in our hearts) and has been a dutiful special teams player for a number of seasons now. I think it's likely he remains with the 'Skins next year, but it's certainly not a pressing concern.
Grade: B (If McIntosh doesn't return, B-, I've liked what I saw out of Perry Riley last year.)
16. Right Outside Linebacker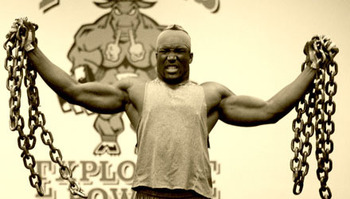 skinnypost.com
Brian Orakpo
Chris Wilson (FA)
Orakpo's nickname of "The Freak" is certainly deserved.
Don't believe me? Look at the picture to your left.
He has shown the ability to play all aspects of the 3-4 defense, and provides the Redskins with a true pass rush. Look for him to get back into double digits next year in the sacks column.
Chris Wilson is a free agent, and the Redskins should only bring him back if they can get him for near the league minimum.
Grade: A
17. Cornerback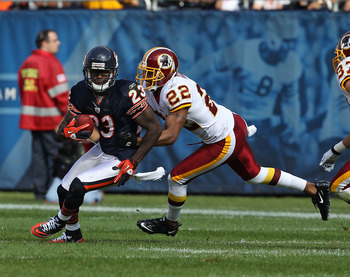 Jonathan Daniel/Getty Images
DeAngelo Hall
Carlos Rogers (FA)
Philip Buchanon (FA)
Kevin Barnes
Reggie Jones
DeAngelo Hall went to the Pro Bowl last year. Is he a Pro Bowl player? Most definitely not. He goes for the big play and gets beat deep way too often.
Redskins fans love to rag on Carlos Rogers, but the fact is that he is a stellar cover corner. He doesn't get beat often, and yes, he has the worst hands I've ever seen in the NFL. He's rapidly approaching 30, but that's not particularly old as cornerbacks go. Definitely need to bring him back. If only stick'um were still legal.
Another signing I was a huge fan of was bringing in Buchanon as the nickel back. However, he is definitely not indispensable. If the Redskins can keep him for a reasonable price, that's great, and if not, they should let him walk.
Barnes has drawn favorable reviews and can hopefully develop into a solid contributor and eventual starting nickel back.
Grade: B
18. Free Safety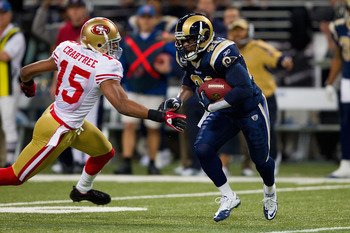 Dilip Vishwanat/Getty Images
OJ Atogwe
Kareem Moore
Atogwe is a playmaker.
He forces turnovers and gets to the ball. He has been one the most consistent and best free safeties in the NFL for a number of years and I'm incredibly excited to see him line up alongside LaRon Landry next year.
Moore was supposed to be the answer at free safety for the Redskins in 2010. He wasn't. He will be able to contribute depth to the team's roster, however.
Grade: B+
19. Strong Safety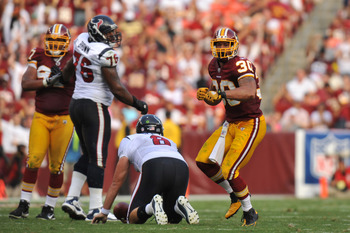 Larry French/Getty Images
Laron Landry
Reed Doughty (FA)
Chris Horton
Landry was awesome early last year. He was all over the field making tackles, forcing fumbles, grabbing interceptions and rushing the quarterback.
If he can stay healthy this season and paired alongside a star like Atogwe, look for him to be even better than last year.
Reed Doughty is a free agent this year. He has been solid but not spectacular for the Redskins for years. Hopefully they bring him back next year and allow him to continue to contribute.
Everyone remembers Chris Horton's rookie year. He was absolutely awesome early on. However, something happened and I'm not quite sure what it is. He's never been able to return to that kind of form and may very well not be in the burgundy and gold next year.
Grade: A
20. Punter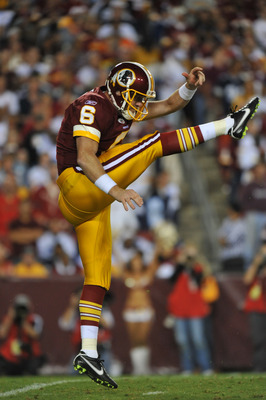 Larry French/Getty Images
Josh Bidwell
Sam Paulescu
Bidwell got injured early in the season and Redskins fans saw the return of Hunter Smith, aka Hunter the Punter. The team ended the year with Paulescu.
Bidwell remained on the team and most likely only one of the two will remain next year. Punters come and go so often that the starter next year may very well be someone else completely. For now, the Redskins have an old and injury-riddled player in Bidwell, and a young and unproven one in Paulescu.
Grade: C-
21. Kicker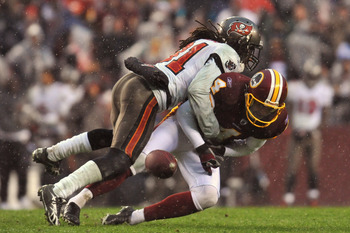 Larry French/Getty Images
Graham Gano
Gano is a third-year kicker out of Florida State. Despite several key misses last season, Shanahan stuck with the 24-year-old.
Let's all just hope that they were growing pains. If he doesn't improve next season, Shanahan will have to cut him loose and look elsewhere for a kicker.
Grade: C-
22. What Are the Teams Chief Needs?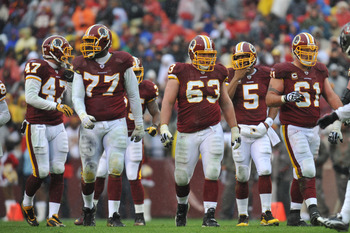 Larry French/Getty Images
So what are the chief needs for the Redskins roster?
Quarterback
Wide Receiver
Guard
Defensive End
Nose Tackle
Outside Linebacker
23. Solutions by Need: Quarterback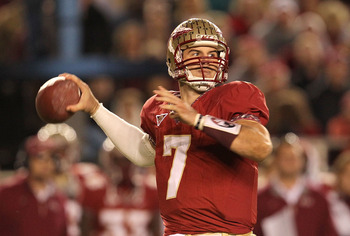 Mike Ehrmann/Getty Images
The Redskins have a number of options available to them.
They can attempt to trade up and grab Blaine Gabbert. They can attempt to trade down and take either Jake Locker, Andy Dalton or Christian Ponder.
They could try to trade McNabb to Cincinnati for Carson Palmer (and possibly lose a draft pick).
They could go after Matt Hasselbeck.
The possibilities are endless. However, if I was GM (we can all dream, right?) I would cut my losses, sign Grossman as the starter, trade as far back in the first round and get as many picks as I could, draft Christian Ponder and accept that this season isn't going to be successful no matter what I do.
24. Solutions by Need: Wide Receiver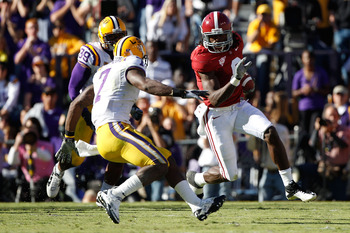 Chris Graythen/Getty Images
The Redskins could attempt to draft a wide receiver (Julio Jones at No. 10?), or someone they believe can play the slot in later rounds (Cecil Shorts III).
They could go after Sidney Rice or Braylon Edwards (let's hope that doesn't happen).
Or they could attempt to develop the talent that they have now.
25. Solutions by Need: Guard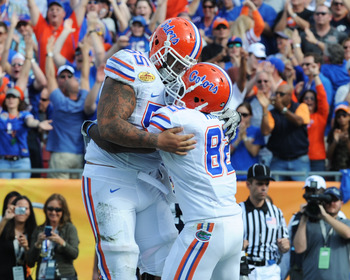 Al Messerschmidt/Getty Images
With no particularly notable interior lineman in free agency this year, the Redskins will have to look toward the draft.
It is unlikely they would reach for Mike Pouncey, but if he is available in the late first round and they manage to trade back in his range, he might end up a Redskin.
26. Solutions by Need: Defensive End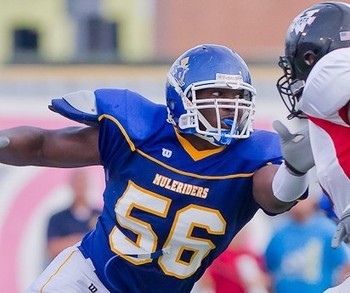 If Cedric Thornton out of Southern Arkansas is available in later rounds, the Redskins would do well to grab him. He boasts perfect size for a 3-4 defensive end and could definitely develop into a solid right end.
27. Solutions by Need: Nose Tackle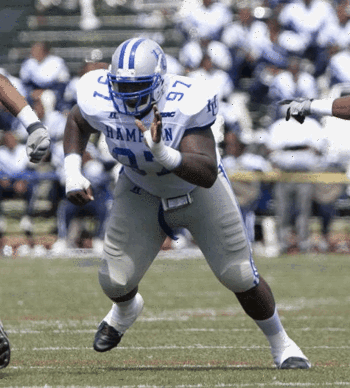 I will say it til I get hoarse: the Redskins need to draft Kenrick Ellis.
He's got the strength, the athleticism, the size and the ability. If the Redskins trade back in the first round and possibly acquire a third-round pick, this would be a pick very well spent.
28. Solutions by Need: Outside Linebacker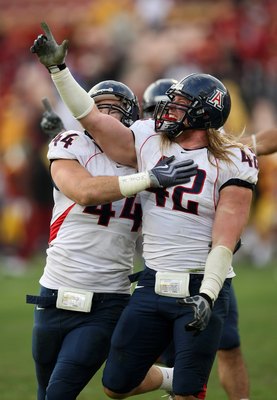 Stephen Dunn/Getty Images
If Brooks Reed is available at No. 42, the Redskins need to take him. The Arizona product would be a great fit in the Redskins 3-4 scheme and would provide a solid pass rush to complement Orakpo.
29. Conclusion
Win McNamee/Getty Images
Will the Redskins be able to fill all the holes in their roster this year?
Probably not.
But can they continue putting pieces in place to try and ensure future success? Definitely.
In one of my most recent articles, I harped on the necessity of the Redskins to get younger across the board on their roster.
It's time to clean house, and hopefully the Shanahans know it.
Keep Reading

Washington Redskins: Like this team?