NFL Draft History: Grading the Past 10 Buffalo Bills Drafts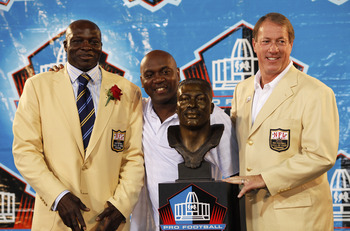 Joe Robbins/Getty Images
The Bills have been overlooked and outplayed in the highly competitive AFC East division for quite some time now. With this year's draft only a week away, it is time to take a look at the previous drafts of the Buffalo Bills, to see where they went wrong, leading the team to their current position.
Included in the slide show is a grade for the draft, as well as analysis on key players, misses, etc.
2001 Buffalo Bills Draft Grade: C+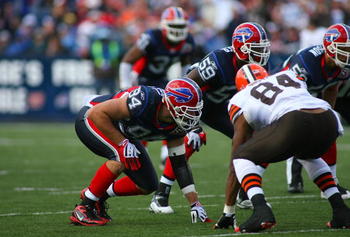 Rick Stewart/Getty Images
The Buffalo Bills had a successful 2001 draft, addressing various needs across the board.
Round One (21)- CB Nate Clements, Ohio State
With the 21st draft pick, the Bills selected a shut-down corner, who became the first Buffalo Bills Pro-Bowler of the 21st century.
Clements was an absolute stud with the Bills, recording over 400 tackles, 13 forced fumbles and intercepting an astonishing 23 passes.
Round Two (46)- DE Aaron Schobel, Texas Christian
Aaron Schobel was an absolute steal in the second round, quickly achieving back to back Pro Bowl experiences. Since he hoisted the red, white and blue jersey on draft day, Schobel has logged 483 tackles, 78 sacks, 26 pass deflections and 19 forced fumbles.
Round Two (58)- RB Travis Henry, Tennessee
After winning an NCAA National Championship and being named to the All-SEC team after rushing for 1,300 yards and 11 touchdowns, the Bills thought they filled the void left when Thurman Thomas retired. He became the third leading rusher in Bills history, yet disputes over playing time and off the field issues led to Henry's departure in 2005.
Round Three (76)- DT Ron Edwards, Texas A&M
Wasn't anything stunning, but held his own on the line
Round Three (95)- OT Jonas Jennings, Georgia
Various position changes and injury never allowed Jennings to live up to his potential.
Round Four (110)- MLB Brandon Spoon, North Carolina
Round Five (144)- S Tony Driver, Notre Dame
Round Six - (178) TE Dan O'Leary, Notre Dame
Round Six (195)- CB Jimmy Williams, Vanderbilt
Round Seven (214) - WR Reggie Germany, Ohio State
Round Seven (248) - DT Tyrone Robertson, Hinds CC
2002 Buffalo Bills Draft Grade: D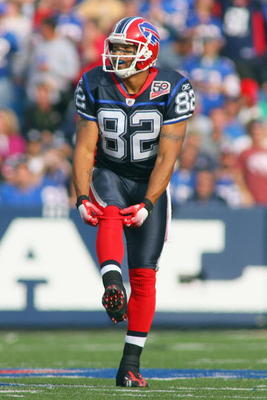 Rick Stewart/Getty Images
When Josh Reed is the best draft selection of the year for the Bills, you know it's going to be ugly.
Round One (4) T Mike Williams, Texas
Mike Williams was a complete bust in the NFL, constantly getting burned by pass rushers, and never proved he was worth the No. 4 overall pick, another horrible move by the Bills, considering studs of the likes of CB Quentin Jammer, OT Bryant McKinney, DE Dwight Freeney, Jeremy Schockey, Albert Haynesworth were on the board at the time of the pick.
Round Two (36) WR Josh Reed, Louisiana State
Reed has developed as a dependent slot/ possession receiver, but lacks the speed and explosiveness to be a play maker in the NFL. Definitely not worth a Second Round grade, in my opinion. Immediately behind Reed on the board were C Andre Gurode, Clinton Portis, Antonio Bryant and Bryan Westbrook.
Round Three (97) S Coy Wire
Coy Wire spent most of his time on special teams, where he excelled, but his ability. David Garrard was available at the time, which would have saved Buffalo the dreadful JP Losman addition in 2003, as was Andra Davis (Current Bill), Scott Fujita, Aaron Kampman and Chester Taylor
Round Five (139) DT Justin Banaan, Colorado
Round Six (176), CB Kevin Thomas Auburn
Round Seven (215) C Mike Pucillo, Auburn
Round Seven (249) WR Rodney Wright, Fresno State
Round Seven (251) RB Jarret Ferguson, Virginia Tech
(139) DT Justin Banaan Colorado
2003 Buffalo Bills Draft Grade: C+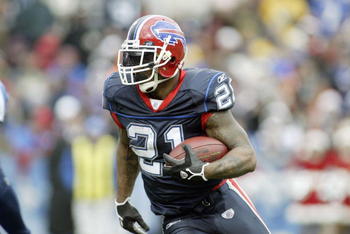 Rick Stewart/Getty Images
The Buffalo Bills 2003 Draft was VERY surprising to say the least.
Round One (23) Willis McGahee, University of Miami
The Bills take a chance on standout Miami Hurricane running back Willis McGahee after a devastating knee injury, even though Dallas Clark, Nnamdi Asomugha, Larry Johnson and Reshean Mathis, arguably the best players at their positions, were on the board.
(46) DE Chris Kelsay, Nebraska
Chris Kelsay is a very low profile defensive end perfectly fit for the 4-3 system, accumulating 313 tackles, 22 sacks, and three interceptions in his six years as a rotational defensive lineman. However, considering the fact that Anquan Boldin, Osi Umenyiora, Lance Briggs and Jason Witten were all available at the time, the Bills draft failures continued.
Round Three (94) OLB Angelo Crowell, Virginia
Drafted mainly as a backup/reserve, when Takeo Spikes went down, Crowell went up, making 119 tackles, forcing two fumbles, and intercepting a pass in 12 games. After being placed on injured reserve in 2008 he was signed by the Buccaneers prior to the start of last season.
Round Four (111) CB Terrence McGee, Northwestern State
The biggest steal for the Bills in the draft, the team added a versatile coverage and special teams threat. He's a huge threat in the defensive backfield, recording over 400 tackles and 16 interceptions in his career.
Round Four (127) WR Sam Aiken, North Carolina
(DT Aubreyo Franklin was available)
Round Five (151) G Ben Sobriest, Iowa
(187) S Hanik Milligan, Houston
Round Seven (228) LB Mario Maggan, Mississippi State
2004 Buffalo Bills Draft Grade: D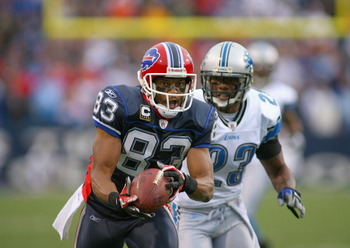 Rick Stewart/Getty Images
Round One (13) WR Lee Evans, Wisconsin
Lee Evans, the only wide receiver taken in the first round by the Bills other than Eric Moulds, has been the main factor in most of the teams' wins, though his numbers don't show it.
In five full seasons, Evans has 340 receptions for over 5,000 yards and recorded 23 touchdowns.
Round One (22 (from Dallas)) QB JP Losman, Tulane
The Bills stunted the growth of the franchise when they traded up to select JP Losman, a strong armed, accurate prospect from Tulane. Losman was the first quarterback selected in the first round by the Bills since Jim Kelly in 1983. After breaking his leg before his first professional start, and once he hit the turf, he struggled with his accuracy, ability to get rid of the ball, and consequently, his confidence.
In his five seasons as a Bill, Losman put up sad numbers of 33 touchdowns and 34 interceptions, passing for just over 6,000 yards. (RB Steven Jackson, LB Karlos Dansby, CB Chris Gamble, S Bob Sanders, DT Darnell Docket, and Nick Hardwick, all future Pro Bowlers, were still available at the time.
Round Three (74) DT Tim Anderson, Ohio State
(Still available: TE Chris Cooley, QB Matt Schaub, DT Shaun Phillips, WR Jericho Cotchery)
Round Four (105) TE Tim Euhus, Oregon State
(CB Nate Vasher, FS, Will Allen, DE Jared Allen still available)
Round Seven (207) OT Dylan McFarland, Montana
(OT Shane Olivea, WR Patrick Crayton, WR Wes Welker, RB Willie Parker, OT Jason Peters still available)
2005 Buffalo Bills Draft Grade: F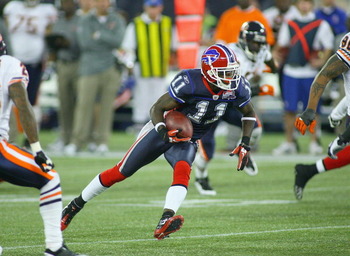 Rick Stewart/Getty Images
With the recent additions of Willis McGahee, Terrence McGee, Chris Kelsay, Lee Evans and Angelo Crowell, the Bills were almost contenders—if they could draft the right pieces to complete the puzzle.
Round Two (55) WR Roscoe Parrish, University of Miami
Coming out of "The U" Roscoe Parrish was touted as a versatile threat in both receiving and kick/punt returns. Nagging injuries and limited playing greatly slowed his development, and in five seasons, he only has 100 receptions for 1,000 yards and five touchdowns.
He was effective on special teams, averaging 23.6 yards per kick return and 12.4 yards per punt return, totaling three touchdowns.
(Still available: WR Vincent Jackson, DE Jonathon Babineaux, Bryant McFadden, Frank Gore, Channing Crowder, Justin Tuck)
Round Three (86) TE Kevin Everett, Universiity of Miami
Kevin Everett's career was never given a chance to take off. He was constantly injured, only recording two receptions for four yards before sustaining a major paralysis forcing him to leave the game.
(Still Available: RB Marion Barber, QB Kyle Orton, RB Brandon Jacobs)
Round Four (122) C Duke Preston, Illinois
Mainly a special teamer, Preston backed up Chris Villarial on the line.
(Still Available: S Kerry Rhodes, RB Darren Sproles, DT/DE Trent Cole)
Round Five(156) CB Eric King, Wake Forest
Round Six (197) G Justin Geisinger, Vanderbilt
(Still available: DT Jay Ratliff, QB Matt Cassell)
Round Seven (236) RB Lionel Gates, Louisville
2006 Buffalo Bills Draft Grade: C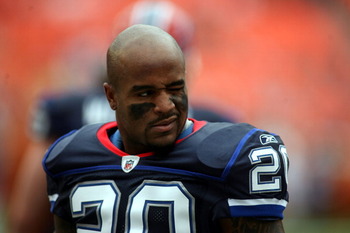 Marc Serota/Getty Images
Round One (8) S Donte Whitner, Ohio State
The Bills made a huge reach selecting safety Donte Whitner out of Ohio State with the eighth overall pick in the 2006 draft.
With potential superstars like OLB Ernie Sims, QB's Jay Cutler and Matt Leinart, highly touted DT Haloti Ngata and CB Antonio Cromartie still available at the eighth pick, you have to question the Bills reason for selecting Whitner, who hasn't lived up to his potential to date.
Round One (26) DT John McCargo, N.C State
Another first round bust by the brass at One Bills Drive, they selected John Mccargo with the 26th overall pick, when he was projected as a third or fourth round prospect at best.
When the Bills realized their mistake quickly after Williams passed out during a running drill at practice, they traded him to the Indianapolis Colts, which was negated due to a failed physical.
(Still Available: RB DeAngelo Williams, C Nick Mangold, LB DeMeco Ryans, WR Greg Jennings, TE Anthony Fasano, RB Maurice Jones-Drew)
Round Three (70) CB Ashton Youboty
Ashton didn't play very much until this past season when Leodis McKelvin and Terrence McGee spent time on the bench due to injury, but he performed well.
Round Four (105) S Ko Simpson, South Carolina
Solid reserve player in the secondary, however selecting Jahri Evans, Leon Washington, Brandon Marshall, or Elvis Dumervil would have been a tad bit more solid.
Round Five (134) DT Kyle Williams, LSU
Kyle Williams is a key attribute to the Buffalo Bills defensive line, and is increasing production year after year. Will be interesting to see how he can adjust to the 3-4.
(143) OT Brad Butler, Virginia
Butler was just taking on the role of leader on the offensive line, until last season when he suffered an injury, eventually leading to his retirement.
Round Six (178) LB Keith Ellison, Oregon State
Mainly a strong side linebacker, it will be interesting to see if he is used in more pass rushing situations this year.
(Still Available: FB Lawrence Vickers, DT Johnny Jolly, FS Antoine Bethea, CB Cortland Finnnegan)
Round Seven (216) OT Terrance Pennington, New Mexico
2007 Buffalo Bills Draft Grade: C-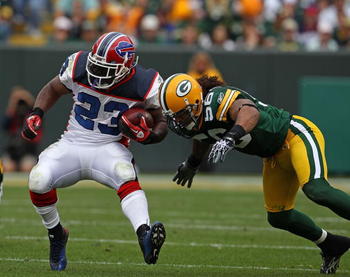 Jonathan Daniel/Getty Images
It's 2007 and the Bills have an elite wide receiver, a top ten safety and cornerback, a young quarterback and a youthful offensive line. How do they complete the roster?
Round One (12) RB Marshawn Lynch, California
Marshawn "Beast Mode" Lynch sprung onto the scene, rushing for over 1,000 yards in his first two seasons, and made the Pro Bowl in the latter.
(Still Available: CB Darrelle Revis, S Michael Griffen, S Brandon Meriweather, LB Jon Beason)
Round Two (34) LB Paul Posluszny, Penn State
The Bills selected Butkus Award Winner, Poz to command the inside linebacker position and has been extremely effective. Projected as a first rounder, the Bills jumped at the opportunity to trade picks with the Detroit Lions to snag the stud at No. 34.
Poz has recorded over 100 tackles in each of his last two seasons and is a disruptive force on defense, deflecting ten passes, intercepting four, and forcing four fumbles in his three year career.
Round Three (92) QB Trent Edwards, Stanford
Projected as the third best quarterback in the draft, Edwards was gained in the trade with Baltimore involving Willis McGahee. After taking over JP Losman's job at QB, Edwards looked solid, leading the Bills to a 4-0 start in 2008 before suffering a concussion. Ever since, he has seemed to lose confidence, and often resorts to checking down and completing his passes to tight ends or half backs.
Round Four (111) RB Bwayne Wright
(Still available: T Doug Free, LB Clint Session, FB Le'Ron McClain, WR Steve Breaston, TE Kevin Boss)
Round Six (184) S John Wendling, Wyoming
Round Seven TE Derek Schouman, Boise State
2008 Buffalo Bills Draft Grade: F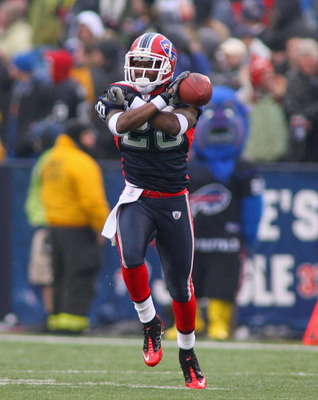 Rick Stewart/Getty Images
Round One (11) CB Leodis McKelvin, Troy
Leodis McKelvin was drafted to complete the Buffalo secondary, and when healthy, he is one of the top pass defenders in the game.
(Still available: LT Ryan Clady, QB Joe Flacco, RB Chris Johnson)
Round Two (41) WR James Hardy, Indiana
The Bills selected James Hardy to complement Lee Evans, due to his spectacular physical tools that had experts comparing him to Terrell Owens prior to the draft. However, injuries plagued him and he was eventually cut prior to the 2010 season.
(Still Available: WR Eddie Royal, RB Matt Forte, WR Desean Jackson, RB Ray Rice)
Round Three (77) DE Chris Ellis, Texas
Chris Ellis was drafted as a project OLB/DE, but never fully developed enough to make plays on the field.
Round Four (114) CB Reggie Corner, Akron
(132) TE Derek Fine, Kansas
Round Five (147) LB Alvin Bowen, Iowa State
Round Six RB Xavier Omon, Northwestern Missouri State
Round Seven (219) OT Demetrius Bell, Northwestern State
2009 Buffalo Bills Draft Grade: C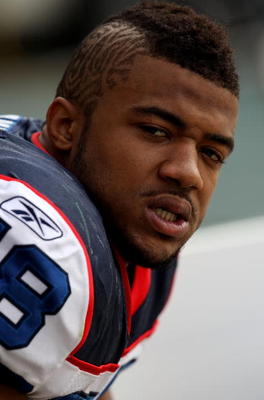 Jonathan Daniel/Getty Images
Round One (11) DE/OLB Aaron Maybin, Penn State
BUST

(28) G/C Eric Wood, Louisville
Wood is the most promising prospect in the 2009 Bills draft class, and looks to move to the starting center position in 2011.

Round Two (42) FS Jairus Byrd, Oregon
Jairus Byrd wasn't able to repeat his stunning nine interception rookie campaign, but is set to be a solid starter on the Bills defense for time to come.
(51) G Andy Levitre, Oregon State
Levitre has been solid in his first two years as a starter on the Bills offensive line. His development this offseason can make or break the production of whoever is under center this season.
Round Four (121) TE Shawn Nelson, Southern Mississippi
A big, physical tight end that can both block and receive is coveted by every team in the NFL. The Bills found him in the fourth round.
Round Five (147) S/LB Nic Harris
Round Six (183) CB Cary Harris, Southern California
Round Seven (219) CB Ellis Lankster, West Virginia
2010 Buffalo Bills Draft Grade: Incomplete
Marc Serota/Getty Images
Round One- RB C.J. Spiller, Clemson
The Bills took C.J. Spiller out of Clemson hoping he would be an electrifying force on offense and be a threat to score at any time. However, he only looked the part in a loss to the New England Patriots in which he scored his two lone touchdowns of the year, one on a kick return and the other on a screen pass.
Round Two- DT Torell Troup, Central Florida
Torell Troup didn't get significant playing time last year, as he was trying to bulk up to play the nose tackle position, but looks to be a solid prospect.
Round Three- DE Alex Carrington, Arkansas State
Limited playing time as a rookie, expect to see more next year.
Round Four- WR Marcus Easley, Connecticut
Injured
Round Five- OT Ed Wang, Virginia Tech
Round Six- DE Arthur Moats, James Madison
Round Six- Danny Batten, South Dakota State
Round Seven- QB Levi Brown
Round Seven- OL Kyle Calloway

Keep Reading

Buffalo Bills: Like this team?