2011 NFL Draft: Analyzing New York Giants Drafts Under Jerry Reese, 2007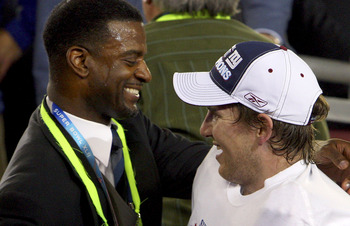 Donald Miralle/Getty Images
This will be the first of four slideshows that will analyze each draft pick under the Jerry Reese era, the Giants general manager who took over after the 2006 season.
Judging by the team's ability to stay mildly successful over the past four seasons, winning a championship in Reese's first season with several contributing rookies, you'd have to believe his overall drafting ability has been very good.
He has made some mistakes here and there, as any GM will, but in my mind Reese has been one of the best in the business and the Giants are lucky to have him running the organization.
The series will start with that first magical season in 2007.
(P.S. The grades will be a bit more lenient in the later rounds considering it's hard to find good players in those rounds)
Round 1: Aaron Ross CB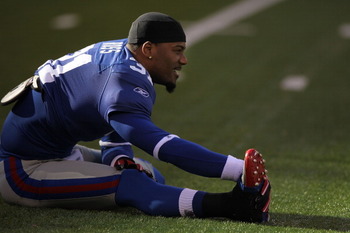 Al Bello/Getty Images
Aaron Ross has not lived up to his potential, but in those first two seasons he was a solid contributor.
During his rookie season he showed flashes of brilliance, but it was an otherwise inconsistent season. The highlight of his season was intercepting a pass and returning it to the house against the cross town rival Jets; the play sealed the victory for Big Blue.
He stepped up in the playoffs, like the entire defense did, and looked like he would take the next step in 2008. In that season he showed signs of improvement, but was still not living up to the hype. He had three interceptions and one return TD in each of his first two years.
In 2009 he suffered a setback with a hamstring injury and has never fully recovered. He has since been replaced in the starting lineup by Terrell Thomas and only plays in passing situations.
He is a solid player, but has definitely not lived up to his first round status.
Grade: C+
Round 2: Steve Smith WR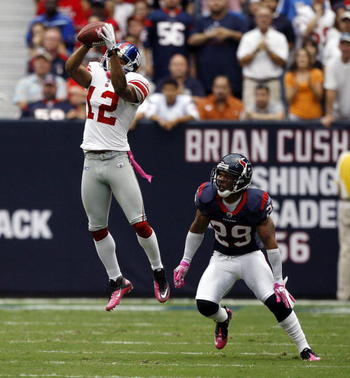 Bob Levey/Getty Images
Smith has been an incredible weapon for Eli Manning since joining the team. The Giants went seamlessly from Amani Toomer to Steve Smith as a reliable third down security blanket for Manning, and Smith has been even better than Amani at times.
He set the franchise record with 107 receptions in 2009, and his absence in seven games in 2010 was definitely noticeable.
There really isn't much else to say, this was a home run pick.
Grade: A+
Round 3: Jay Alford DT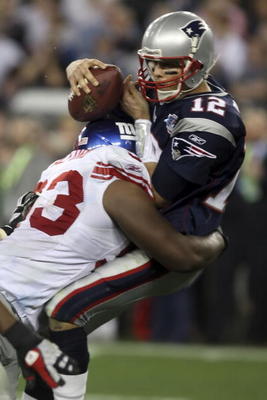 Elsa/Getty Images
Most famous for the play pictured when he sacked Tom Brady on their last attempt to score in the Super Bowl, Jay Alford was a up and coming player the Giants were very excited about.
Until an ACL injury kept him out of the entire 2009 season, which was supposed to be a breakout year for Alford.
The Giants drafted Linvel Joseph in the 2010 draft and it seemed like Alford's days might be numbered. Well that was the case as they released him right before the end of training camp. He wasn't a free agent long as the Raiders signed him before the 2010 season opener.
Alford did have a nice season as a backup in 2008, appearing in all 16 games and getting 2.5 sacks, but has not amounted to anything after his injury.
He played four games for the Raiders and had only two tackles, they cut him in the middle of the season and he is now a member of the Seahawks.
Hopefully he finds his way back to full strength, the Giants had very high hopes for him.
Grade: C-
Round 4: Zak DeOssie LB
Jim McIsaac/Getty Images
Zak DeOssie hasn't really amounted to anything more than just an outstanding special teams player at this point. He is on the kickoff team and he is the long snapper for punts and field goals.
He made the Pro Bowl in 2010 as a long snapper.
Grade: C+

Round 5: Kevin Boss TE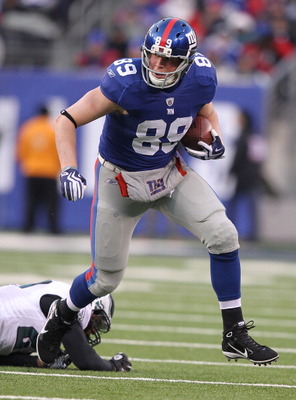 Al Bello/Getty Images
Kevin Boss stepped up his rookie season when the Giants lost Jeremy Shockey to a broken leg. He has been a very solid player and improved drastically as a blocker over the year.
He is one of the more underrated tight ends in the NFL and, in my opinion, needs to be a bigger part of the offense.
Although he only had one catch in the Super Bowl, it was a memorable 45-yard completion down the seam to set up the Giants' first touchdown.
He stepped up big time during the 2010 season when the Giants were losing receivers to injury left and right. He had a huge game-winning touchdown catch late in the fourth against the Jaguars.
Underrated at this point, but still has the potential to be one of the best in the league if the Giants feed him the ball more.
Grade A
Round 6: Adam Koets OL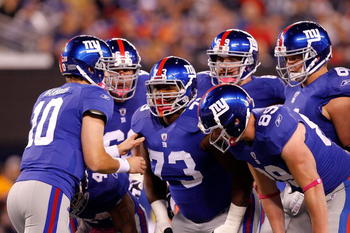 Michael Heiman/Getty Images
Adam Koets was drafted as a tackle, but never made a name for himself until the 2010 season when Shaun O'Hara went out with an injury after the third game of the season.
Ironically, the Giants offensive line started blocking better and the run game got going when Koets replaced O'Hara.
Koets started at center for five games in a row, and the Giants were 5-0 in that span, averaging 174 yards per game on the ground.
Unfortunately, he went out with a torn ACL in the Seahawks game and missed the rest of the season. Nevertheless, he proved his worth and looks like the future at center for the Giants.
Grade: B

Round 7: Michael Johnson SS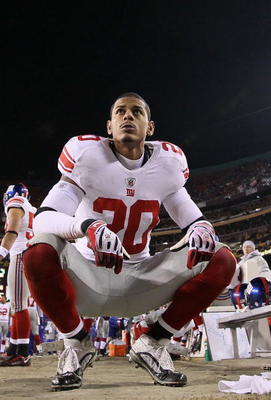 Al Bello/Getty Images
Michael Johnson had a decent season in 2008 as the Giants starting safety, but a terrible 2009 season forced the Giants to make an upgrade and bring in Antrel Rolle and Deon Grant.
The result was Johnson only playing two games in the 2010 season. He will likely not be resigned this year as he is an unrestricted free agent.
Grade: C-
Round 7: Ahmad Bradshaw RB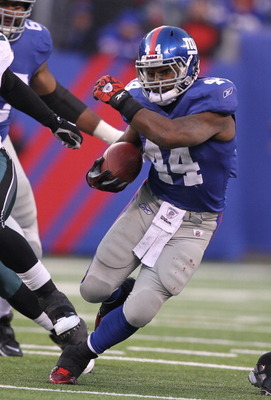 Al Bello/Getty Images
Ahmad Bradshaw emerged as the Giants backup behind Brandon Jacobs late in the 2007 season. His 88-yard touchdown run against the Buffalo Bills secured a playoff spot, and his hard running style gave the Giants a spark plug on offense.
I don't think anyone will forget when he made a hard run in the Super Bowl and carried Vince Wilfork's big behind about five yards down field. It was a thing of beauty.
He took a back seat to Derrick Ward in the 2008 season, but was still very much a part of the offense as the third back in a terrific tandem self titled "Earth, Wind, and Fire"
Fast forward to the 2010 season, when he was given the starting role for the first time. He responded by having the best season of his career with 1235 yards and eight touchdowns, while still splitting time with Brandon Jacobs.
He lost his starting job midway through the season due to fumbling issues, but kept right on chugging along and was still his dominant self.
For the value, this was the best pick of Jerry Reese's career to this point.
Grade: A+
Average Grade?
NFL Photos/Getty Images
I made a number system to average out the grade, with A+ having a number value of 12 and F having a number value of 0. For example, A+ = 12, A = 11, and A- = 10.
The 2007 draft gets an average grade of a little under a B (63 points for eight players).
Keep Reading

New York Giants: Like this team?