Cincinnati Reds: Jay Bruce and the 10 Most Hyped Players in Recent Memory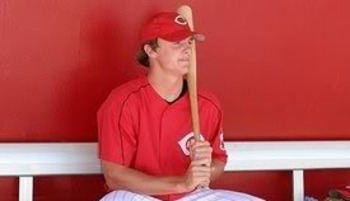 The Internet is an amazing thing.
At the touch of a button, anyone anywhere can virtually get the answer to ANY question…in seconds. Today, the Internet is an integral component of critical societal mechanisms such as education and medicine, just as it is the quickest and easiest way to uncover what movies are playing and which bars offer the best happy hour.
Indeed, over the last 30-some odd years, the Web has revolutionized every aspect of our day-to-day lives. And, while it has assisted in making our country safer, our lives longer, and our kids smarter, I think everyone that patronizes this website can agree that the Internet's main contribution to society has been its impact on sports.
As children of the digital age, we have come to demand certain luxuries that only the Internet can provide. We can ascertain every detail of any game with up-to-the-minute accuracy, just by picking up a cell phone. From that same phone, we can tell our TV to record a game, which we will then watch at our leisure as we sit on the couch, casually ordering dinner as we monitor our fantasy stats.
Yet, while it has forever improved the fan experience, the World Wide Web is, at its core, an information super-highway. Thus, not only have sports become more accessible to fans, they've also become more visible to those who make sports their livelihood.
Whereas, years ago, the names, faces, and skill-sets of dynamic prospects were only known to the most closely-connected scouts and media members, fans today are privy to virtually as much information as they care to search for. Never before has the sporting world been so transparent, where 14 year-old kids become celebrities, their skills paraded across Youtube, Google, and every blogger's keyboard.
With that in mind, any examination of the heralded prospects in any organization must actually be, in part, a study of the time, the setting, and the vehicles that existed to catapult an individual from teenage ballplayer to public sensation.
The following list should be kept in perspective. For, though the Cincinnati Reds have certainly seen immense talent climb through their ranks as early as 1910, it's the top prospects a century later that can most accurately be considered "hyped", as the age of the Internet has made an expert out of every person with working fingers and a will.
That being said, what follows are the top ten most anticipated Reds prospects in recent memory.
10. Jack Armstrong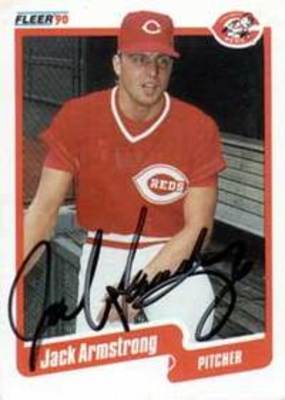 Drafted in first round of 1987 draft, naming Jack Armstrong as one of the more heralded prospects in recent memory aptly represents the meager success Cincinnati has had with pitchers over the years.
A big right-hander, Armstrong had Reds Nation hoping for an ace to go with their young core of Eric Davis, Barry Larkin, Tom Browning, and John Franco.
Armstrong made his debut barely a year later, starting 13 games for the 1988 Reds and posting an ERA of 5.79.
Unfortunately for Reds fans, Armstrong would never quite pan out. Despite starting strong in the Reds' 1990 championship year (tallying 8 wins and earning a start at the All Star Game), Armstrong barely pitched 7 seasons, his career cut short by injury.
9. Eric Davis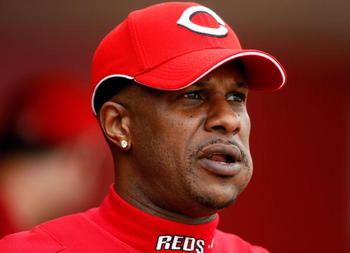 J. Meric/Getty Images
Though selected in just the eighth round of the 1980 Amateur Draft, Eric Davis would soon become widely known as one of the National League's most electric talents.
Debuting in 1984, a season in which he notched 10 home runs and 10 stolen bases in just 174 at bats, Davis' freakish athleticism and highlight reel defensive play would surely have made him an Internet poster boy.
Though an obvious baseball dynamo, a portion of Davis' hype had to have spurred from his link to high school teammate and fellow prospect, Darryl Strawberry. Strawberry and Davis attended the famed Fremont High School in Los Angeles, and represented a breed of five-tool player not often seen since the great Willie Mays.
Davis would go on to post an outstanding Reds career, dominating the National League from 1986-1990. Davis' best year, statistically, came in 1987, where he hit 37 HR, accumulated a .293 batting average, and stole 50 bases.
Ultimately, Eric "the Red" Davis remains today as one of the more dynamic players to ever put on a Reds uniform. And, had it not been for a consistent string of injuries, the Reds' center fielder would have had a chance to be one of the all-time greats.
8. Kal Daniels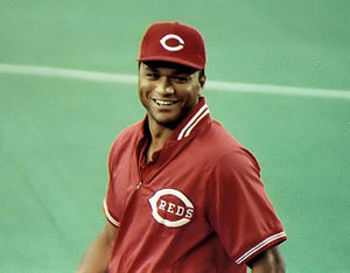 Another of several highly-touted Reds prospects from the '80's (pre-Internet craziness), it is not hard to understand why Kal Daniels had fans gushing.
A third round draft pick by the Mets in 1988 in the draft's first phase, Daniels opted not to sign, a decision that would pay near immediate dividends for the Reds organization. In the second phase of the draft that year (a mere five months later), the Reds selected the outfielder with the seventh overall pick and watched as he hit a ridiculous .367 in his first Minor League season.
Possessing a rare combination of power and speed, Daniels reached the Majors in April of 1986, where he served as a role player and hit .320 in 78 games.
The next year, as the full-time left fielder, Daniels gave Reds fans a taste of the production they had been expecting, posting a .334 batting average and tallying 26 steals and 26 home runs.
Daniels lasted less than three injury-marred seasons as a Red, being traded to the Dodgers in a deal for second baseman Mariano Duncan. And, despite a resurgence in 1990 (one of only three full season played) Daniels career ended in 1992.
7. Kurt Stillwell and 6. Barry Larkin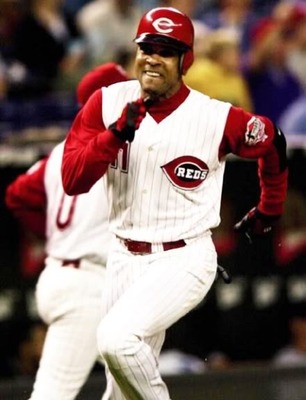 When young Kurt Stillwell was drafted in the 1983 Amateur Draft, Cincinnati thought it had its shortstop of the future. Having been spurned by 1982 draftee Barry Larkin (Larkin would go on to star at Michigan), the Reds look to reload by selecting Stillwell second overall.
Unfortunately for Stillwell, his Reds career never took off, as Cincinnati found themselves positioned to select Larkin again in 1985.
The drafting of Larkin, the starting shortstop for the 1984 Olympic team, didn't sit well with all Cincy fans. After all, Stillwell was still only 20 and busy tearing his way through the Minor Leagues.
However, the talent of Larkin was too much to pass up, and what looked like an overzealous gamble would come to be known as one of the best moves in Cincinnati history.
As it turned out, Larkin and Stillwell both made their Major League debuts in 1986, and Larkin would soon leave little doubt as to who the shortstop of the future would be. After splitting time with Stillwell in '86 and '87, Reds management made the decision to anoint Larkin and ship Stillwell, only 22, to the Royals.
While Stillwell would only play until the age of 28, posting a .249 BA, Larkin would go on to enjoy one of the greatest careers in Reds history. A 12-time All Star, three-time Gold Glover, and 1995 National League MVP, Larkin spent 19 seasons as a Red, and all but punching his ticket to Cooperstown.
5. Brandon Larson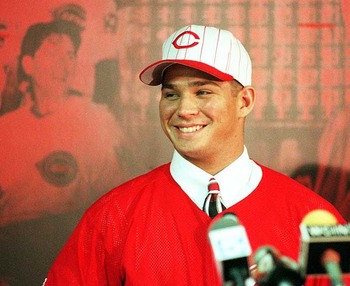 Now's where we get to the meat of the list, to an era where the Internet began to truly take hold, and prospects were built up from the time they were young.
Brandon Larson, a third baseman from LSU, easily makes my All Flop Team.
Drafted in the first round of the 1997 draft, Larson was touted early on as the answer to the "who will replace Chris Sabo" question. A star in college and MVP of the 1997 College World Series, Larson quickly began to add to his impressive resume when he entered the Cincinnati system. In his first three Minor League seasons ('99, 2000, 2001), Larson posted a .280 batting average, and clubbed 61 home runs.
Then, in 2002 Larson truly broke out, hitting .340 with 25 home runs and a 1.059 OPS. Finally, the Reds third baseman had arrived. Or so we thought.
Over the next three seasons, Larson would bounce back and forth between AAA and the Majors, registering a gruesome .179 career batting average, and drawing the ire of Reds fans everywhere.
Today, Brandon plays third base for an Atlantic League team.
Yup.
4. Austin Kearns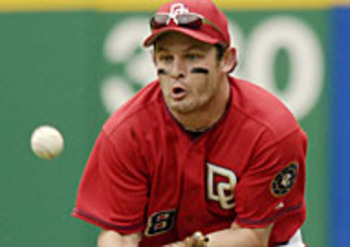 When I was 17, I worked for the Dayton Dragons (the Reds High-A affiliate) in their inaugural season. I spent the summer ripping tickets, passing out "Playball!" programs, and watching in awe as Austin Kearns, a young Kentucky native, rip up Minor League pitching. Kearns hit 25 dongs for the Dragons, batted .306, and along with his buddy Adam Dunn, captured the hearts of Reds enthusiasts everywhere.
A first round draft pick from 1998, Kearns was the curious type of Minor Leaguer who got better as he ascended up through the ranks. By the time Kearns reached AAA, he was hitting around .340 and Reds Nation longed to see him in Cincy.
Amidst much fanfare, Kearns reached the Bigs in 2002, and proceeded to .315 and finish third in Rookie of the Year voting.
However, over the next three season,s Kearns' numbers flirted with mediocrity, and in July 2006 was dealt to Washington, along with Reds starting shortstop Felipe Lopez and closer-in-waiting Ryan Wagner.
A much-maligned move at the time, the trade ended up being mostly inconsequential for both sides, as Lopez and Kearns have bounced around the league, Wagner never panned out, and the Reds only acquired one player of value, current Reds' situational lefty Bill Bray.
3. Aroldis Chapman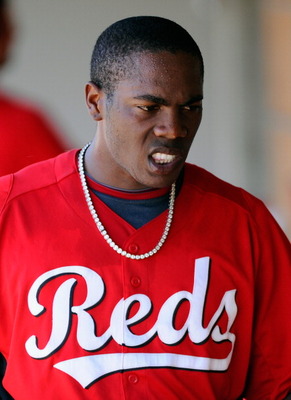 Kevork Djansezian/Getty Images
By now, the tales of Aroldis Chapman are as much legend as fact.
The dynamic lefty defected from his native Cuba and, in January 2010, surprised everyone by signing with the (at the time) mediocre Cincinnati Reds.
Chapman immediately became an Internet sensation in Cincy and across the country, as word of his triple-digit heater spread.
In Spring Training 2010, Chapman was as watched as any player in any camp (rivaled in intrigue only by Washington's Stephen Strasburg). Chapman nearly made the club out of camp, but was sent (smartly) to AAA by Reds management for some fine-tuning.
A year later, Chapman poses the most intimidating threat out of any bullpen as a power setup man for the Reds, and speculation runs rampant regarding his inevitable move to the rotation.
A talent unlike the baseball world has ever seen (his 105 mph fastball is the fastest ever recorded), Chapman would rank higher on this list if his jump from Minors to Majors weren't accomplished so quickly.
2. Jay Bruce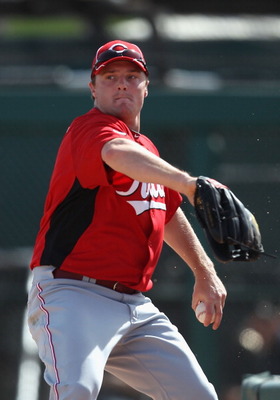 Christian Petersen/Getty Images
Ask most Reds fans about their favorite current player, and you'll get a whole lot of Votto.
However, ask yours truly, and you'll get a soliloquy on one Jay Allen Bruce.
Votto is an amazing talent, a team leader, and one of the best players in the game, but there is something about Bruce that, to this day, keeps many fans intrigued.
Drafted 12th overall in 2005, Bruce has been possibly the leader of a list of Reds prospects who have been touted as the bearers of change in Cincinnati. A talented and athletic defender, Jay Bruce set the Internet chat rooms and message boards on fire as a Minor Leaguer, registering as the MLB's number one prospect before the 2008 season.
Prior to his midseason call-up in 2008 (in which he hit about .600 in his first week), Bruce rolled over the AAA competition, posting a .364 BA over 201 at bats.
Today, Bruce is a cornerstone of the Reds' resurgence. Along with Votto, center fielder Drew Stubbs, and an enviable stable of pitching, Reds fans hope (read: expect) Bruce to be manning right field in many All Star games sometime very soon.
1. Homer Bailey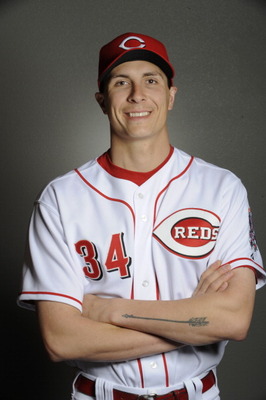 Rob Tringali/Getty Images
Ahhhhhh, Homer Bailey.
As a Reds fan, well, there isn't really much more to say.
By far, Bailey has been the most hyped player of my lifetime. Known as the Chosen One since his joining the Cincy organization, fans have drooled over Bailey's supposed talent.
Drafted 7th overall in the 2004 draft, Homer was just the power starter that everyone knew the Reds needed. For a time, everything was grand.
In 2005, Baseball America rated Bailey as the second best prospect in his league, in 2006, the first. Then, in 2007, Homer got a taste of his first Major League training camp, and the wheels began to fall off.
Before his Major League debut, Cincinnati billboards displayed a picture of Bailey holding a flaming baseball, proclaiming "He is Coming." If only they knew how short that stay would be.
Through four Major League season, the Chosen One has performed forgettably, to say the least, posting a win-loss record of 16-16 and an ERA of 5.09. A three-time Baseball America top prospect (in the system), Reds fans continue to hope the once touted prospect will someday figure it out.
Keep Reading

Cincinnati Reds: Like this team?