Oakland Raiders: Al Davis Remains Steadfast in Beliefs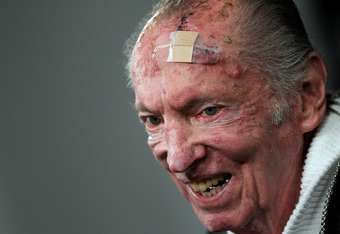 Al Davis announces Hue Jackson as the Oakland Raiders new coach
Justin Sullivan/Getty Images
The Oakland Raiders' new coach, Hue Jackson, was king of the world for a moment Tuesday afternoon. He said the Raiders are chasing perfection and boldly predicted the team to win the AFC West next season.
The exuberant Jackson displayed a "Jon Gruden-like" passion as a first-year offensive coordinator; delivering the Raiders a sixth-ranked scoring offense. A remarkable upgrade from last season, as Oakland (31st in offense in 2009) struggled with JaMarcus Russell at QB and Tom Cable as play-caller.
Nonetheless, Jackson's day in the sun was short lived. His strong talk about the Raiders becoming "Bullies of the NFL" was overshadowed by the original Raider bully—Al Davis.
Now, despite his aging appearance and a noticeable cut on his forehead. Davis spoke with conviction at the Raiders presser—no doubt a little perturbed over missing his nap time. At first, the Raiders' boss sang the praises of his newly hired coach, and the team's immanent return to greatness.
Then without any prompting by the media, Davis lashed out at former coach Tom Cable. Making everyone aware of Cable's alleged transgressions—saying he only kept him on because the team was in the hunt for the playoffs.
Davis cleared the air on the situation and explained why he fined Cable $120,000 over a six-week period.
How far can Hue Jackson take the Raiders
"Now, one of the things revealed (in one of the allegations) was too much for me," Davis said.
The Raiders owner believed Cable was bringing a woman on road trips, which apparently didn't jive with Davis' core values.
"All of this stuff goes a long way against my wishes, against my way of living, against my life and against the Raider way, and I just wasn't going to take it anymore," Davis said.
Davis also tried to wrap his head around the future of free agent Nnamdi Asomugha without revealing his specific intentions.
The owner praised Asomugha for his great play and said he hoped the superstar cornerback would remain in Oakland. Davis went on to say that the team could also use the money ($17 million) to sign two or three key players, rather than just one.
With Richard Seymour, Zach Miller, Robert Gallery, Stanford Routt, Michael Bush and Michael Huff topping the list of pending free agents in Oakland, Davis' strategy could be this: Allow Asomugha to walk, thus increasing the value of the compensatory pick. The Jets, Eagles and Chargers would all be potential suitors for Asomugha's services.
Never lacking in confidence, Davis reminded everyone that he was the mastermind behind the organization's 2010 draft and controversial trade for ex-Patriot Richard Seymour.
Justin Sullivan/Getty Images
"I did the draft," he said, referring to one of the most impressive collections of rookies in Raiders history.
"I made the trade for (defensive lineman Richard) Seymour," Davis added. "I drafted (cornerback Nnamdi) Asomugha." And then things got even more interesting.
After years of futility and frustration, Davis finally laments on poor decisions made from the top, many of which have kept the Raiders in pro football purgatory for the last decade.
He admitted to making a big mistake with JaMarcus Russell, and the years of instability at the head coaching position have come back to haunt the team.
"I have made mistakes, yes," Davis said, when asked about his inability to keep a coach longer than a few years. "There's no question about it."
"But you also have to have the players and [I didn't] get it done. You're saying should I take some of the blame? I certainly do," Davis said.
So the question remains: Is Al Davis a genius for revealing his own failures or crazy for confirming what so many have suspected for so long?
This article is
What is the duplicate article?
Why is this article offensive?
Where is this article plagiarized from?
Why is this article poorly edited?

Oakland Raiders: Like this team?