AFC Divisional Round: Belichick and Patriots Out-Coached by Ryan and the Jets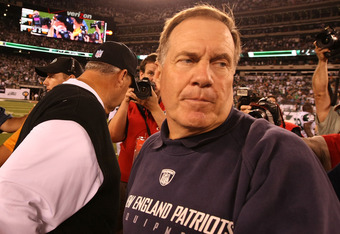 Al Bello/Getty Images
On January 9th I wrote an article entitled, Why the New England Patriots send the New York Jets Packin, and I'll have to admit, I could not have been more wrong. The New York Jets took it to the New England Patriots in the AFC Divisional Title game at Foxboro on Sunday afternoon. See link below in comment section to view the previous article.
By now most know the New England Patriots were defeated by the New York Jets 28-21 to advance to the AFC title game in Pittsburgh. But don't be fooled by the score, the game was not as close as the score may appear.
All the Patriots had to do to win and advance was play their game, do what they do best. Don't turn the ball over, create take aways and put points up on the board to stay consistent with their number one ranked offense of the NFL. The Patriots won their last eight games by an average margin of victory of 21.8 points.
Instead, they were out coached, out executed and never showed up to play, but the Jets sure did!
Jets coach Rex Ryan made it personal. Saying it was between him and coach Belichick. When it became time to play, New York came out and confused Tom Brady, jammed the receivers, and basically made Brady uncomfortable. There appeared to be a perception of pressure on Brady's mind as he moved and pump faked without anyone around him. Something New England fans weren't use to seeing, especially in their own stadium, and to the - yet to be named, NFL MVP.
The Patriots only scored three points in the first half, which said a lot about what the Jets defense was doing to Tom Brady and the offense.
The Patriots appeared to have come in with a similar game plan as the last but the Jets altered theirs. "Clearly you've got to mix it up," Rex Ryan said. "You can't just give them one thing all the time. Mix your coverages, mix your blitzes, mix your pressures, all that kind of stuff. Against these great quarterbacks, that's what you have to do."
Former New England Patriots defensive coordinator and former New York Jets head coach Eric "Freddo" Mangini spoke earlier in the week to the New York Post on how to beat the Patriots and went on to discuss disguising defenses until the last possible second in order to make Tom Brady wait on deciding what he was going to do, giving him little or no time to make decisions and/or make adjustments. Brady had to let the play clock run down to almost zero before snapping the ball giving the defensive line a jump on the ball knowing the ball would need to be snapped.
The Jets had five sacks and seven quarterback hits on the day.
Cornerback Dew Coleman was quoted as saying, "I think he was confused most of the time, he was ready to take off running, nobody was even around him." The difference, just tighter coverage and the Jets played much more physical with receivers and tight ends trying to make Brady throw underneath.
The Patriots also fed right into the Jets plan by keeping Brady and the offense on the field and confused by playing a lot of defensive play coverages and forcing the run in order to chew up the clock. There was no sense of urgency, no clock management, at one point the Patriots used up eight minutes of clock and still did not score. Patriots total time of possession was 34:56 compared to the Jets 25:04.
In the end, Mark Sanchez played mistake free football going 16-for-25 for 194 yards and three touchdowns.
"I think they did a great job of game planning," Deion Branch said. "We went into the game planning for man and they mixed it up a little bit more than we thought they would. We just didn't execute. There were a lot of things going on. A lot of bad football. We picked the wrong time to play our worse game of football."
Look on the brite side Bostonians, the Red Sox are scheduled to report to Ft. Myers on Feb 13th, just shy of four weeks.
This article is
What is the duplicate article?
Why is this article offensive?
Where is this article plagiarized from?
Why is this article poorly edited?

New York Jets: Like this team?