2011 NFL Mock Draft: Projecting The NFL Draft Order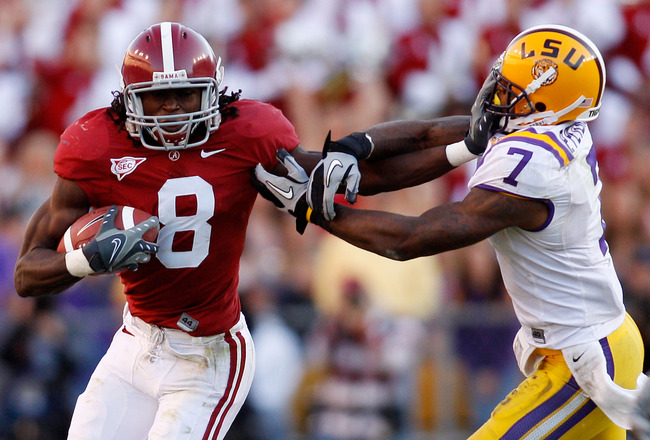 2011 NFL Draft Prospects Julio Jones and Patrick Peterson
Chris Graythen/Getty Images
2011 NFL mock drafts are starting to shape-up with the end of the pro season close. The picks will continue to shuffle and now that we're Bowling plenty of talent will have the stage to improve their stock.
(Click For My Most Recent 2011 NFL Mock Draft)
This is also the time of the year when NFL Draft related rumors start to populate. There are two big names quarterbacks potentially on the trade block or in the free-agent pool, and the teams involved in the rumors are drafting accordingly in this mock draft.
Rumors are very important for mocking. Last year Chan Gailey said they were looking to add a "waterbug" type back in the off-season and Buffalo drafted C.J. Spiller. Scott Pioli went the route of bluffing, saying that he isn't a fan of drafting safeties that high before taking Eric Berry.
Aside from the typical trade-talk and rumors, this year's NFL Draft could be especially interesting for several reasons.
There are five quarterbacks with first round aspirations (Andrew Luck, Cam Newton, Ryan Mallett, Jake Locker, and Blaine Gabbert).
If all five go in the first round it would be the first time since 1999 it has happened, when we had five in the first 12 picks. The last time four QBs were taken was 2004.
So we've seen a high volume of picks lead to mixed results. Three of 1999's group were straight busts while the 2004 class has multiple Super and Pro Bowls.
The 2011 NFL draft could also be the first time an offensive tackle isn't selected in the top 10 since 2005. It's a scenario that seems to happen every five or six years. There are anywhere from two to five tackles projected to go in the second half of the first round this year though so the position group isn't bankrupt.
For the second straight year there could be two Heisman Trophy winners selected in the first round. Cam Newton and Mark Ingram would follow Tim Tebow and Sam Bradford. Matt Leinart and Reggie Bush were the first to do it back in 2006.
Enough NFL Draft history though, on to the picks.
Follow me on Twitter @JohnLorge
1. Carolina Panthers: Andrew Luck, QB, Stanford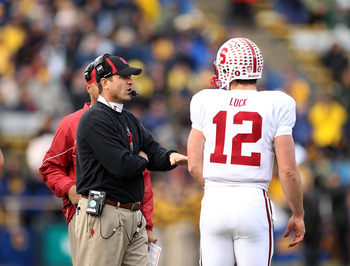 Ezra Shaw/Getty Images
Do you think the Colts would have passed on Peyton Manning if they had drafted Danny Wuerffel the year before?
If Andrew Luck comes out he will be the #1 pick and right now Carolina holds that pick.
2. Denver Broncos: Patrick Peterson, CB, LSU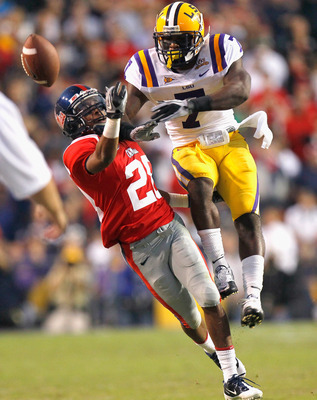 Kevin C. Cox/Getty Images
The Broncos could be losing both Champ Bailey and Perrish Cox after this season. Even if both players are on the roster in 2011 there is no reason to pass on Patrick Peterson.
He projects to be the NFL's next prime time corner with his size, athleticism, ball skills.
3. Cincinati Bengals: Ryan Mallett, QB, Arkansas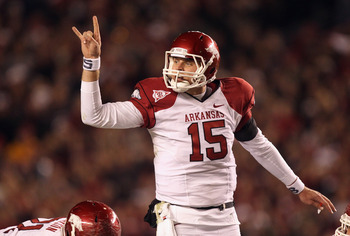 Streeter Lecka/Getty Images
There are heavy rumors circulating that Carson Palmer could be headed out of town (Seattle?) this off-season and that the Bengals are eyeing the QB talent in this draft class.
The one knock on Ryan Mallett is that he doesn't move well in the pocket but if any team knows how to play with a QB like that its Cinci.
It might be hard to pass on the DL talent on the board but quarterbacks come first.
4. Arizona Cardinals: Cam Newton, QB, Auburn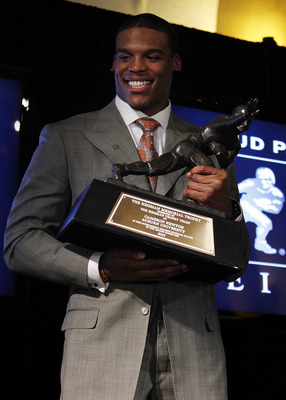 Jeff Zelevansky/Getty Images
The Cardinals would rather get their hands on Mallett and I'm not sure they have Cam Newton higher than Jake Locker or Blaine Gabbert but one thing is for certain--they need QB help.
Arizona also needs OL help and they have some holes to fill on their defense. Newton's ability to keep drives going will put the Cards in a position to win a lot of games, and we know he's a finisher.
5. Detroit Lions: Prince Amukamara, CB, Nebraska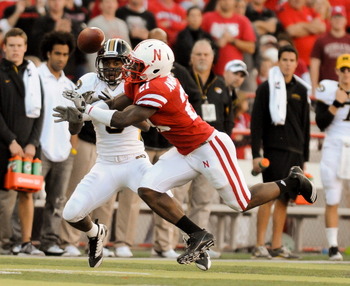 Eric Francis/Getty Images
There is no question the Lions need secondary help and Prince Amukamara is a consensus top 10 talent.
Even with the Nebraska connection to Suh, I have to wonder if the Lions would pass on another standout defensive lineman like Da'Quan Bowers or even Nick Fairley.
The Vikings, Bears, and Giants have built from the front-four up and if Amukamara slides an inch during the draft process I could see Detroit going the other way.
6. Buffalo Bills: Da'Quan Bowers, DE, Clemson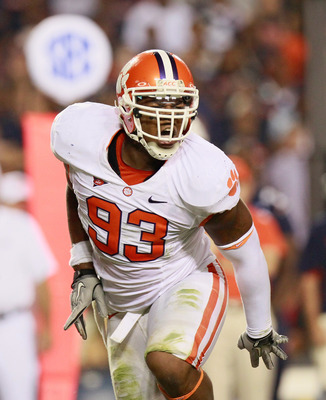 Kevin C. Cox/Getty Images
If I'm in Buffalo I would love to get my hands on Cam Newton because he fits in their system and is an amazing talent. Recent wins have taken some draft leverage from the Bills and they might miss-out on the top three QBs.
The Bills struck out on Aaron Maybin a few years back and they can right that wrong if Da'Quan Bowers slips to them. He is an every down end and a regular in the backfield.
7. San Francisco 49ers: A.J. Green, WR, Georgia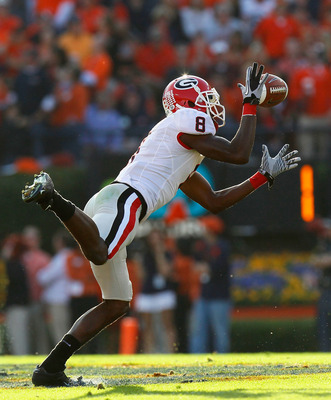 Kevin C. Cox/Getty Images
It looks like some quarterbacks will be on the market this off-season, meaning the Niners don't have to draft one to upgrade the position.
I wouldn't call receiver SF's biggest need but Michael Crabtree hasn't been the Mr. Everything they had hoped. A.J. Green can be that guy and he will make it easier on whoever is at QB.
Seven would be considered a slip for Green and there may be plenty of teams willing to trade for him here.
8. Dallas Cowboys: Nick Fairley, DT, Auburn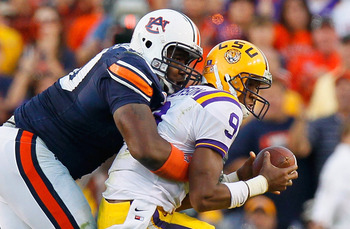 Kevin C. Cox/Getty Images
The Cowboys would love to get their hands on a DB.
Jerry Jones hasn't been big on drafting OL in the first round but he is big on BPA even if it means adding to one of your strengths.
If they don't trade down, or win down, Nick Fairley would be a great pick. He could lineup in multiple spots on their 3-4 front.
9. Washington Redskins: Jake Locker, QB, Washington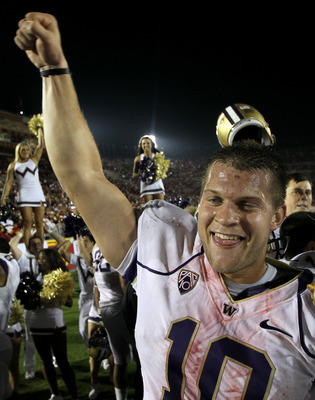 Stephen Dunn/Getty Images
The most recent rumor out of Washington is that Donovan McNabb won't be there next year, and it's not because Rex Grossman is their guy.
Mike Shanahan has had his eye on Jake Locker for a while now and although it would be a reach he could get his guy here.
Ideally they could trade down and still get Locker but you have to find a partner to play that game.
10. Houston Texans: Robert Quinn, DE, North Carolina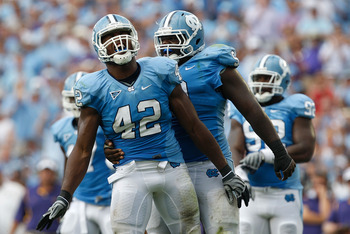 Streeter Lecka/Getty Images
Some mocks had Robert Quinn as the top overall pick entering the season. Coming off a year long suspension there are legitimate concerns of rust but the talent is still there.
Playing opposite of Mario Williams will make things much easier for any rookie DE.
11. Minnesota Vikings: Stephen Paea, DT, Oregon State

44 reps at 225!

Pat Williams has said he's leaving and he's said he's staying — either way he's old. Even if he stays the Vikings could use another defensive tackle that moves further than a one yard radius on every play.
Stephen Paea is ready to play nose in the NFL. He is built like a brick house and has some of the most massive arms in college. Expect him to shine in one-on-one drills and in strength tests.
12. Cleveland Browns: Justin Blackmon, WR, Oklahoma State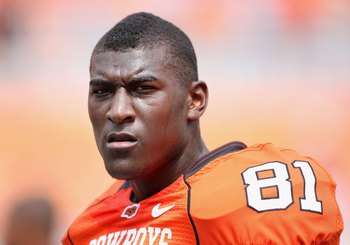 Christian Petersen/Getty Images
Obviously the Browns need to upgrade their receivers and they will be in a great position to do so with their first round pick.
Justin Blackmon is the type of receiver Mike Holmgren loves. At 6'1" 207 he is very tough at the LOS, in the open field, and going for jump balls.
Julio Jones has the bigger name but Blackmon has the numbers to backup this pick.
13. Seattle Seahawks: Aaron Williams, CB, Texas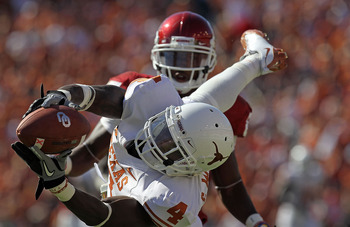 Ronald Martinez/Getty Images
The Seahawks corners are terrible.
There are some other CBs in play here but if rookie standout Earl Thomas lobbies for his former teammate Aaron Williams it could be a done deal.
Williams has the size, talent, and experience to instantly jump in the starting lineup for Seattle.
14. Tennesee Titans: Janoris Jenkins, CB, Florida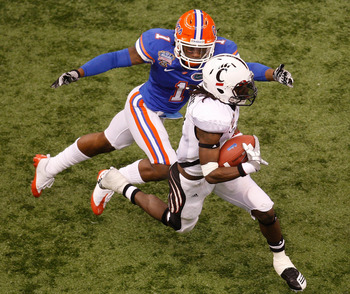 Chris Graythen/Getty Images
The stats suggest the Titans will be looking to upgrade their defense once again this draft.
Tennessee will be getting Derrick Morgan off injury and Albert Haynesworth could be back too.
There are several linebackers in play here but the corner Janoris Jenkins will help the Titans' 26th best pass defense.
15. New England Patriots: Von Miller, LB, Texas A&M
I'm 50-50 with this pick between a 3-4 OLB and OT. The Pats need both positions and with the board the way it is they have their pick of the litter for both positions.
You can't ignore how productive Von Miller has been at Texas A&M. He has 26.5 sacks over the past two seasons, seven forced fumbles, and an interception.
Getting to the QB has been a problem for NE and Miller is an instant solution.
16. Miami Dolphins: Daniel Thomas, RB, Kansas State
On the average big board this pick looks like a major reach but because Daniel Thomas does everything Miami is looking for in a back he could be the top RB on their board.
Both Miami backs are entering free-agency and both are over 30. Daniel Thomas is a big, physical runner who can thrive in Miami's power rushing attack.
And the caviot, he is an experience wildcat QB.
A Beanie Wells-like combine would go a long way for Thomas.
17. San Diego Chargers: Adrian Clayborn, DE, Iowa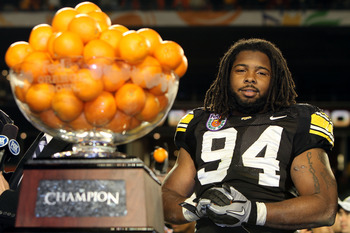 Doug Benc/Getty Images
Some feel the Chargers are going to go for an OLB with Shawne Merriman out of town but the team isn't ready to pull the plug on Larry English yet.

Instead, with several defensive linemen hitting free agency this year SD can use the pick to get one of the most well-rounded end prospects in the draft.

Adrian Clayborn has the size (6'4", 285+) to play the five-tech or three-tech in a the Chargers' 3-4 scheme. He is great against the run and pass because of his high motor and play recognition skills.
18. Jacksonville Jaguares: Rahim Moore, S, UCLA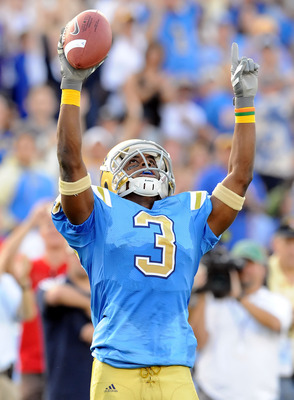 Lisa Blumenfeld/Getty Images
On the Jags depth chart there is a giant "Help Wanted" sign posted over the secondary.
Sure the DL could help them by getting more pressure, but when you watch them play they are out of position, take poor angles, and lack effort in their tackling.
Rahim Moore is the top safety prospect in the draft. The Jags could have had Earl Thomas last year, and while Moore isn't quite at his level as a prospect, he has more size and still carries a first round grade.
19. Tampa Bay Bucaneers: Ryan Kerrigan, DE, Purdue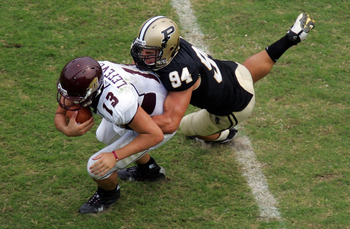 Ronald Martinez/Getty Images
Last draft the Bucs bolstered their interior defensive line but with only 18 sacks and the 26th ranked rush D, obviously the additions weren't enough.

Tampa will have several DE options here but Kerrigan is the best pass-rusher of the remaining ends. Playing the run is no problem from the 6'4, 260-pound end either.

Where Bowers was first in the nation in sacks and second in tackles for loss, Kerrigan is vice versa. The senior has registered 12 sacks each of the past two seasons.
20. Green Bay Packers: Gabe Carimi, OT, Wisconsin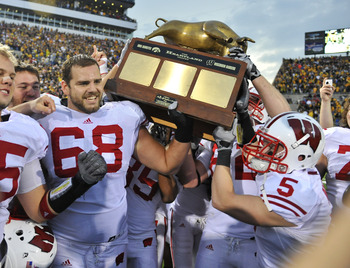 David Purdy/Getty Images
Last year the Packers drafted Bryan Bulaga as a player they could groom as a future starting tackle. He has seen action in 12 games and started eight of them, now at right tackle.

Chad Clifton's days are numbered and the Packers will need another tackle soon.

Gabe Carimi is the leader of the nation's best offensive line. He is the meanest tackle in the draft and stout in pass protection.

Drafting a running back would be nice for the Packers' hurting rushing attack but a road grader who will also protect the franchise would be a better selection.
21. St. Louis Rams: Julio Jones, WR, Alabama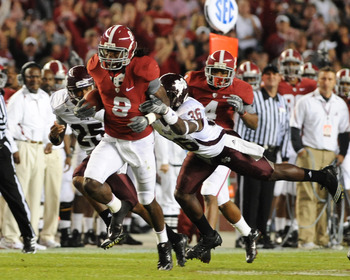 Al Messerschmidt/Getty Images
Any receiver carrying a first round grade could be the pick here and if Julio Jones has a small slip he will be welcomed with open arms.
Jones has the size to exploit man coverage over the top and he is very good at getting open on three step routes as we've seen for the past three years at Bama.
He could turn into Sam Bradford's Roddy White-go-to-receiver.
22. Indianapolis Colts: Nate Solder, OT, Colorado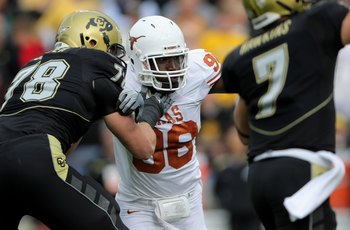 Doug Pensinger/Getty Images
Much like years past the Colts keep winning in spite of glaring holes in their roster.
The overall depth has been tested and the position group that's leaking the most is the offensive line.
A converted tight end, Solder is a very good athlete and he should be able to protect Peyton Manning's blind side if they choose not to bring Charlie Johnson back.

Solder is also a very bright young man, he has already earned a degree in Biology and scouts rave about his football IQ.

If the Colts want a guard they could draft Mike Pouncey here, but there are always good guards in later rounds.
23. Kansas City Chiefs: Mark Ingram, RB, Alabama
Kevin C. Cox/Getty Images
At first glance Thomas Jones looks like he has been productive this year but the 32-year-old back has been stuffed too many times, and he has one year left on his contract.
Jamaal Charles is the top back in KC but he won't thrive in a system where he is the only back.
Mark Ingram would be a great option to rotate in with Charles. He has the physical style of Jones but is more violent and has better burst.
24. New York Giants: Akeem Ayers, LB, UCLA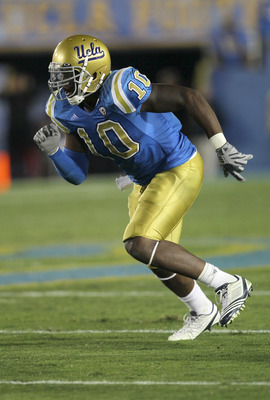 Stephen Dunn/Getty Images
The Giants are one of the tougher teams to mock for this year because they have a well-rounded roster but we do know size matters to them and they aren't afraid to stockpile positions.
Akeem Ayers is getting a lot of love from scouts because of his versatility. He is projected as an OLB in any scheme because he can rush the passer and he also plays the pass very well. His skills suggest he could play inside in any scheme as well.
At the combine he should come in close to 6'4" 250, which makes him an ideal selection for NY.
25. New Orleans Saints: Marcell Dareus, DT, Alabama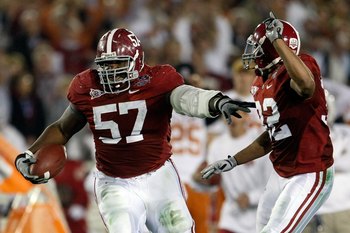 Jeff Gross/Getty Images
This would be considered a major slide for Marcell Dareus but it happens to players every year.
The Saints go BPA here and while they would like to get a pass-rush specialist at some point in the draft, picking Dareus is a case of the rich getting richer.
There are some concerns about the tackle's production and whether his success is due to all of the talent around him — which could result in him falling.
26. Chicago Bears: Anthony Castonzo, OT, Boston College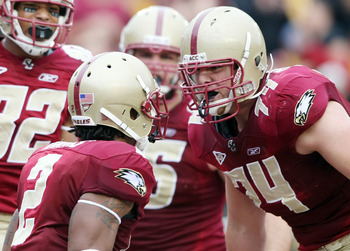 Elsa/Getty Images
Getting Anthony Castonzo might be a dream situation of sorts for Chicago. The Bears have one of the most questionable lines in football and they need to upgrade fast, for the health of Jay Cutler and their rushing attack.
Castonzo's first round grade is floating from the high teens all the way to the end of the round so there is a chance he will still be on the board when the Bears pick.
27. New York Jets: Justin Houston, LB, Georgia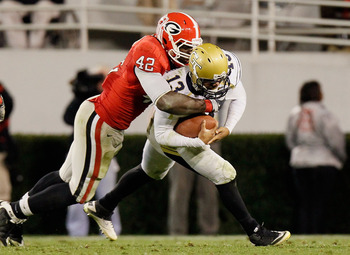 Kevin C. Cox/Getty Images
The Jets defense is losing some of it's mystique because while they have great cover corners they don't punish opposing quarterbacks.
Justin Houston isn't a household name compared to many of the other SEC first round defenders but he has the talent to become one.
If the Jets don't want to go defense they need to take a guard here.
28. Baltimore Ravens: Mike Pouncey, G/C, Florida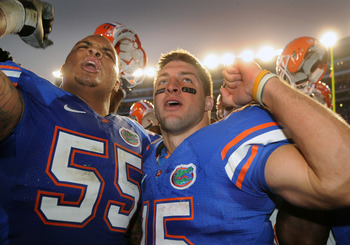 Al Messerschmidt/Getty Images
The Ravens' offensive line is incurring many free-agency obstacles over the next two seasons and the versatile Mike Pouncey can help solve a lot of those problems.

With the ability to play guard or center he will be ready to start from day one.

The Ravens could also go after a corner here, potentially tapping the Miami pipeline with Brandon Harris.

If Pouncey is there when Pittsburgh is picking there is a good chance they will reunite him with his brother, something the Ravens don't want to see in the AFC North.
29. Philadelphia Eagles: Brandon Harris, CB, Miami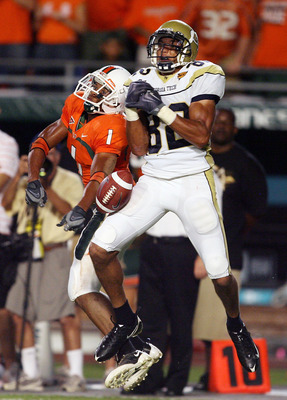 Doug Benc/Getty Images
The Eagles secondary has been tested by both opposing QBs and injuries this season. With a healthy roster Brandon Harris may not start on opening day but it doesn't mean he won't have an impact.
The Hurricane has great closing speed. He is always making plays on the ball and he isn't afraid to wrap-up and make a tackle.
Harris isn't a six-footer but the Academic All-American comes with the Miami DB pedigree.
30. Pittsburgh Steelers: Drake Nevis, DT, LSU
Chris Graythen/Getty Images
Two years in a row now the Steelers D-line has had health issues and aside from Ziggy Hood everyone is over 30.

Smaller in stature than your typical first rounder at the position, Nevis is the type of player who will slide only to have a very productive career.

He is a run-stopper first and foremost and already plays Pittsburgh football. Over the past two seasons Nevis has 10 sacks, 28 tackles for loss, and three forced fumbles.
31. Atlanta Falcons: Jonathan Baldwin, WR, Pittsburgh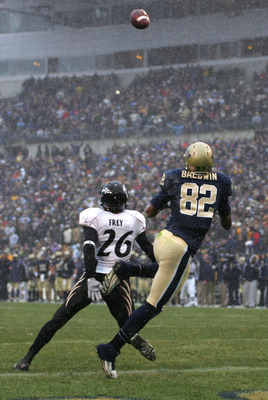 Jared Wickerham/Getty Images
The Falcons have the most lopsided group of receivers in the NFL. Roddy White has been unstoppable this year but his production almost doubles Michael Jenkins, Harry Douglas, and Brian Finneran combined.

Jonathan Baldwin doesn't project to be a 100 catch guy in the NFL but he can be a devastating downfield target, especially drawing single coverage opposite White.

The Falcons could always take a DE or CB here, adding to their already strong D but this would be the perfect situation for Baldwin to succeed.
32. New England Patriots: Derek Sherrod, OT, Mississippi State
Going back to 2008 most mocks have had the Patriots taking a running back but with BenJarvus Green-Ellis and Danny Woodhead giving Tom Brady's backfield a great 1-2 punch RB isn't as big a need as suggested.

LT Matt Light will be a 33-year-old free agent this summer and if the team has to pick between he and the younger G Logan Mankins it seems they would go the path of youth, especially with Light one year removed from a serious knee injury.
At this point in the draft process it's hard to tell what, if any, interest the Pats have in Derek Sherrod — or if they would rather get a tackle with their earlier pick.
Keep Reading