Cleveland Browns Featured Columnist Forum: Browns Topics Worth Talking About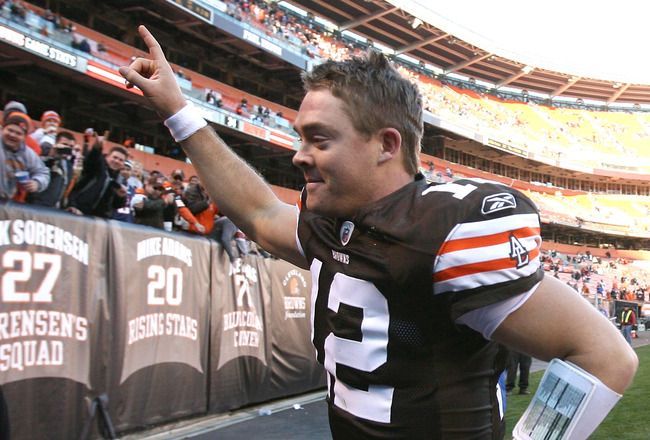 Matt Sullivan/Getty Images
The Cleveland Browns featured columnists have all come together to discuss the hot topics surrounding the Browns vs New York Jets matchup for this Sunday.
This article will take a deeper look into what the game means for Cleveland and what specific things Browns fan can pinpoint moving forward.
The Browns enter this weekend at 3-5 and look to pull off another upset en route to a successful season.
Here is a look at what B/R's Cleveland Browns featured columnists think about the Jets coming to Cleveland in Week 10.
Topic 1: Why Have The Browns Done So Well In Their Last Two Games?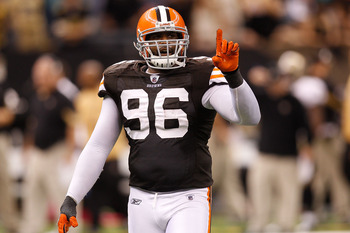 Chris Graythen/Getty Images
Daniel Wolf: "Colt McCoy. Ever since he stepped onto the field as the starting quarterback the team and offense has looked completely different. I guess you can say McCoy has somehow given the Browns a swagger and I think McCoy being a four-year stater at Texas has to be a factor in how he has brought his presence and leadership to the team."
Samantha Bunten: "Most of all, it has become clear that this is a team that wants to win badly, and finally has the confidence to believe they can do so. It's that sort of confidence that has allowed them to quickly get back on track after they make mistakes, rather than allowing small errors to drag them down for the rest of any given drive. Also, they haven't been making mistakes resulting in penalties, so opponents haven't been getting any free lunch from the Browns."
Robert Cobb: "Purely from observation, I have to say the biggest thing I have noticed is the new fiery attitude that the Browns have developed, a kinda "bunker" "us-against-the-world" attitude that has made the defense play more carefree and intelligent. With the offense, I really like Daboll's new carefree attitude; he seems more animated and is willing to take some shots downfield with McCoy."
Brian Murtaugh: I think it is a number of different things that have all finally come together. Daboll has done a great job at keeping defenses on their heels while using trick plays and Peyton Hillis seemed nearly unstoppable now that he got a week to rest his injuries. McCoy also seems to bring a winning attitude along with him. The man is a winner and he has already made some significant strides in becoming a great NFL quarterback.
Topic 1 Con't: Can Cleveland Win Three In a Row?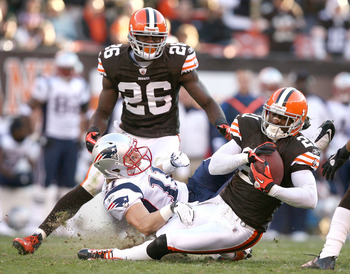 Matt Sullivan/Getty Images
Tom Delamater: "The continued maturation of Colt McCoy, coupled with the inspired running of Peyton Hillis, have sparked the offense. But the real key to victory has been the defense. Shutting down Brees and Brady, the Saints and the Pats? That's top-shelf stuff, and deserves all the accolades one can muster.
Kris Knox: "In the past two games, what has really stood out to me is the attitude of the team. The Browns have played hard all season, but now it seems that every player on the field is starting to believe that victory is not only possible, but expected. It's the same kind of swagger the Browns seemed to have during the final four games of 2009, only this time it comes with half of the season still to play. After blowout wins over the Saints and Patriots, these players know that if they give it their all, they can beat anybody."



Topic 2: As a Writer and Fan, Is It Important To See Mangini Face The Jets?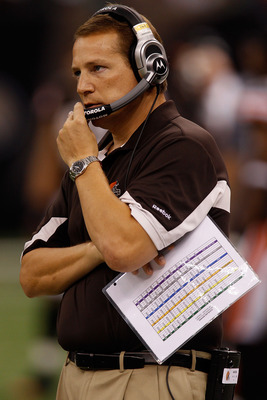 Chris Graythen/Getty Images
Kris Knox: "As a writer, there are a ton of storylines that make the upcoming game interesting. As a fan, I am most interested to see Rob and Rex Ryan face off. These are two of the most entertaining men in the league and both are experts at creating unique defensive schemes. I am expecting an exciting defensive chess match on Sunday.
For Mangini, I think that outcoaching his former mentor, Belichick, probably means more than beating his former team would. I believe that Mangini understands the nature of the business and that someone had to take the fall for the Jets' struggles at the end of 2008. That said, the Browns are Mangini's team now, and I think he is eager to prove that he is building a team that can win against the best the NFL has to offer."
Robert Cobb: "I think it is important to get a chance to show up your former bosses and team, but this has got to be more professional and less personal. Mangini was unfairly made the fall guy for what happened, but I have to say that I'm very impressed with his preparations and approach when he played the Pats, and I have a feeling we could see the same."
Brian Murtaugh: "As a writer, it provides a great storyline and situation to look at Mangini as a coach and see the direction that he has taken since leaving New York. As a Browns fan, I am excited to see if he can work his magic and lead them against another former team. As much as times have changed, Mangini knows the Jets very well and has a chip on his shoulder, which could prove to make him even better."


Topic 2 Con't: Mangini Vs The New York Jets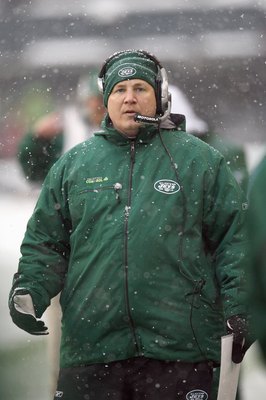 Otto Greule Jr/Getty Images
Samantha Bunten: "I think this will be extremely telling in terms of how much control Mangini really has over this team. There are a lot of whispers about how Mangini is just a puppet and Holmgren is the "real coach." This week we may have a chance to see how much truth there is to that based on how much of the gameplan appears to have been masterminded by someone with insider knowledge of the opponent. Additionally, this has to be hugely important for Mangini in terms of personal pride. He was written off in New York, and he now has a chance to show his former team just how wrong they were about him."
Daniel Wolf: "More important than Mangini facing his old team (the Jets) this week is the fact that defensive coordinator Rob Ryan is facing his brother Rex, who is the head coach. Can Rob outwit his twin brother? That is my favorite storyline of this week's upcoming game above all else."
Tom Delamater: "It doesn't matter to me at all. Times change, people change. If Mangini's smart, he'll be focused 100 percent on his team and what they need to do to win on Sunday."
Topic 3: Brees, Brady, Now Sanchez. Should The Browns Be Worried About The Jets?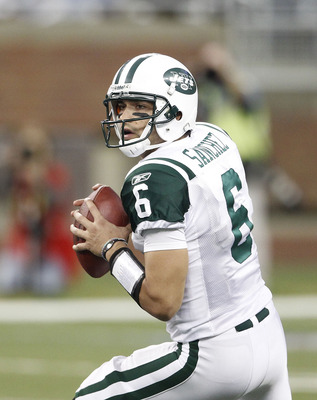 Leon Halip/Getty Images
Brian Murtaugh: "Yes they should be worried about the Jets offense because every week is different. The Browns successfully handled two of the better offenses in the league but the Jets have some great receivers and can beat you in so many ways. This will be another test for the Browns defense to prove whether or not they have taken the next step forward."
Tom Delamater: "They should be equally concerned, because this is the NFL. The Browns can't afford to be complacent right now, about anybody."
Daniel Wolf: "I do not think Sanchez is a much of a threat as Brees and Brady are. It seems that the Jets still have the handcuffs on Sanchez a bit and have not let him just "do his thing" on the football field. On the flip side, you can already tell that the Browns are loosening the reigns on McCoy and allowing him to use his natural ability to lead the offense. Sanchez may have the weapons, but the Jets are still holding him back a bit for unknown reasons."
Topic 3 Con't: Mark Sanchez Vs The Browns Defense, Worried?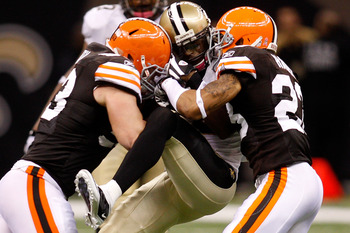 Chris Graythen/Getty Images
Kris Knox: "Personally, I am not too concerned with Sanchez and the Jets' passing offense. I think that the Packers set a good blueprint on how to attack the Jets offense. In my opinion, the Browns need to stop the run and set up 3rd-and-long situations. Sanchez appears more prone to making mistakes in these situations, and Green Bay proved that he can be pressured into making them. I would be more concerned with coming up with an offensive gameplan that would allow the Browns to put up some points and control the tempo against the Jets' stout defense."
Samantha Bunten: "The Jets have the most overrated passing game in the NFL, so that shouldn't be the Browns' main area of concern this week. Sanchez has the lowest completion rate of any starting quarterback in the league, and the team ranks 20th in passing. Their ground game and their defense should be far greater concerns."
Robert Cobb: "The two players that scare me the most on offense from the Jets are tight end Dustin Keller and former Steeler WR Santonio Holmes, both of which I feel will get some looks and find a soft spot in the Browns secondary. Edwards is also a threat...to drop balls.
As far as the Jets passing attack, I feel that if you put the Jets in 3rd-and-long situations, Sanchez will struggle, so for the Browns to win, they must stop their running game and force Sanchez to beat you throwing, which after watching the Lions game, I feel that he cannot do just yet."
Topic 4: Which QB Gives The Browns The Best Chance To Win Moving Forward?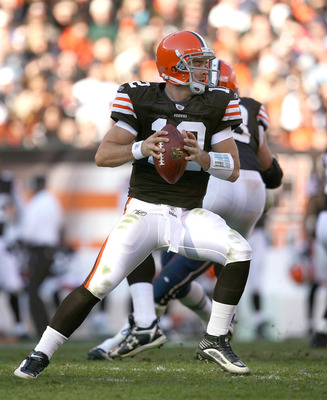 Matt Sullivan/Getty Images
Samantha Bunten:"McCoy, hands down, no question. The job is McCoy's for the future, and since he's proven he can more than handle the job now, there's no reason not to keep him in the starting spot. Mostly though, he's had the most success of any of the three quarterbacks the Browns have put on the field this season. If it ain't broke, don't bench it."
Tom Delamater: "McCoy. His teammates have confidence in him. That's what matters."
Robert Cobb: "At this VERY moment, I have to go with the hot hand in McCoy. The team seems more lively and has that "jump" off the ball, McCoy also has shown a impressive huddle presence and I get the sense that the players have really responded and rallied behind him."
Topic 4 Con't: Delhomme, Wallace Or McCoy?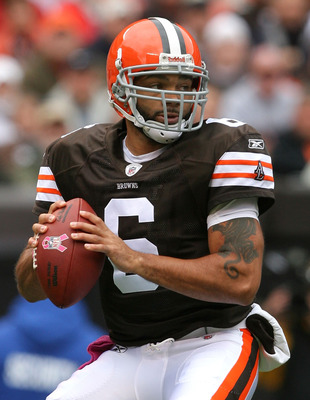 Matt Sullivan/Getty Images
Daniel Wolf: "Without a doubt McCoy gives the Browns the best chance to win. He has shown he can play against the best and come out on top. You can't argue with that and he has earned himself a place as the leader of the offense from here on out."
Kris Knox: "The guys in the Browns' locker room really seem to be following McCoy's lead at this point. He is a player who is not intimidated, and the players seem to be buying into his just-go-out-and-win mentality. I am seeing more chemistry on the offensive side of the ball than I have all season, and I see no reason to deviate from what is working. In my opinion, McCoy deserves to start until he does something to suggest that he doesn't give the Browns the best chance to win."
Brian Murtaugh: "Colt McCoy. It has been a long time since I have been this excited about a Cleveland Browns quarterback (and we have all had plenty to choose from). I think he needs to stay under center and keep control of this team. The players have confidence in him, the fans love him, he is a winner. What more do you need?"
Topic 5: What Are The Keys To Beating New York? Any Predictions?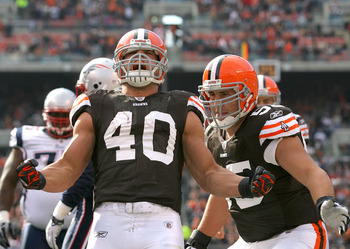 Matt Sullivan/Getty Images
Tom Delamater:
1. The defense must continue to throw different looks at Sanchez and keep him from getting reads at the line. If they contain the run, they'll be successful against the pass.

2. The offensive line must continue to open holes for Hillis. As Peyton goes, so go the Browns.

3. The Jets defense could give McCoy and the Browns some fits. In that case, Phil Dawson will have to come up big.

Browns 16-13.
Kris Knox:" While it is easier said than done, I think that the formula for winning against the Jets is fairly straightforward. If the Browns can contain the Jets' rushing attack, force Sanchez into long third down situations, control the tempo on offense and take points when they can get them, they can win a hard fought defensive game. If we see another inspired, mistake-free game from the Browns, I think they win 19-17."
Robert Cobb:
1. Contain and make TE Dustin Keller a non-factor. He is Sanchez's safety blanket in tight spots, and the Browns have had issues stopping opposing tight ends.
2. Play the run, take your chances with the pass. The Jets are built to run, run and run the ball. While they have Edwards, Holmes and Keller, their passing offense is in the 20's, which tells me that if you stop Greene and LT, then you can beat them.
My theory is that if the Browns jump out to a early lead, then the Jets will lose because they are mainly built to be a run-first, play-action team that is built to win on ball control, time possession and running. If you take their run game from them and force them to pass then you can beat the Jets.
3. The Hillis-McCoy Duo needs to keep the Jets off-balance.
Get McCoy moving around on bootlegs and roll-outs, McCoy is more mobile than any QB on the roster and combined that with his accuracy and he could give the Jets some problems on the edge, combine McCoy with Hillis as a receiver and you have a physical player that the Jets cannot contain. and when the Jets load up the box for Hillis, look for Daboll to burn the over-aggressive jet's defense with play-action.
My original prediction from my "Week-By-Week Predictions" column was the Jets beating Cleveland 31-3, but after watching the Lions-NYJ game and seeing how effective McCoy-Hillis are, I will change my prediction to Browns 20, Jets 17
Topic 5 Con't: Keys To A Browns Victory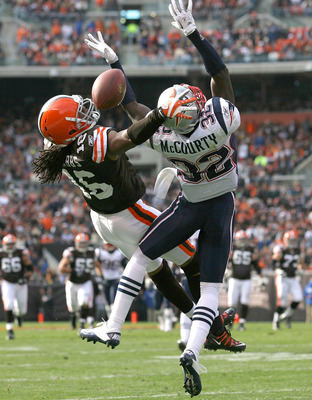 Matt Sullivan/Getty Images
Daniel Wolf: "Realistically, the Browns need to shut down LaDainian Tomlinson, get Josh Cribbs the ball more and let McCoy study as much film on Rex Ryan defenses as possible. Cribbs needs to get going and he needs to get at least 10-13 touches per game regardless of how well Peyton Hillis is running the ball because those extra touches will help keep Hillis healthy for a longer period of time."
Samantha Bunten:
1. The Jets have spent this season stubbornly trying to blitz aggressively despite the fact that it hasn't been working for them. The Browns should take advantage of this when they see it and take the opportunity for a big gain on a passing play.
2. Contain the running game. As much hype as there is surrounding Sanchez and the Jets' receiving corps, so far this season their ground game is what should really concern opponents. The Jets rank much higher in rushing than in receiving, so the Browns need to shut down L.T. and the rest of the running game.
3. Use confidence as motivation. The Jets have to be shaken up after nearly getting beat by the Lions last week. The Browns, by contrast, have vanquished two excellent opponents in a row. Going into Sunday's matchup, the Browns have the edge in terms of mentality and confidence. If they can retain that through the game on Sunday, it will be a tremendous advantage.
Brian Murtaugh: "Cleveland needs to maintain the momentum they have built over the last few games and continue to put McCoy in manageable positions. If the Browns can continue to run the ball effectively and keep New York off the field (Cleveland had possession for 38 minutes against New England) then I think there is no reason why they cannot be successful.
Prediction: Browns 24, Jets 14
What Do You Think?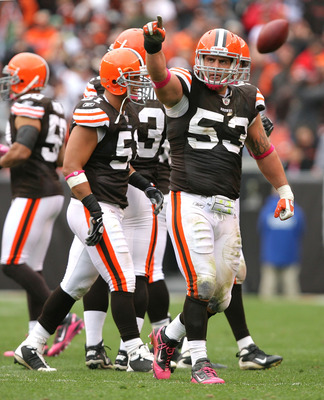 Matt Sullivan/Getty Images
The Cleveland Browns featured columnists love hearing from their readers and take everybody's opinion into consideration. Feel free to tell them what you think and give some insight into what you will be looking for this week against the New York Jets.
Special thanks to all of the Browns columnsits who participated in this forum!
Keep Reading

Cleveland Browns: Like this team?